Two-wheeler giant Kawasaki will be one of the first Japanese legacy manufacturers to foray into the electric mobility space with mainstream offerings. The brand already announced its intent to bring electric motorcycles in the future and recently showcased its two prototypes in the advanced stages at the Suzuka 8 Hours Endurance race. The prototypes were that of an electric and hybrid motorcycle with the bikes doing a brief demo run at the racing event amidst the crowd.
The first motorcycle to be showcased was the electric motor-powered Kawasaki that sports the Z branding and design. The Hybrid motorcycle, meanwhile, gets a full-fairing akin to a Ninja offering. The final designs though are likely to be very different and will be more futuristic than the ones currently showcased. Kawasaki did add EV and HEV stickers to the bikes, indicating their respective powertrain.
While there's no official word on the power figures for either prototype, the Kawasaki electric motorcycle is reportedly an entry-level urban commuter and will compete against 125cc ICE motorcycles. Power figures are expected to be around 15PS. There's no word on the hybrid version but it could be a Ninja 300 equivalent though, so expected performance figures around the 40PS mark.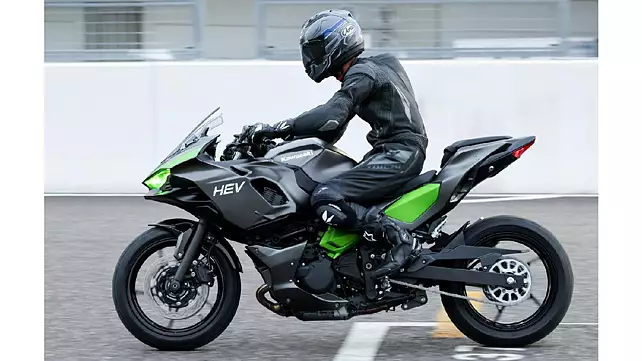 Kawasaki is going aggressive on electric propulsion and the prototypes seem ready to hit the market. While we do not expect a launch this year, the brand could introduce the models in production-ready form as early as November at EICMA. The launch could take place in its home market – Japan – sometime in 2023. That said, we do expect the bikes to hit other developed markets too. However, we will need to see how soon do the bikes make their way to the Indian market.