The fight between Kia Seltos and its rivals has just gotten interesting. At the starting price of Rs 9.69 lakh, Seltos has hit the sweet spot but then the likes of Hyundai Creta, MG Hector, and Tata Harrier are all ready to contest for every single buyer out there in the market. We compare all the rivaling propositions here to tell you how good these SUVs are on paper.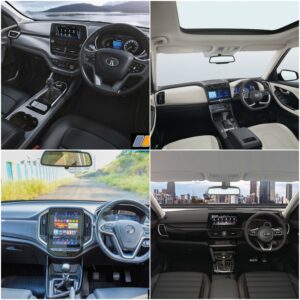 MG Hector dwarfs all other SUVs in length and that too by a considerable margin. It is over 4.65 meters long and unsurprisingly, features a longest 2750 mm wheelbase and largest 587-liter boot. Tata Harrier, on the other hand, offers the widest cabin among all though Hector against comes on top with its 1760 mm height. On most of the counts, Kia Seltos finishes second-last with only the Hyundai Creta lagging behind. In fact on the height front, Kia Seltos is the shortest SUV with 1620 mm of height. Clearly you can make out that the person who is looking for a big and burly SUV, Kia Seltos might not make a good choice to go ahead with.
Creature Comfort
Features and equipment is the area where Kia Seltos is betting big on. Seltos comes equipped with a load of features and in fact, offers a few first-in-segment features like heads up display and rear sunblind. Seltos also offers a wireless charging system and cold front seats which Hyundai Creta also offers to its buyers. Connected car technology, ambient lighting, and reclinable rear seat are features available only on the Kia Seltos and MG Hector.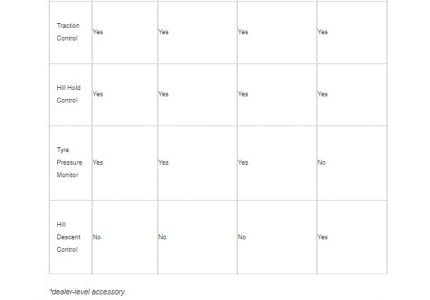 All manufacturers have given their SUVs Sunroof which is quite hit among prospective buyers though MG has gone ahead and equipped Hector with a panoramic sunroof. Tata Harrier is the least equipped SUV here although it tries to make up with its size and premium Harman sound system. Traction control is missing in Hyundai Creta while the only Harrier in this contest features hill descent control. The equipment common to all SUVs includes 7 safety airbags, ABS with EBD, rear camera parking system, electronic stability program, and hill hold control.
Engine and Transmission
In terms of output comparison, MG Hector diesel wins hands down thanks to its 170PS and 350Nm of torque. Harrier has similar torque output although Tata lags behind Hector in the power department with 140PS on tap. Kia Seltos, with its smallest 1.5-liter diesel motor, stacks at the bottom of the list with 115PS/250Nm. However, Both Kia and Hyundai claw back their space thanks to the presence of both manual and automatic transmission as MG Hector and Tata Harrier have got only manual gearbox to their arsenal. Unsurprisingly, Kia Seltos is the most frugal in the list returning the highest fuel efficiency.
In Petrol Avatar, Seltos has two engine options on offer – 1.5-liter naturally aspirated and 1.4-liter turbocharged engine putting out 115PS/144Nm and 140PS/242Nm respectively. The latter version is close to MG Hector in output and comes with manual as well as 7-speed DCT. Hyundai Creta, on the other hand, uses 1.6-liter petrol and produces 123PS/151 Nm. The petrol-powered versions of all SUVs are available in both manual and automatic transmissions. Like Diesel, Seltos Petrol is again the most fuel-efficient SUV in this comparison. Tata Harrier has no petrol option on offer now.
On the price front, Kia has got a huge advantage with its base price being as low as Rs 9.69 lakh. The topmost variant, on the other hand, will require you to spend Rs 15.99 lakh. Hyundai Creta matches closely with a price range of Rs 10-15.67 lakh. MG Hector has got its base price at highish Rs 12.18 lakh and the range tops at Rs 16.88 lakh though Tata Harrier has the costliest base model priced at Rs 13 lakh while its top trim has been priced at Rs 16.76 lakh. No doubt, Kia Seltos offers the highest value for money among all four contenders. (all prices, ex-showroom, Delhi).