India's trusted EV manufacturer, Komaki Electric Vehicles has finally launched its much-awaited models – Ranger and Venice. Ranger holds the distinction of being India's first-ever electric cruiser. With IC engine cruisers like Indian Motorcycle, Harley Davidson and Royal Enfield already setting a high benchmark, this first-ever electric cruiser is ready to stun the market. The unique cruiser features big grosser wheels, illustrious chrome exteriors, and a fine paint job. Most importantly though, it has got a smooth ride sitting tight at its heart. That is precisely what the Ranger has been designed for.
On the other hand, Venice is a stylish new scooter that features iconic looks, better drivability, power, performance, and comfort. It has 3kw motor, battery pack of 2.9kw and will enter the market in 9 poppy colors.
The Indian two-wheeler market has been in the need of a revolution for a while and Ranger and Venice could be the perfect spark to start the fire. These vehicles feature cutting-edge modern technology and also bring with themselves that classic elegance and trust that every bike rider desires.
Featuring a 4 kW battery pack, which is the largest pack in a two-wheeler in India, Ranger will offer a range of 180-220 km in a single charge. This is an absolute treat for motorcycle enthusiasts. The Ranger is powered by a 4000-watt motor that'll help the bike scale roads flawlessly and smoothly. It will be made available to customers in three different colors – namely Garnet Red, Deep Blue, and Jet Black. This stunning model is equipped with Bluetooth sound system, side stand sensor, cruise control feature, anti-theft lock system and all inclusive accessories with dual storage box.
Venice is going to be a treat for customers of all age groups. Komaki has paired quintessential design with modern technology while developing scooter. Equipped with self-diagnosis system, mobile charging point, reverse assist, additional storage box and geared with a full body guard, this beauty is perfect for Indian roads.
These two new launches from Komaki are ready to change the auto industry. Ranger has tremendous potential to attract wanderers who are in search of a trusted travel companion. The comfortable seating and triple head lamps coupled with great mileage make it a real steal.
Venice will draw in the eyes that appreciate beauty, comfort and practicality. This stunning scooter has anti-theft lock system, Regenerative braking system and a big passenger seat.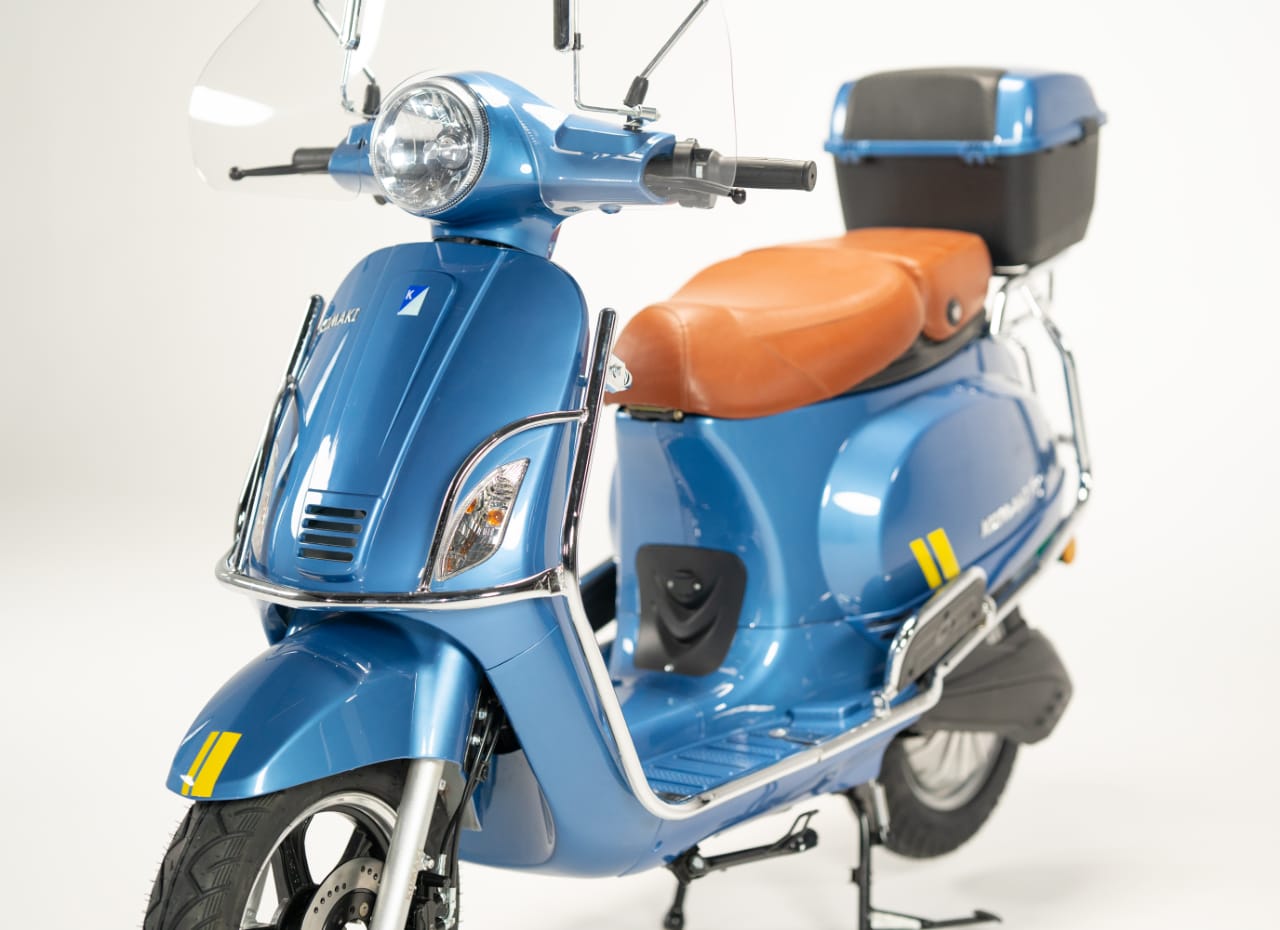 Komaki Ranger and Venice are going to be available in all Komaki dealerships from 26th January onwards with Ranger's ex showroom price being Rs 1,68,000 and Venice being priced at Rs 1,15,000 with all accessories fitted and included. Affordability, boatload of features and unparalleled mileage and power that Komaki is offering with these models will make this brand a fan-favorite among the people who are looking to join the green revolution by bringing home their first electric two-wheeler. When it comes to manufacturing top-of-the-class electric vehicles that neither compromise with style nor with quality, all the while staying affordable, Komaki is the brand that always steps up to the challenge.
Talking about the launch of the prodigal two-wheelers, Gunjan Malhotra, Director, Komaki Electric Division, said, "I am extremely happy to announce that Ranger and Venice are finally ready for the Indian market. These vehicles have been a labor of love and I have full confidence that the people are going to like them. We have claimed a permanent spot in the of history by creating India's first-ever electric cruiser. This is something that motorcycle enthusiasts have been calling for and we're elated to present this masterpiece to them. While the premiumness is something that we've kept in mind a lot while developing both Ranger and Venice, we have made a very sincere attempt to make sure that they are accessible to all the segments of the Indian market. After all, everyone deserves the unique experience of riding the most revolutionary two-wheelers."