Mahindra Mojo Tourer Edition is a fully loaded motorcycle that offers a range of accessories designed to offer functionality benefits
The Mahindra Mojo needs no introduction. Teased, showcase, spied and launched over the past 5 years. The motorcycle had enough Mojo to create a stir in the market. Today, after the launch which happened last year, same time, there is another launch. Mojo Tourer Edition comes to life and provides more ease when it comes to touring, an idea that is hard pressed with the motorcycle.
Mahindra Mojo Tourer Edition equipped with an Accessories Kit consisting of an Magnetic Tank Bag which comes equipped with 4 rare earth magnets to give grip along with a 13 litre storage capacity as well. There ia an Saddle Bag along with Carrier which have an combined storage space of 38 litres. Bags are made of ultra-tough denier fabric with triple stitching on stress points for durability. Today's time has to include a Mobile Holder. The handy accessory is fully adjustable as it revolves the full 360 degree rotation) and comes with a silicon band to make it secure. The front Guard is made from high-strength, corrosion-resistant material which effectively protects the fuel tank, radiator guard and engine when the bike falls of at any speed and journey can continue.
The Pannier Mounts are another huge addition. The matte black powder coating finished panniers are rust-resistant.To 'Lighten' things up, there is a Fog Lamp with a Mount. The 20W MOJO Fog Lamps should make illumination and spread far more than stock lights. For now, there is another option to look ahead too. a tourer jacket is being offered as an Introductory Benefit with the package. The Mahindra Mojo Tourer Edition is priced at Rs.1,88,850 (Ex-Showroom Delhi).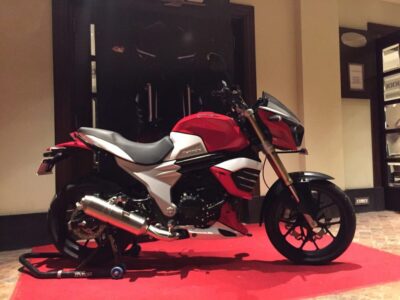 Mahindra Two Wheelers has also announced a new season of the Trails of MOJO Tribe 2016 – 17. Each one of them offers a different terrain and experiences. There is everything on offer. Things such as Mountain Trail, the Coastal Trail, the Jungle Trail or the Desert Trail. All these trails culminate into one place, which is the MOJO Rising Trail, an annual get-together of MOJO owners at Nagpur.