Maruti Suzuki launched the facelift model of Ciaz in 2018. The new model comes with both cosmetic and mechanical changes which bode well for strengthening its market leadership position. We take a look at what has changed and what remains the same.
On the dimensional front, the car continues to feature the same dimensions as before. The cabin is quite roomy and the rear seat is spacious enough to accommodate three adults without any issue. The new Ciaz comes across sleeker design thanks to the new front fascia. The new grille outline by the chrome and redesigned headlamps with LED DRLs are a welcome addition to the face. The front bumper has gone under massive transformation and fog lamps now contain LED lighting elements rather than the halogen units of the outgoing model.
In the profile, the gun-metal 16" alloy wheels on the top variant have been replaced by machine-finished design though the size of tires remains unaltered at 195/55 R16. Lower variants of the car continue to have 15" wheels with 185/65 R15 profile tires. At the rear, changes are minimal with tail lamps now getting the LED elements while the bumper receiving extra oomph in the form of the bezel which can be chrome or silver depending upon the variant you choose.
Changes inside the cabin are not as prominent as outside. The overall layout of the cabin remains unchanged; however, the faux wood inserts are now lighter in shade compared to the older model. The instrument cluster is new and feels more intuitive and premium – it gets new dials with a 4.2-inch multi-information display which is available only in the petrol variant. Another important addition is the cruise control function on new Ciaz which can be operated through the steering-mounted controls given on the right-hand side of the steering wheel.
In terms of features and equipment, the 2018 Ciaz gets an extra boost of LED headlamps, fog lamps, cruise control, adjustable rear headrests, 7" touch screen infotainment system with Apple CarPlay and Android Auto, reverse camera parking system, automatic climate control with rear AC vent, push-button engine start-stop system, and auto-dimming IRVM. Safety equipment includes dual front airbags, ABS with EBD, speed-alert system, and seat-belt reminder. The petrol automatic also gets the option of hill-hold assist with electronic stability program.
Mechanical updates:
The facelift version of Maruti Ciaz gets powered by an all-new 1.5-liter K-Series petrol engine which is capable of putting out 105PS along with 138Nm, translating into around 12PS and 8Nm more than the previous version. The petrol engine is more fuel-efficient thanks to the Smart-Hybrid technology it uses. In fact, new Ciaz is the first Maruti car in its portfolio which comes equipped with smart hybrid Technology in the petrol version.
Transmission options, on the other hand, remains same with 5-speed MT and 4-speed AT continue to remain unchanged. There is also an 1.5 diesel on offer which makes 90 PS and 225 Nm of torque. Maruti made diesel engine is an all aluminum motor that is high high on claimed fuel economy at 27 km/l.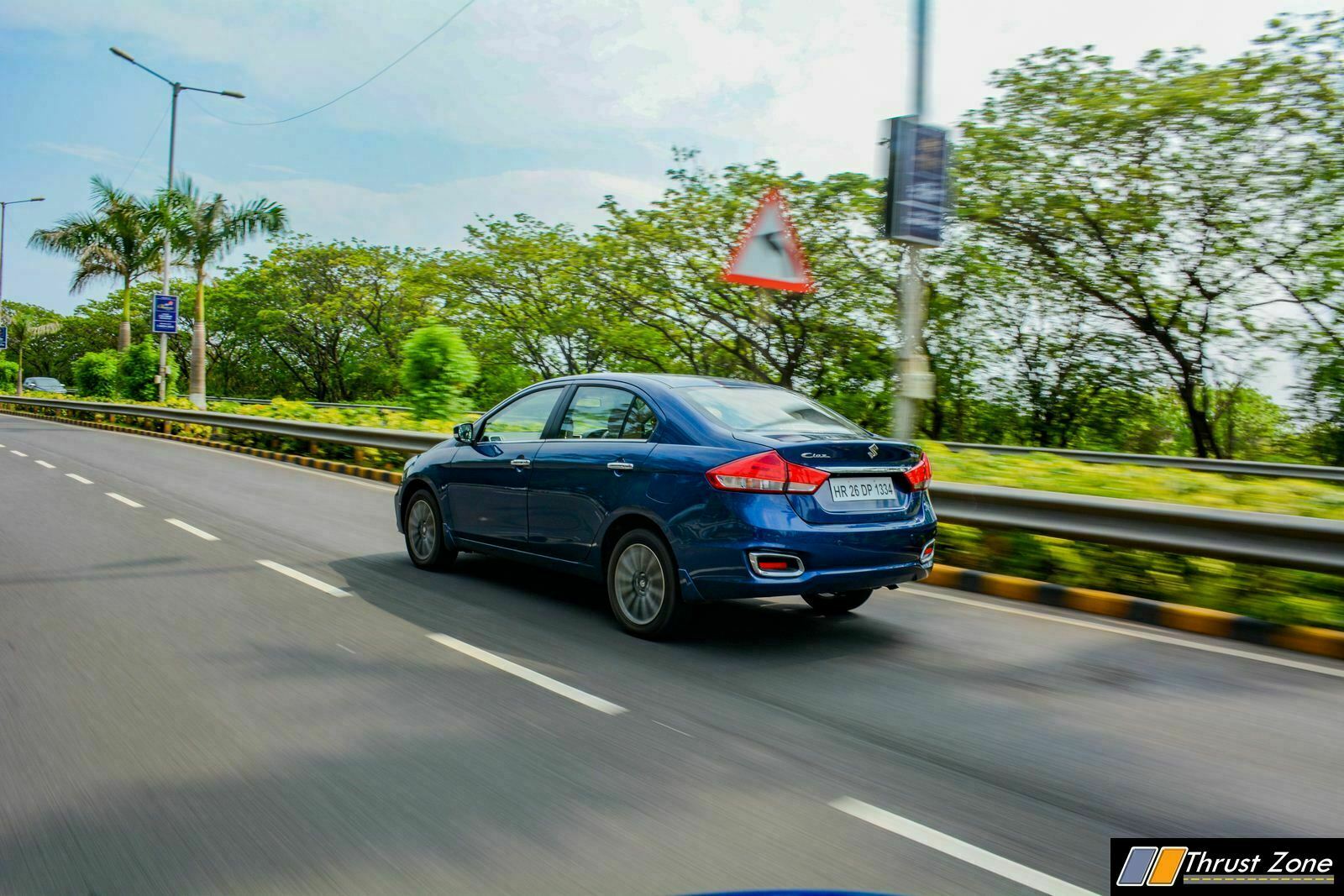 Maruti was kind enough to let us have petrol automatic and Ciaz diesel 1.5 for quality amount of time to spend with and let's begin with the spectacular all new Maruti made diesel engine on offer. 1.5 motor is smooth and refined. The NVH levels are so low, you will be surprised if you are jumping from 1.3 of the past Maruti. This a great feat achieved by Maruti Suzuki. All though the engine here has made a compromise to make that engine good on NVH. The engine doesn't rev as quickly as its rivals, but quick enough to feel sporty and immediate in terms of response.
Tall gearing, linear power delivery and non-aggressive turbo-kick in on the other hand makes thing even more easier to live with in medium traffic. Bumper to bumper traffic means you have to stick first or second. The low-end torque and mid-range is exceptional. Even the top-end power is good enough, but as you climb the rev, the minutely slow revving engine makes the progress a bit slow over its chief rival, the Verna and not the City.
The power and torque are pretty good, but, 100 BHP and 230 Nm would have made this engine 10/10. It now gets 9 out of 10 from us. Maruti has made an engine which has not only taken Hyundai head on, but dragged Honda to a level lower with its capability. BMW and Honda's are known for making spectacular engine, Suzuki seems the next person to climb that chart and take head on atleast with its Japanese rival. We got 24 km/l on the highway and 17 km/l in the city, which are similar Maruti Swift numbers from the 1.3 diesel 75 BHP motor.
The petrol engine also is a great motor, but lacks the soul like the K-Series 1.2 motor which feels more peppy. The motor doesn't sound the best and it isn't sporty and balanced commuter like its 1.2 rival. Responses from the 1.5 petrol motor is good enough but in our automatic gearbox equipped car, the engine isn't at its best. We have driven the 1.5 petrol manual and we think that is a better option.
If you truly commute, you can live with the automatic as peak hour traffic is well managed by this gearbox. Low-end torque could be better, but top-end and mid-range power means this engine is good enough on the highway. We got 16 km/l on the highway and 11 km/l in the city. Overall both new engines are competitive and spectacular to live with.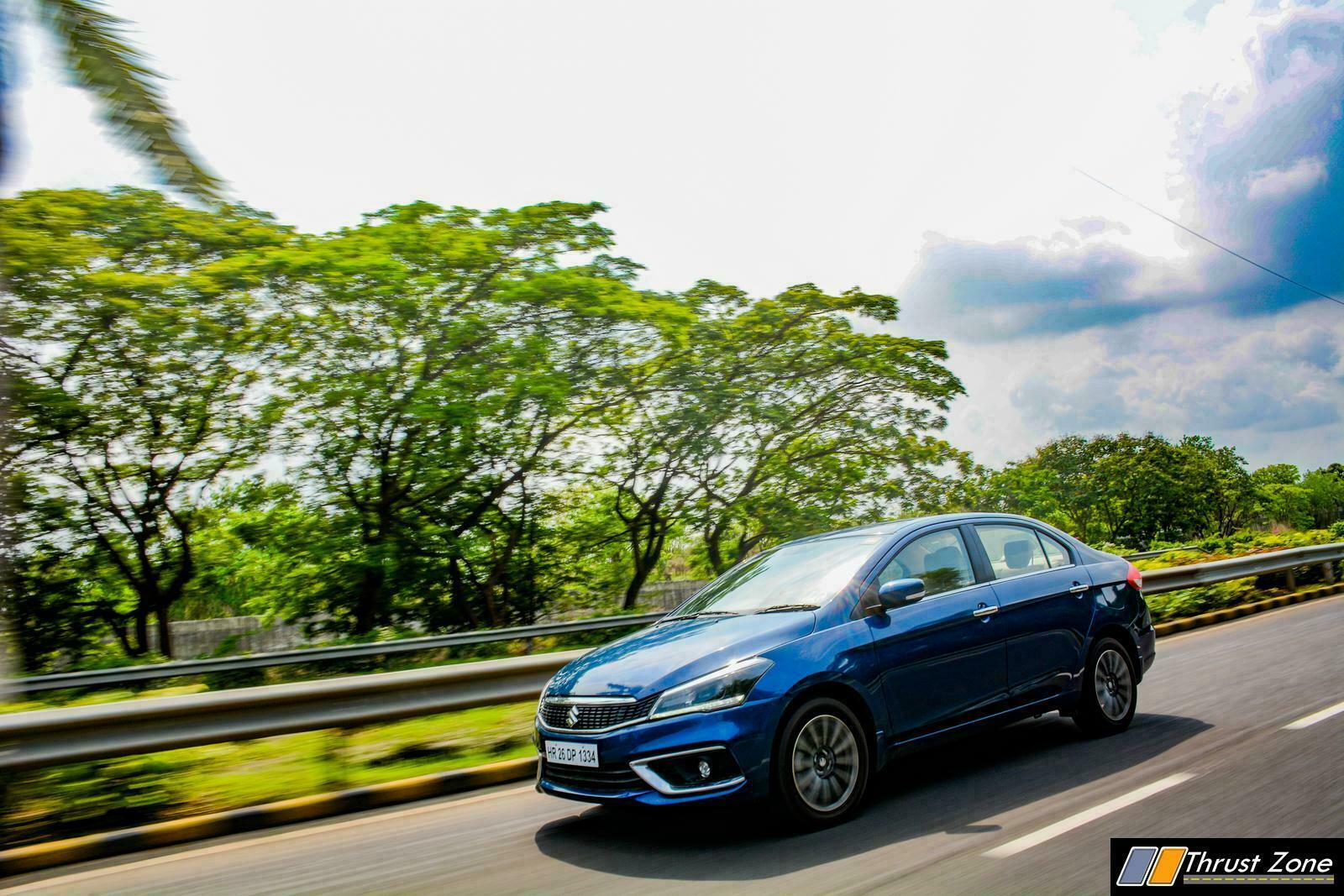 Dynamically, we love the ride quality on offer. We went through all kind of roads Mumbai had to gave us and it turned out to be a very comfortable car. Steering ratio is excellent which means maneuvering the car in tight situations and taking u-turns isn't a problem. Body roll is evident, but controlled to keep things safe. Brakes are good in terms of power and pedal bite is easy as well. 16-inch wheels surprisingly take good care of ride quality and cornering with Apollo tyres doing a great job on our test car.
Maruti Ciaz 1.5 Facelift Petrol Diesel Review,
Maruti proves once again why it continues to dominate the Indian market. Bomb proof, peppy, efficient and fun engines on offer make any Maruti pick of the lot. The Ciaz with its two new engines, the 1.5 petrol and 1.5 diesel make sure the Ciaz comes out as a winner over its tough rivals in the engine department. Maruti desperately needs success in the C-segment and it tried with the SX4, but could never taste this level of success. Maruti just needs to give better automatic gearboxes to both its new engine and will see even more success. We highly recommend the Ciaz as it is a no non-sense package over its rivals and those powertrain, are made to impress at first test ride.
Petrol ex-showroom prices
Sigma 1.5 Rs. 8.2 Lakhs
Delta 1.5 Rs. 8.82 Lakhs
Zeta 1.5 Rs. 9.59 Lakhs
Delta 1.5 AT Rs. 9.81 Lakhs
Zeta 1.5 AT Rs. 10.59 Lakhs
Alpha 1.5 AT Rs. 10.99 Lakhs
Alpha 1.5 Rs. 9.98 Lakhs
1.5 Diesel ex-showroom prices
Delta 1.5 Rs. 9.98 Lakhs
Zeta 1.5 Diesel Rs. 11.09 Lakhs
Alpha 1.5 Diesel Rs. 11.38 Lakhs
Ciaz 1.5 Facelift Petrol Diesel Review
Design

Interior

Features

Performance

Dynamics

Safety

Value

Practicality

Space