Maruti Suzuki announces the upgrade of its entire range of vehicles to meet the updated Bharat Stage 6 Phase II emissions regulations. All Maruti Suzuki hatchbacks, sedans, MPVs, SUVs and commercial vehicles are now compliant with the new BS6 Phase-II Real Driving Emissions (RDE) regulations, alongside being compatible with E20 fuel as well. The new RDE compliant Maruti Suzuki cars feature an enhanced On-board Diagnostics (OBD) system to monitor emission control systems of the car in real-time and will notify drivers in case of any malfunction.
The new Maruti Suzuki BS6 Phase II compliant cars have also been given a significant safety update* as the Company has equipped them with Electronic Stability Control (ESC) system. ESC is an advanced safety system, which is capable of detecting when a driver is losing vehicle control under challenging driving conditions. ESC assists driver in maintaining traction with road by optimally controlling engine output and braking force to each wheel to bring vehicle under control. ESC is offered across range of products in Hatchbacks, Sedans, MPVs and SUVs.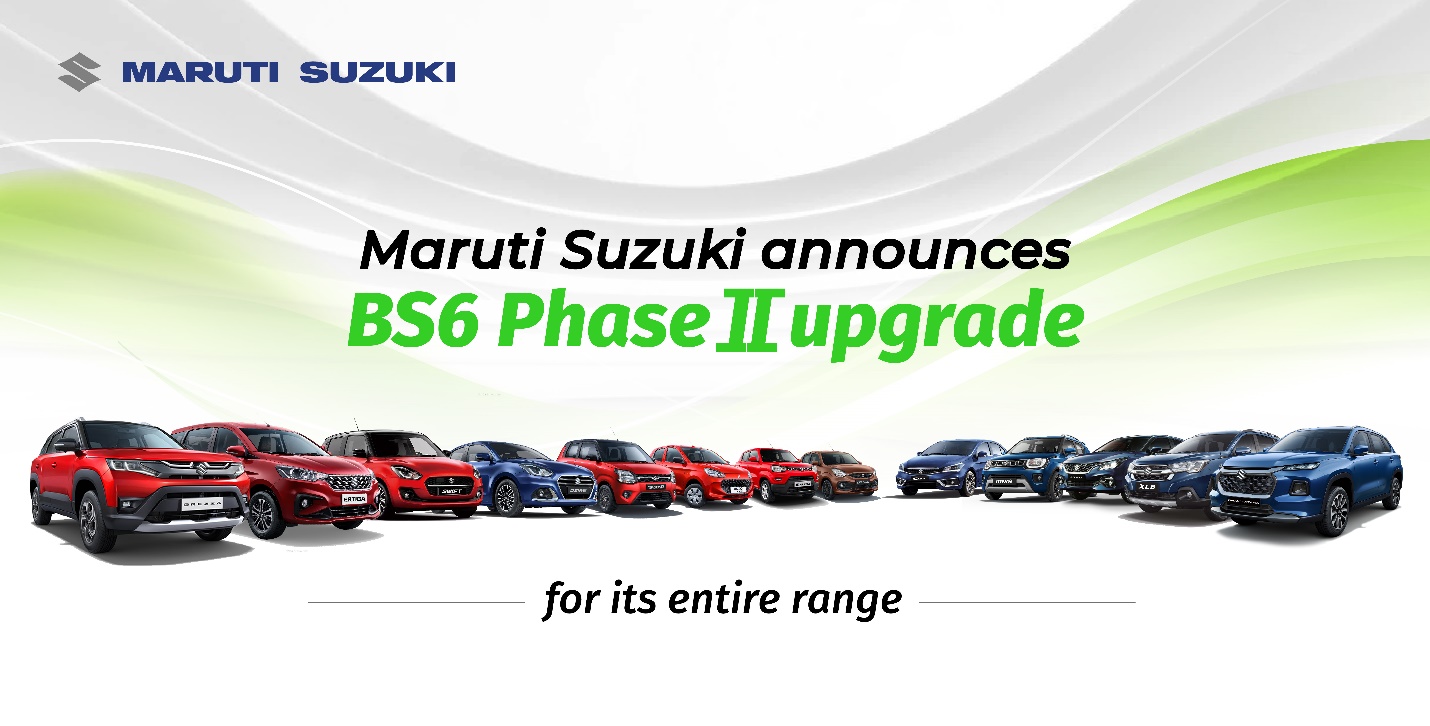 Commenting on the rollout of the updated Maruti Suzuki range, Mr. C V Raman, Chief Technical Officer, Maruti Suzuki India Limited, said, "At Maruti Suzuki, we are always finding new and innovative ways to reduce emissions from our vehicles. Be it with the Advanced Dual Jet, Dual VVT technology, Progressive Smart Hybrid or Intelligent Electric Hybrid system. The Government of India's drive to incorporate the new BS6 Phase II norms will go a long way in controlling emissions from vehicles over their entire lifespan. During this upgrade, Maruti Suzuki also took the opportunity to delight customers even more by equipping our cars with ESC, a leading safety feature globally. With this, Maruti Suzuki cars and SUVs are now safer than ever before and better for the environment, as well."
Maruti Suzuki has a comprehensive offering of 15 vehicles ranging from Hatchbacks, Sedans, SUVs, MUVs and commercial vehicle. The company recently launched its sporty SUV FRONX and will also soon be launching the true blue off-roader Jimny SUV in the country.