Maruti Suzuki Desert Storm 15'th Edition Begins, Offers Next Level of Adrenaline! to veteran riders and drivers and enthusiast from across the country
Maruti Suzuki has been actively promoting safe motorsports in the country for over 15 years now. To popularize action sport yet again, the Maruti Suzuki motorsport calendar is packed with exciting motoring events this year. Motorsport enthusiast, an amateur or a professional, there are events that offer the thrill of motorsport to all of them. The annual calendar includes cross country rallies including Maruti Suzuki Raid-De-Himalaya, Maruti Suzuki Desert Storm and Maruti Suzuki Dakshin Dare.
Recently, Maruti Suzuki has added the National Super League TSD Rally Championship and Maruti Suzuki Autocross championship to its motorsport calendar also, making it even more exciting for enthusiast nationwide. These events provide rallying thrills as well as promote safe driving habits. To ensure safety of the participants the rally is conducted professionally in supervision of top class marshals.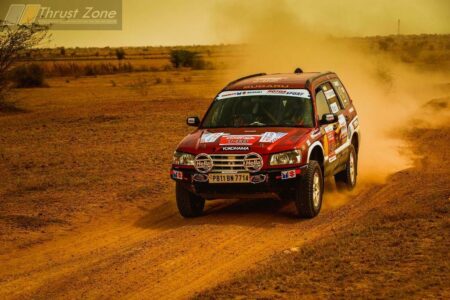 For now, Maruti Suzuki is back with the 15th edition of the much anticipated Desert Storm is back and promises excitement and fun in the sandy dunes of Thar Desert in Rajasthan. The rally will be flagged off from New Delhi on January 29th and will offer an array of rallying experiences to the seasoned motorsport lovers.
Maruti Suzuki 15th edition of Desert Storm will have the participants go through Hanumangarh, Bikaner and Jaisalmer, covering over 2000 km, and conclude in Jodhpur on February 4th, 2017. Also known as the mini Dakar rally, it will take place in four categories, such as XTreme, NDure, Moto and Xplore. All of this will help in adding a new dimension to the rally, the Xplore segment will give the option to participate either for all 6 days or opt for a shorter duration which includes two packages. Initial 3 days or last 3 days.
Maruti Suzuki 15th edition of Desert Storm will continue with the success of the night stage, something that we saw in the past with two editions of the rally. The leg will take place from Jaisalmer covering a distance of more than 150 km. Suresh Rana from Team Maruti Suzuki will look to defend his title from veterans like Sandeep Sharma, Abhishek Mishra and in the moto category India's only Dakar finisher C S Santosh will compete against more than 40 bikers to defend his title. Good luck gentlemen!