Mercedes-AMG GT 4-Door Coupé has oddles of attitude and performance on offer which should impress its clientele very much, does it do to the enthusiast as well?
A striking silhouette with classic proportions put the Mercedes-AMG GT 4‑Door Coupé in the portfolio of its two-door brother at first glance. The expressive design with the low bonnet, dominant front and muscular body language emphasises the sporty genes of the four-door coupé.
With frameless side windows and a flat windscreen inclined far to the rear, features of the classic coupé architecture. With the additional seat row in the rear the characteristic lines of the AMG GT models are not compromised.
The new AMG GT 4-Door Coupé delivers a top speed of up to 315 km/h from its powerful 6-cylinder in-line motor and V8 engines with outputs ranging from 435 hp and 800 Nm to 639 hp and 900 Nm of torque respectively. The AMG SPEEDSHIFT MCT 9G 9-speed transmission is specially tuned to the requirements of the eight-cylinder variants of the new four-door AMG GT. A wet clutch is used here.
The EQ Boost starter-alternator in the new AMG GT 53 also generates the power for the 48 V on-board electrical system. This in turn uses a DC/DC converter to supply the conventional 12 V network for the lights, cockpit, infotainment displays and control units.
Two high-resolution displays each measuring 12.3 inches dominate the Widescreen Cockpit, which is standard in the V8 and optional in the inline 6-cylinder version. Three different styles are available for selection for these all-digital displays: "Classic", "Sport" and the completely new "Supersport". Depending on the driving style or interior equipment, the different styles can be set at any time via the instrument cluster or the central display.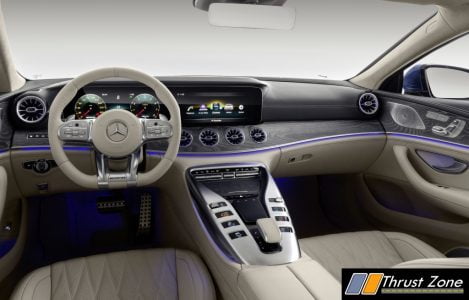 Via the left-hand Touch Control Button on the steering wheel, preferred information can be projected onto the left- or right-hand side of the instrument – for example, the classic speedometer and tachometer, information on navigation or assistance systems through to detailed engine data. Especially sporty drivers can also fade in a g-force display or the current output and torque values.
A new and unique feature comes in the form of the colour display buttons, integrated into the distinctive and tailor-made trim element, for the integral display and control of the transmission logics, suspension, ESP®, exhaust system, start/stop function and rear aerofoil. With their TFT technology the display buttons use coloured, intuitively comprehensible symbols to show the function and are easy to operate with just a small tap of the finger.
The display push button switches are supplemented by the two capacitive switches for the drive programs and volume control. The boot capacity of up to 395 litres is supplemented by around a further 60 litres beneath the boot floor. With the backrests folded down the capacity is up to 1324 litres. AMG GT 4-Door Coupé should land to Indian shores but expect it to be a limited edition priced well over Rs. 2.0 crores