Mercedes V-Class Marco Polo, AMG 35 Sedan and New GLA Added Gleamed At Mercedes Auto Expo 2020 Pavilion
Mercedes-Benz presented an impressive display of innovative products and displayed the future of automobile technology, which these two companies offer for the discerning Indian as well as global customers. While Mercedes-Benz India launched the unique V-Class Marco Polo and Marco Polo HORIZON luxury vehicles in India and showcased the Volocopter which is future of sustainable mobility; MBRDI highlighted the cutting-edge research work on MBUX undertaken in Bangalore and also wrapped up the Hackathon 2019. The Marco Polo was launched in India by Martin Schwenk, Managing Director & CEO, Mercedes-Benz Indiaand together with Manu Saale, Managing Director and CEO, MBRDI;Mercedes-Benz unveiledthe mobility of the future Volocopter.
The Marco Polo takes its body design from its base vehicle, the V-Class, giving an impression of unexpectedly generous space, and nonetheless showing compact exterior dimensions. Thanks to powerful and efficient engines, the 9G-TRONIC suspension, and high safety standards, the Marco Polo is suitable for long journeys and at the same time, it is easy to drive/handle as a passenger car.
Development story of MBUX (MBRDI):
At the Consumer Electronics Show 2019, Mercedes-Benz launched the new MBUX (Mercedes-Benz User Experience) Interior Assist with its CLA Coupé. The intuitive controls system operates in non-contact mode and recognizes gestures and movements to create a smart and seamless experience for the user, both in sunlight and in complete darkness. Software experts from the Infotainment & Connected Car department at Mercedes-Benz Research and Development India have played a key role in the development of the MBUX. While the overall product responsibility remained with RD experts from Daimler AG, the end-to-end software chain for the MBUX Interior Assist was successfully developed at the Bangalore RD center.
What3words:
What3Words:Mercedes-Benz has built what3words location technology into its MBUX navigation system. Mercedes-Benz is committed to offering a premium and intuitive customer experience, and what3words ensures that drivers reach their destination seamlessly, every single time.By integrating what3words into their vehicles, Mercedes-Benz customers can benefit from a preciseand incredibly simple way to talk about any location. what3words is the only addressing system thatallows for accurate and error-free location input by voice. Mercedes-Benz recognised the system'spotential and built it into its infotainment system, removing the challenges associated with in-carnavigation and providing a smooth driving experience.
Volocopter: Urban Air Mobility
The Volocopter wrote history in 2011, when it completed the very first manned flight of an electrically powered multicopter. Since then the German company has demonstrated flights in Dubai, Singapore, and Stuttgart. The pioneers in the development of electrical air taxis that take off and land vertically (eVTOLs), Volocopter builds aircraft that are based on drone technology and carry two people. The company will establish Urban Air Mobility (UAM) in addition to current transportation options in megacities globally. The aim is to offer affordable on-demand air taxi services and save people time by flying them safely to their destination. As such Volocopter aims at opening up a completely new dimension to urban mobility. Currently, the company is striving for commercial certification through the European Aviation Safety Authority and expects to open the first commercial routes within two to four years. At the Delhi auto show, a VoloCity 1:3 scale model will be on display.
V-Class Marco Polo:
The compact camper is ready any time – for vacation, spontaneous weekend trips out in the nature instead of staying in a hotel, for extended shopping trips with the entire family or even for driving to work. Therefore, the Marco Polo offers a maximum of opportunities to be independent, free and spontaneous.
Key Product Features of Marco Polo:
• Standard safety features include windowbags and thorax-pelvis sidebags for the driver and front passenger, ATTENTION ASSIST, which can warn against inattention and drowsiness.
• 360 degree reversing camera
• LED Intelligent Light System
• Vehicle is also available with AGILITY CONTROL Features the basic Mercedes me connect services
Key highlights of Marco Polo:
• Room for up to four people to sleep comfortably on the 2-seater bench / berth with an electro pneumatic backrest/in the roof bed
• Four seats as standard, with the option to extend to up to six seats
• Kitchenette with hob with two gas burners, sink and integral refrigerator and a folding table
• Diverse stowage options in cupboards, drawers and in the roof stowage box
• Fresh water and waste water tank
• Exterior power connection plus 230V and USB socket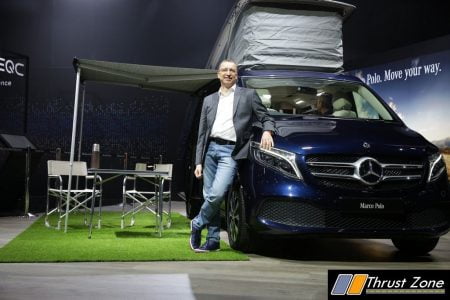 Standard equipment for Living of the Marco Polo:
• Cupboard module with kitchenette and trim in high-gloss black with piano-lacquer look
• 2 drawers at top with self-closing feature
• A large drawer bottom right with self-closing feature
• Floor unit on left with intermediate bottom and sliding door, table integrated into cupboard
• 38 l fresh water tank, 40 l wastewater tank
• Compressor refrigerator, 40 l capacity
• Rear right power vent window in the rear
• Exterior connection for 230V socket and lockable fresh water filler neck
• Floor covering in yacht-decking look creates a high-quality, pleasant atmosphere
• Comfort seat for driver and front passenger with impressive ergonomics and a flexible, practical swivel feature
• Extendable awning
• Camping table with two folding chairs
Standard Equipment for Sleeping – Marco Polo
• 2-seater bench as comfort berth with bed extension (bed area approx. 2.03 m x 1.13 m)
• Pneumatic seat bolsters and one drawer
• Easy electric pop-up roof pop-up roof with roof bed for two people
• Blinds in the rear and a curtain for the rear windshieldfor shade and privacy
Engine & Transmission:
With the Marco Polo Camper van based on the V-Class, Mercedes-Benz India introduces another BS VI diesel vehicle. A 1950 cc diesel engine that churns out 163 hp and 380 Nm of torque will power the Marco Polo and Marco Polo Horizon.
The Marco Polo HORIZON recreational vehicle
The Marco Polo Horizon is a revelation for anyone fond of spontaneous and stylish adventure tours, with the agility and the driving comfort of a passenger car that can deliver one to their dream destinations feeling relaxed.
Some key highlights comprises:
• Room for up to five people to sleep comfortably on the 3-seater bench and in the roof canopy bed
• Five seats as standard, with the option to extend to up to seven seats
• Multiple seating options available, e.g. comfort seating comprising five seats in the rear
• Electric sliding doors on the rear
• Manual Pop-Up roof
• Extendable awning
• Table package available as an option
• Opaque curtains in the rear and for the rear windscreen for privacy
• Comfort seat for driver and front passenger with impressive ergonomics and a flexible, practical swivel feature
Mercedes-Benz also unveiled the sporty and stylish luxury SUV the new GLA, which had its world premiere in December 2019. The new GLA features an iconic design that redefines its class again. It combines masculine off-roader genes with Mercedes-Benz's philosophy of sensual purity. The new GLA now has even more powerful proportions and stance that compliments its SUV stance.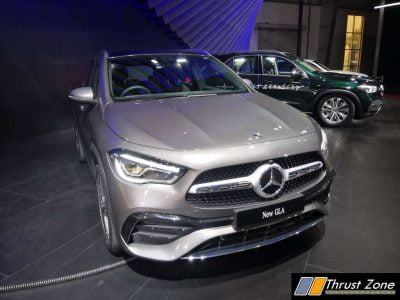 New GLA – Mercedes-Benz new GLA offers more convenience, more safety and is a testament of modern luxury. The profile of the new GLA has changed quite a bit. Compared to its predecessor, it has become taller and shorter. The reason: it only gained in size, where it truly gained in convenience for the passengers.The GLA is the perfect package: spacious, safe and intelligent, as well as efficient and sporty. It features an iconic design that redefines its class again. It combines masculine off-roader genes with our philosophy of sensual purity.
This AMG is a real benchmark in its segment. The new AMG A 35 Limousine expands the AMG portfolio as an attractive entry-level model in every respect. Dynamism, agility and performance – these three attributes characterize the standard all-wheel drive of the new AMG A 35 Limousine. The AMG Performance 4MATIC combines the best possible traction with lots of driving fun.The powerful exterior design adds characteristic AMG elements to the design idiom of the car.