In the premium SUV category, which is dominated by the likes of Toyota Fortuner, Ford Endeavour, and Mahindra Alturas G4, MG has made its entry in the form of Gloster. The competition is tough for the MG as it is pitted against the heavyweights although there are many things that favour this new entrant including its price, features, and performance. We compare the new MG Gloster against other established full-size SUVs to find out which one comes out on the top.
1) Size and Dimensions: MG Gloster has got a dominating Road presence and, in this comparison, it is the longest and tallest SUV. What further aids Gloster's appeal is its 2950mm wheelbase which is longest in the comparison. Mahindra Alturas G4 is the widest(1960mm) among the lot although Gloster is not far behind with the cabin width of 1926mm. Toyota Fortuner has the shortest wheelbase (2745mm) while its cabin is narrowest with width pegging at 1855mm. In fact, Fortuner is the smallest SUV in this comparison on each and every measure of dimension.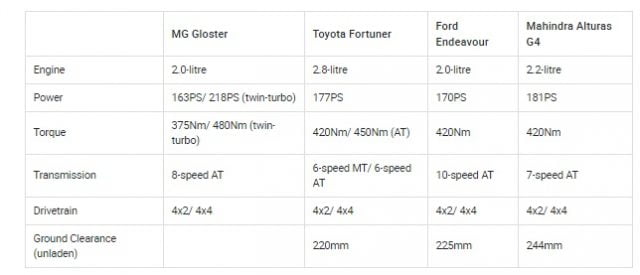 2) Engine and Transmission: Toyota Fortuner is the only one with both petrol and diesel engine options as all other three players, viz., MG Gloster, Ford Endeavour, and Mahindra Alturas G4 feature only diesel motors. Hence, we are going to compare only diesel Motors in this comparison.
Thanks to its twin-turbo technology, MG Gloster puts out 218PS and 480Nm from a 2.0-litre capacity diesel engine. This output makes it the most powerful SUV in this lot although, in its single-turbo variant, the Gloster's output (163PS/375Nm) is the lowest one. Toyota Fortuner uses the biggest capacity 2.8-liter diesel motor and is the only SUV to get both manual and automatic transmissions. All other offerings in this comparison feature only automatic transmission. You can have both 4X2 and 4X4 variants on all SUVs while Ford distinguishes itself by offering a first-in-segment 10-speed automatic transmission in India.
3) Features and Equipment: As expected, all SUVs featured here comes with modern gadgetry to lure the buyers. However, MG Gloster has a considerable advantage in terms of high-tech, new-age features it comes equipped with. Take, for instance, the level-1 autonomous driving available on the Glosterthat is the first-in-segment feature. Mahindra Alturas G4 offers the highest number of airbags but it lacks off-road hardware that is available on both MG Gloster and Ford Endeavour. Toyota Fortuner lags its rivals in terms of technology and features as it has been quite long in the tooth and now requires an upgrade to fend off against new market offerings.
4) Price: In terms of value for money, Mahindra Alturas G4 offers you the most bang for your buck. Toyota Fortuner is the most expensive of the lot. MG Gloster in available in four different variants and with the price range stretching between Rs 28.98 lakh to Rs 35.38 lakh, it comes across as a competitive offering. Meanwhile the Endeavour seems more favourable SUV in this lot as it offers everything at a great price tag.