The electric cars are here and they are here to stay. It started with the small Mahindra E2o and now we have quite sophisticated cars such as the Hyundai Kona, Tata Nexon and now this, The MG ZS EV. There is a demand for electric cars even in our market. Why? The novelty factory is always high in India and that is what everyone wants to trap. Despite, this is not a conventional car, it requires infrastructure to be used well, people are still opting for it.
The reason? There is a lot that comes with the car this time around. Usually you get a gift, a full fuel tank and photo with a large dummy key. This time around you get most of that and more essential items. What is the MG ZS EV offer then? Also, does it offer even more than the usual to truly satisfy the needs of Indian consumers. We find out as we drive a full EV on the roads doing everything possible. Driving in city roads, fast highway run and trundling around with our usual routine of assessing and shooting it.
Design
The MG ZS EV is a plain vanilla looking crossover with stance of sedan and SUV combined. The design does grab attention because of unseen lines on the body. The front grille is inspired from the Mercedes A-Class. The headlights do look rather good and our inspired by the London eye.
The wheels have a wind turbine inspired engraved design on them. The rear is the muscular part of the car which gets the most attention as the C-pillar kink is also quite unique to the Indian market. The artic blue color of our test car is quite unique to Indian consumers which helped the car stand out. Overall, a slightly plain jane approach, but the elements and detailing does make it look good.
Interior and Features
Interior also follows the same vanilla format as there is no flow or any theme here. The air vents and dials are old school and modern at the same time which make the cabin look interesting at first glance. The steering wheel and screen layout is also quite basic, but it does the job well because there is still a novelty factory. This could either last long in your eyes, age well or just pan out in a few years when it comes to interest, depends on your taste. There is ample storage space below the center console, center armrest and cup holders are on offer as well. Space in the back is good with adequate leg, knee and shoulder room and so is the boot space. However, the rear seats are a bit upright for long distance, which the car isn't entirely meant for.
The MG ZS EV has an 8-inch touchscreen infotainment head-unit, 6-way power adjustable driver seat, panoramic sunroof, rain-sensing wipers, push button start stop with Smart Entry, 3-level Kinetic Energy Recovery System. There is also cruise control, auto headlamps with follow me home function, air-conditioning and power adjustable ORVMs. Projector headlamps with LED daytime running lights, 17-inch machined alloy wheels, roof rails and a spoiler are part of the package too.
Driving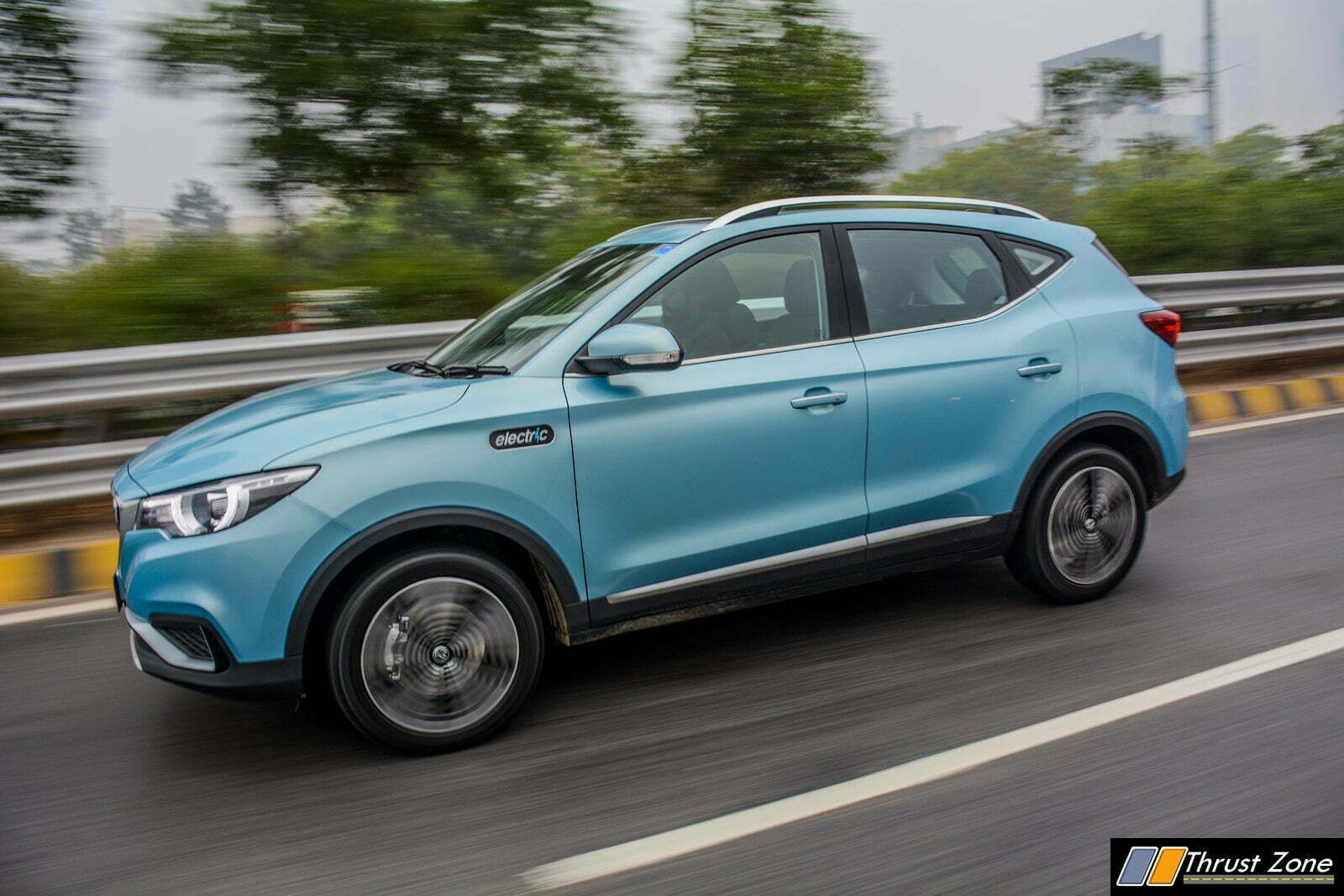 The MG ZS EV gets an electric motor producing 141 BHP and 353 Nm. It comes with a 44.5 kWh lithium-ion battery pack. The MG ZS EV gets an maximum range on a single charge is 340 km. MG claims that the battery can be recharged to 80% of its capacity in 50 minutes using a 50 kW DC fast charger. The power is delivered instantly, you can spin the wheels for quite some time if accelerate hard of the line.
Driving the car is different as there smooth and instant torque without any gear changes available. There are modes to make things more aggressive or more tamed. There is a regenerative braking mode which can be dialled up or down to suit your needs. The higher you keep it, the batteries charge faster but it also slows down faster as you lift of the throttle. The easier mode brakes slowly and charges battery a bit slowly too.
Dynamically, the body roll is well controlled. Like most electric cars, the suspension is on the stiffer side and it does feel just shy of being harsh. This is also something new to this segment and to the Indian consumers. This setup is seen in very sporty luxury cars. Ride quality can be a deal breaker for some who ferry people a lot, can expect some complains.
Braking, needless to say is good enough with grip from sticky tyres while cornering. There is understeer to a certain extent too. Steering is light and precise but feedback feels artificial. Overall, it is a different experience, be it the suspension or engine of the ZS EV, but it is in the right direction.
MG ZS EV India Review, Verdict
The story goes live after some time and video did go up on time. This gives more info on how the audience response has been. There are reports to be believed that the ZS EV has been sold out and MG has 3000 bookings. The manufacturer aimed to sell not more than 2000 units. The initial pricing was aggressive and price increase didn't spoil the mood either and hence the numbers of sales are high.
The aggressive approach towards the EV car market has never seen before and it has paid of for MG and probably others too. Like we said earlier, you do get a lot. Charging cables, home charger installation, tonnes of features and DC charging facility at dealers. That sums up the large benefits that MG offers. The MG ZS EV then, is here and its here to stay for a long time as now we know, it ticks most boxes, including value.
MG ZS EV India Review
Design

Interior

Quality

Features

Safety

Performance

Dynamics

Space

Value

Comfort