A segment defining model, the Nissan Qashqai has been and remains a vehicle that's put Nissan at the front of the pack in Europe and other key markets over the past 15 years. Delivering the best of hatchback compactness and SUV practicality, the Nissan Qashqal is the perfect fit for urban and suburban drivers who appreciate premium character. The Qashqai is marked by a striking design, and an elevated life-on-board ambience, sporting a stylish front and rear profile
https://studio.youtube.com/video/tNsLl9Ew_TM/edit
It offers notable roominess with impressive head and shoulder-room, plenty of legroom in the back, and a sizable boot with the option for rear seats to fold down Multiple storage options are also built in, from a bottle-swallowing door bin and two large cupholders, to a wireless smartphone tray, and a deep, two-tiered, underarm cubby
Underpinning this all-new Nissan Qashqai is the new Alliance CMF-C platform, which has allowed Nissan's product-planners, designers and engineers to create a vehicle that successfully reconciles challenging customer demands of design, spaciousness, dynamics and carbon footprint. This award-winning modelis offered with two distinct powertrain options- one with a1.3 litre petrol with mild hybrid, which is offered with two outputs and the other, powered by Nissan'sexclusive e-POWER technology. Qashqai Mild Hybrid:
The 12V ALIS (Advanced Lithium-ion battery System) mild hybrid system in this all-new Qashqai is a more affordable hybrid technology It provides torque assist, extended idle stop, quick restart and coasting stop (Xtronic only); enhancing both fuel economy and CO2 output. When decelerating, energy is recovered through regeneration and stored in the Lithium-ion battery. This charged energy is then supplied during Idling Stop
Coasting Stop (Xtronic versions only) and Torque Assist ⚫ When coasting to a stop, at speeds of less than 18 km/h, with light braking, the engine will switch off and the stored energy is used to power the vehicle's electrical equipment. This allows the engine stop to be extended and fuel consumption lowered as a result
A six-speed manual gearbox is the standard option for this Qashqai. It also comes with an Xtronic automatic gearbox, offering customers a choice that suits their unique driving preferences. It sports an anall-wheel drive system, with a direct coupling that instantly powers the rear wheels when afront wheel slip is detected.
https://studio.youtube.com/video/i6Sc6M8PntI/edit
⚫ Drivers also enjoy enhanced interaction with the vehicle thanks to a drive mode selector on the centre console, allowing a choice of all-wheel drive settings to suit various driving conditions, with Standard, Eco, Sport, and Off-Road modes
Qashqai e-POWER
•Exclusive to Nissan the e-POWER system is a unique approach to electrification that makes everyday driving both engaging and efficient
The e-POWER system is comprised of a high-output battery that is complemented by a variable compression ratio 1.5-litre three-cylinder turbo-charged petrol engine generating 156hp, a power generator, inverter and 140kW electric motor of similar size, and power output as found in Nissan's electric vehicles. The petrol engine generates electricity, which can be transmitted via the inverter to the battery pack, the electric motor, or both, based on the driving scenario
What sets this powertrain apart is that the electric motor is the sole source of power for the wheels, so its response is instant and linear, delivering a pleasurable, effortless, and smooth driving experience. The driving experience in the Nissan Qashqai e-POWER is associated closely with the feel of a pure EV, but without the need to recharge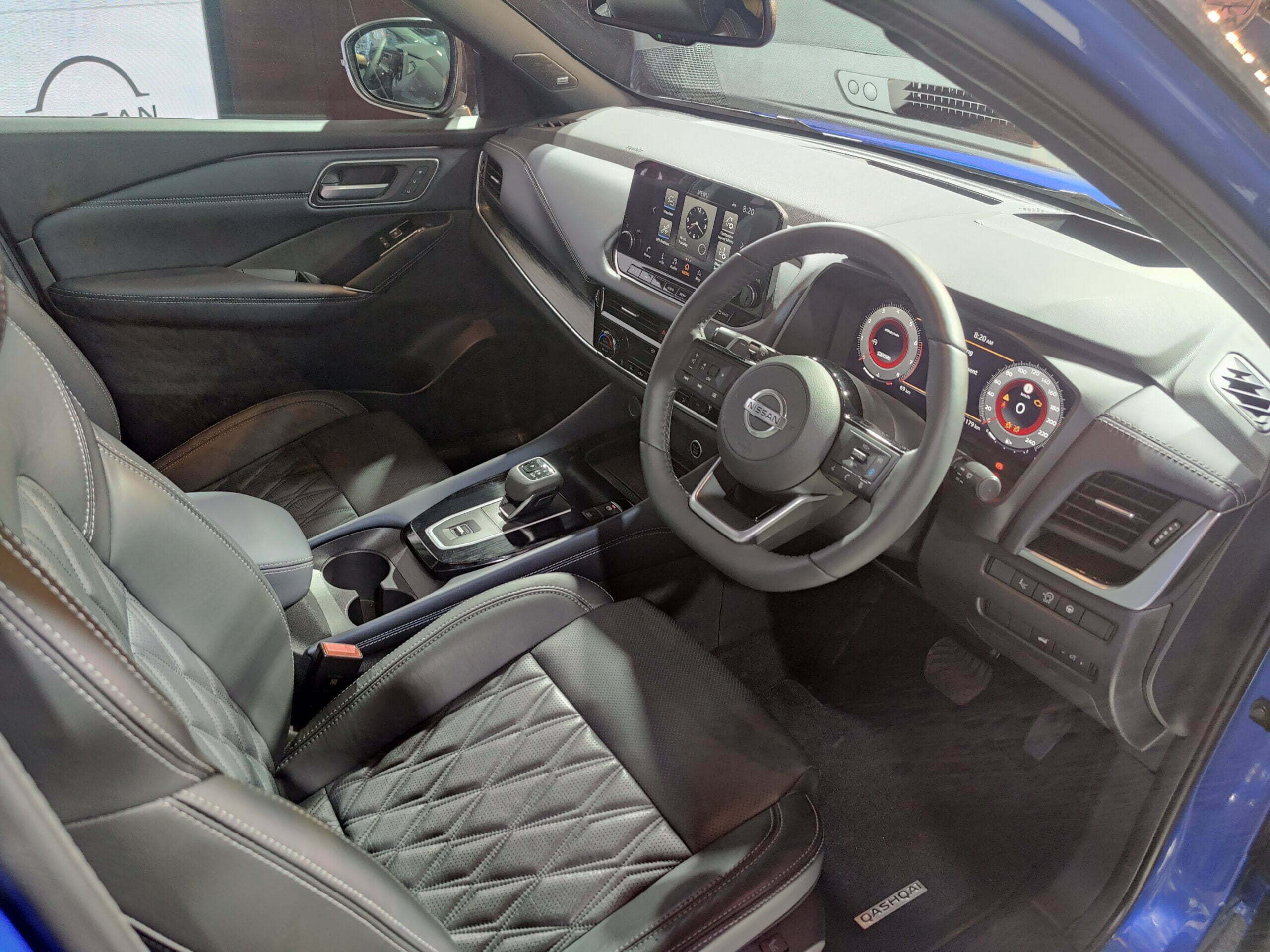 SPECIFICATIONS Qashqai e-POWER
Power Max torque ICE
Max torque ICE 250Nm
Max torque E-motor 330Nm
Kerb Weight: 1,612-1,728kg**
Cd 0.32
Max speed 170km/h
0-100km/h 7.9 secs
Length 4,425mm
Width (excl mirrors) 1,835mm
Height 1,625mm
Wheelbase 2,665mm