A SUV that is brand new, still no formal and lengthy introduction. The new Range Rover Velar couple of years ago and is now become the best SUV's in the market to own. The stunning looks courtesy of the all new design philosophy at Range Rover studios means they crafted some truly British and Range Rover and at the same time, something downright sophisticated and futuristic.
We drove the Range Rover Velar earlier and told you about the same. The manufacturer did get most things but somethings were missing. A proper variant for test wasn't available, but this time the only variant that is available is going to be the top of the line of R-Dynamic S variant. The engine is the petrol motor yet again. The diesel are on hold right now. Post BS6 they should be ready with that too. Now let us concentrate on a variant that is ready for testing for us and ready to buy for you, the customer.
Design of the SUV is the highlight. The sleek silhouette, the sloping and low roof-line with less glass area gives it a coupe feel with the full blown SUV proportions. The flush door handles make the side profile clean. The test car had a black roof and A-Pillar which is part of the exterior package. The large doors and wheels add stance and substance to the car. Front bumpers have bronze finish bars which is bespoke to any car in the world right now.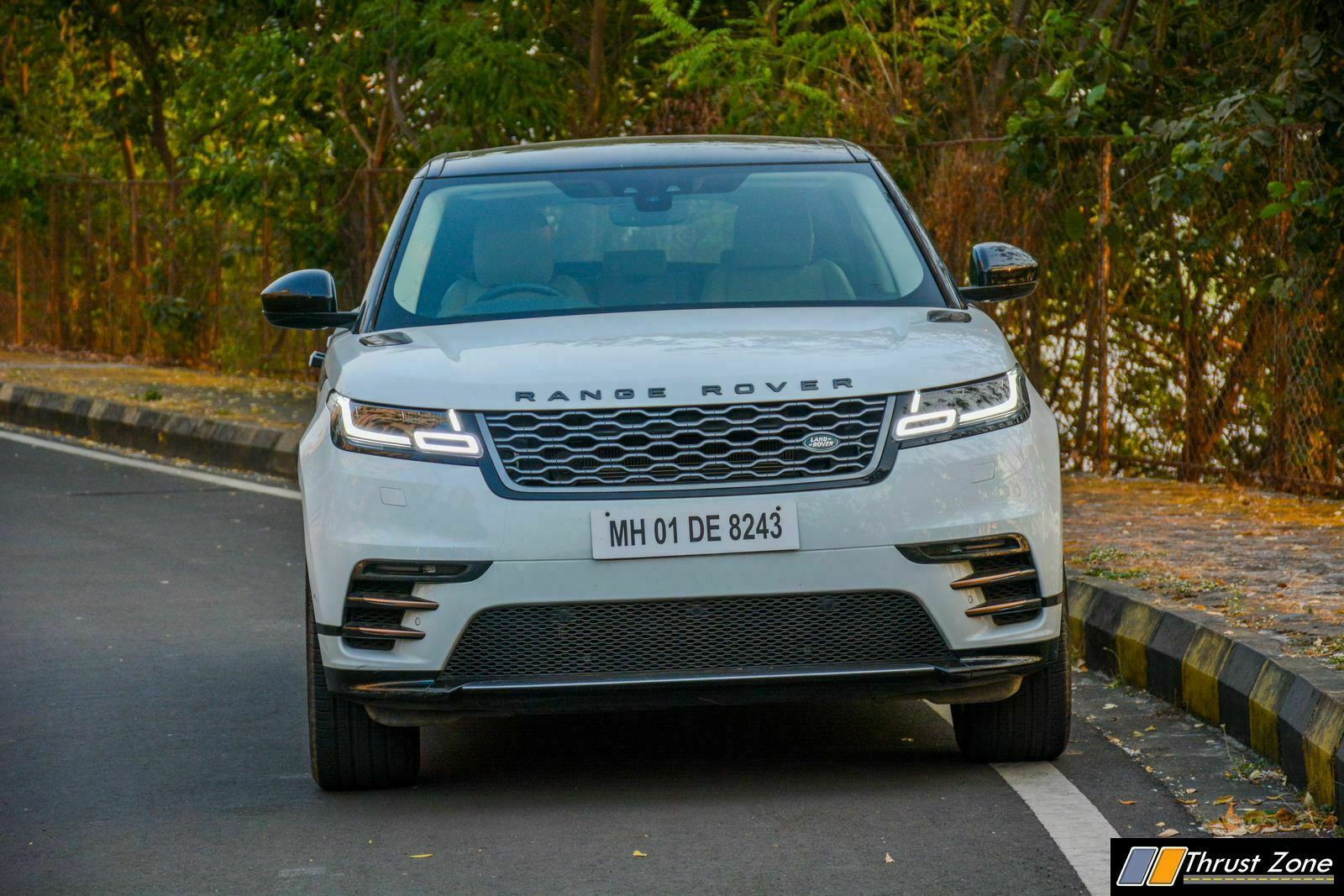 The front of the car including the headlights, grille and bumper, everything sits so flush, it feels like it was made on paper and then it was printed. This is felt not just while looking at it, even while touching and checking surfaces. The tail-lamps and the illumination inside them also elude the same aura. So, the stunning attention to detail is spot on and the overall car just fit likes a glove on the road while making eye ball pop!
Interior of the R-Dynamic S variant we see here are white and so is the steering. Touch Pro Duo screen well, connectivity has become faster when it comes to devices and Applications working fine. Android Auto and Apple Car Play are now on offer. Navigation is part of the list too. Features list includes Activity Key, Wi-Fi and Pro Services, Meridian Sound System (380W), Four-zone Climate Control, Cabin Air Ionisation, panoramic sunroof.
Space in the back seat is good enough, but could have been more accommodating. You do sit a bit lower than usual, but high enough my SUV standards. The cushioning and support in all four seats is excellent and delivers long distance comfort. There is also Premium Leather interiors, 50.8 cm (20) wheels with Full size spare wheel, optional R-Dynamic exterior pack, Adaptive Dynamics, Premium LED headlights with signature LED DRL, Park Assist, reversing camera. Terrain Response 2 with Dynamic Program, Electronic Traction Control (ETC), Hill Launch Assist, Hill Descent Control (HDC) Park Assist, 360⁰Parking Aid 6 Airbags, Tyre Pressure Monitoring System (TPMS), Rear Camera Cruise Control and Speed Limiter, Driver Condition Monitor and Lane Keep Assist. All of this makes the Velar quite loaded against its competitors.
Engine
Driving the car was a similar affair as well. 250 BHP, 365 Nm of torque from 2.0 four-cylinder motor, putting power to all four wheels via 8-speed gearbox. The engine is refined but could have revved quicker and the gearbox could have been more snappier as well while changing cogs. Driveability though is very good and mid and top-end power is more than adequate for our roads. It is just that it could have been more responsive and active in delivering all that power and torque via a faster spinning engine and gearbox. The result of all of this is, this can deliver between 9 km/l to 11 km/l in mixed driving conditions of roads and driving behaviour.
Ride and Handling
This petrol motor equipped SUV does feel light on its feet and changing direction is no problem as it is nimble enough for our city roads, but you do feel the long wheelbase. Ride quality is very good indeed but there is also body roll, but not very high and whatever the amount, its well controlled. Pushing it harder in the corners, or giving it the full banana's, the SUV stays stable and confidence inspiring all the time. Steering feedback is good, but could have been better. No such problems with the brakes as they are good enough and pedal bite is acceptable too.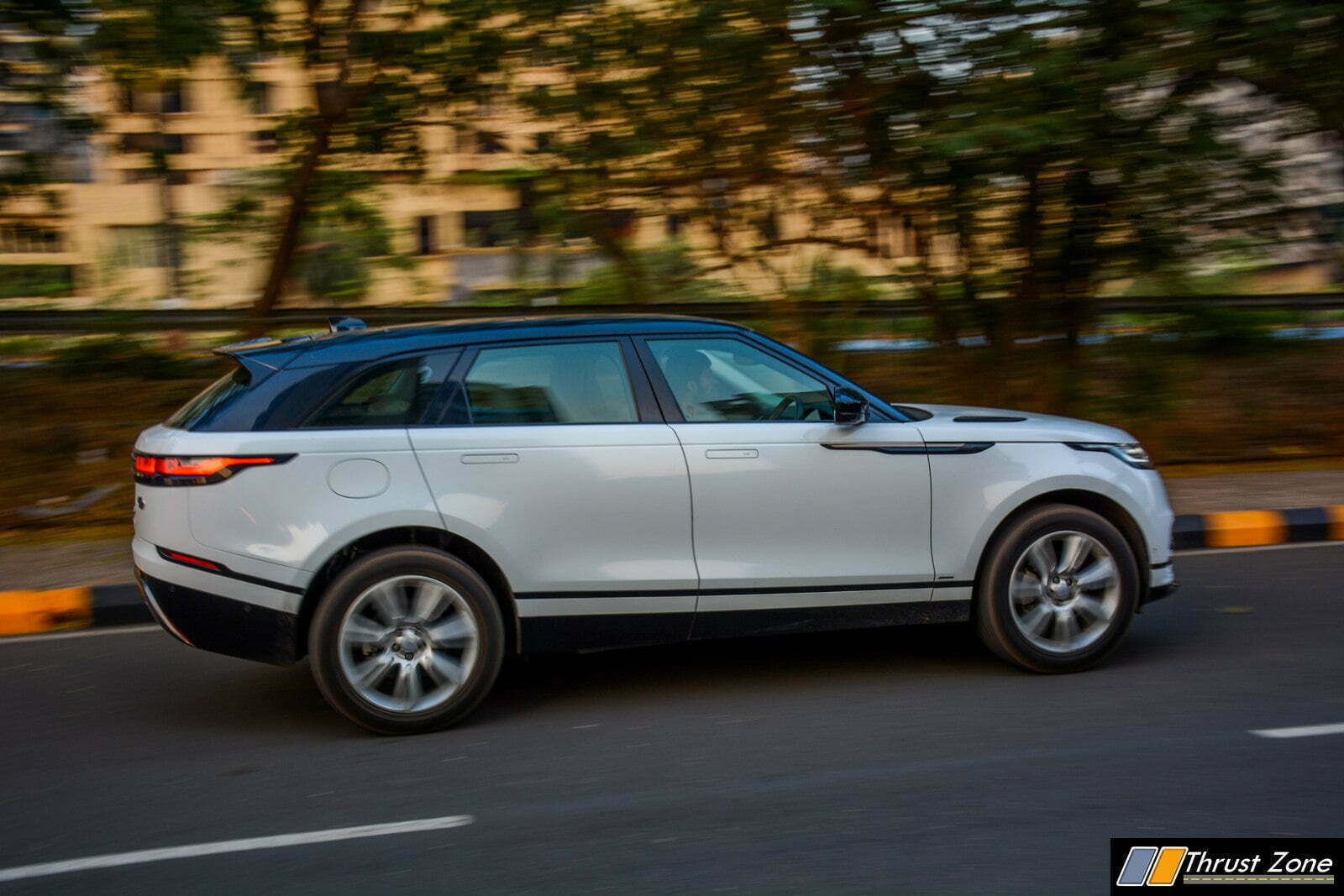 Range Rover Velar R-Dynamic India Review, Verdict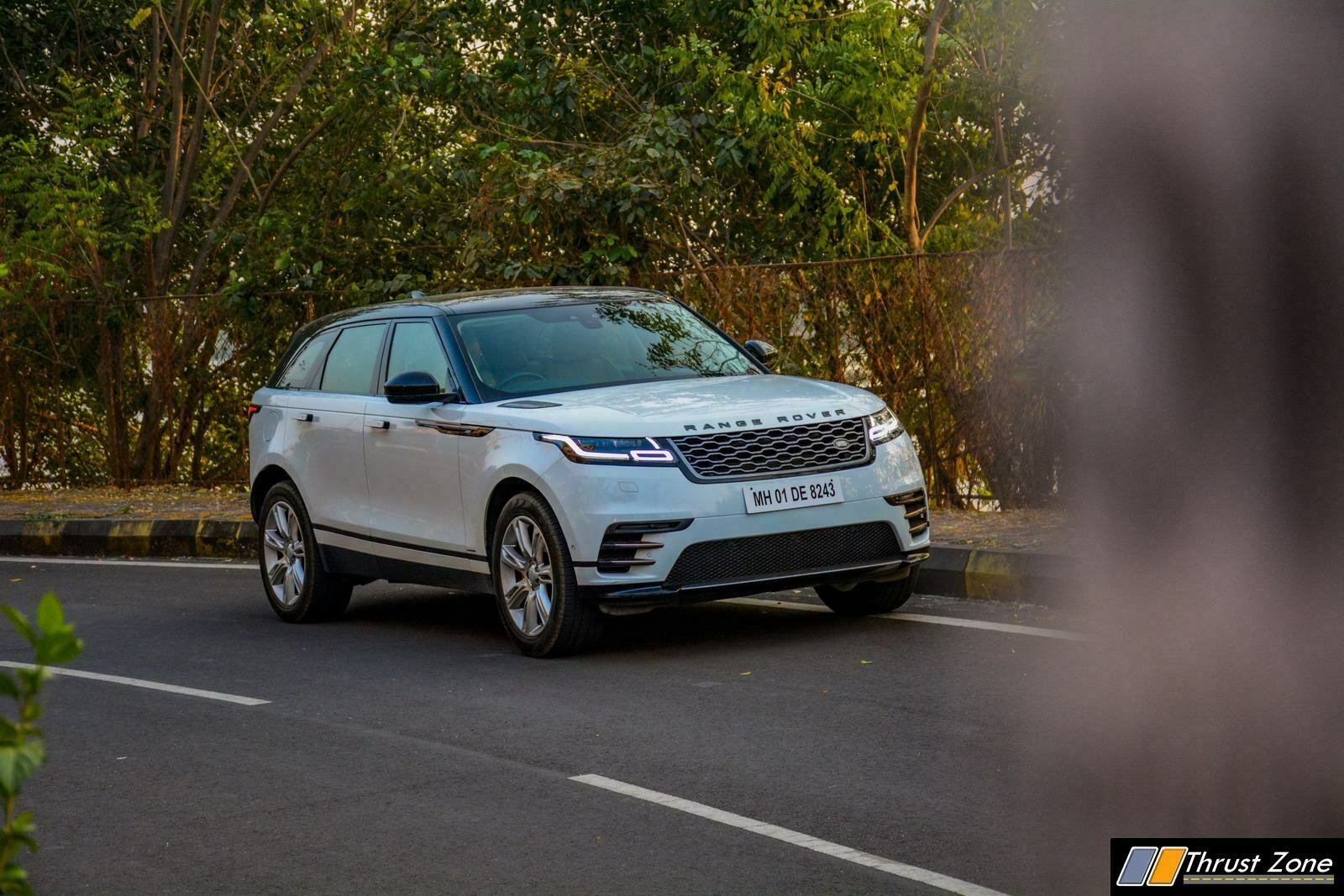 The R-Dynamic Velar or any other Velar variant of the past has enticed its prospective customer base with Range Rover DNA, futuristic design and so smooth lines that can impress a women in a pub. With engines that are efficient, pricing that is now corrected and will be done in the future as well, the Velar makes a perfect case if you want to spend a crore rupees to get the best thing in the market that can do it all. Sure, this is a road focused Range Rover, but the DNA is still there, it can do a lot more than its rivals. This makes the Velar and in specific, the R-Dynamic S variant the SUV to look forward for all your stylish/All-rounder SUV needs that would ever have.
Price: 2.0 l Petrol R-Dynamic S Rs. 71.87