Needless to mention in the year 2022, Adventure motorcycles are the need of the hour. We all needed to deal with bad roads right out from the homes to unexpected roads around the country. Royal Enfield Himalayan was a no non-sense adventure motorcycle that came along and it was an almost industrial-looking and feeling motorcycle that we needed, surprisingly. The easy-to-use nature and the simplicity it offered in power delivery just made it a hit instantly and a miss almost immediately. Thanks to crippling issues. However, it all started getting sorted with BS4 and now BS6 offers an even more refinement and trouble-free affair. Robust and ease of use continue to be its forte but there are some changes in the BS6 avatar. What are they, we spend weeks to tell you all about it.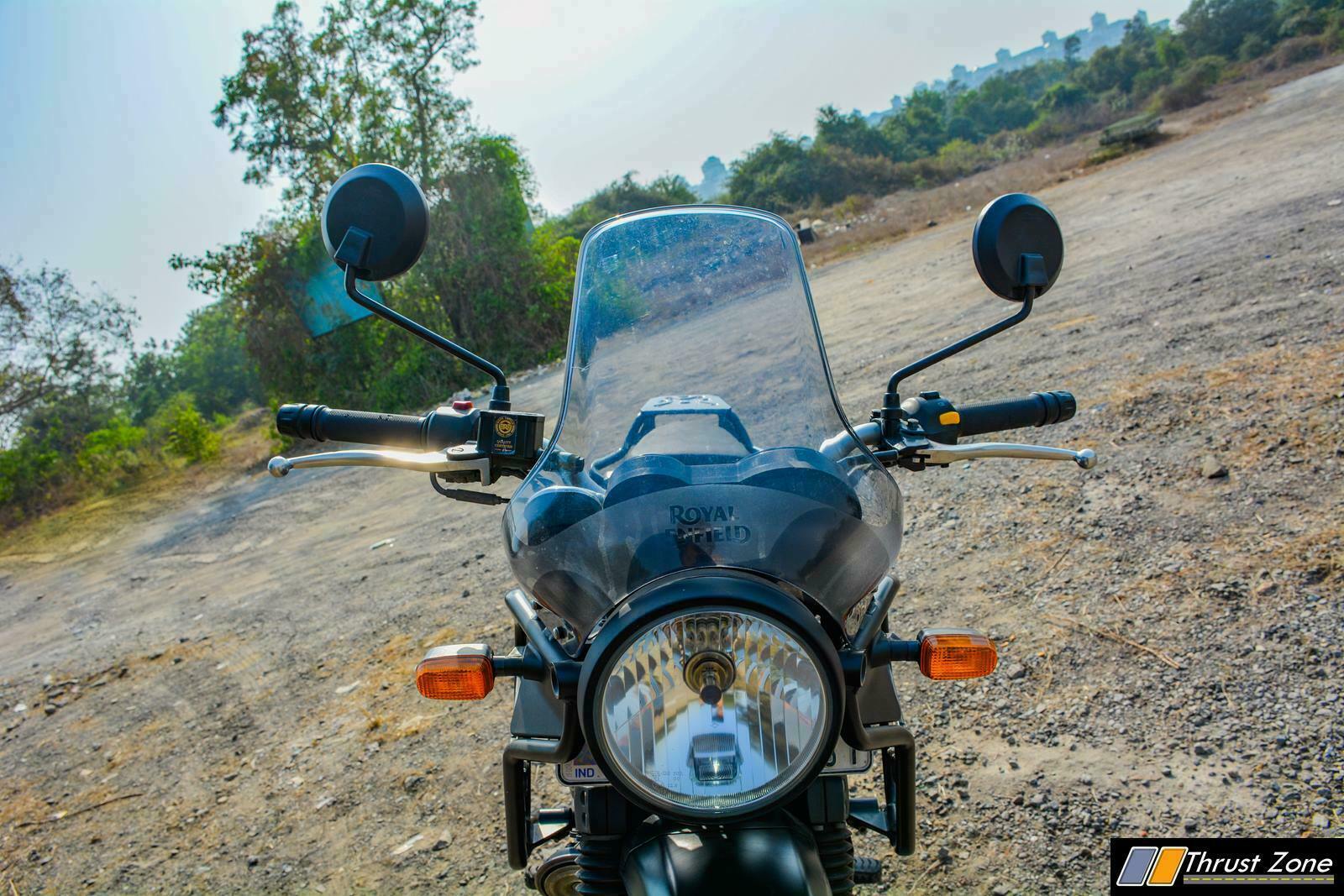 When it comes to design, the headlamp is the usual round-shaped unit. Illumination and spread of the headlight impressive on a pitch-black road. The tank is square and big with with matte black giving it a robust and a bit industrial look. The jerry can mount and very 90's windshield gives the Himalayan a proper simplistic adventure motorcycle look unseen for decades.
The rear tail-lamp is with multiple LED bulbs is distinctive for Himalayan. The wheels are spoke units and the forks are fully covered to give it the retro look. The side panel looks very basic with Himalayan badging on it.
The rear fender is short enough to make it look sporty and purposeful. Grab handle is basic and does its job. The split seats give it a good look. The exhaust also looks befitting but it is new over the previous version. The new crankcase design helps it get a new look while preserving the old classic heritage. Overall, a motorcycle that looks good, proportionate enough, and grabs attention in almost all colors.
The instrument cluster continues with new multiple pods and also has a digital layout below it showing a fuel gauge, trip meter, eco-driving manner, service indicators and more. The telltale lights are in between the pods. The tachometer and a compass are on offer as the previous Himalayan. Switchgear is the same as the earlier version. A tripper navigation option is also available with the new Himalayan making things easier on a daily basis. Mirrors offer a good view of what is behind but could have been bigger.
The ergonomics are the same as before with the seat positioning being upright and the handlebar is even higher. Making it easier to ride while standing up. Footpegs are rear set which helps grab the tank rather well. Seat comfort for rider and pillion is above average. Mumbai-Pune 300 km runs during our road test were far better than the previously tested Classic and Meteor 350. 800 mm is the lowest seat height in this class making it accessible for all types of riders.
Powering the motorcycle is a 411cc engine making 24.3 PS and 32 Nm of torque from a 2-valve, SOHC, air-cooled engine. The motor is mated to a 5-speed smooth-shifting gearbox that operates with a fairly heavy clutch action. The refinement is now much higher than the previous version. You can rev it all the way up and there are negligible vibrations on the handlebar, seats, and footpegs. Low and mid-range torque is where it excels as it does lack punch after 110 km/hr. The cruising speed is still around 80-90 km/hr. However, it does that in a calm, smooth and consistent manner than before.
The top speed is 135 km/hr on the speedo. The soundtrack, be it intake or exhaust note does remind you of RE of the past but albeit with a lower decibel and different tone. Throttle response is precise and power delivery is linear as always. Fueling is sorted throughout the rev range and makes it easy to ride in the city at low speeds with only a small hiccup between 2000 and 3000 RPM. We are getting 28 km/l in the city and 34 km/l on the highway. Overall, there is nothing really to complain about apart from the fact that the motorcycle could easily take 7 more horsepower.
Dynamically, the front rake and trail are surprisingly sharper making it easy and quick to chuck into a corner. Composure while cornering is great thanks to a long wheelbase and solid chassis setup. Suspension is soft and travel remains the same at 180 wheel travel and 200 mm suspension travel. The massive 220 mm ground clearance makes things easier over going all sorts of obstacles. Front forks need to provide more feedback but they do their job of being planted and compliant! The rear suspension is a link unit and is 6-step adjustable. Ride quality is excellent over the worst of city and highway roads and this is where the Himalayan can maintain speed and gain traction over normal road-biased motorcycles.
90x90x21 section tyre at the front and 120x90x17 section at the rear complement the suspension just right. The brakes surprisingly are good for road high-speed braking but still, could be better in performance as the bite is almost ideal. High-speed stability is good too with a light or heavy rider, suspension seems adept for more riders from the factory setup itself. ABS is switchable which means the rear brake can be switched off to have more slides or in tricky situations. Maneuvering at low speed requires a bit of effort than before including at parking speeds. Overall, a typical Royal Enfield to ride but once the speeds rise, it becomes as easy as eating cake!
Royal Enfield Himalayan BS6 Review, Verdict
The Himalayan then still has some tit bits need to be sorted. However, for the most part and let us be honest, the jaw-dropping incidents of the past are well, left in the past. We didn't encounter anything serious on the motorcycle and it was a smooth affair. Riding it daily though, got us addicted to how we can take any type of road for granted as the bike just clobbers over everything you throw at it. Yes, we admit, we did jump upon a small pedestrian path with this for a few seconds as the road was jam-packed and that is the special ability that the Himalayans has. Anyone can do anything and that is why Himalayan remains our top choice in this category as it meets speed, ability, and reliability along with a unique X factor that makes it appealing enough to be considered even today in vast and sophisticated peers list it goes against.
Royal Enfield Himalayan BS6 Review, Road Test
Design

Features

Quality

Performance

Dynamics

Practicality

Value

Comfort

Safety