With Royal Enfield (RE) revealing the specification of Hunter 350, we pit this bike against its rivals Honda CB350RS, Jawa Forty Two, and TVS Ronin. For the sake of comparison, we have selected the higher variant of RE which comes equipped with a dual-channel ABS system and other prominent features helping it to compete against its arch Rivals. Here's how these bikes perform on paper which will help you to decide the most suitable option for your riding requirements.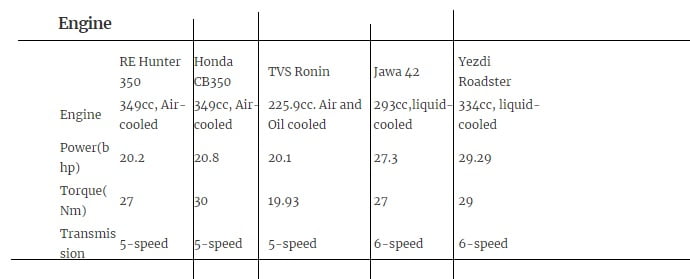 Engine and Transmission
Rather than focusing on outright performance, bikes here in this comparison are more focused on delivering a decent low and mid-range torque to commuters, save for Jawa which is the most powerful in this comparison. All other three bikes have similar power output although when it comes to torque, Honda comes out on the top with 30 Nm of rotational force. Java is the only one in this comparison featuring a 6-speed gearbox compared to the 5-speed ratios of other bikes.
Suspension Hardware
Ronin is the most well equipped in terms of suspension hardware as it features a USD front suspension system and preload-adjustable monoshock rear suspension. All other bikes have a very basic telescopic front suspension and twin shock absorbers at the rear to help riders isolate themselves from bumps on the roads. The front Wheels on Honda and Java are larger than the ones offered on RE and TVS (17-inches) though all bikes come equipped with a dual-channel ABS system as a standard part of the equipment.
Dimensions and Weight
TVS is the one with the lightest kerb-weight and shortest wheelbase though it has got the highest ground clearance. Honda walks away with the distinction of longest wheelbase though Jawa, with its shortest seat height, is the most convenient bike for riders in terms of offering easy access to seat.
Features and Equipment
On the features front, Ronin offers the convenience of smartphone connectivity along with the USB charger, navigation, and all-LED lighting. Hunter 350 comes with an optional navigation pod though the feature of USB charging is standard on it. CB350RS is the only bike in this comparison to offer a traction control system and Bluetooth-enabled smartphone pairing capability. The Forty Two lags behind others in terms of features and it is the most basic and scantily equipped bike here.
Price
On the pricing, TVS maintains its lead with asking prices between Rs 1.69 lakh and Rs 1.71 lakh for different color variants of its Ronin TD. Jawa Forty Two is comparatively more expensive with a retail price of Rs 1.94 lakh while Honda is the priciest here with the retailing price of Rs 2.03 lakh for CB350RS. RE Hunter prices seem on par with the Ronin which makes the battle intense. However, sensible buy will be TVS Ronin considering its high quality and reliable brand image while the Hunter will impress RE fans and enthusiasts who want something smaller for every day without missing on the thump. If you want something sportier of the lot, you can go for Jawa/Yezdi twins. Honda will fit in a category where people like do not think much or die hard enthusiast of the old school Honda motorcycles.