Yup, we are probably the last person to put out a review of the Royal Enfield Interceptor 650. Royal Enfield decided to send the bike after 7 months of launch to us and they also decided to let us keep the bike for two months as well. So, this is a road test but with a profound amount of time spent it means that we can call it a long term review. There hasn't been a single parameter in the last 900 kms that has escaped us.
Most reviews will tell you the basics but we can elaborate a lot. The RE Interceptor 650 has been ridden in blistering heat, torrential rainfalls, parked in the rain for a week, commuting in the rains and so much more. We have explained a lot in the video review that went live last month and today we have more details as promised in the video that we will elaborate more.
A handsome looking bike that grabs attention for its orange color, dual exhaust pipes and odd and very RE looking side panels. The fuel tank and overall silhouette feels like an evolution of the Bullet 500 in design, but by a huge margin. The quintessential round headlamp which offers good illumination and spread as well, the well designed fuel tank with a large 3D emblem.
The silver spoke wheels, the golden rear suspension, the front black color forks all lend the bike a perfect color combination which shouts retro-modern look, but this time the retro dose is higher. A very simple looking tail-lamp, a single piece quilted seat and grab rail that looks very basic indeed. The switchgear is downright basic and so are the clocks, which do look nice but are devoid of modern features and don't even feature a clock.
The ergonomics of the bike are mixed bag. The handlebars are far ahead and you sit quite behind which means you are stretching yourself out. Luckily it can be adjusted and we did and it works well. The seats are just about enough comfortable as they are soft best for weekend ride, not long haul long distance state crossing comfort is on offer. What is second thing we adjusted is the rear suspension which came in setup which was downright appalling condition from RE. Both shocks at the rear had different pre-load on it. So if one was 5, the other one was on 3 for example.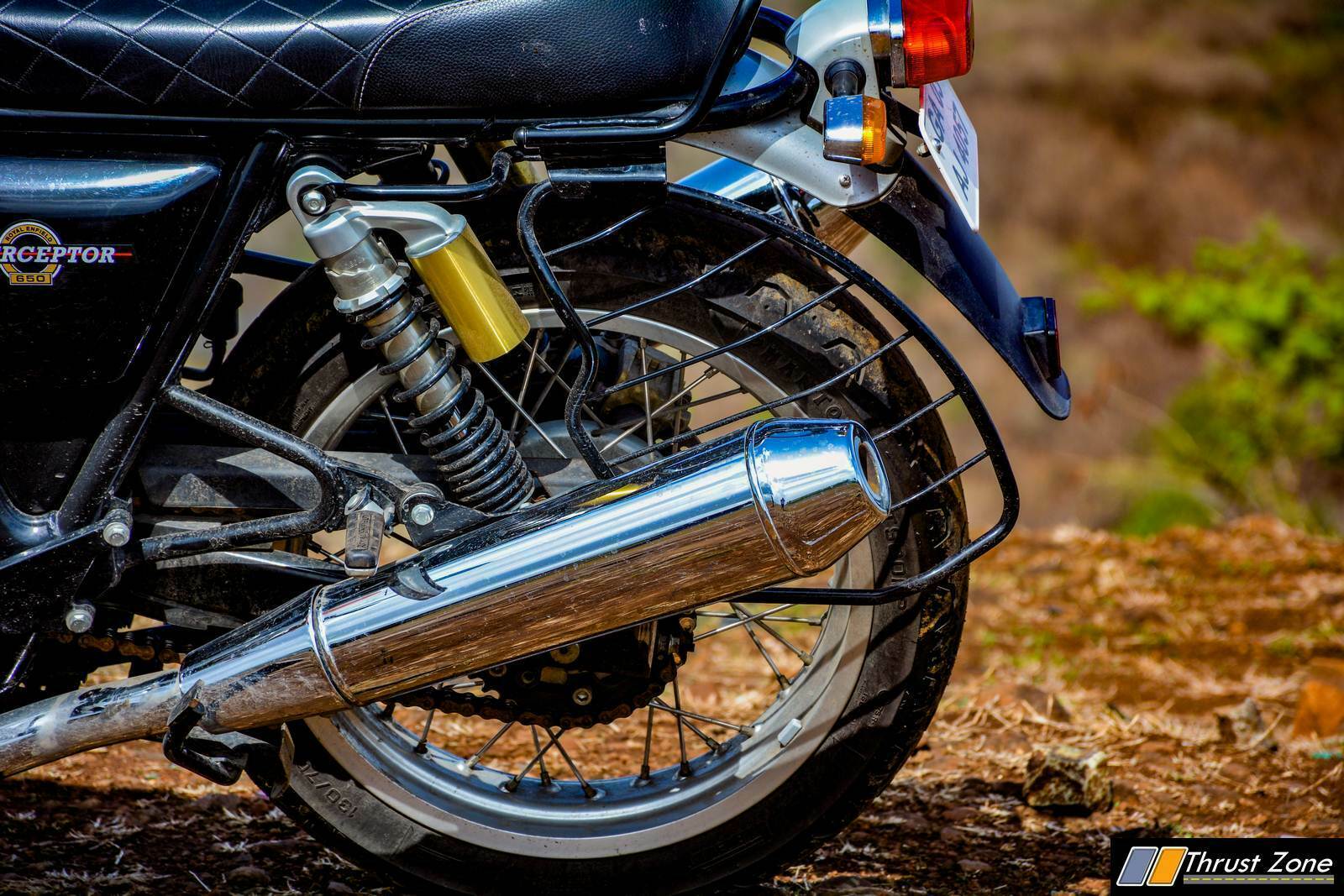 This made the bike downright heavy to maneuver at parking speeds which already isn't great because the center of gravity isn't well calculated and weight distribution is high on the rear and not 50-50. Good luck sitting on the bike and pushing the bike out of parking lot anyways thanks to the two exhaust pipes which take a lot of parking space. This means they will scraped by goers as well in tight parking lots. Adjusting the suspension and raising the pre-load to the max meant that this problem was solved by a subtle margin, but the biggest change was in dynamics, which will explain below.
Riding
What is the biggest highlight is the engine. The smooth and refined engine which makes adequate low-end power below 3000 RPM, but post that it flies till 6000 RPM and makes for great mid-range power and top-end power is good as well. The engine revs freely and rather quickly and with the kind of torque it makes almost everywhere, means it is a quick bike. With the magic number of 45 PS and 52 Nm of torque and tall gearing, it is happy at any given speed in any gear.
The engine NVH levels are very low and vibrations, negligible one's come at redline. Royal Enfield's best engine till date seems like came from a far future and the manufacturer used a time machine to get this engine from the future far far away. The refinement, performance and flexibility is just superior and begs you to believe that RE has made this engine. What is also met my expectations, which are wrong to keep but i was confident that RE would take care of, is the exhaust note, and its perfect as it exactly sounds like two 350's have come together to give a nice muted and subtle exhaust note with enough burble which is truly well achieved.
However, tha has a downside, in carburetor terms, despite this engine uses fuel injection, this engine feels that it is running too rich. Those numbers are apparent in fuel economy as well. we have been getting not more than 22 km/l. Highway numbers are around 25 km/l, but it still lower than our other long termer, the Duke 390, which is lighter and more modern, but just for an example. Some have ended up comparing these two bikes, we are just comparing fuel economy numbers. Overall, our Mumbai-Pune runs, daily commuting and weekend rides have been very interesting.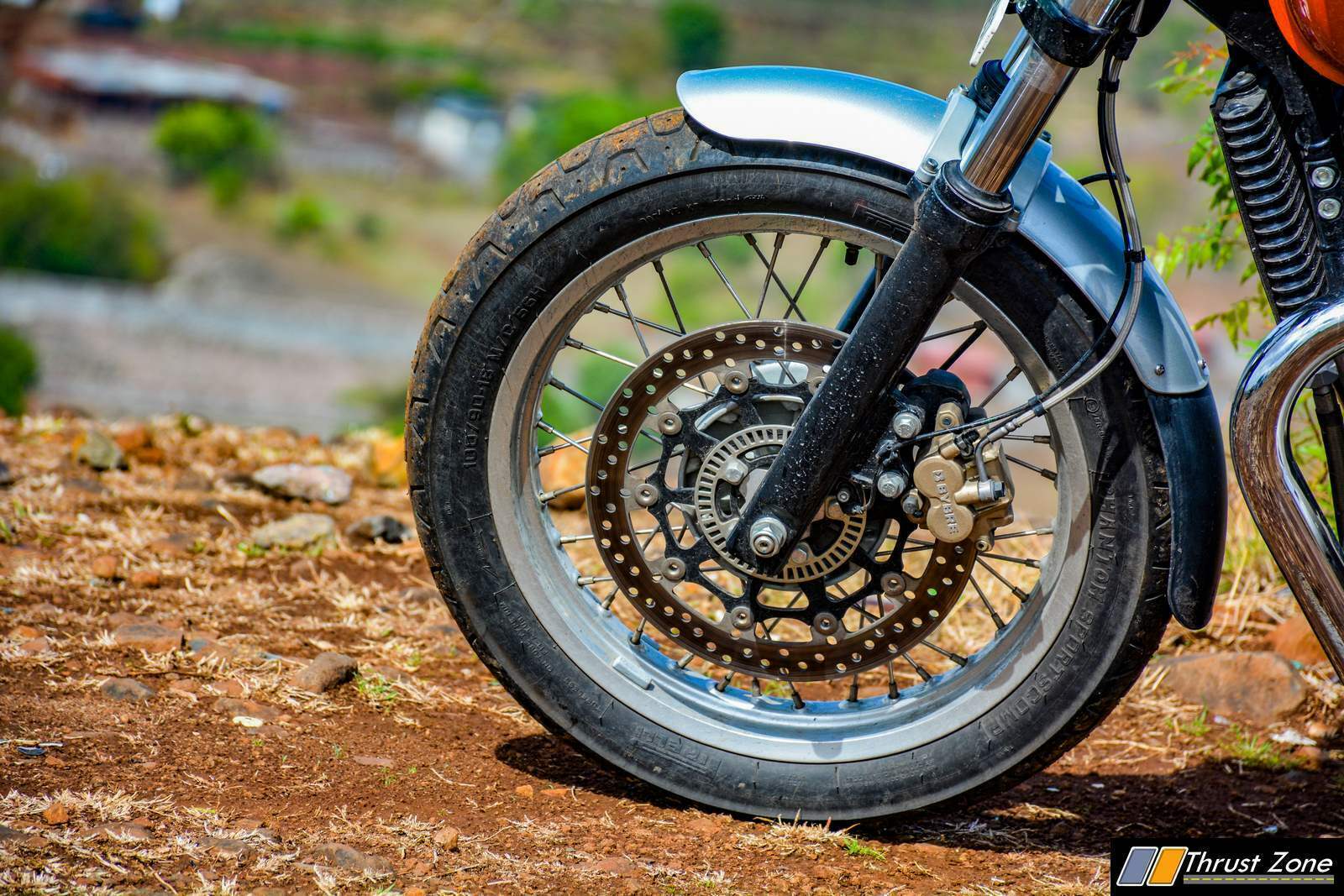 Talking about the suspension and continuing from the adjustment that we were talking about earlier. Raising the suspension has made a world of a change. Earlier, the steering felt numb by and there was a lack of agility as well. Post the suspension setup, which was taking it to the max pre-load because i have been riding and i am a heavy rider, so that was necessary. The agility on offer now is good with excellent poise in the corners. Nimble-ness in the city has increased as well and it responds faster to steering inputs. However, turn-in is still slow owing to long wheelbase and higher steering rake.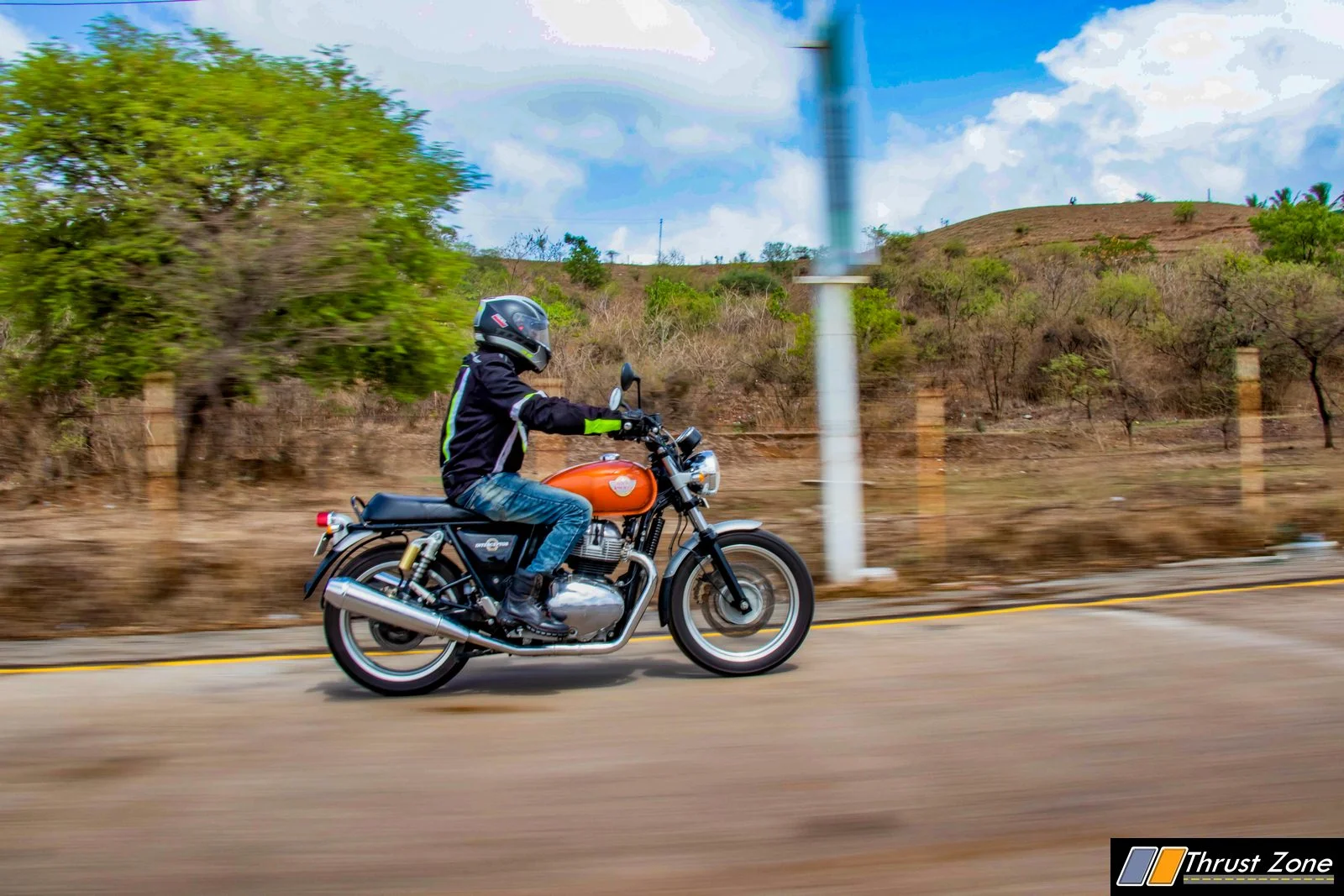 Ride quality became even better and tauter than before. It did feel stiff earlier, but now it surprisingly rides better for my weight atleast as suspension setup fits my near 100 kg weight just fine. The narrow tyres means it does slide over surface changes, the bigger surface change, the slightly scarier it feels. We have been riding sport bikes and even 150cc bikes with fatter tyres than the Interceptor 650 which made us realize this old school problem with the INT 650. Smaller and lighter riders are preferred to keep the suspension one step below the max setup for the rear pre-load.
Braking was found to be good too with decent initial bite and good power in terms of progression till a complete halt. All of this has been done over a three month period with multiple changes to air pressure and full and empty fuel tank measurement to get an entire idea of the motorcycle, as these are key elements and in the way most people ride in both ways.
Royal Enfield Interceptor 650 Review, Verdict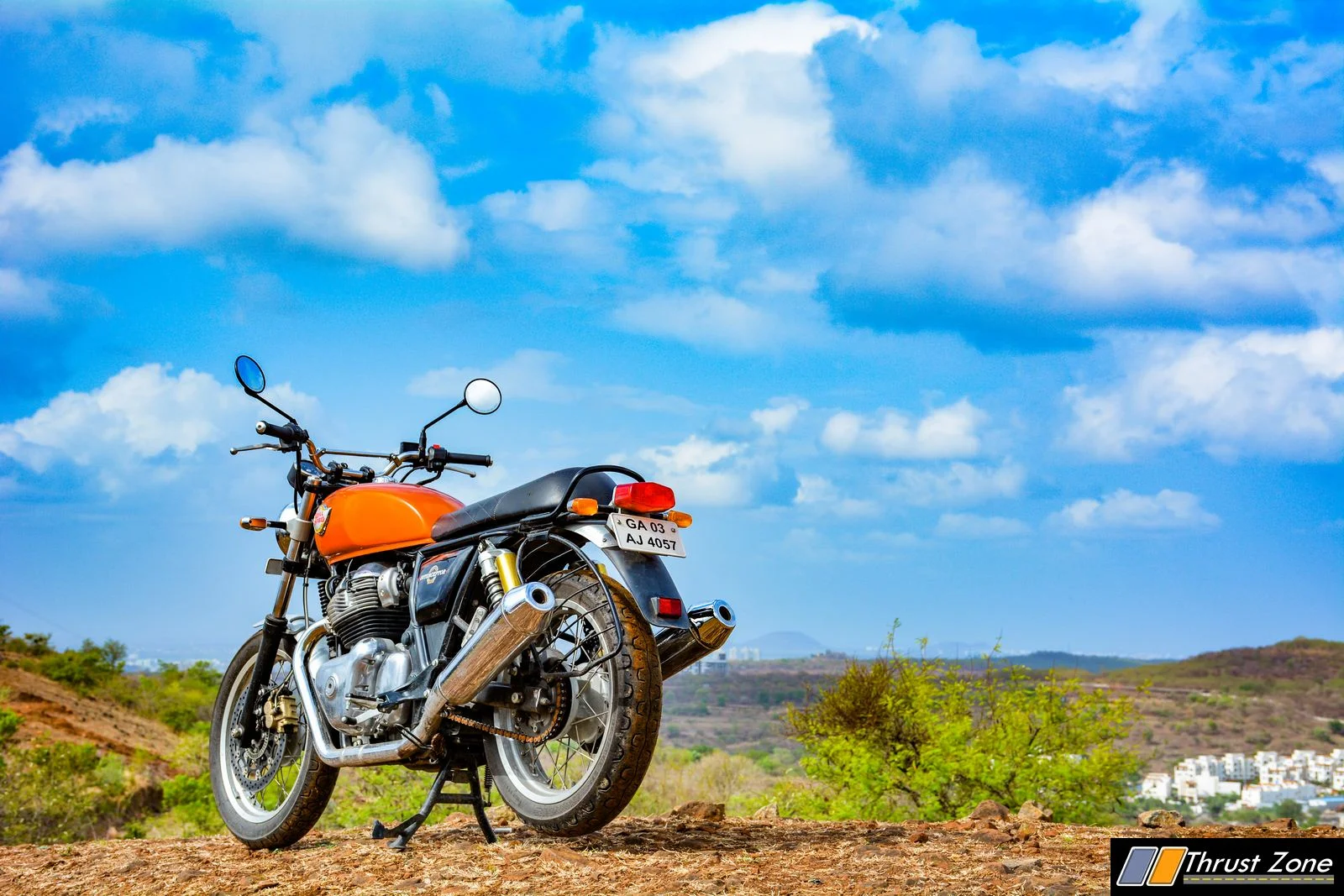 As the motorcycle goes back to RE for a service as we speak with a conked tail-lamp and no other mechanical issues reported, this also speaks of the fuss free experience we have had with the motorcycle. Overall, the Interceptor 650 is here to carve its mark on a stone. The motorcycle is going to be remembered for its GT-ness, performance and package that it offers. Sure, they could be even more value by modern standards, but this what have come to expect from Royal Enfield's anyway right? The simple packaging, the subtle character and a brand even after being in production since so long continues to get love and appreciation from riders who ride it right to social media memes makers. Who will end up asking Royal Enfield one question, "Kick kidhar hai boss?"