Tata CURVV Concept introduces a dynamic and modern SUV typology. Merging the toughness and durability of an SUV with an elegant and sporty silhouette of a Coupe; the CURVV has found the perfect balance between elegance, performance and practicality.
The exterior design has a charismatic presence with a raised ride height, tough cladding and dynamic proportions. The large offset of the front and rear fenders gives a sense of power on the wheels. This, along with the strong section through the cladding help set up a solid and balanced stance. The slim upper DRL and triangular headlamp design give a recognizable signature and incorporate an animated welcome feature as one approaches the CURVV. Signature LED lamps that surround the rear screen are a unique feature, and together with the horizontal light bar, they reinforce the width and a high-tech feel of the concept.
The front lower bumper has a grooved pattern that gives a feeling of precision, a theme that is repeated at the rear and on the wheels aero blade design, giving a connected and holistic feel. The Day Light Opening has a typical SUV coupe like graphic which flows into the (-pillar and deck lid. The wheel arch cladding and lower sillgive real sense of toughness and durability that an SUV needs, while the high-gloss black finish gives a premium feel.
There is a strong aerodynamic theme running through the SUV. While the floating bonnet allows air flow to channel underneath, exiting through triangular features further up the surface, the floating C-pillar continues the aerodynamic theme, with airflow across the body side and underneath the pillar, exiting at the side of the rear screen. The wheels also have aero blade inserts to close up the open area and allow better airflow across the surfaces, and diamond turned finished surfaces give a high graphical contrast.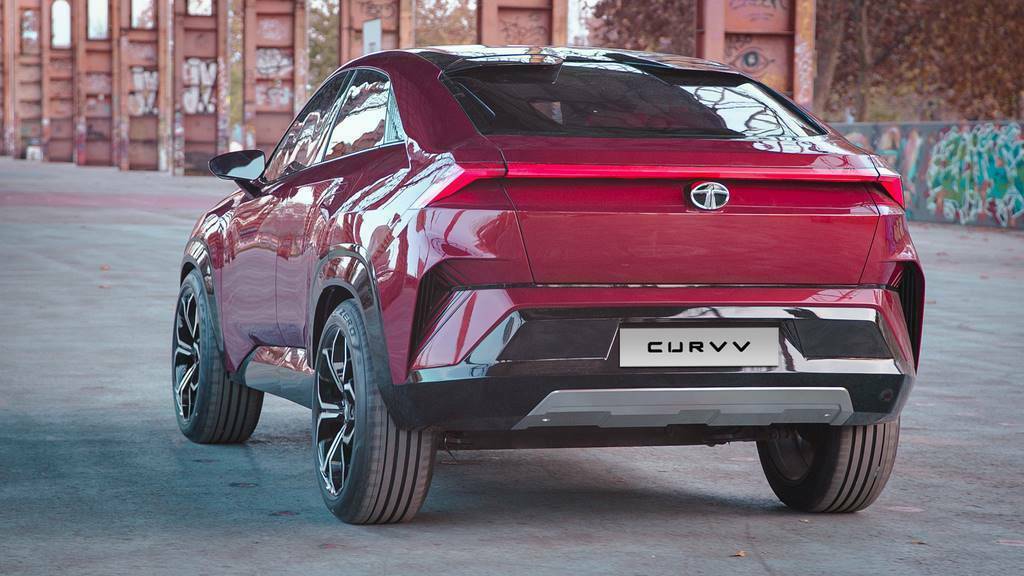 The interior is impressively spacious and focussed. Resolutely modern and uncluttered, it integrates state-of-the-art on board technologies and HMI. The real premium feel of the cabin is achieved by curating a strikingly dynamic interior with a bold yet smart colour, materials and finishes direction. The carefully selected elements of the interior illustrate the brand vision and appeal to the active customer. Smart interior packaging willallow for generous space and luggage alike.
Alarge panoramic glass roof integrates the rear spoiler with the roofline. It also provides the cockpit with a sense of freedom and lots of natural light. The split rear spoiler allows the centre line to maintain the SUV Coupe silhouette while flowing into the rear screen through the short deck lid.
Furthermore, the CURVV is powered by a 1.2 L Turbo GDi petrol engine that gives a superlative drive experience.
With an inherently expressive design and powerful performance, the Tata CURVV Concept will appeal to the new age progressive customers who are ahead of the curve and truly appreciate the value of #Different by Design.