Tata Motors has made significant progress in the last few years – it has upgraded its models, significantly reduced the cost, and more importantly, now switched over to two new platforms – ALFA and Omega. While the former is utilized to spawn Tata's compact offerings of up to 4-meters in length, the latter will underpin the bigger SUVs and MPVs in its stable in the future. In fact, Tata Motors is expected to launch 12 new vehicles in the next 4 years which will help it to cover around 90% of categories in the passenger vehicle category.
ITata Motors Plans include, First off the ALFA platform will be Altroz. The premium hatchback will be initially available in petrol and diesel guises though later on, it will get an all-electric version. H2X mini SUV will follow the launch of Altroz and it will be positioned under Nexon SUV on the price spectrum. More importantly, a mid-size sedan that will take on the likes of Honda City and Maruti Ciaz will also utilize the structural underpinnings of the ALFA platform.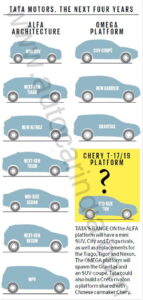 Tata can also spring up the surprise by launching an SUV coupe which will be based on the Omega platform. This coupe will share the underpinnings with the Harrier SUV which, in turn, is using the structural heritage of Land Rover. We are already aware that the 7-seat version of Harrier called Gravitas will be making an Indian market entry in February next year.
In the people-mover category, Tata will replace its existing Hexa with the new MPV that will compete against the likes of Toyota Innova. This offering will be based upon Omega platform and speculations are also rife that an Ertiga rivaling MPV (based on ALFA platform) is also in the making.
It is difficult to compete in the Indian market without having a mid-size SUV. Tata Motors is well aware of this fact and in order to compete against Hyundai Creta and Kia Seltos, Tata is looking beyond its ALFA and Omega platforms. These platforms are not able to accommodate a mid-size SUV (ALFA is too small while Omega is too big) and hence, Tata is mulling to partner with a Chinese car manufacturer, Chery Automobile Corporation Limited. Tata already has an association with Chery as JLR manufactures and sells cars in China under the joint venture with Chery. Chery has a number of flexible platforms and Tata Motors can share Chery's platform to spawn Hyundai Creta rival.
In terms of engine and transmission, the Omega platform currently has only a 2.0-liter diesel engine although Tata is working to add new 1.5-liter petrol to its kitty. ALFA platform, on the other hand, has got a couple of power trains including the likes of 1.2-liter petrol and 1.5-liter diesel among others. In the future, this platform will also receive electric power trains, thereby further enhancing its versatility. Launching all the planned vehicles in the set time limit is really a difficult task and it will be interesting to witness whether the company is able to pull it off or not.