With the launch of the new Mahindra XUV 4oo, the EV market in India has just got hotter. Pitted against the likes of Tata Nexon EV, MG ZS EV, and Kona Electric, Mahindra XUV 4oo has got tremendous responsibility on its shoulder to attract prospective buyers to its fold. In this specification review, we pit these electric contenders against each other to find out which one deserves your hard-earned money: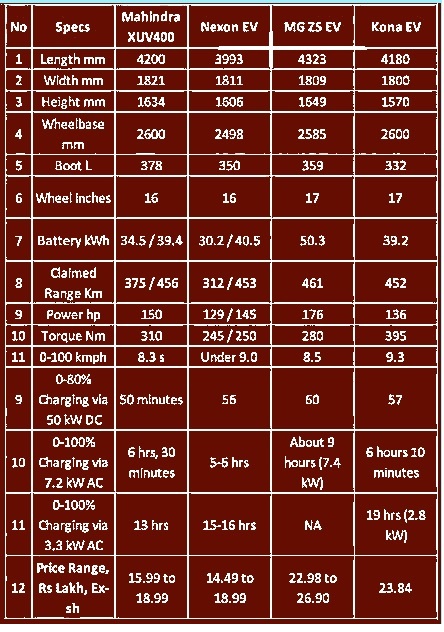 Electric Battery, Range, and Charging Times: Mahindra and Tata have offered their electric SUVs with two battery options with bigger packs claiming a range of 456km and 453km respectively. MG ZS EV has the biggest battery back rated at 50.3 kWh and consequently, it offers the highest range of 461km in this comparison. Hyundai Kona has 452km of range owing to its 39.2 kWh battery pack. It is important to note that the real-world range of all these SUVs will depend upon a number of variables as well as the driving manners of the person behind the wheel. In terms of outright acceleration, Mahindra is the fastest in its 0-100 kmph stint followed by MG, Tata, and Hyundai.
In terms of the power output, MG leads the chart with 176 hp on tap followed by Mahindra (150hp), Tata (145hp) and Hyundai (136hp). However, when it comes to the rotational force, Hyundai emerges on the top with 395Nm followed by Mahindra, ZS, and Tata. XUV 4oo is fastest to charge with DC-Fast charger while ZS takes the longest time owing to its large battery back. Tata Nexon EV, on the other hand, can be charged fastest with the help of 7.2kW AC charger.
Cabin Space: Mahindra offers good cabin space and is the widest SUV in the lot. It is longer than the Tata and Hyundai although falls short in comparison to the ZS's length of 4323mm. The 2600mm wheelbase of Mahindra is also more than Tata and MG and matches with the Hyundai. In the boot space too, Mahindra leads the chart with 378-liter of trunk volume on offer.
Price: Mahindra is offering an introductory range of Rs 15.99 lakh and Rs 18.99 lakh for first 5000 bookings of XUV4oo. Tata has recently slashed the prices of Nexon EV and as a result, the starting range of the electric SUV is now at Rs 14.49 lakh. Hyunadi Kona and MG ZS EV can be had at Rs 23.84 lakh and Rs 22.98 lakh to Rs 26.90 lakh respectively. As everything in the chart suggests that the Tata Nexon EV Max seems like perfect balance and choice in this class.