Triumph Tiger Trails Spiti Edition 2.0 Ready To Hit Spiti This Time and will be hosted by Triumph and off-road legend Vijay Parmar
Triumph Motorcycles India introduces the second edition of its exclusive and much sought-after Tiger Trails experience to Spiti. While safety is a crucial part of the Triumph value system, honing the safety do's and don'ts doesn't necessarily have to be boring. This year's Triumph Tiger Trails will open the vast, serene vistas of the Spiti landscape to 15 Triumph Tiger customers.
With a route less travelled and emergency teams in tow, these riders will ride through the Valley, building camaraderie over a common interest while picking up riding tips and tricks. As a brand, Triumph focuses on both the safety and the experiential aspect of adventure riding equally. Tiger Trails, the ride-cum-training program is carefully designed to cater to adventure riders who seek to move up from being riders to adventurer. The Tiger Trails welcomes active riders who already travel extensively but also seek to make the most of their Tigers.
Taking a step beyond the Triumph Tiger Training Academy, 15 Triumph Tiger customers from all over India will participate in a 4-day trail starting from Shimla on 22nd July and will end on the 27th in Manali. The route chosen across Spiti will give the riders exposure to different terrains and challenges to make their ride/training holistic. Real-time training sessions outside the controlled environment of a track setup will help the riders prepare themselves for every riding scenario – whether man-made or nature-driven. Back-up facilities like a 4×4 sweep with mechanics and supplies such as medical kit, tool kit, puncture kit, spare parts, pumps etc, along with a VHF radio for communication will be with the riders all the times.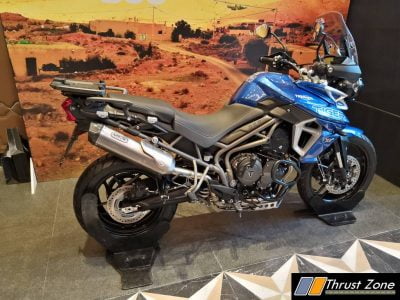 This year's Tiger Trails will be preceded by a special 5-day off-road skills training programme, to prepare all riders making them ready for the expedition ahead. Led by the chief trainer of Triumph Motorcycles India's Off-Road programmes Mr. Vijay Pramar, who is also the founder of the Rally Raid de Himalaya. Even this time, this edition is supported by Xplorearth, which is the logistics backbone for the Rally Raid de Himalaya and the pan-India National Superleague TSD Rally Championship.