Fun-to-drive. Power. Performance. Are the words that come to mind when you drive along in a Volkswagen Polo. The brands' hottest and best-selling hatch completes a decade long presence in India this year. This dynamic carline has redefined age with its timeless design attribute, looking as fresh and new as his younger brother. A premium hatchback that quickly stepped up to be the most safest carline with a 4-star global NCAP rating for adult occupant protection.
Winning many hearts over the decade, the first generation Polo in India started production in 2009. Since then the Indian market has seen various iterations of the most loved carline and had democratized the industry with class-leading safety features. For the longest time, the Polo was the only premium hatchback to have dual airbags and ABS as standard within its segment.
Over the years, the Polo has been launched in various petrol and diesel engine options starting with the 1.6L MPI and 1.2L TDI followed by the GT TSI, GT TDI and the powerful, performance oriented 1.8L TSI Polo GTI version. In the last 10 years, this fun-to-drive hatch has witnessed eight engine options. Thus, allowing customers a wide range of engine options to choose from.
Currently, Volkswagen, Europe's leading car manufacturer offers the Polo in four engine options:
1.0L MPI | 5-speed MT
1.5L TDI | 5-speed MT
1.2L | 7-speed DSG
1.5L TDI | 5-speed MT
The Volkswagen Polo over the last decade has received several accolades and recognition continues to be by J.D. Power with the topmost rank awarded to the Polo over the last three consecutive years in the premium compact car segment. Followed by the Indian Blue Books award for the highest in residual value in the year 2018.
Notes on display cars: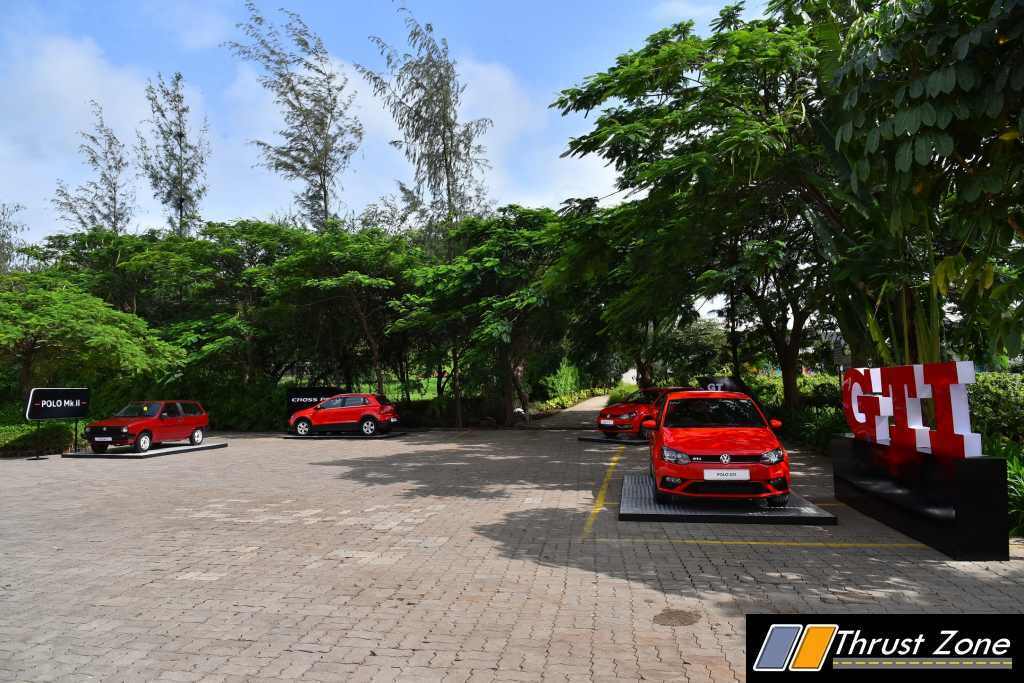 1. Polo Mk II
The second generation Polo called home to two manufacturing facilities present in Wolfsburg, Germany and Pamplona, Spain. The carline was manufactured between 1981 and 1994 in three different body styles which includes a 3-door hatchback, 2-door sedan called the Polo classic and a new 3-door hatchback with a near vertical rear window (Coupé). The Polo Mk II was powered by a range of engines from 1.1L and 1.3L diesel versions to a 1.3L and 1.4L gasoline variant. Over the period the Mk II sold 2.7 million units including supercharged GT40
2. Polo GT TSI
Designed to be a head turner, the Polo GT is known for its legendary performance and impeccable fuel efficiency. The carline holds a lot more respect with its GT badge making the look and feel a cut above the rest. With a revolutionary 1.2L TSI engine under its body, it strikes a fine balance between power and efficiency along with a 7-speed DSG transmission. The car boasts of a 105PS of horse power and 175 Nm torque. It delivers a fuel consumption of 24.49km/l
3. Cross Polo
Launched in 2013, the Cross Polo is a crossover version of the Polo hatchback. The carline depicted a bold, sporty design flair, which appealed to customers with active lifestyles and a taste for adventure. The Cross Polo was available in three variants – 1.2L diesel and petrol engine options mated to a 5-speed manual transmission followed by a 1.5L TDI along with a 5-speed manual gearbox.
4. Polo GTI
In 2016, Volkswagen launched a carline for the true blue enthusiasts. Introducing the GTI philosophy to the Indian market with the brands' hottest hatchback Polo GTI. The powerful carline comes equipped with a 1.8L TSI coupled with Volkswagen's globally renowned DSG transmission producing a blistering 141kW (192 PS) of raw power. The Polo GTI ticks all the boxes when it comes to providing a complete performance package and sets the driver apart from his peer group. It effortlessly combines power & beauty with technical enhancements and distinctive design additions like independent bumpers, red GTI insignia, distinctive side sills and GTI specific rear spoiler.