When Volkswagen decided to revamp their strategy in India they went all-in with many initiatives. They become one with Skoda and now its SAVIPL. They launched the Tiguan All Space and T-ROC to show what their SUVs are all about and they created a mark too with that idea. All these mid-size SUV plans were on the table and ready to be deployed. Come 2021, after delays, the Taigun came along with its cousin in the same year, the Skoda Kushaq.
The Taigun instantly distinguished itself rather well while sharing platform and many bits commonly. Taigun was the first to have bookings in thousands after launch and today, we see so many on the road. So we were called to drive the Taigun 1.5 TSi and then driving the Taigun back at home in the 1.0 litre disguise to complete the road test. What is it like? We tell you!
On the outside, the large chrome grille grabs attention and looks substantial as it does look befitting in golden color on our test car. The LED DRL at the front and very fancy-looking LED tail-lamps with the light bar running from one end to the other make it look futuristic and we must say this here, better than its cousin too. This makes the car look all typically VW SUV that we are seeing worldwide. The side profile is of a proper European SUV as it looks clean, butch, and subtle at the same time.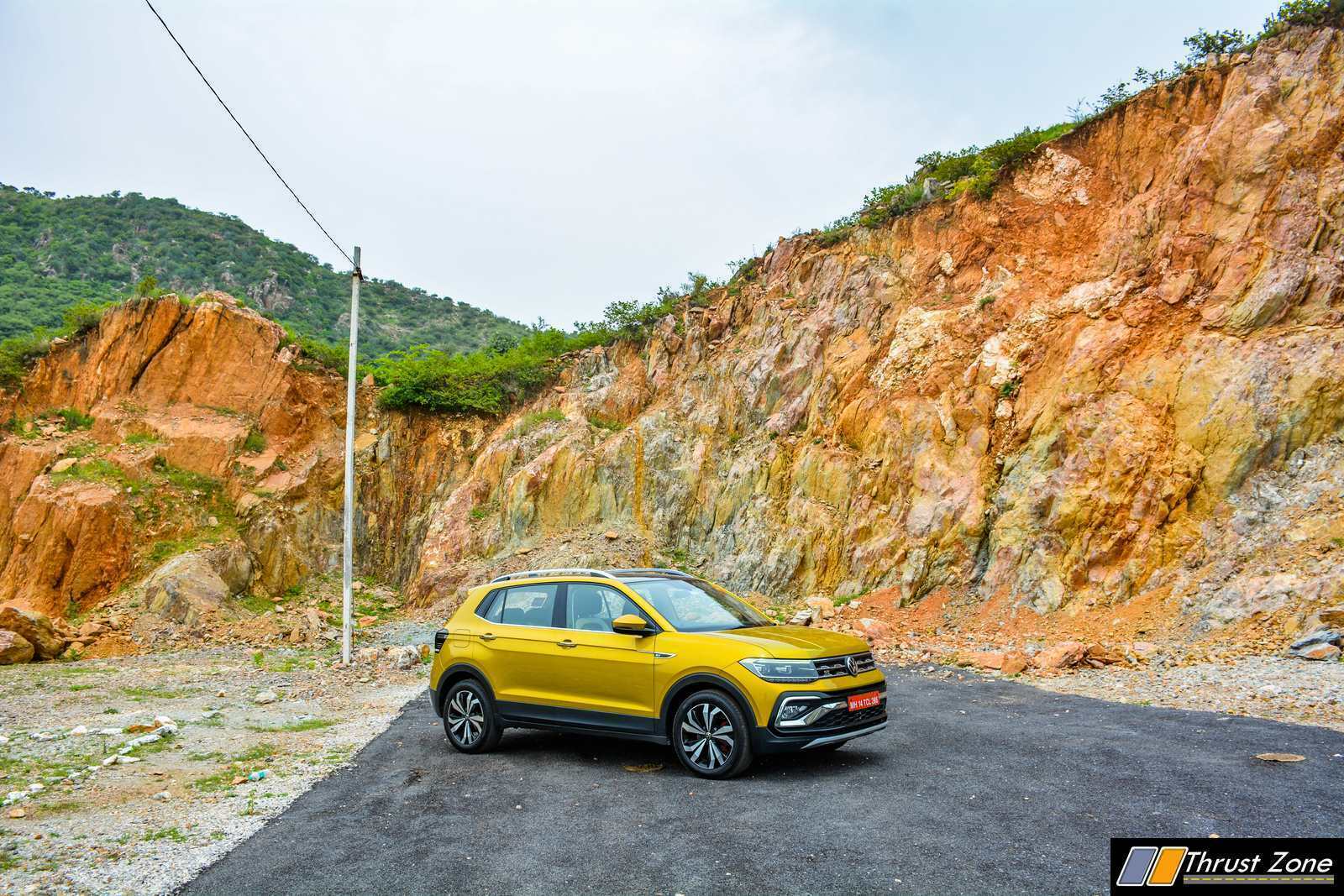 A very flashy and macho lower part of the front bumper on both ends makes the Taigun look tough, rugged and classic with use of the chrome. The build quality on the outside seems and sounds great and it should score high on crash test as well The elements on the car, such as grille, LED tail-lights, a large wheelbase, multispoke diamond-cut wheels on any variant make it look much better than its cousin as it suits Indian audience taste better.
On the inside, the build and quality are good and so is the expansive feature list we have explained time and again in our launch report. You get every feature possible in the saloon. Right from automatic lights and wipers to reversing cameras, single ambient light, projector lamps and more. The car is devoid of the large panoramic sunroof, power seats, front parking sensors, and a digital cockpit for now. However, it gets Wireless Apple Car Play and Android Auto that work flawlessly along with a normal sunroof.
The instrument cluster area has all fuel economy indicators and other bits can be seen with a touch of the toggle button on the right side of the steering buttons. A fantastic sound system by Skoda themselves is on offer makes the experience top-class. The main screen is slick, quick and works quite well. There are some bugs with Android phones when it comes to playing music on our test car which should be a one-off case. VW Connect system includes a host of GPS-related features such as GEO and time fencing and much more. We like the illumination and spread from the headlamps as they were more than required. The fog lamps are halogen but LED lights and DRL add to the aesthetic appeal as well.
Space is more than most of its rivals with adequate shoulder room, but the knee room you expect is here in a very good margin. Leg and headroom continue to be in good supply but as always it is more of a four-seater than a five-seater. The boot space is good enough at 385 liters and so is the overall practicality of the interior. Road and wind noise inside the cabin is also well-controlled thanks to good insulation all around. Like any other VW, it is still a pleasant place to be thanks to things like Aircare with multi-level filtration. Safety kit continues to be high with the inclusion of active safety features such as electronic stability control and six airbags on the top-end variant, Hill Hold Assist, ABS and EBD, and more come as standard. The passive safety feature list, as we know, is far larger.
Volkswagen TSi engines are smooth, free-revving, and low on NVH and the one on the Taigun, fall in line. Be it in any part of the rev range. Low and mid-range are good on the 1.5 turbocharged petrol motor that makes a 150 PS and 250 Nm of torque going through the fantastic, smooth, seamless, and quick-shifting 7-speed DSG automatic. The engine is linear flexible and powerful at the same time. The 1.5 is a bit crude at higher RPMS as vibrations and sound can creep in the cabin but that is only apparent at race pace. Speaking of race pace, the DSG does lack the urgency when launched over the, let's say, 1.0 TSi equipped with 6-speed torque converter.
1.5 delivers spectacular fuel economy of 14 km/l in Mumbai-Pune run. Dealing with traffic of both cities and a slightly spirited highway run too. All thanks to 7 speeds and cylinder deactivation. The manual gearbox is quite smooth on the 1.5 TSi. Clutch is light, long travel, and has a typical bite point just like another VW group of cars. The 1.5 TSi is for the enthusiast with 'no compromise' on their mind. The seriously quick acceleration and speed blows you away. It can feel raw and unrefined at the very limit but most of the time it is a spectacular all-rounder. It can be the car that can do highway runs to other cities and states and everyday city runner with DSG and manual, both.
The 1.0 litre TSi 3-cylinder unit makes 115 PS and 175 Nm of torque also has a fast and smooth shifting gearbox. However, the shifts are not entirely seamless, which feels exciting for enthusiasts but everyday joes may not appreciate if they digger deeper in this part. There is also a bit of turbo lag between 1400-1700 RPM but below and above that it moves very swiftly.
1.0 litre also delivered 10 km/l in the city and 15 km/l on the highway in our testing. The manual gearbox is easy to use, smooth and light. Both engines have a not so generic engine intake note. The 3-cylinder is roaring with its lumpy power delivery while the 1.5 TSi screams linearly and slightly more refined than the aforementioned.
The ride quality is more reassuring at all speeds than the Kushaq with the way Taigun has been set up. Ride quality is so good on all ends that this makes it the best mid-size SUV's to buy and drive yourself and even be driven around. The steering gives enough feedback and is very precise at all speeds. It weighs up well on the highway too. High-speed stability is spot on thanks to the ideal balance of underlying stiffness and compliance. The brakes were good too with great pedal bite and a lot of performance on offer. Body roll exists while changing lanes at high speeds but it is still a very confidence-inspiring car to drive at any given speed. Overall, a very easy-to-drive SUV and the same time the most fun-to-drive SUV in its class.
Volkswagen Taigun Review, Verdict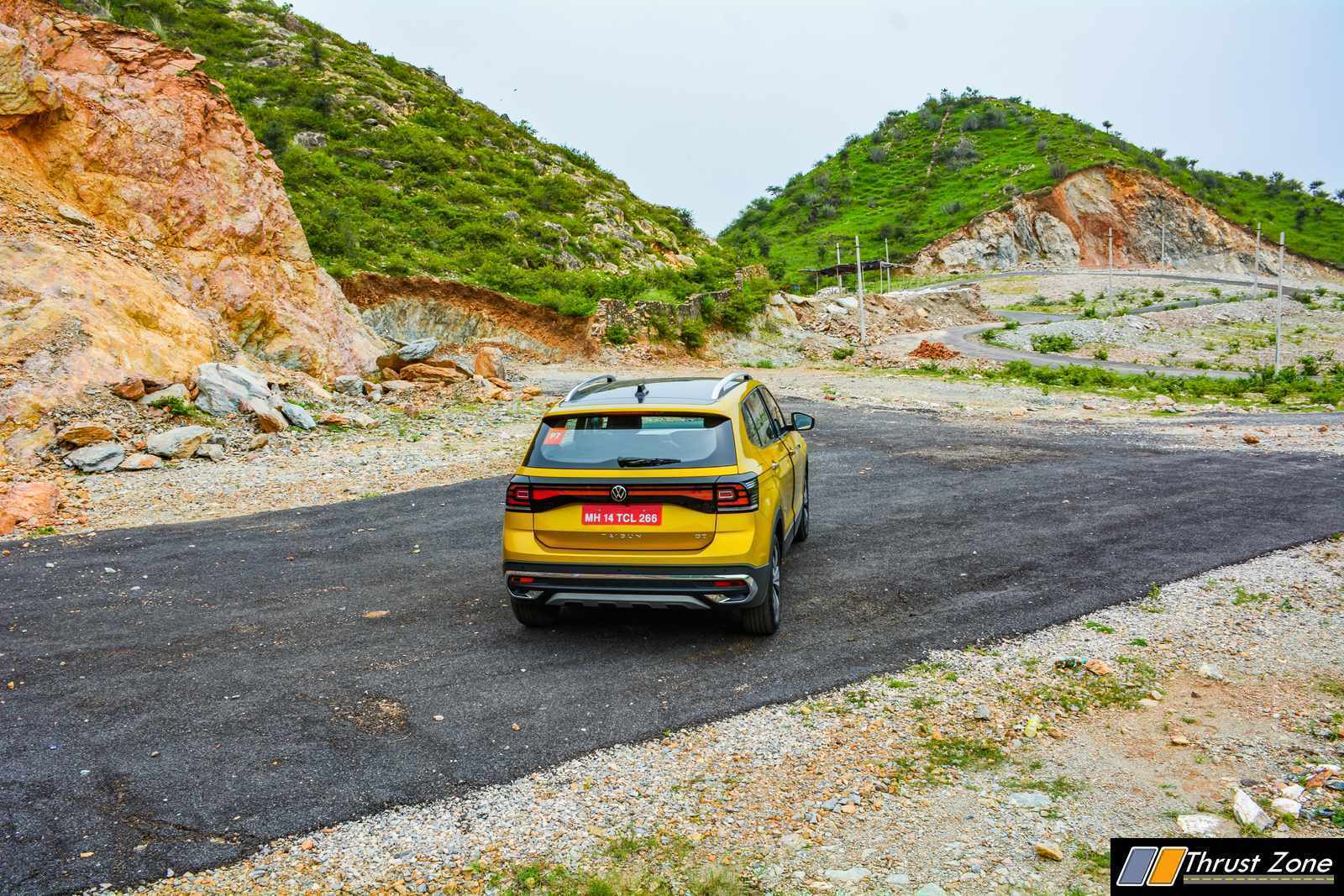 Surpassing all its rivals either with its sophistication when it comes to French-Japanese rivals or drive dynamics of the Korean twins, the Taigun is our choice if you are in the market for a petrol SUV with serious performance requirements then can be your everyday car which is practical, comfortable and fits the value bill too, to a certain extent. The extensive safety features, the best dynamics, the most subtle and in-your-face to look at every day, make the Taigun our choice in the segment by far and we are really impressed with what Volkswagen has done in what looks like a game-changing comeback from the giant.
Volkswagen Taigun Review
Design

Interior

Space

Practicality

Features

Performance

Dynamics

Safety

Value