Extreme E and Sony Pictures Networks India Private Limited (SPN) have signed a four-year broadcast partnership for the pioneering electric SUV off-road motorsport series, set to begin its inaugural season in 2021. The broadcast partnership with SPN will ensure will millions across the Indian sub-continent can catch the action as it unfolds.
World-class drivers and teams will compete across Extreme E's five-race odyssey to some of the most remarkable, remote locations on the planet.
Viewers from all around the globe will be introduced to some of the most extreme locations as the racers drive through the sandbars in the Artic, the Amazonian rainforests of Brazil, the deserts of Saudi Arabia, the rising oceans of Senegal and the Himalayan glaciers of Nepal. The goal: highlighting the impact of human interference and climate change while raising awareness, driving sustainability and inspiring action. The Season 1 calendar will be finalized imminently, with further announcements on teams, drivers and series partners to be made in the coming weeks.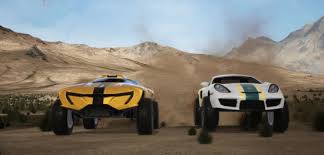 About Extreme E
Extreme E is a radical new racing series, which will see electric SUVs competing in extreme environments around the world which have already been damaged or affected by climate and environmental issues. The five-race global voyage highlights the impact of climate change and human interference in some of the world's most remote locations and promotes the adoption of electric vehicles to help preserve the environment and protect the planet.
Another unique feature of Extreme E is its floating garage, the RMS St. Helena. The former Royal Mail cargo-passenger vessel is undergoing a modernisation and refit in order to lower its emissions. It will be used to transport the championship's freight and infrastructure, including vehicles, to the nearest port, minimising Extreme E's footprint as well as being used to facilitate scientific research through an on-board laboratory.
In addition to live race action, Extreme E has joined forces with Academy Award winning filmmaker Fisher Stevens, producer of The Cove and Before The Flood, who will direct a Netflix style documentary series to highlight the specific climate threats facing each ecosystem.
Extreme E is operated in association with Formula E – the organiser of the ABB FIA Formula E Championship. Extreme E is committed to sustainability and minimising environmental impact – as well as playing its part in re-building and restoring areas already impacted by climate change.