Yamaha MT-09 India launch took place some time back. Yamaha gave us a bike to test ride and we couldn't say no! We did almost 500 kms on this bike for an ultimate verdict
Enchanting –
Flexible and fun nature of the bike
Superlative chassis, brakes, engine
Surprisingly comfortable and fuel efficient
Ergonomics make it easy to ride
Unsatisfying –
Tyres could be better
Snatchy fuelling
Currently, the Indian motorcycling market is aiming to reach new highs. We are getting all sort of motorcycles from basically every single manufacturer in the world. These are truly good times. Us, as a decade-old enthusiast and the other one who has spent more time here, have been asking it constantly. This resulted in better output from domestic manufacturers as well. Tie up with local players is also the next big thing for European brands at least.
However, Japanese motorcycle companies continue to be independent and all of them are not ramping up superbike launches. Yamaha has finally got the MT-09 in India and it was up for sale. The company says it did not do well because it doesn't look the business like its rival. We do not share the belief this time around. One test ride and comparing it with rivals reveals a lot for us. Yamaha gave us the 2016 version of the bike to test and we were genuinely excited to clock some kilometers. We have finally done a full-blown road test and we have some special details for you below.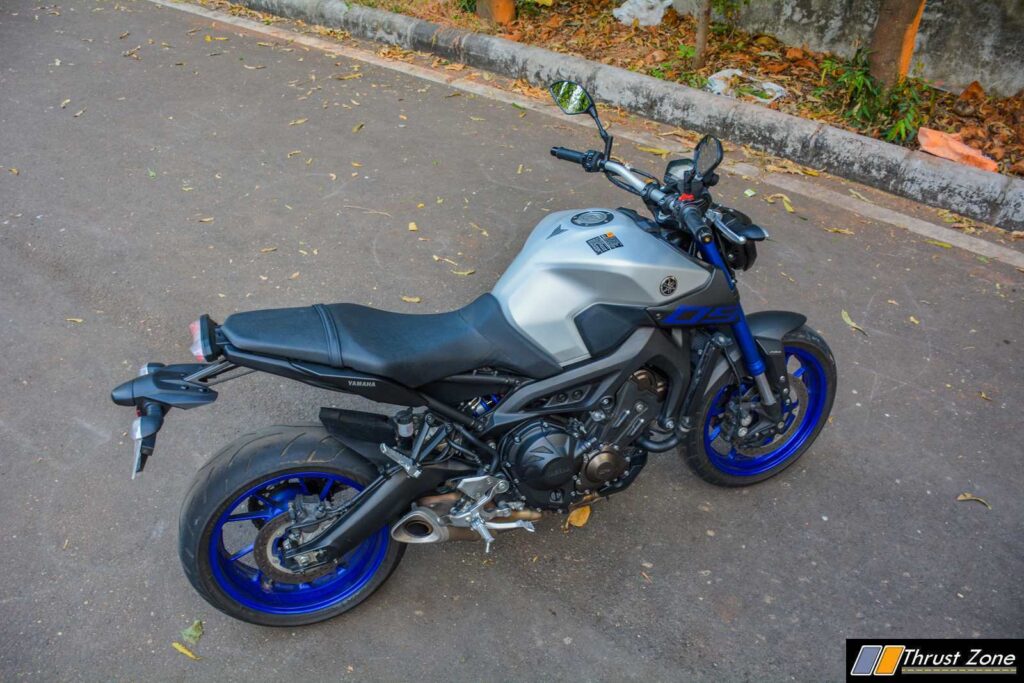 Design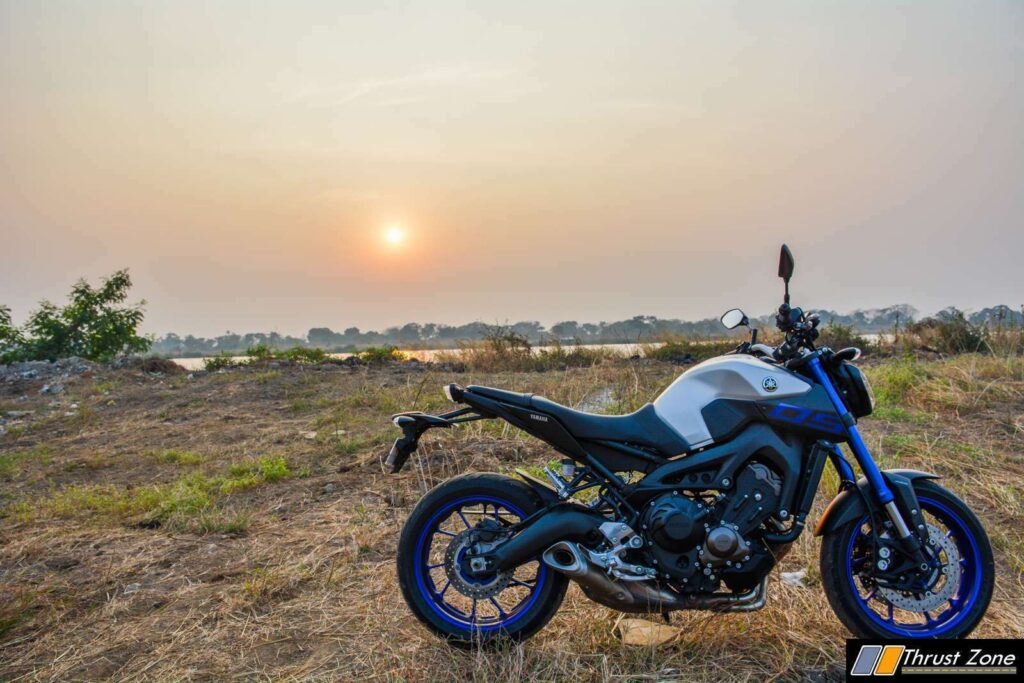 Styling is where the motorcycle impress with its typical street-fighter stance as it does look like a proper minimalist standard motorcycle as the world likes to call it. The almost rectangle headlight, well used blue color which is typical Yamaha along with silver color makes it stand out. The tail-lamp reminds us of the FZ25 launched this year. A large tank which is not huge and a tall stance does give it a proper super-naked appeal everyone wants. Overall, it wins our heart with just the color scheme, but everything else is also a bonus to the package. Quality is good with robust panels all around.
Speedo and Switches
Speedo is very small but, do not be fooled. It has fuel efficiency parameter, trip meters, clock, tacho and speedometer which are digital. Traction control and modes can also be seen which can be adjusted via RHS and LHS respectively. The angular speedometer looks properly 'cool' from a distance with signature Yamaha white background. There is a hazard light button, horn button is something that you need to get used too.
Ergonomics
Ergonomics are the highlight of the package. Seat height is very low and almost feel like sitting on a 150cc motorcycle. The handlebars are set higher and not lower like most of its rivals. This is the best part which helps it gain supremacy in terms of comfort and the way the motorcycle responds. Seats are wide enough, the footrests are slightly rear set but the seat could do with better padding. Overall, a highlight of the package is comfort and sportiness at the same time.
Engine and Gearbox
The performance comes from 900cc engine which makes 115 PS of power and 86 Nm of torque. The motor is extremely flexible and NVH are good. The motor is smooth throughout the power band. All though there a bit of vibration that creeps in, but we suggest that because the abuse the test bike had. The motor is very docile, has a continuous powerband, makes enough low and mid-range power along with a decent top-end is on offer as well. The engine spins rather quickly and makes quick progress as the revs climb up.
The motor is very electric like in the way it sounds as the revs up climb up the throaty exhaust is very intoxicating. The way this throaty and screamy engine makes torque and power is simply very charismatic and displays a character very unique to every Yamaha in the world. Aggressive yet docile. FZ25 and FZ16 that we have seen have this trait too. The big minus point is the snatchy fuelling at low to medium speeds which disrupts the motorcycle balance.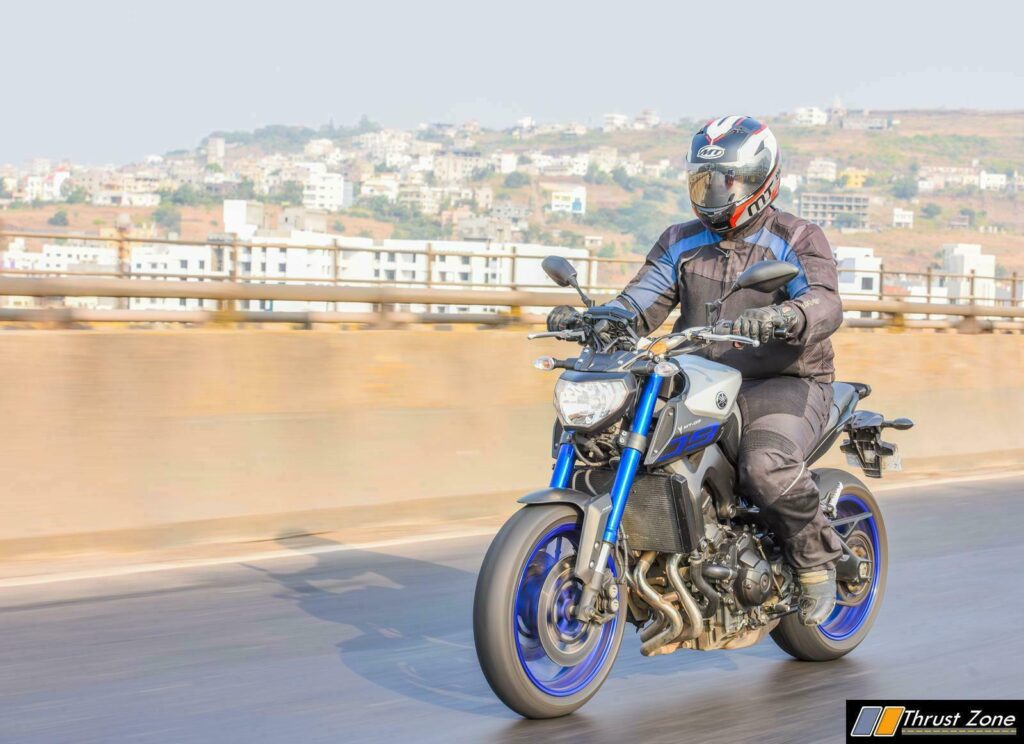 The A-mode is only when you are really brave and B mode dulls out everything. Standard mode is an ideal balance but that too is mildly snatchy. Close gear ratio means the motorcycle is more fanatic in the way it behaves. Despite that, you can still cruise at 140 km/hr all day because of the less stress on the engine. The clutch is quite hard but most of the time we did use clutchless upshift and downshift which only leaves it a sore point in peak traffic.
Ride and Handling
Dynamically, the motorcycle is nimble in the city. Agility while tipping into corners could have been better. Sadly though, it doesn't hold its line because the front is very light and rebound bounces back in your face, at all speeds because of the jerky throttle response and light front-end. Highway stability is good and it takes our bumpy roads quite well. It does become mildly flighty at higher speeds, something you can manage with ease. Tyres are also partly to blame as they provide just about adequate grip. Steering lock to lock is quite impressive and the raised handlebar with high suspension travel makes it a fun bike to chuck around at medium speeds (which is already high by Indian road standards.
Yamaha MT-09 India Review, Verdict
MT-09 is a clear example of 'Jack of all trades, master of, some'. What it does master though is the amount of naughtiness it has which can be seen on this motorcycle as it has been rolled out of the Japanese factory of the manufacturer this way. It seems this was done to induce fun into the experienced rider. Something which makes us compare it to the Duke 390 series, both generation, as the gap between both generations humungous, but they provide serious fun. Journalist fraternity does say that this motorcycle is quite good in the 2017 version, we are yet to find that. For now, truly enjoy, the Dark Side of Japan!
MT-09 India Review
Design

Performance

Dynamics

Features

Comfort

Safety

Value

Practicality