Enchanting –
Value fr money
Superlative chassis, brakes, engine
Performance and fuel efficient balance
Electronics make it easy to ride
Unsatisfying –
No 12-inch wheel at the rear
Scarce dealerships, period!
2016 Suzuki Access 125 Review tells you that the new generation model will appeal right from enthusiast to elderly people as it offers everything
Before Suzuki made a huge success with their Gixxer sibling motorcycles they were known for something. Something that wasn't in quite a fashion statement or a necessity. Suzuki was making scooters as early as Honda was making them. Suzuki, however, wanted to distinguish itself from the 100cc bandwagon and gave us powerful 125cc scooters. Access 125 was born in the year 2007. A full metal body scooter with a lot more power, torque and displacement than any other scooter in the market. Sure, there was the 160cc Blaze from Kinetic but it wasn't your regular scooter.
Access was hit and it continued to sell till the very date till the new scooter came. Sure, years before this brand new version came, Access did get a revamp to get things moving. However, the all new model is here to meet the demands of new age scooter riders. They want retro styling, they want a lot more performance than before and they want features as well from Suzuki this time in the form of essential. Has Suzuki nailed it with the new 2016 Access 125? We spend a couple of days with it to tell you the same.
Design: Styling department is where the new Access has got most things right. The Access showcased its design language at the Auto Expo 2016 and its major highlight was the all new headlight 'cover' that now comes in chrome. The front panel is slimmer, longer and very well crafted. The panel houses huge indicators that run from starting till the end. Clear lens indicators have been used to add to the premium touch.
Fit-finish levels are decent, plastic quality has improved with new texture, but it isn't that and is the case with all scooters out there in the market. What is wrong about the styling is the heat plate on the exhaust doesn't fit well with the main exhaust and is longer, which can give people OCD 'issues'.
Side panels kind of remind us of the Fascino but they are better here by a good margin. The rear is an evolution of the last generation Access, something that can be seen on the Swish till date. Lot of chrome, well sized tail-lamps and indicators. Overall, much stubbier, but in the right way. The wheels and suspension are silver in color and with black hints in some places and blue body color, the overall styling and first impression are quite good. Progressively too, you will find the scooter to be appealing and will grow on you easily and quickly.
Speedo and Switches: Cluster of the Suzuki scooters have been plain disappointing till date. Clearly the past meters were made by school children in their drawing periods. However, the good news is the new one's have a classic approach, but they remain plain simple with the choice of fonts. What makes the entire thing good, is the addition of the digital meter.
The digital meter showcases, oil change interval, one trip meter, fuel gauge, odometer and trip button. Suzuki continues cost cutting in this area while providing solitary turn indicators. Other side houses the high beam tell-tale light. Switches are of high quality and clicks are more precise than before by a subtle margin.
Ergonomics: Ergonomics are reminiscent of the past. However, the stance is slightly taller than before as the use of 12-inch wheel is seen at the front. The seats are well cushioned, slightly softer and the size of the seat in length and breadth has increased by a healthy margin. Upright riding position, really wide footboard and a lot of space to adjust means it will be comfortable for every size and height of rider. Mirrors as always, are motorcycle inspired and show you what is behind you clearly as the positioning is right.
Performance: Let's discuss numbers first, which makes this scooter interesting in the first place. Suzuki has taken the power up by .2 BHP and torque by .4 Nm. They continue to make the numbers at similar RPM. Power comes at 7000 RPM and torque comes at 5000 RPM. Every dimension has increased by a subtle margin. What has considerably gone down is the kerb weight. Suzuki has done a stellar job by cutting down 10 kgs from the scooter. All though it is not a 100% metal scooter anymore. Only the front mudguard is made of steel.
Suzuki has used SEP technology in the engine and refined every possible aspect of the scooter. Right from fueling to the CVT transmission. The motor is very smooth and refined the moment you start it up. Off the line acceleration is seriously impressive. I, as the rider, weigh as much as the scooter, but it gave me the kick in the pants the moment nailed the throttle completely. Something that we see on motorcycles and rarely in scooters. 0-40 km/hr is done rapidly and post that it settles down in the 50-60 km/hr cruise, but if you keep accelerating it will reach 80 km/hr in very less time.
All that weight saving has made sure it performs extremely well and we can almost call it a performance scooter. Almost because, the scooter doesn't have the punchy feel that it had before, the lumpy power delivery after 40 km/hr is gone and now it is very linear till the end. Thanks to that, there are no vibrations at 90 km/hr and it has ability to reach 100 km/hr on the speedo. Overall, till now every area of the scooter seems to have taken a drastic leap and it performs really well. We saw a fuel efficiency of 43 km/l which can increase as our scooter was new and slightly abused.
Dynamics: The chassis has been revised completely. Dimensions have increased, weight has dropped by 10 kgs to be precise and the wheelbase has gone higher to control all that extra speed and add stability to the package. The damping is considerably stiffer than before and harshness is gone now of the older scooter, making it a clearly superior than already impressive previous scooter. The agility it ends up offering makes the scooter the most dynamic in the market today.
12-inch wheel at the front and 10-inch wheel at the rear means more stability and more dynamic ability. Suzuki scooters always had rear suspension to be on the softer side and front to be stiff and harsh. Since the front is taken care of, the rear is also stiffened up now. However, you do feel it is softer, but not unnerving like before. Turn-in is good, thanks to the lower rake degree, which is also a Suzuki trait and hence makes it fun chucking it into corners. You do feel the wheelbase is longer, but then that adds to the stability at high speeds, so you feel like, it is OK to live with it.
Tyres performed well on intermediate dry and wet roads and we can see the tyres used by Suzuki that were made by MRF do their job indeed. Brakes is another section, which totally blew us away. The initial bite is spot on and linear, post that the progressive power is there in abundance too, however, finicky part is that you are already done with braking till that time.
Over the top stopping power indeed, without scaring you silly, good job Suzuki! Needless to say Drums continue to be 120 mm and both drum brakes should also do their job even if you don't opt for the disc. All though we still recommend for as it is a complete fun and safety pack together.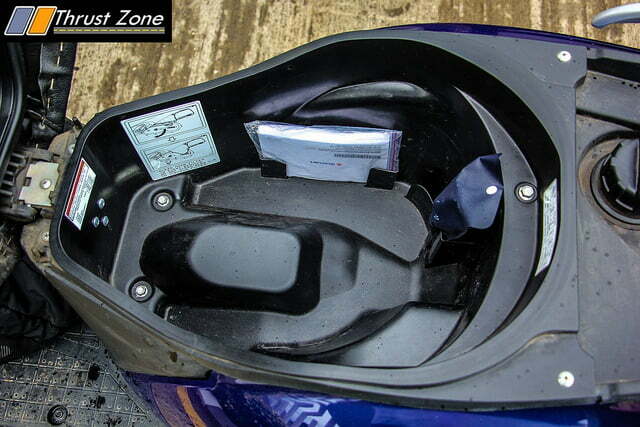 Verdict: First things first, the scooter isn't a metal body scooter, so if you are hard core 'metal' fan get the older one, which is still available. However, if you want more performance, mileage and a better looking scooter, there is no doubt that the new Access 125 fits the bill right. Needless to say it is great value for money as it gets more features mechanically, cosmetically and essentials, this time are at large by Suzuki standards.
Let us give you a top tip. We have a Suzuki Swish in the long term fleet for 3.5 years and we can tell you this. Spares are cheap and so is the service charge. Service quality on the other hand is quite good is being well monitored by the company. The wee bit of trouble comes from the dealership network, which is small when compared. All of this makes it the 2016 Suzuki Access a great all rounder? Absolutely! Because this is the 'Way of Life' if you are a scooter fan!
Read this too: Access 125 Price, Specification Here!
HD Image Gallery
[review]