Enchanting –
Sleek design + Polestar Blue Color = unique
Solid build quality, a lot of safety features
Enthusiastic engine and good dynamics
Spacious, practical and priced well
Unsatisfying –
No petrol engine on offer
Missing Features
Steering feel isn't great
Volvo V40 India is the ideal combination of practicality, luxury and compactness at a great price and is very solidly built car
Yes, if there can be first drive reviews there can be last drive reviews as well. As I write this, the an all new V40 is being showcased somewhere in concept form along with new vehicles based on the same platform, Hence, we might not get an opportunity to test it again, so a last drive makes sense, doesn't it? The Volvo V40 hatchback came into our market couple of years back and since then it hasn't been able to exactly take the market considering aggressive strategy by German rivals. V40 has its own distinct character and approaches its customers with a level of design and stance that its competition can't match in certain areas. We spend some time with it to understand how the car is and how this Swedish machine copes up with our conditions and what it offers to our hatchback crazy market, despite in the premium segment. Let's see, what does the 2016 Volvo V40 India R-Design has for us in store.
Volvo V40 India Styling
Design wise, the V40 is a very sleek and bulky hatchback to begin with it. The hatchback is 4.3 meters long and quite wide, as a premium car should be. Front-end is quite bold with the typical Volvo design, the side profile has a unique window line, low stance and immediately feels like it cuts the air more smoothly than anything else. Rear-end is typical Volvo with large vertical tail lights and looks swell. Overall, the stance is off a solid and muscular car with the panache and style that the youth looks for with unique bits such as the R-Design wheels and design package.
2016 Volvo V40 India Interior and Features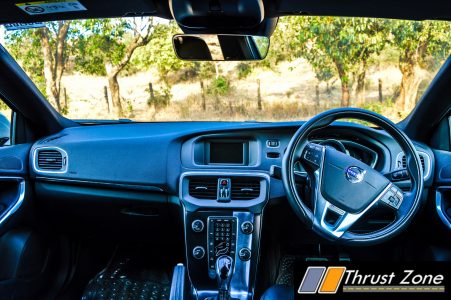 Interior is where the hatchback offers something different yet again. However, the minus point is that the car's dashboard style and center console layout is beginning to age, and not so well. The controls for first are confusing as all four knobs have multiple jobs assigned to it such as the A/C blower and climate control share the same knob, the screen is controlled by top right knob and can shut off as well and A/C blower along and volume knobs are on the left side. Features list includes panoramic sunroof, fully electric and heated mirrors, automatic start/stop system, leather seats, keyless entry, parking sensors, automatic wipers, power seats, camera, LED lights and much more.
Connectivity options for your mobile are all here, you can choose from three driving modes, Eco, Sport and Comfort. MID system was working precisely as well, showing you average fuel consumption and much more and would show data according to the modes you were in. LED in the cabin at night for both passenger and front cockpit is cool attention to detail feature in the V40. What we found slightly disappointing is the A/C, which wasn't working well enough in the heat and needed full power to keep the cabin cool. Storage space behind the main console is a good idea.
What is also disappointing is the small screen in between of the dash, as it is very small, is not a touch screen and does not have many toys to play with it considering the rival offer so much more. The interior quality is good all around, but it isn't something that wows. Fit-finish and build quality, though, lives up to the name and it is solid and will withstand the abuse for a long time.
2016 Volvo V40 India Engine Gearbox and Mileage
When it comes to the performance, you get a 5-cylinder diesel engine that is a 2.5 l unit that makes 150 BHP and 350 Nm of torque. The engine is the star of the package, the most enthusiastic, makes the right noises, despite a diesel and offers stonking performance as the gearbox mated to it does a fairly good job of keeping the enthusiast happy. Shifts could be faster, but they are smooth enough to keep premium commuters happy.
Dial into sports mode and the shifts are quicker and much better, so enjoying ghat's on our drive wasn't a problem at all. The car isn't exactly fuel-efficient, though, it was returning us 9 km/l but the efficiency went up to 14.5 km/l on the highway, which was quite impressive for the bulk it carries and the engine configuration it offers.
NVH levels are good, it does become noisy, slightly, at lower revs and at redline, but cruise along and there is no intrusion in any way. Performance is good on highways as it nudges the 220 km/hr quite easily and simultaneously, the driveability in the city and intercity highway overtaking is hardly a problem with the gearbox shifting quite quickly in those driving situations.
Volvo V40 India Ride and Handling
This front wheel drive hatchback from Volvo has finely tuned suspension with 17-inch wheels to make sure it rides, handles and stays poise all the time and it does. High speed stability is good, ride quality is crashy, but doesn't transfer much to the cabin. The car doesn't under steer much and has very good grip levels around corners, the tyres to are quite grippy, but could be better at the limit.
While chucking around, we did notice subtle amount of body roll, something that was not highly intrusive, but giving us feedback instead while driving, thanks to a very low driving position that we always choose and V40 tends to take even lower than expected. Feedback was great, but it wasn't great from steering wheel. V40 is quite nimble and agile for the weight it carries too. Electric steering is great at parking and medium speeds, but as speeds get higher it has no feel and artificial weigh up spoils it even further. What is good though are the brakes, great pedal feel with a lot of progressive power post initial bite.
2016 Volvo V40 India Safety
Four airbags, excluding one for the driver's knee, Emergency Brake assist, dynamic stability traction control, advance stability control, ABS and EBD and other tiny bits such as front seats with whiplash control are part of this list. All of this makes sure this is a true small Volvo with all features.
Volvo V40 India Verdict
The Volvo V40 in India then, is a practical hatchback with premium goodies, design and brand behind it backing it. Premium always has a price and V40 is priced well, with some discounts and the on-road price of just around Rs. 30 lakh for this you can get either a full-sized limo from other non-premium brands.
However, if you like driving yourself, parking it yourself and like to carry 3-4 friends and head out with a boot, which can carry their luggage, the V40 fits the bill right. Sure, it has a dated interior, and this happens despite it has very tough competition from the Mercedes A-Class. Still, it manages to create its own space with its brand, perception and of course that design which seems to withstand the test of time very well.
2016 Volvo V40 India Price
D3 Kinetic Diesel – Rs. 25.5 Lakhs
D3 R-Design Diesel – Rs. 28.5 Lakhs
Prices ex-showroom Delhi
[review]