Enchanting –
A modern-classic looking executive sedan
Superlative chassis, brakes, engine
Surprisingly comfortable and extremely fuel efficient
Lot of safety features standard
Unsatisfying –
Priced a bit high for the top end variants
Ingress and Egress difficult
The Jaguar brand is taking huge leaps in terms of making and launching new products. The manufacturer is dead serious about its upcoming plans because it is making some serious vehicles that are giving tough time to its rivals. The SUV space where Jaguar is looking despite the Range Rover being on its side. However, it doesn't forget it saloons. The cars that build the Jaguar brand in the first place. Obviously, the sports cars were equally responsible in what today Jaguar is. However, the diesel saloons used on a daily basis, the character and ride they offered were surreal.
We aren't that old when we saw this happening on the streets of Europe, but some time, pictures speaks thousands of words and we picked up all of them because something abstract attracted us. Jaguar XE is what we drove last time and this time it is the XF that we have had our hands on. Diesel in particular, this is the Inegnium motor with the 8-speed automatic.
XF is in a segment where the competition is carnivorous right now. E-Class LWB, 5-Series at its best, Volvo S90's new introduction and Ageing but still attracting people with brightness, the Audi A6 is still here. After spending a lot of time with its competitor, we spend quality time with the XF. Does Jaguar continue to part itself from the crowd in the typical old school manner? Let's find out!
Design
The XF in terms of styling is very old school and the British charm is in abundance. The large rear and stubby side-mid profile and again, the large front-end with the massive hood makes it look like a proper executive class sedan. The headlamps are all new and the J-Shaped LED DRL are quite intimidating as they are done just right. The tail-lamps also on offer are new and F-type inspired LED's and large profile of the same make them stand out as well because they are sharp and chunky at the same time. The large grille at the front grabs serious attention with the red Jaguar logo.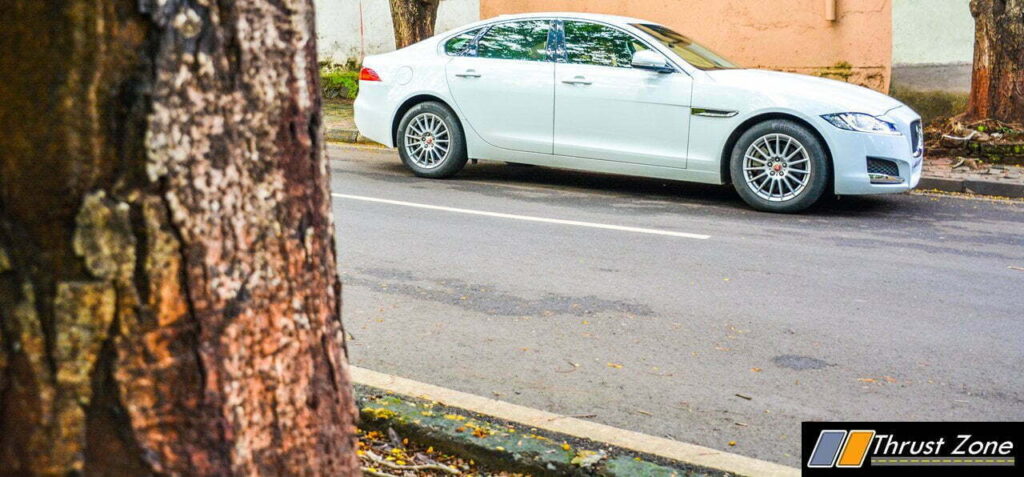 The very sporty bumper with three part lower half which has a knife inspired chrome strip running on it helps gain a lot of attention. We do get our pictures taken while shooting the car, but while testing this, we got candidly shot by many people on the road and it was something we have never seen with the German luxury car that we have tested all this long.
The multi-spoke alloy wheels are a stand out feature and make the car look very elegant. Coupe like roofline and window area make it a proper head turner no matter which angle you look at it. XF is then, a rare combination, stance, substance, charm and it is quite on high on intimidating factor which it carries like a pro and in spades.
Interior
This is the base pure trim and car is offered in black interior. The car continues to bewilder you with its rotary knob popping out, the A/c vents that clearly look caterpillar belt equipped tank that are coming out exactly like how a battle tank rolls on the roads. The all-black theme with silver inputs all around make it truely and elegant and sporty car to be in. Piano black finish inside makes the cabin look rich.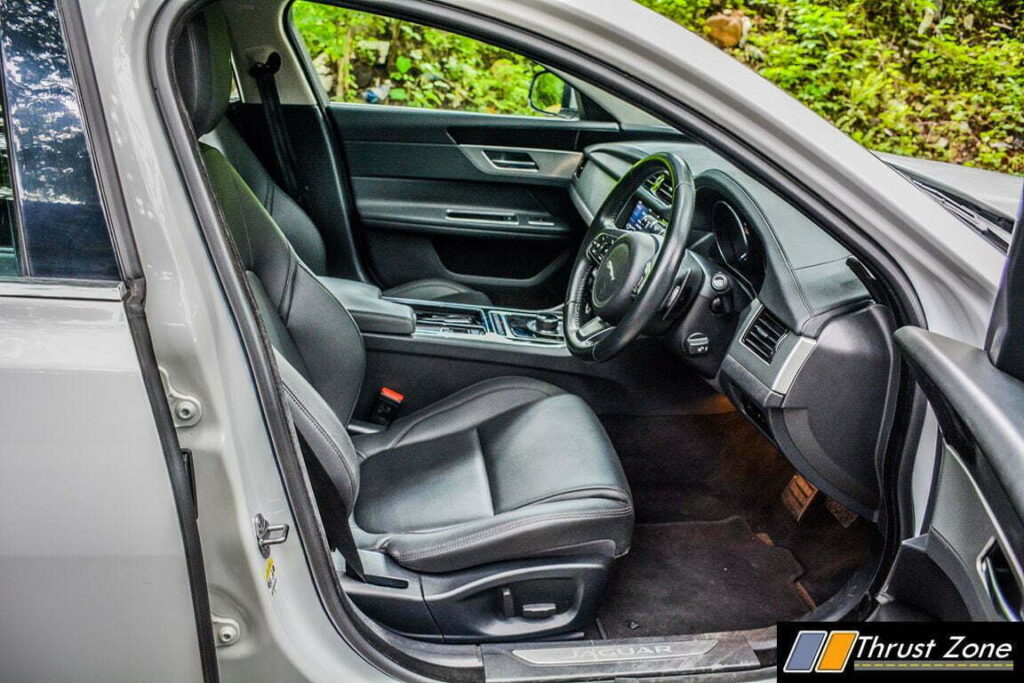 Ambient lighting, the large start-stop button which keeps glowing and so does the 12-Volt socket is something that deserves attention. Large screen on offer and the layout of the dashboard continues to be typical Jaguar. Screen offers good resolution and less lag while operating it. At the same time the interior is dated as well when it comes to the materials used and way it is shaped. Since its truely bespoke to Jaguar the way the interior is, it is ageing well. Adaptive LED lights do a decent job of illuminating the road ahead.
Features includes all the connectivity options, two sets of AUX and USB which is also found under the center armrest. Storage includes door pad holder, two cup holders and a tiny space below the center console. Steering controls, power seats, Rain sensing Windscreen Wipers, Electric sunblind for rear windscreen, front and rear parking sensors, Cruise Control with Automatic Speed Limiter, navigation, dual zone climate control, rear a/c vents, full MID, driving modes such as Normal, Dynamic, Eco and Winter are on offer. Fully electric and heated ORVM and automatic IRVM is on offer. The 8 speaker Merdian sound system is exceptional plays high quality audio output which is always appreciated in executive sedans.
Leather seats are good but they could do with better support and could be bigger in size. The problem with the XF is the ingress and egress which is very tight thanks to that coupe roofline. The back seat space isn't segment best but they are just adequate, which isn't something one expects from this class as this a chauffeur driven segment. Knee, headroom, shoulder and leg room is average at its best. Boot space is large but isn't deep as the spare wheel takes away that fact. Features are missing because it is the base version, we will get Portfolio version soon.
Engine and Gearbox
The all-aluminium diesel engines are making highlight because they are the need of the day to provide low emissions and high-fuel economy. The motor makes 180 BHP of power and 430 Nm of torque. The days of mix alloy engines are gone. The manufacturer make sure it isn't high on NVH due to external and internal sound deadening which can be felt with this car. The motor is very punchy, refined with linear power delivery. We got 11.85 km/l in our testing which is very high for a car of this class.
The Ingenium engine does have a bit lumpiness in its character and that is a very good thing in the world of downright linear engines mated to automatic gearbox. The torquey feel with a high-revving diesel engine is a perfect combination of old-school charm and new age modern regulations and refinement expectations.
The motor makes excellent mid-range and top-end power with enough power in the lower power band to trundle around town at ease. The 8-speed ZF gearbox as always is exceptional as it delivers seamless and smooth shifts and at the same time quick on down and upshifts. S mode for the gearbox makes things more sportier and we had paddle shifters as well to take complete control. 8 seconds to 100 km/hr and top speed in excess of 200 km/hr makes it a excellent performer.
Ride and Handling
Dynamically, the XF is a huge leap over its predecessor. This is because the car uses aluminium bits and is 190 kgs lighter than before. RWD means it is quite an handful while cornering. Body roll is almost non existent for a car of this size is commendable job by Jaguar. The light and precise steering is good and feedback is decent at all speeds. Dynamic mode makes steering heavier and other things more sporty.
Ride quality with high-profile tyres is good and since the dynamics are sorted it makes for apt experience for our driving conditions. Tyres offered good grip when it comes to grip quantity and quality. All four disc brakes and good pedal feel and enough stopping power lend it more dynamic abilities. The car is very agile in the corners, offers segment best stability at high speeds and in sweepers. All of this and at the same time it isn't the hardest to maneuver in the city because of the well calibrated steering lock to lock ratio.
2017 India Jaguar XF Diesel Review, Verdict
The XF particular doesn't excel at everything on paper and even in real life as it does fall short of somethings that are offered in this segment with its rival. As we told you earlier, the segment is all up for a mega battle right now as speak. Where does the XF stand then? It has something in particular that others do not have in bucket loads, atleast the Germans, which is plain old-school approach towards the car.
Something that the Jaguar has with modern drivetrain and features at the same time and hence it creates a balance that is rare to find, something you may not even find when the all new XF comes in couple of years. That is the reason why should get your hands on the XF. The charm, the bespoke character, the subtle and some time jaw dropping reaction towards car in the real world makes it a considerable and even in this highly competitive segment, a worthy contender.
Jaguar XF Diesel Review
Design

Performance

Efficiency

Interior

Space

Features

Value