2017 Lamborghini Aventador S Continues Gets More Power and other upgrades to make it go faster. As if it was slow enough!
Aventador the Italian flagship supercar of Lamborghini gets a new powerful sibling the Aventador S. the Aventador S is tuned to get 40.55ps more power, better dynamics and new developed design gives the Aventador S an aggressive appeal. The front end has a long splitter which is designed aerodynamically to produce more downforce by redirecting the air flow and to duct the air inside the front newly designed air intakes which produces downforce and provide efficient cooling to the engine.
The rear side gets an active wing which can change its place based on the cars speed, the wing can move in three positions the position of the wing also changes according to the driving modes, rear wing produces 50 percent more downforce in its optimum position. The three single exhaust tips are located at the centre of the rear bumper which 20 percent lighter than the previous model. A whopping 130 percent downforce is created due to the long front spoilers, active rear wings and rear diffuser which makes the car to grip the road at higher speed and offers great handling.
The Aventador S is the first series produced car by Lamborghini that gets four-wheel steering, Aventador S shares the same carbon fibre chassis of its predecessor the Aventador, the Aventador S is powered by a naturally aspirated V12 6.5 litre engine that produces 750.26 PS which is 40.55 PS more than its predecessor without any turbocharger or electric boost and the output torque of the engine is 690 NM. The engine is mated to a 7-speed Independent Shifting Rod(ISR) transmission system. Lamborghini claims that the new Aventador S accelerates from 0-100 kmph in 2.9 seconds and has a maximum rev range of 8500 RPM.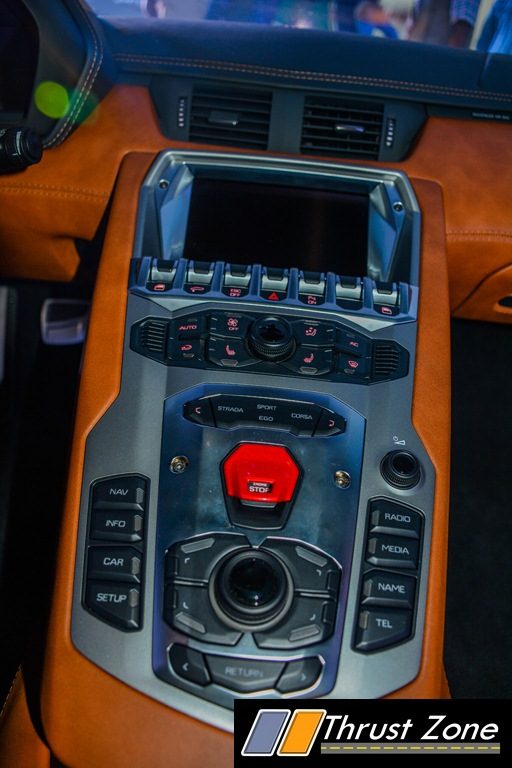 The car gets a new driving mode called the Ego mode where the car's drivetrain and suspension system can be customised according to the driver's convenience and gets the Lamborghinis earlier driving mode the Strada, Sport and Corsa. The interiors get a new digital instrument cluster, Apple CarPlay is fitted as standard and has an optional telemetry system that records lap timing, track performance and also trip data. Aventador S is priced at Rs. 5.01 Crore.