We cannot judge the 'build quality' from the pictures, and a head on collision doesn't tell the entire story as force of impact from other object is always more
A brand new unregistered Maruti Dzire which was just unveiled days ago to the media has been already caught in the accident. Launch is set to happen next week itself. This is the all new 2017 model which will be coming in the market shortly. A very unfortunate news and sight to be hold but there is another car involved in the situation and it is the Safari Storme. The Safari seems to have collided head on with the Dzire which possibly looks like taking a turn as the Dzire's side profile is crumpled.
Even the Safari does get damaged rather brutally as the driver side wheel, bonnet, bumper and initial part of the engine has been hit. This is a clear case when a sudden move from either these cars promoted each other to collide head on. Reports aren't out yet but we think both drivers and occupants should make out without no harm. Both cars have seen their airbags deployed. These two cars are said to be proven on crash test results.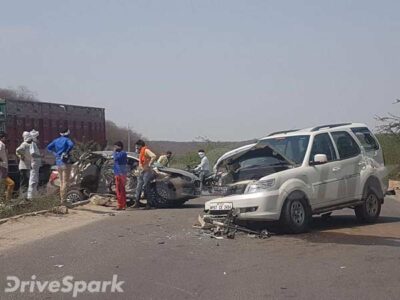 The worst part is where a brand new car meets with a accident likes this makes pop generic questions in the mind of the viewers, potential buyers and leaves a lot of question unanswered. However, it is easy to decipher that a new car has new tyres which need to be run-in so that it provides ample grip and getting hold of a new car in terms of vision and getting used to dimensions takes time. It is as simple as that. However, the sight nevertheless is painful as both cars are popular in their class. Let's wait for some official news to come on the same, we will keep you updated.