2017 Maruti Dzire vs Honda Amaze is the first fight that comes into the mind of most prospective buyers, we help you decide which is best for you
If you would ask any millennials in the country right now with automotive knowledge and passion, they would tell you that "Compact sedans are in bro" and this time he is right. Compact sedans have come a long way. Right from the Tata Indigo XL to today where there have atleast two iteration changes today of every Compact sedans sold in the market right now. Be it segment leader Maruti Suzuki or the next best brand that people looked upto Honda. Honda came with the Amaze and fans were happy and disappointed at the same time.
However, most of them went in favor because Honda brought in the diesel engine along with it and spending some time with the car made them realize that this is the best looking and best packaged compact sedan till date. Maruti, thanks to its strength in reach, sold more numbers, but it was the Amaze that was a better car. Maruti had to respond back and they have done it this time. Couple of months ago, the Amaze was also refreshed rather well. We put these cars back to back to tell you what you should be putting your money on.
Design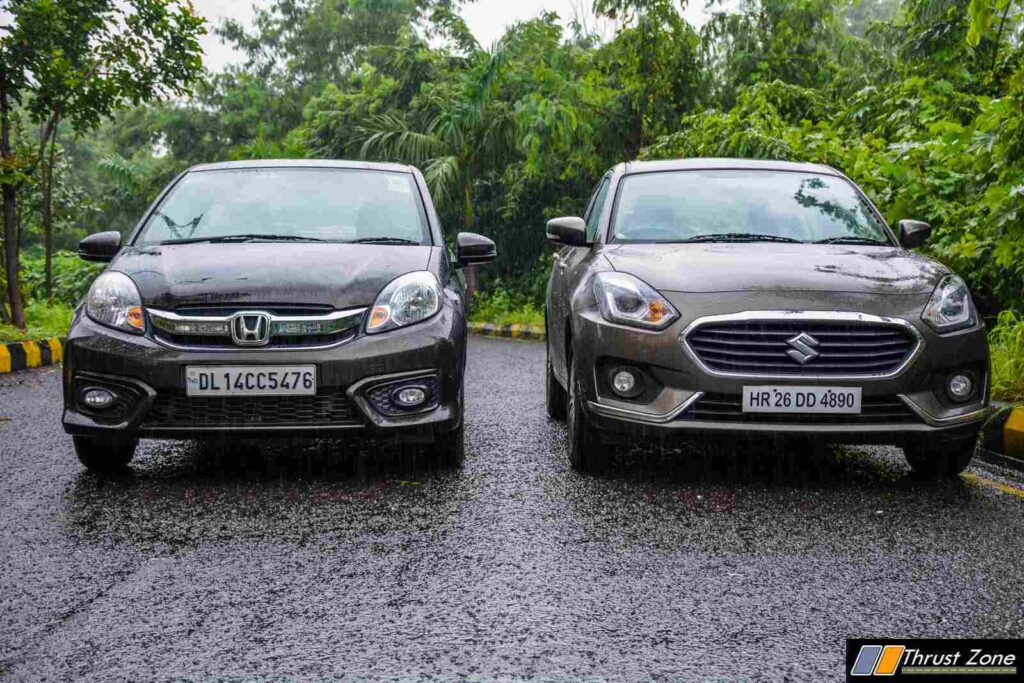 When it comes to styling, the Honda Amaze is clearly well designed car with proportionate metal and glass use on the outside. Nothing is too small or too big and everything feels just right. Be it boot integration or the way rest of the car elements look. The almond shaped headlamps, the chunky tail-lights which are well distinguished over the previous car does make it look more attractive. Front and rear bumpers are changed to give that new feeling. The grille has been revised at the front and overall, the car clearly looks fresher. Both cars have chunky chrome strips running at the rear to make it look more premium, which is either a hit or a miss with the masses.
Maruti has an all new car here, so the styling more futuristic and ahead. The modern elements, the curvy design and the Mini Ciaz approach makes it look very attractive. Large front grille, boxy rear end with tail-lamps complementing the same is clearly a stand out feature. Multispoke alloy wheels and not so long wheelbase is a side profile well done too. Boot integration is more smoother than before too. Maruti has a one plus point with the Dzire which makes all the elements stand out is because it sits lower which makes put it in the 'elegant' spot in most eyes.
Interior
Interior is the place where quality in both cars is almost similar. Both have a very clean and simple approach, something Maruti learned from the Honda this time, the earlier car was riddled with buttons which are now taken care off well. However, the Maruti's interior looks better with a large touch screen, a flat bottom steering with wooden inserts and a large touch screen which is eye catching. The Amaze interior also has a large layout which is inspired from the Honda City.
It isn't a touch screen, but it has everything what the Maruti has except for Android Auto and Apple Car Play. Both cars have dial with fuel efficiency parameters in them. City inspired dials also look rather good on the Amaze which makes the interior look more appealing now. Both cars come equipped with connectivity options but the Amaze misses out on parking sensors, reversing camera, auto door lock, start-stop button. Both cars have very good A/C on offer.
Amaze still offers heat absorbing windshield on the Amaze, which is a great addition in today's non-sun film era. Head Light Off Reminder is also something that the Amaze has which the Maruti doesn't. Higher variants of the Dzire come with 15-inch wheels while Honda is offering 14-inch wheels throughout the range. Maruti has also added some cool segment first features such as auto IRVM, Auto Headlamp (lead me to vehicle/follow me home). Both cars come with completely electronic ORVM's.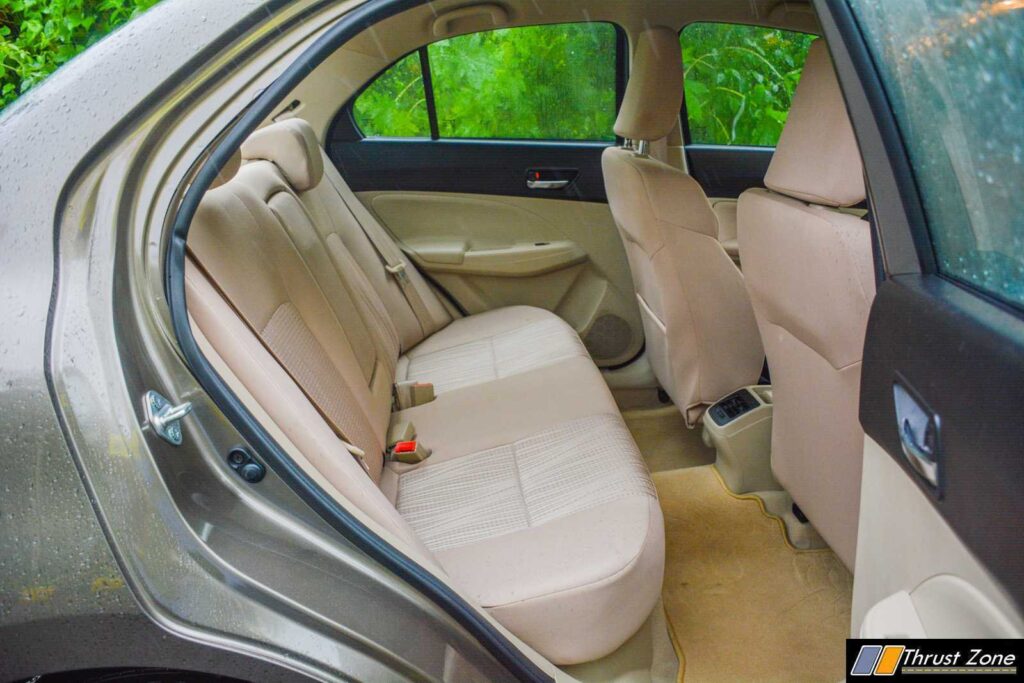 When it comes to space, Maruti has finally reached a point where it has enough space in the back and is just centimeters away from what Honda has to offer when it comes to knee, shoulder and head room. The Amaze feels the most roomiest even today and the glass area also helps a lot along with the beige interior.
Boot space on both cars is good but the Amaze still has a higher ground at 400 litres against the Dzire's 378 litres, which is visible and the Amaze packaging allows more space to keep things too. Both cars come with rather small fuel tank. Dzire stands at 37 litres while the Amaze stands at 35 litres. Maruti aces the test as it offers safety features such as dual airbag, ABS and EBD sas standard on all variants while the Amaze offers only top three variants and offers them as optional on lower variants.
Engine and Gearbox
While testing, we had petrol cars but we have driven diesel variants of these cars as well, so let us explain both. Maruti has a slightly notchy gearbox in both cars, but the Amaze has the best of the lot here. Clutch is light on both cars. Maruti does deliver a bit more fuel-efficiency, but has become way to linear and boring and lacks that crispness which the early engines had. The Amaze IVTEC motor on the other hand has softened down a bit but retains the crispy power band, the VTEC kick at around 4300 PM and a very punchy top-end power.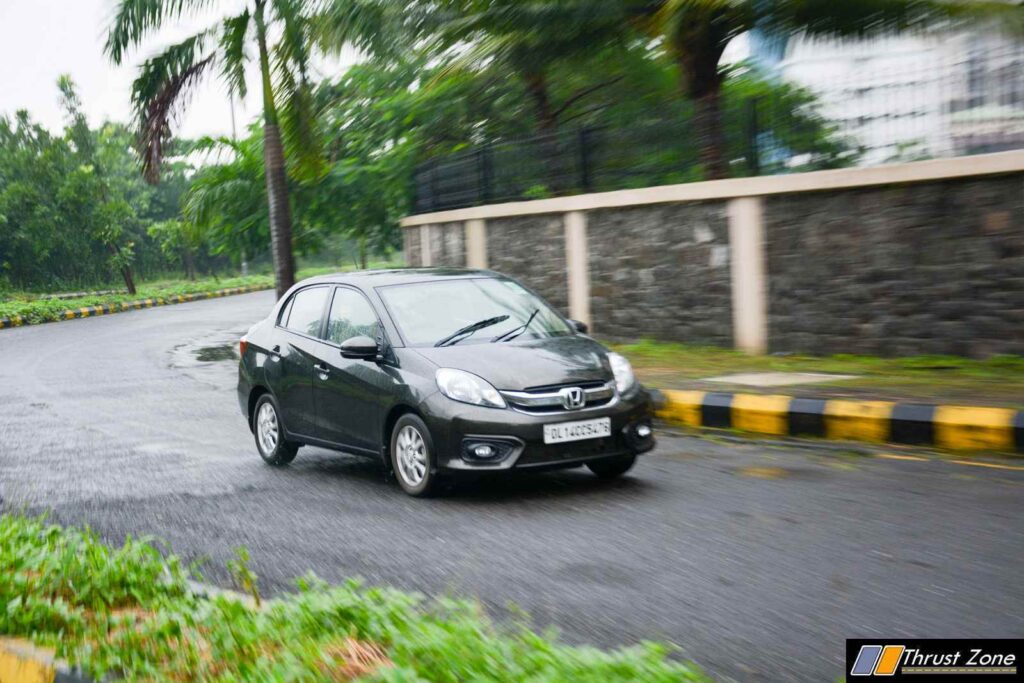 The Amaze reaches 120 Km/hr in third gear when you redline, which is just too much fun when you are gunning it. The sound resembles to every other Honda engines remind us of racing motor, almost. Petrol Dzire delivers around 14.8 km/l while the Amaze delivers 13.4 km/l in city runs with a bit of intercity highway involved while our testing. Both cars can return above 17 km/l on the highway, expect the Maruti to reach a bit higher though thanks to light weight and linear engine focused towards efficiency.
Diesel efficiency is higher on the Amaze though as it delivers 25 km/l on the highway, the Maruti delivers around 23 km/l. Diesel engine driveability on the Amaze is also better because the Dzire has turbo lag when compared, but still offers good driveability. Both diesel cars have excellent mid range, but the Dzire has a better top-end because the Amaze limits it self 150 km/hr while the Maruti also tops out naturally at that speed, so again, it equals out.NVH level are higher in both cars, Amaze is vocal only at higher rev range, but the all-aluminum engine trade off results in fuel-efficiency by a huge margin, something that cannot be overlooked. In-gear acceleration of the Amaze diesel is superior by a good margin.
Ride and Handling
When it comes ride, both cars are good fun to drive, but the Maruti rides a bit softer and hence better ride quality at all speed. Amaze is a bit more mature and stiff and has a sporty and fun edge when it comes to ride and handling. Ride quality is good on the Amaze too thanks less vertical movement from the suspension.
What is a downer, in the Maruti, is the steering which doesn't return back, something that is old school now too. Amaze steering also more feedback rich, returns well enough back to center and precise just like the Dzire's unit. Brakes on both cars is good enough, but the Amaze has a bit more feedback and power. Body roll is well controlled on the Amaze, but the Dzire does roll a bit which is well controlled.
2017 Maruti Dzire vs Honda Amaze, Verdict
It is quite a finish as we dish out every detail in this shootout. On paper and most people will say the Maruti is better as it offers more, but the Amaze has some party tricks which are being overshadowed. Enthusiastic engines, slightly better ride and handling and bit more space in the back and the boot are things going for the Amaze. What Amaze lack is safety feature which are still optional and not standard all variants.
The Amaze misses out on some features, but both cars other have tit-bits on offer, which equals out the fight if you consider other aspects as well. Amaze still delivers respectable and very high fuel-efficiency numbers just like the Maruti while offering more fun and performance.
Now, the key aspect, the pricing. Amaze continues to offer what it does and is not asking you a base of Rs. 50,000 more over the Dzire. Dzire does offer more and the price is quite justified on every on the top-end variants. Mid and low spec variants fight is intense is where the Amaze can be pick of the lot. However, that is the suggestive part for you from us to you.
Winner of the test is Dzire because it is ahead by a good margin and does offer a wide reach in terms of sales and service. Dzire also comes with diesel automatic which is expensive, but Maruti has made the option available. Amaze on the other hands holds on to its strength and still appeals in aspects listed above. Something this detailed shootout should help you make up your mind.
Petrol:
VX Amaze: Rs. 7,37,098
ZXI Plus Dzire: Rs. 7,90,385
Diesel:
ZDi Plus Dzire: Price Rs. 8,92,421
VX Amaze: Price Rs. 8,40,539
Ex-Showroom Price Delhi