Enchanting –
One of a kind aesthetics and exhaust note
Flexible and powerful engine
Features, technology and safety kit on offer
Under cuts rivals, priced well
Unsatisfying –
In the world of SUV's, the saloon space hasn't diminished entirely. There are the wagon's, two door coupe's based on saloons and there are hatchbacks. They come with all types of engines, especially the one's from Europe. Petrol and diesel and there are special cars in both fuels with intense firepower under the bonnet will the serenity and peaceful aesthetics on the outside.
Nevertheless, even that are spruced up with big wheels, lower suspension wheels and tricky aerodynamics bit fitted all around. Every one does and Audi does it too. The A5 and S5 and A5 cabriolet are part of a brat pack and now the daddy of the group comes and it is the RS5. Surprisingly, it has a cult following in the country. The number 5 seems to be working for Audi. So after the brat pack, we decided to get some time behind the wheel of the RS5. How is it in this generation? We find out.
Design
Clearly, it grabs attention by the bucket loads and especially with those huge diamond cut 20-inch wheels, the glossy, deep red paint and the low stance with two doors, it all a recipe for not getting unnoticed anywhere. The RS 5 Coupé takes details from the motorsport 90 quattro IMSA GTO. The car gets massive air intakes with typical RS honeycomb grille, a wider and lower single-frame grille. The spoiler lip, the RS-specific diffuser insert and oval tailpipes are a part of the RS character. These details are optional with styling packages which offer dull aluminum or fine carbon to choose from. The LED Lights at the front and back make this more attractive in the night.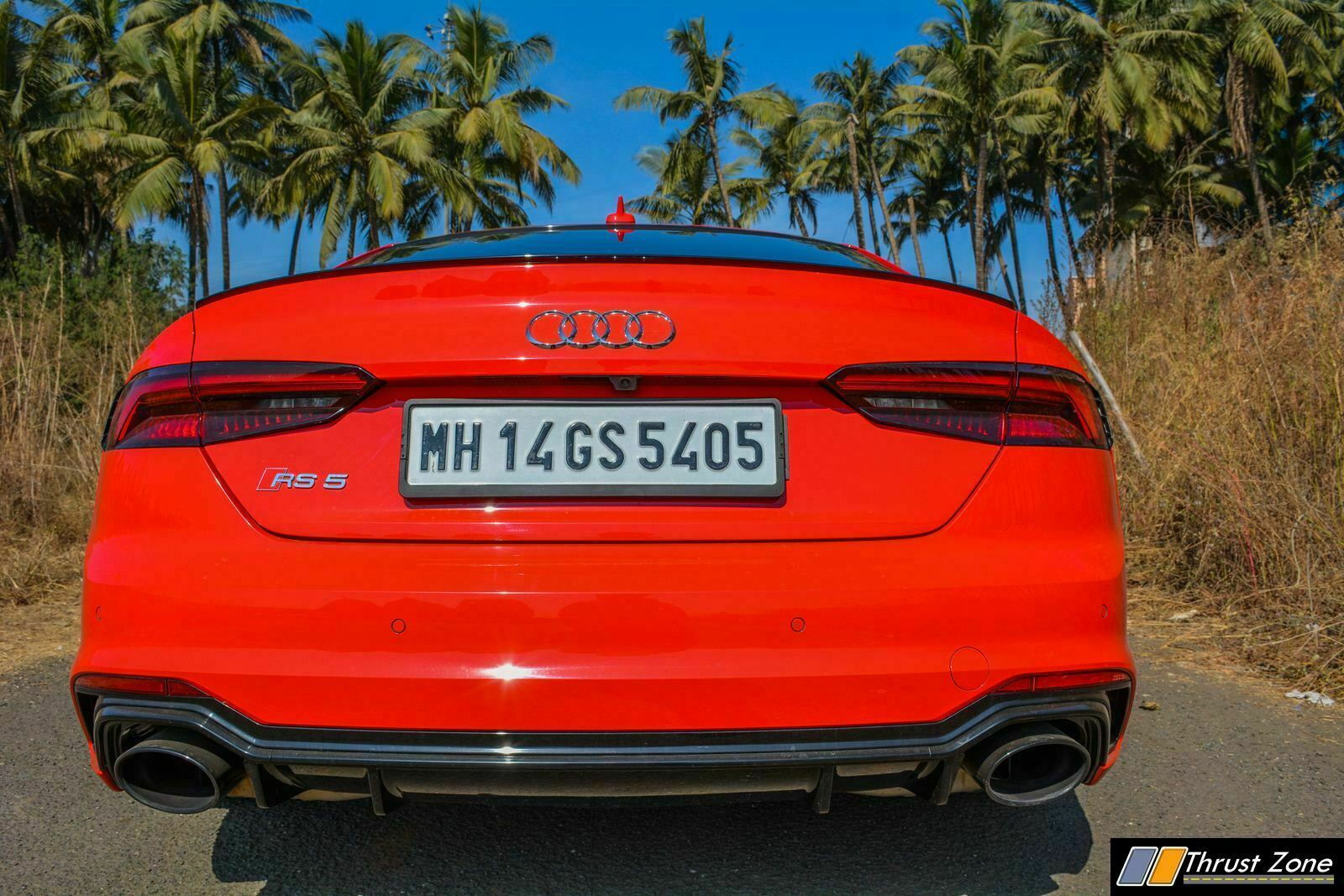 Interior
The interior is all black with leather, alcantara and stitching all over the cabin. The flat bottom steering with 'polka dots' is great to look and hold. There is a lot of features on offer including a great sound system by Bang and Olfusen 19 speaker layout. Android Auto, Apple Car Play, 360 degree camera, front and rear parking sensors, Audi Virtual cockpit which offers view to a 3D Map, calls, connectivity options and has two views to choose from. 3 Zone climate control, cruise control, electric seat with memory and massage on driver side, rain and light sensors, matrix LED headlamps, auto park, drive modes, panoramic sunroof, frame-less IRVM, ambient lighting and key-less go along with start-stop button. Front seat belt is offered by a hook which is a great addition.
Seats are sporty one with great support and look good too with a bit of quilt. Boot space is good, there are no rear seats for adults and that can be used to keep stuff too. Safety is taken care of with 6 airbags and Antilock Brake System (ABS) with Electronic Brake Force Distribution (EBD), Electronic and Differential Lock (EDL), Anti-Slip Regulation (ASR), Electronic Stabilization Control (ESC).
Engine
If you have driven the older RS5 you would instantly realize how compact, light and easy to drive this new generation car is. It has lost weight, the naturally aspirated V8 has been replaced with a 2.9 litre V6 motor making 450 PS of power and 600 Nm of torque propels the car ahead almost instantly as torque is available from 1900 RPM only. The 8-speed smooth shifting torque converter has been used to deal with extra torque for this performance car and not the dual clutch unit. You never realize you are doing illegal speeds within seconds as the low riding car with great power to weight ratio and 450 BHP keep you pushing back in the seat. We found it intimidating almost every single time we reach near the 2000 RPM mark.
The mid-range is brutal as it just goes from 3000 RPM and top-end is furious as the gear changes happen it continuous to pull relentlessly. No wonder it reaches its limited top-speed of 250 km/hr roads almost anywhere where you can find an empty stretch of 1.5 kilometers. 0-100 km/hr is done in 3.9 seconds. We got a 8 km/l in our driving which isn't bad considering the power house.
These numbers are only possible due to cylinder deactivation and the downsizing already done over the previous car. Nevertheless, we still find the exhaust note sonorous enough and raspy at the top-end with the occasional pop and bangs at up and downshifts. This free and quick revving engine is rewarding to squeeze every time. The driving modes make a lot difference and sport mode gets a bit more of everything over comfort mode.
Ride and Handling
Dynamically, steering feedback is good and lock ratio is just two turns which makes it difficult to take 3-point turns but cornering this car and changing chicanes on a mountain road is no problem as it is a fast steering rack. The steering does get heavy but in an artificial way in mid center and throughout the circle of the steering. The suspension is stiff and you can feel every pebble and imperfection on the road but not in a bone jarring way. The ride does get choppy in our condition, but there is a bit of compliance even with the 20-inch wheels and low profile tyres on offer. Brakes are ventilated and drilled rotors. Brakes were good, but pedal bite can be a bit better.
Body-roll is almost non existent and it is fun to push around on the roads while stay within limits. The car surely feels more agile, nimble and yet stable making it a car you can live with in our conditions to a certain extent. This is also due to Quattro which helps the driver push more, putting all the power to ground and none of it getting wasted like some high performance RWD cars.
2018 Audi RS5 India Review, Verdict
The RS5 is know for its performance and the entire 5'range of cars do offer the best what Audi has to offer. Technology or design, which truly stand out along with performance and practicality. The RS5 is a coupe and born of performance and isn't entirely practical, but there is always the S5 for that. Nevertheless, the RS5 strikes the cord which lures you to get yourself one if you have Rs. 1.05 crores lying around. Its the perfect getaway car be it on the race track, a twisty mountain road or if you have 12.5 kms of nicely paved road around you.
Audi RS5 India Review
Design

Interior

Practicality

Space

Features

Performance

Dynamics

Safety

Value