2018 BMW 3GT Petrol Review: The car in this color, size and shape is very appealing to a certain audience and we think we are one of them!
Shape, size and design, the Germans have done it all to capture the imagination of their prospective customers. There have been coupe's, GT, estate's SUV's, saloons, hatchbacks and fastbacks and much more to get the audience to buy their favourite German car. BMW is also one of them and one of the shapes that BMW has successfully established in the market worldwide and in India to a large extent is the Gran Turismo one.
We drove the diesel version earlier and this time we have the petrol version. The M-Sport 3GT with a petrol engine seems like the right choice for urban dwellers, performance seeking enthusiast who also wants practicality. The 3GT seems to be just right on paper, but we did come across surprised, what are they and how is the car in total? Stay with us.
Styling
The design is of a very large coupe with none of the drawbacks and has four doors. The large and high roofline that starts from the A-pillar goes into the boot looks spot on. There is no abrupt cut and the Hofmeister kink ending in the D-Pillar makes for a lot of glass area. Pillar less door makes the car even more sportier and sophsticated.
The car sits low and wide the muscularity comes from the strong shoulder line and athletic nature comes from the creases on the side profile of the car. This M-Sport car gets a 3-part bumper and 18-inch alloy wheels which adds a lot of sportiness. Head and tail-lamps continue to be LED and look great in typical BMW fashion in the way they light up.
Interior
Interior is where the glass area, beige and black scheme along with good quality all around makes the car a pleasant place to stay for short and long duration. Our drive in the rain with a sunroof made it less gloomy to live with during the week. The use of wood and brushed aluminium gives the upmarket look the customer aspire for. The instrument cluster now gets an LCD screen which looks great but follows similar BMW tradition in terms of technology, fonts and layout. The iDrive system let's you control and adjust a lot of things. Needless to say you can use it from the dial below and the whole infotainment system is easy to use.
The headroom, leg, knee and shoulder room is segment best and easily makes it a comfortable place to be. The boot space is good but taken away by the spare tyre that is on offer. The panoramic sunroof adds light to the cabin at the back, devoid of all claustrophobic seen in other cars in this segment. There is a dedicated rear A/C vents with climate control and armrest to make things more friendly and comfortable.
BMW ConnectedDrive features BMW iDrive (the on-board Driver Information system) with 22.3 cms display, BMW Navigation system Professional with Touch Functionality 3D maps (integrated Global Positioning System-GPS), BMW Apps, Park Distance Control (PDC), Connectivity through Bluetooth and USB/AUX IN connectivity is on offer. Adaptive LED headlights including Auto High Beam Assistance, Active rear spoiler, Automatic operation of the tailgate and LED Fog lights with reflection system.
Safety kit includes six airbags, Anti-Lock Braking System (ABS) with brake assist, Dynamic Stability Control (DSC) including Dynamic Traction Control (DTC), Cornering Brake Control (CBC), Side-impact Protection, ISOFIX child seat mounting, Run-flat tyres with reinforced sidewalls, emergency spare wheel, electronic vehicle immobiliser and crash
sensor.
Engine
We had the 2.0 Litre petrol motor making 252 BHP of power and diesel like 350 Nm of torque from the engine. The motor is all aluminium, rev fast, freely and redlines in a very sporty manner as it also erupts a great soundtrack. The better the fuel octane number is, the engine emits one of the best soundtracks and power to wheels is delivered better. The engine also gets features such as Auto Start-Stop, ECO PRO mode and Brake-Energy Regeneration, which makes it highly economical. There are modes to choose between different driving modes from such as Comfort, ECO PRO, Sport and Sport+.
The power delivery changes in every mode and they work rather well as there is substantial change in the way Ecopro, Comfort and Sports mode work and provide very linear or instant power. The engine NVH level are downright brilliant, its silent when you want it, and loud enough when you are in the mood. There is a bit of turbo lag below 2000 RPM, but it pulls very hard after 3500 RPM all the way till redline. 8-speed gearbox is fast, smooth and great as always and delivers power whenever you want it as the combination of this engine and gear ratios is spot on. Our testing delivered 8.01 km/l which had highway and city test combined.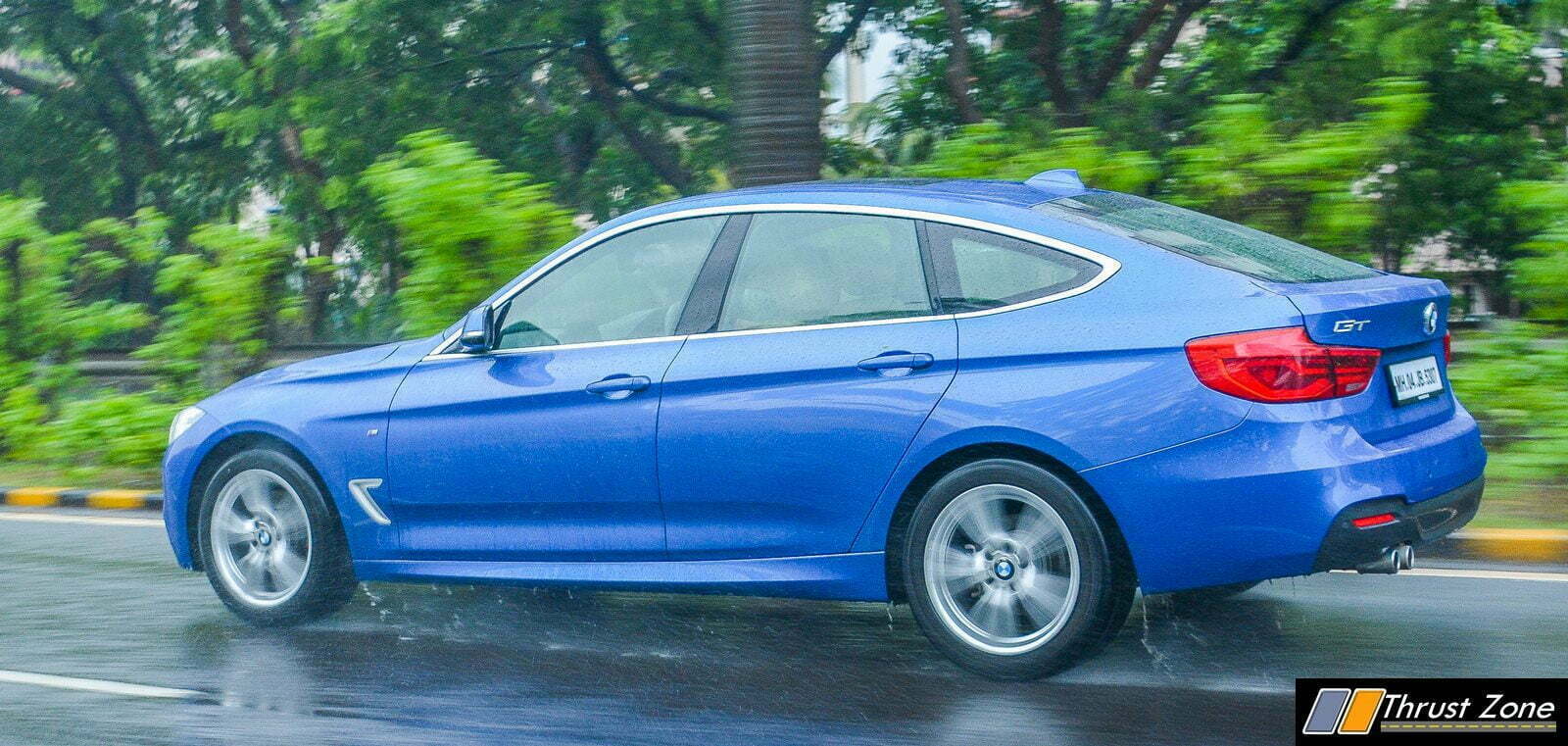 Ride and Handling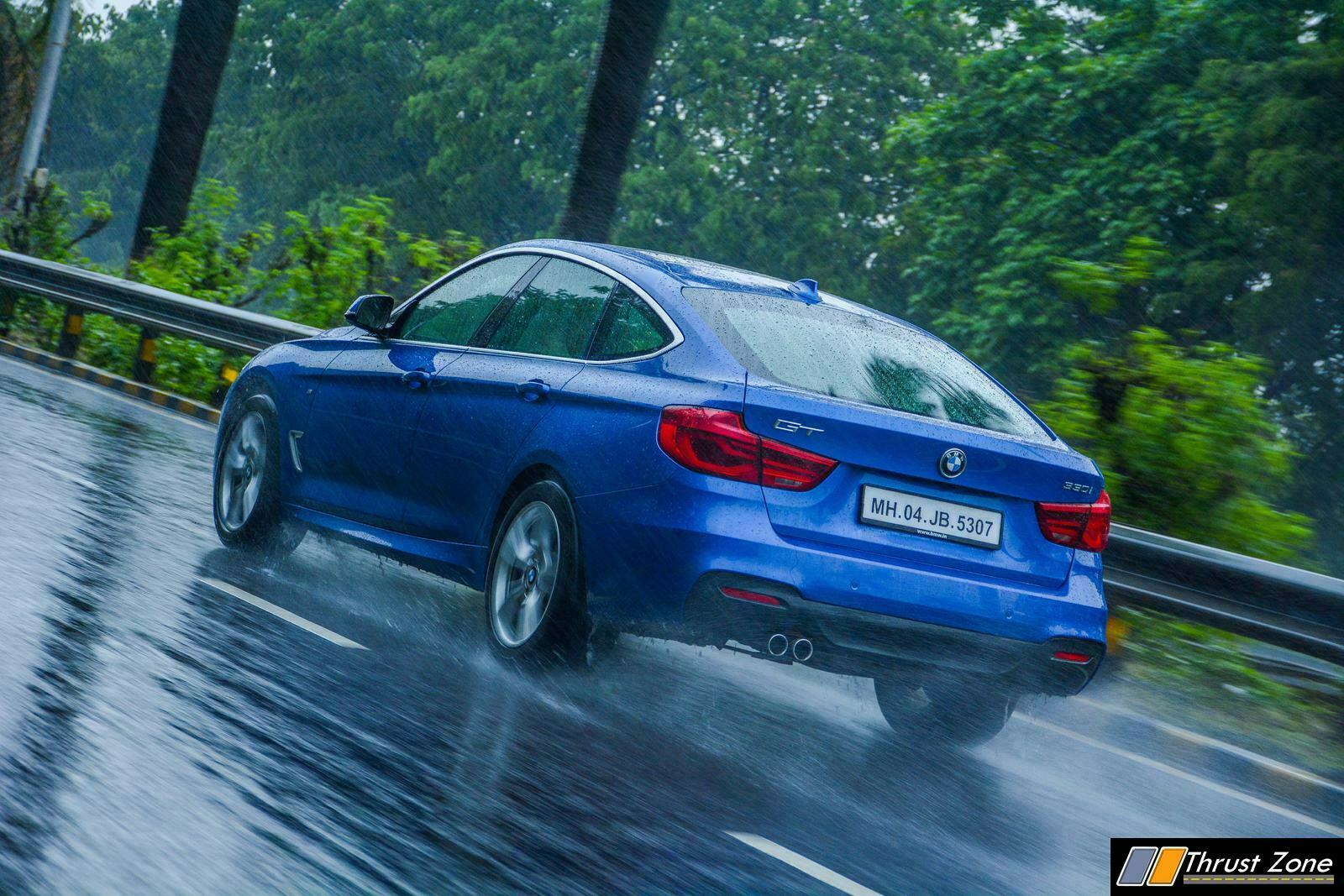 Dynamically what is spontaneously apparent is the suspension is softer despite being an M-Sport variant with larger wheels over the normal 3-Series. Hence, there is a bit of body roll but really well controlled. The steering continues to be light, precise and feedback-rich and even gets heavy in sports mode. Ride quality is great, the car is quite agile and nimble in the city and takes u-turns easily despite massive size. The long wheelbase means it isn't quick to turn but it is stable through the corners and on the highway as well. Brakes are good in terms of pedal feel and power.
2018 BMW 3GT Petrol Review, Verdict
The 3GT offers a little more over the 3-Series and a little less than the 5-Series. This makes it an ideal choice for some who are looking for the balance and something unique at the same time. Practicality of saloon, hatchback combined in a unique design form of the GT should be just the thing for some people out there. Petrol or diesel, all motors continue to be great in every regard and a lot of space on the inside makes it entirely practical. The 3GT, in this particular color, is definetly our pick of the lot.
Price: 51.2 Lakhs ex-showroom Pan India
Design

Interior

Space

Features

Performance

Dynamics

Safety

Value