2018 Ferrari Portofino Launched in India is the cheapest Ferrari you can buy in the country
Ferrari has built the Portofino on a new chassis, which is 35 percent stiffer if we compare to its previous models. With this, Ferrari has been able to tone down 80kg from the overall weight. In addition to this, the Portofino also gets an electromechanical steering unit instead of the hydraulic unit which were seen on the older Ferrari models.
The Portofino is equipped with a metal folding roof that opens and closes in 14 seconds. It can be open and closed at speeds up to 40 kmph. When the roof is down, in order to contain the turbulence, a manually retractable wind deflector is equipped.
When you step into the cabin of this convertible, you will notice that there is a new 10.2-inch touchscreen infotainment unit which supports Apple CarPlay, there is also an optional 8.8-inch touchscreen unit for the passenger and the seats are 18-way electrically adjustable.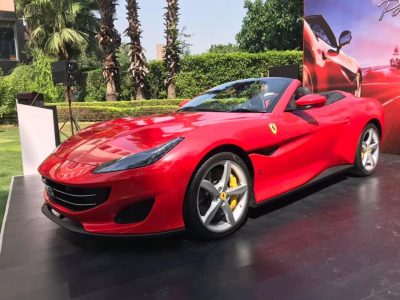 Powering the Portofino is a 3.9-litre twin turbo V8 motor, which also powers the California T. But this engine is now completely reworked and it now generates 600 horsepower at 7,500 rpm and 760Nm of twist at 5,250rpm. This engine is coupled with a seven speed dual clutch automatic gearbox that is seen in all other Ferrari models. Talking about the performance figures, the Ferrari Portofino can sprint from 0-100kmph in just 3.5 seconds and it can achieve a top speed of 320 kmph.
In the Indian market, the Ferrari Portofino competes against the Porsche 911 Turbo Cabriolet, Audi R8 Spyder and the Lamborghini Huracan Spyder. The Portofino by Ferrari has been launched in the Indian market at Rs 3.5 crore (Ex-Showroom, India). This convertible 2+2 GT car is now Ferrari's new entry-level model.