Enchanting –
Well designed sub four meter sedan
Superlative suspension and engines
Fuel efficient and feature loaded
Segment lowest cost to run and maintain
Unsatisfying –
Could do with more space
No Diesel Automatic Yet
No matter what happens, the sub-four-meter sedan continues to be an important strategic product in every manufacturer portfolio. Ask Ford, it has the best sub four meter SUV in its stable, yet the Aspire gets updates and now, it gets some substantial one's as well. Aspire was launched some time back and after some minor changes here and there which includes variant and price shuffling, Aspire is back with enough changes all round to makes sure it is a proper facelift and deserves attention in the market. The launch happened a week back and Ford kindly invited us to drive on in Jodhpur. How is it like. Our first drive impressions are as follow.
Inside and Outside
The overall design silhouette continues to be the same. The front grille is new, front and rear bumpers are tweaked. The new grille is more in your face than before. The older one was much more subtle. The Aston Martin inspiration continues though and the side profile with multi-spoke new allow wheels and distinct colours make the compact sedan stand out. We wish tail and head-lamps got more changes than they have now but it is a winning formula, so Ford didn't bother changing it, good move.
Inside the perceived quality continues to be the same which is good enough for this category. The new SYNC 3 infotainment screen is here and it is segment best. Apple Car Play and Android Auto along with seamless connectivity options through it, make life easier. The sound system is also the best in its class. Space in the back is little more than adequate when it comes leg, knee, head and shoulder room. Boot space at 400 litres is on par with segment standard.
There is an armrest without cup holders. The piano black steering, the 22 storage areas, the fantastic A/C which we sampled in 44 degrees Jodhpur heat kept us so cool inside the cabin at the front and rear that it dismisses the idea of rear A/c vents easily. There is a start-stop button, multiple charging points, full MID in the cluster which could have been changed as well is on offer. The lack of projector headlamps, DRL and LED lights is still missing and offered by segment leader. Safety kit is at all time high with 6 airbags on offer and dual airbags with ABS on offer as standard. Adjustable headrests on all four seats is a great move towards this cause as well.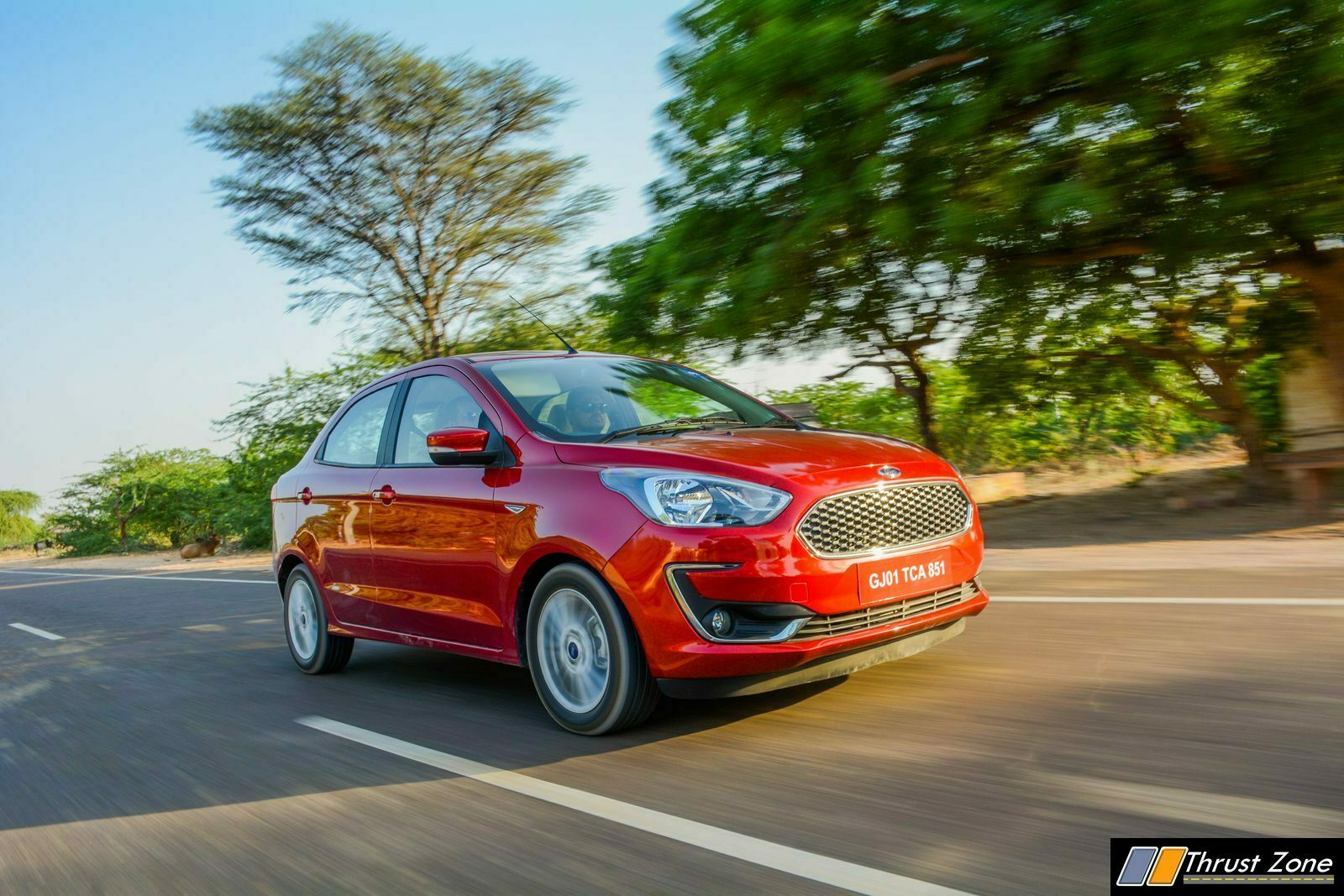 The Drive
We drove the new Petrol 1.2 litre 3-cylinder engine called as the Dragon series. The engine makes class leading 96 PS of power and 120 Nm of torque. These numbers are high, but in feel they do not demonstrate that. The reason is that the motor is very linear, there is hardly any spike anywhere in the power band, be it mid or top-end. The motor pulls cleanly and provides superb driveability when driven sanely. The motor does sound good surprisingly for a 3-cylinder, which is unheard but great news for enthusaists.
The 5-speed gearbox is also well synced in together. However, we wish there was more zing in the mid-range, this is when the motor wakes up substantially around 3500 RPM, there was even more spike then it has now. More concentration on mid-range and top-end power would make this engine great. We think that can be achieved by better cam/ignition timing or probably minor tweak to the gearing. Nevertheless, the NVH levels and fuel economy is stellar from this engine. We were getting 13-14 km/l on dual carriage highway while overtaking all the time.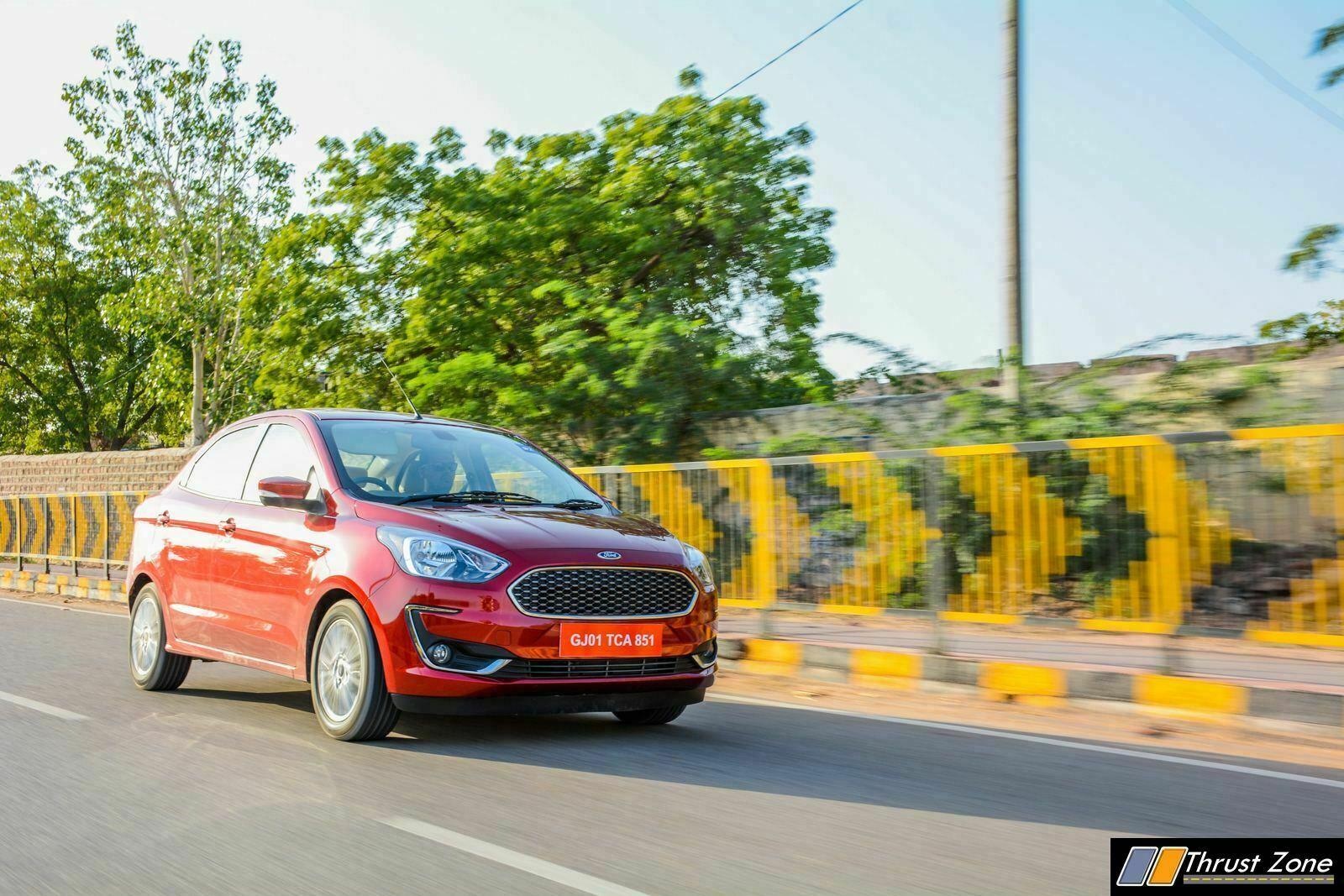 Diesel continues to be the same as before. 100 BHP and 215 Nm of torque this engine is again segment best. The 5-speed manual gearbox is paired well together in terms of gearing. The pulling power is spot on. Low-Mid or high-end torque is always on tap. The sedan gathers speed in no time and continues to pull till 190 km/hr. NVH levels again were stellar, be it redline or while cruising. There is a bit of turbo lag, but that is manageable. Top marks to Ford to achieving this balance.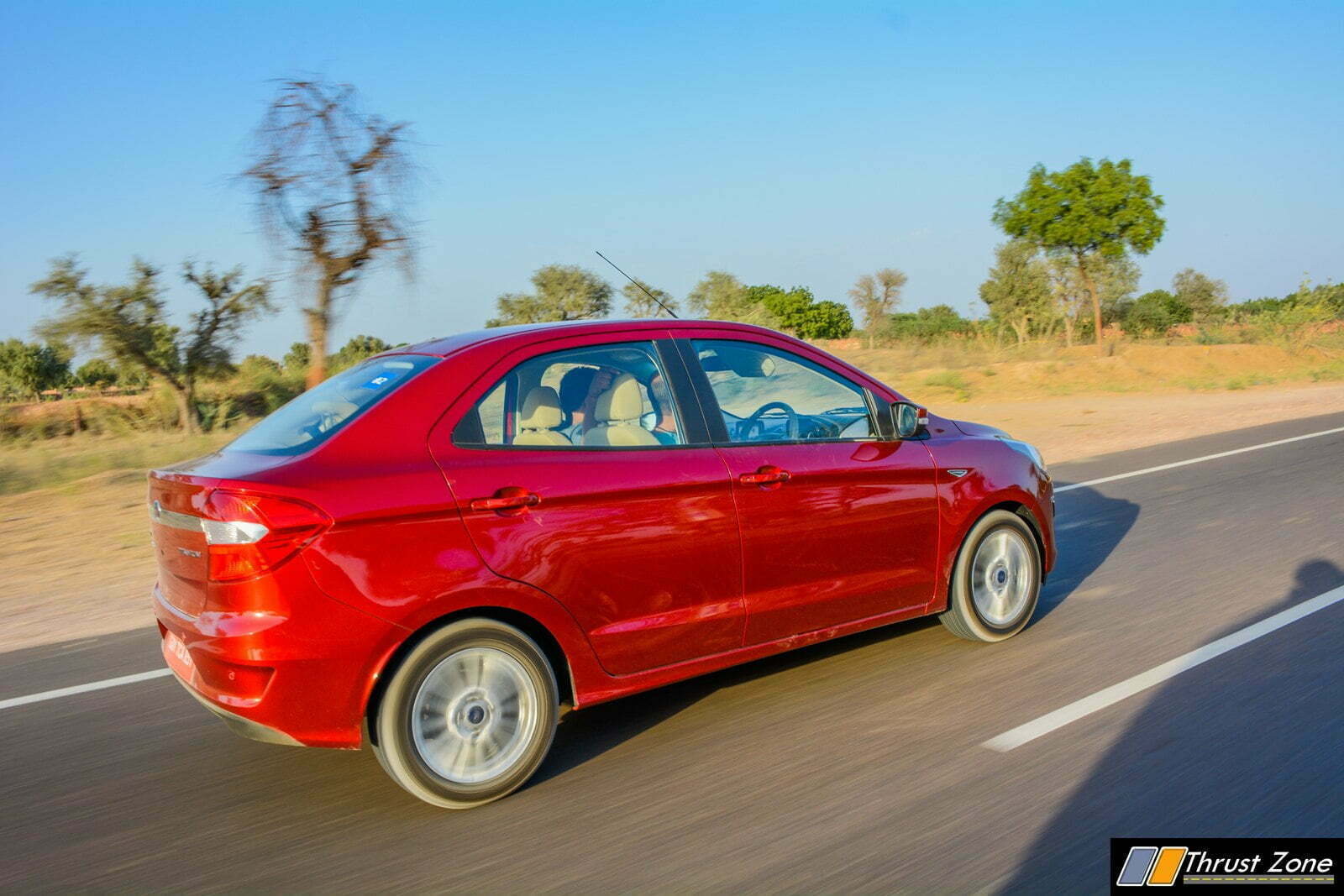 The motor over the previous version has been tweaked to deliver more efficient and it has gained a bit more smoothness and the valve and diesel clatter has gone down too. We were getting 20.2 km/l while cruising between 100-120 km/hr, which is clearly on par with segment rivals despite so much power on tap. On an empty expressway, this number could stretch easily to 24 km/l. Official numbers stand at 26 km/l now over the previous 25 km/l. The 5-speed gearbox is smooth, the clutch is light making is easy to drive in both engines.
Dynamically, the suspension is spot on. We went through off-road type bad patches of road and none of the occupants in the car ever complained. The ride quality is brilliant. This means, body roll is well in check and it never fails to disappoint. The steering has just about enough feedback. The brakes are good with decent pedal bite. The tyres are now Apollo Alnac which allow for more grip too. The 15-inch alloy wheels shod with 195/55 R15 tyres added to this package, makes it a great move by Ford.
2018 Ford Aspire Facelift Review, Verdict
Aspire already had a lot going for it. The diesel motor is the pick of the lot to have fun, extract its best frugality and is refined to the bones. The petrol motor has the numbers, but lacks feel and aids in driveability and fuel economy, so no issues there. The 1.5 petrol automatic we sampled in the Ecosport, should be a good fit in this car as well. We are yet to sample that, so stay tuned for it.
For now, Aspire Facelift is the move in the right direction. Inside and outside it is more appealing. Performance and dynamics continue to amaze us. Does it become desirable? Will it roar like a tiger in the sales number in the months yet to come? It has the potential to do so!
Design

Interior

Space

Features

Quality

Performance

Dynamics

Safety

Value