Cruisers are pretty interesting motorcycles. Although as per their name they may only excel in one thing and that's cruising, they somehow still manage to woo people into buying them. For me, cruisers never made sense until I rode one. When we say cruisers, we normally associate a brand with it which has been making them for years. Harley Davidson Motor Company is a brand that's known for their cruisers. Harley has quite a strong presence in India. Their range consists of the entry level Street all the way up to the exquisite Road Glide. A few days ago we got to ride one of their big-yet-small cruisers, the Custom 1200.
The Looks
Normally Harley's are all about being flashy and showy, this one, however, is somewhat of an antithesis to that. Yes it still is a nice low slung and chrome embellished cruiser, but here there's less show. And for a big V-Twin 1200cc machine it looks kind of tiny. Just to give you a perspective, this bike looks just a touch bigger than the Street 750 and that may give you the idea of its size.
What isn't tiny is the engine. This V-Twin has chrome treatment in plenty. The typical Harley crankcase could possibly intimidate a bystander because of its sheer size. The bike has two separate silencers for each bank, both coated with chrome. At the front, the tiny round headlight looks neat. And one simply cannot miss the chrome finished forks and mirrors. The simple yet good looking alloy wheels add to the flair. Overall this is a nicely proportioned motorcycle and nothing looks out of place thanks to the contemporary design.
The Instrumentation
Minimalist is what this Harley is. It gets a simple handlebar mounted monopod console which houses an analogue tachometer and a small digital display. The display shows rpm, gear position, clock, kilometres clocked and also has two tripmeters. Mind you this information is not showed all at once but can be toggled via the switches on the left handlebar. Sadly fuel gauge is missed, but you have a low fuel warning lamp that lights up when there is around 3 litres of fuel in the tank.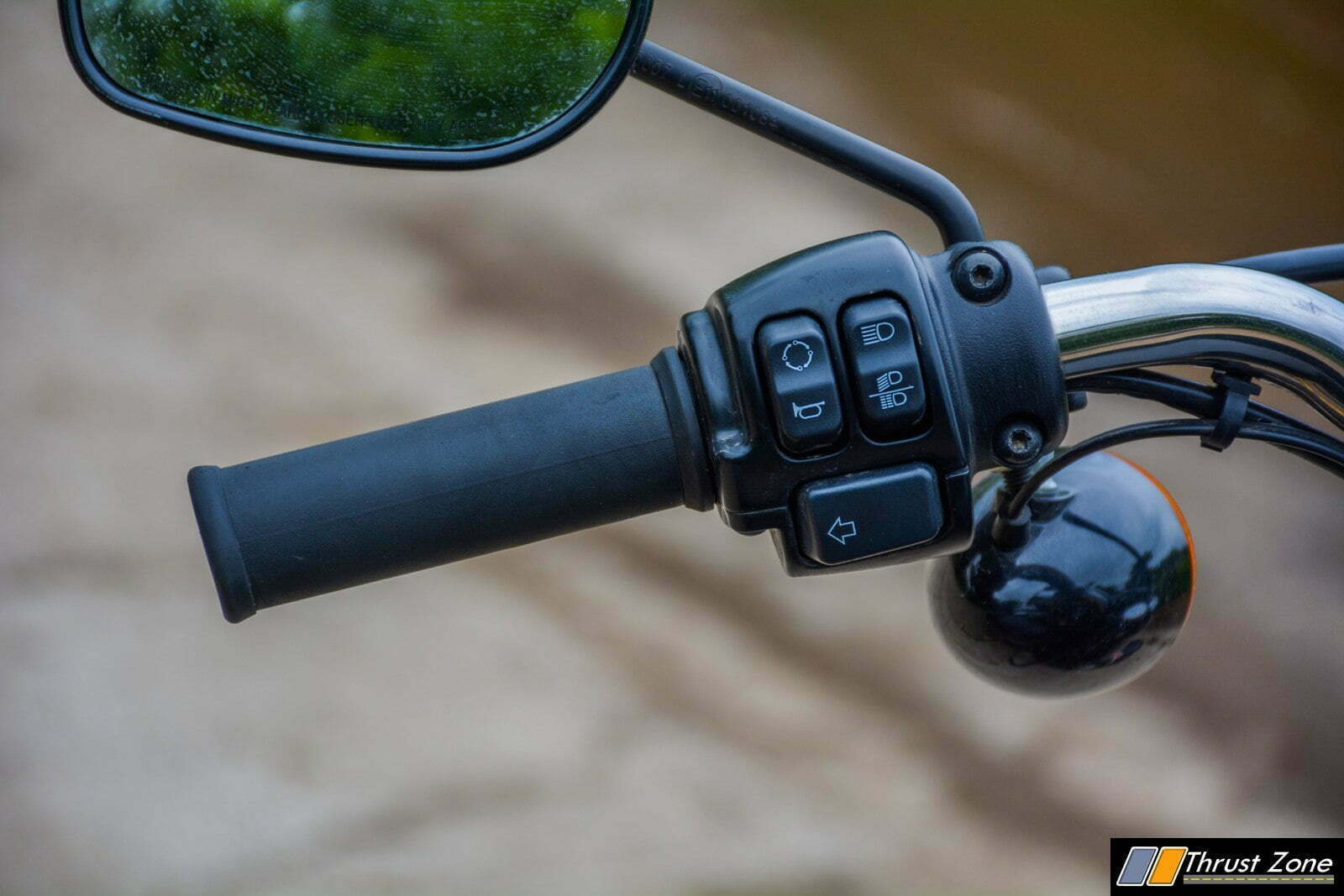 Talking of switches, one may wish for better ergonomics as these switches are tacky and feel less premium on a bike as costly as this Harley. Also with gloves on the switches positioned towards the inside are a bit hard to reach.
The Specs
Although it is called the 'Custom' under the skin this is still a Forty-Eight… Well almost. The Custom has the same engine as the one on the Forty Eight and in the same state of tune. In fact the chassis is more or less the same as well only here it is slightly raked out and the top section is changed to account for the bigger fuel tank.
The chassis rests on fat alloy wheels which come shod in Michelin Scorcher tubeless rubber. Suspension duties are handled by a pair of 40 mm forks at the front and a pair of shocks at the rear. At the front and the rear a single 292 mm disc is bitten upon by a dual-piston calliper. The final drive consists of a belt system typical to Harley's tradition.
The engine is the same old-school air-cooled 1202cc V-Twin mill that churns out 97 Nm of torque and roughly 70 odd horses. This engine is mated to a 5-speed transmission. This behemoth might look small when compared to other bigger Harleys but it weighs at a not-so-tiny 270 kilos.
The Ride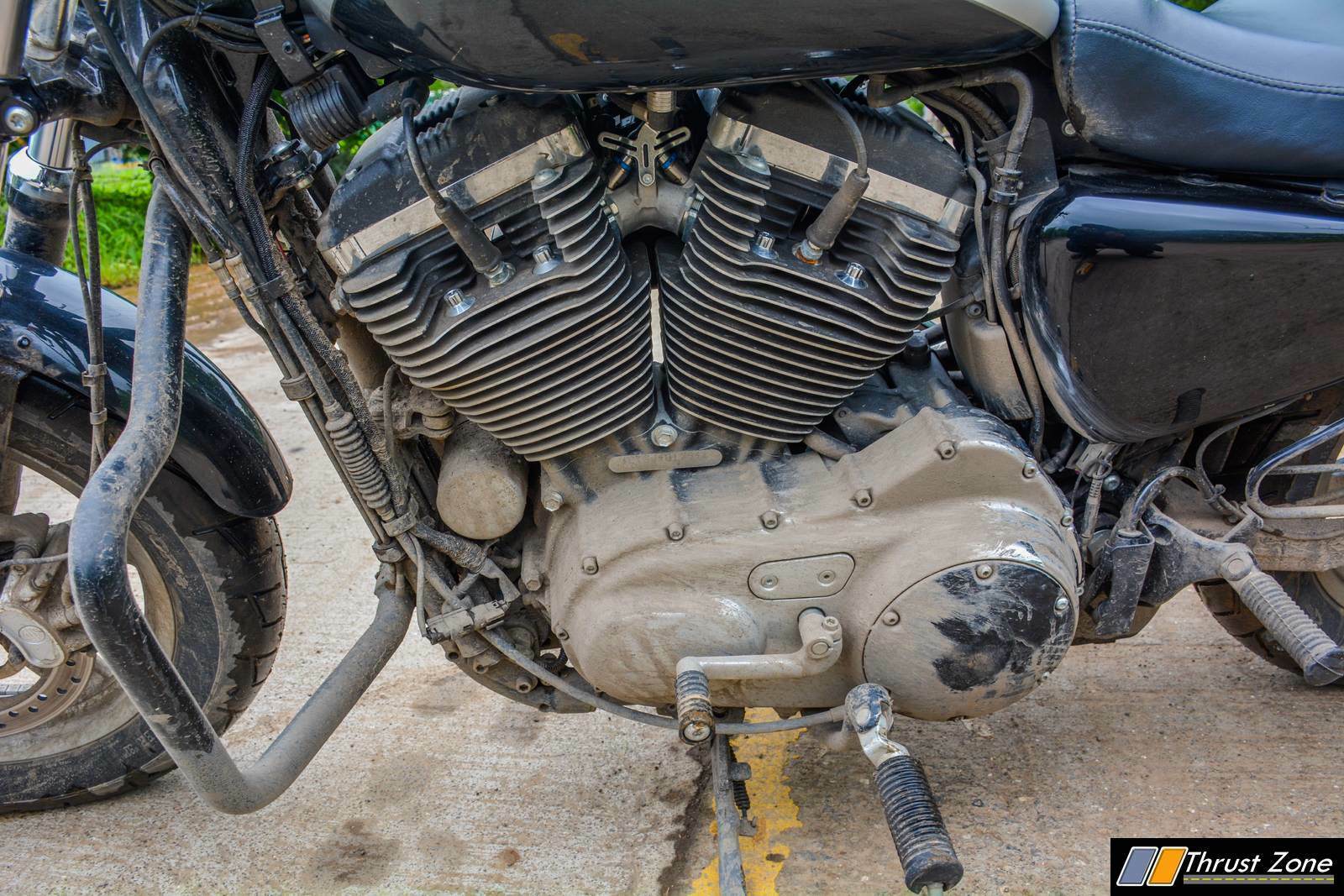 It was my very first Harley experience and not to mention that I was a bit nervous. If didn't already know, Harley's are all about torque and I was warned that this 1200cc behemoth isn't particularly friendly. Starting this thing up is a drama altogether. Finding neutral takes a considerable amount of dedication and patience! No we aren't kidding at all. Put it into neutral thumb the starter, the distinct V-Twin rumble and shudder to make their presence felt. This isn't a particularly refined motor and it shows. The first gear is clunky and makes bizarre sounds that will attract the on goers. It is not bad in any sort but if you want a bike with lots of character don't look far.
The first gear is tall, so tall that in the city I spent most of my time in first gear. The reason is the ample spread of torque for quick overtakes and filtering out through gaps. The second gear can induce juddering and that's because over 2000 rpm this bike wakes up and trust me you don't need all that torque, at least not on our crowded roads. In the low rpms the throttle can get snatchy due to the inconsistent fuelling. Talking of traffic we cannot forget to mention the clutch which well is hard and may induce some muscle soreness if you aren't used to such heavy clutches.
The Custom 1200 is a pretty unforgiving machine not in terms of outright power but more in terms of ownership. It hates being stuck in traffic and can roast your thighs and crotch with is excruciating heat. And you better fear should you come across a speed breaker or a pothole as this Harley is notorious for scrapping its underbelly. The ridiculous ground clearance of just 105 mm means it will kiss its exhausts on the smallest of speed breakers our roads have to offer. And when going through the rough stuff one also wishes for an absorbent ride as the suspension bobs around a bit on undulations and broken surfaces. The front forks are nicely tuned and offer better bump absorption but the rear can do with better hardware and tuning.
The smallish rear seat means pillion is mostly a no go on this and since there are no grab rails you'll hardly ferry a pillion on this Harley. So with pillion out of the way lets focus on the rider comfort. Firstly the seat is well padded and its low so shorter riders can rejoice. The reach to the handlebars isn't too much of a stretch. The foot pegs are forward set and can accommodate taller riders with ease. However, you cannot lock your knees on the tank thanks to the airbox which sticks out and the engine casing which can get piping hot at times. Since we are spoilt by the plush and utilitarian levers of most modern machines, we wished for same setup on the Harley. The levers require a good amount of effort to squeeze and definitely are a workout in bumper-to-bumper traffic.
Now, this Harley comes under the Sportster category and we wanted to see if it can live up to its class so we decided to throw it some curves. No its not a 600cc race replica but this bike masks its weight quite well and that's especially laudable considering that this is a Harley. It does, however, require some muscle to throw it around bends but when you do so it will reward you brilliant corner pace. One thing plays spoilsport is the rather low-set pegs which start scraping very soon when leaned over. Overall I found this bike capable of a weekend blast to your favourite hill-station or twisty road.
However, if corners aren't your thing this bike will surely entice you when you decide to cruise. I was in fifth gear at 120 kmph at around 2500 rpm and the motor was absolute bliss. No vibrations whatsoever and thanks to the meaty torque curve overtakes were done without breaking a sweat. Its this nature of this bike which could even make you lazy!
Spot a pothole need to shed speed quickly this is where things could have been a little better. No doubt the brakes are capable but we wished there was more feedback through the front. Overall the braking leaves us wanting for more power, better bite progression and feedback. But then again this is not a sports bike, its all about lazily cruising on the highway and enjoying the wind rushing past your face.
If you are concerned about fuel economy then well you should be. This guzzler isn't particularly pocket-friendly. Thanks to its huge capacity and weight it returns around 14 kmpl in mixed riding conditions. This may improve with judicious use of your right wrist. Overall you can expect and range of around 260 kilometres in one full tank.
2018 Harley Davidson Custom 1200 India Review, Verdict
It's not a perfect bike, in fact it doesn't have to be. It does most things right but also leaving us wanting for a bit more. You can't blame Harley though as the motive behind their bikes is simple – raw and unflattering. And to be honest I quite like this decision because it satisfies the rider that he or she has done something worthwhile. This back-to-basics mantra is something I will always laud Harley for.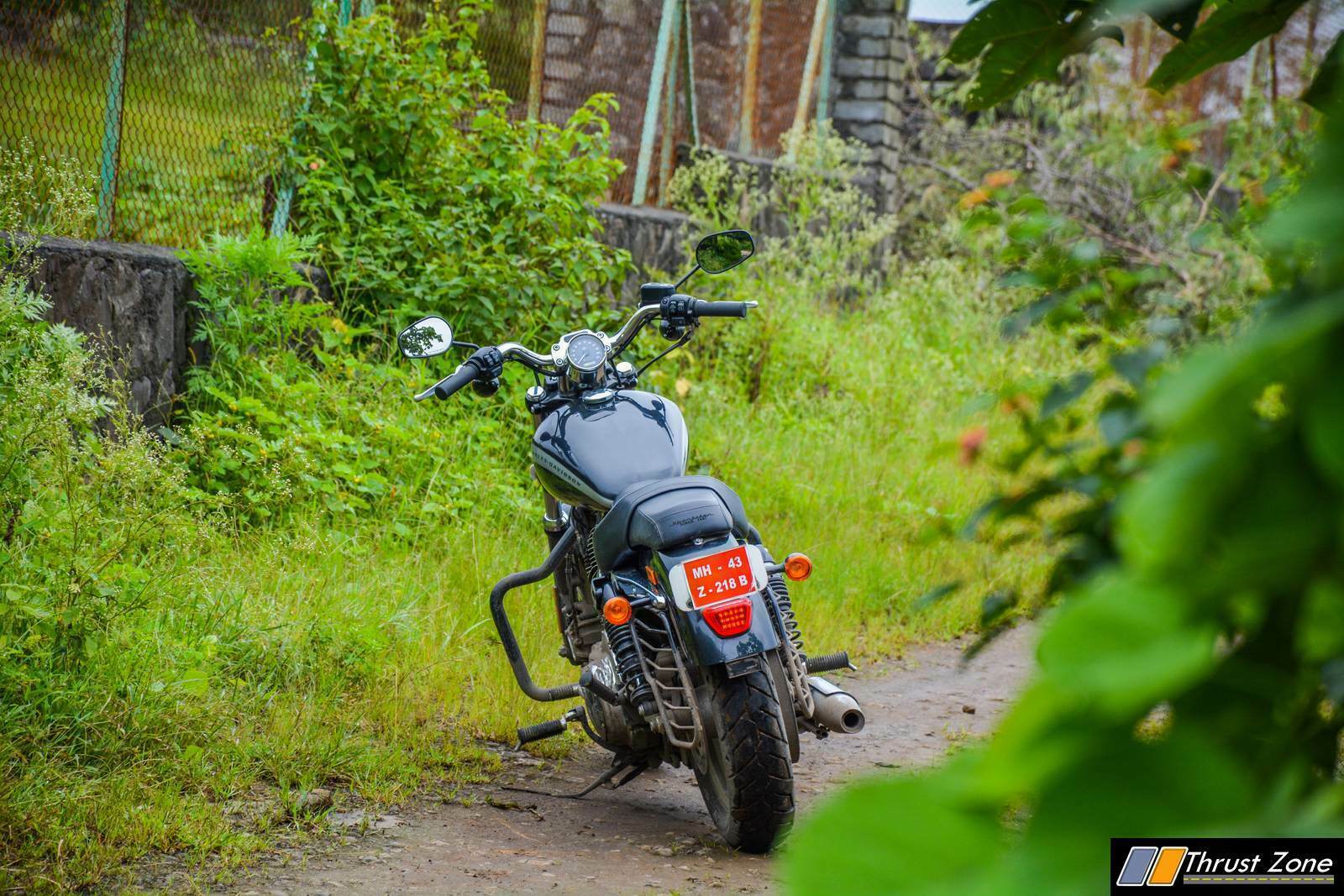 However, with bikes like the Indian Scout, the Triumph Bonneville this machine will get overshadowed no doubt. For all its sporty offering, it will be even overshadowed by its very sibling the Street Rod. Yes, its smaller and much more affordable than the Custom but for a customer who wants a Harley and still wants practicality and fun, the Street Rod makes way more sense. And finally at around INR 14 lacs on the road, it is quite expensive which will make buyers rethink their decision of buying the Custom 1200. Maybe Harley needs a better formula to replace the 1200 and also something which we Indians will love and 2018 versions seem to have that formula which isn't far away from its India debut.
Harley Davidson Custom 1200 India Review
Design

Performance

Dynamics

Safety

Features

Value

Practicality

Comfort