Enchanting –
A proven, reliable, adventure motorcycle in its class
Superlative chassis, brakes, engine
Comfortable, fuel efficient and feature loaded
Pillion friendly and extremely practical
Unsatisfying –
Exciting is the word that is associated with the new adventure motorcycle in the 300-500cc category. There has been a long time waiting for the same. Especially since when the original Duke 390 came and with its tall suspension travel showcased that it is possible to have fun on a high riding motorcycle and there is a space for adventure motorcycles in the 300-500cc category and not just 150cc or reserved just for 650cc and above.
Everyone is working on it till date but Kawasaki, the fastest person always to turn up with these kinds of motorcycles has done it again and given the Indian market and rest of the world, in certain markets, the first look at how is it supposed to be done. We don't mean that this is the segment best, but it does show what the future holds to a large extent. A midsize motorcycle with a lot of ground clearance and decent suspension travel is on offer. How is it? The perfect season to find out as it is raining, roads are handed over to the devil himself as he weakens every bone in our body and we test the mettle of the Versys X-300.
Design
The single headlight layout is rare on Kawasaki in India. Even the Z250 gets dual headlight layout. There are LED auxiliary lamps on this test bike and so is the pannier which is part of this launch edition bike. Side profile witnesses a large fuel tank, raised suspension, not to a large extent, tank extension, a beefy cowl, an impression of a minor beak below the headlight can be witnessed.
There is also cladding running in typical tradition Kawasaki way from below the tank which adjoins to become the tail-piece. The tail-lamp is uninspiring which isn't LED and comes in a boxy shape. Large saree guard, hooks, luggage rack, engine guard (which should have been a proper bash plate though) is part of the package. The aluminium spoke wheels, green and black colour all around gives it adventure look but with a touch of sophistication and isn't loud like its rivals. Lack of adjustable levers is shocking though.
Speedo and Switches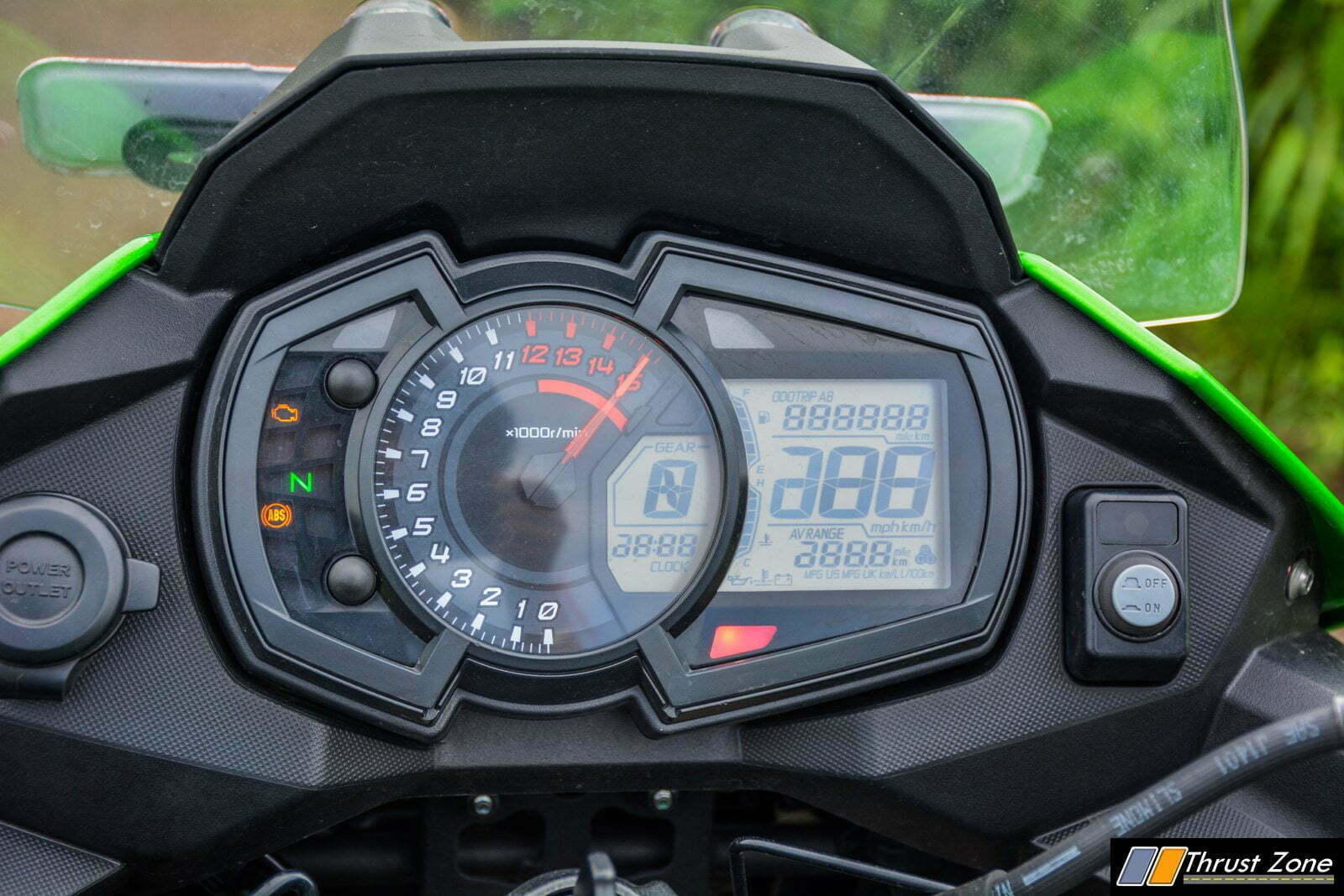 High quality feeling all around with the plastics, palm grips, switches and instrument cluster make it look a proper premium motorcycle. The meter has a traditional analogue tachometer, digital speedometer with all tell-tale lights, fuel efficiency parameters, distance to empty makes it quite a handful. The auxiliary headlamp button is on the right side and power outlet for 12V charging on the left side. Two trip meter, two switches to toggle everything in the speedometer can be seen on the cluster.
Ergonomics
A size that nearly fits all. Standing up and dirt riding means your thighs lock the tank perfectly, raised handlebar means you can be comfortable will sitting and standing. The pegs are mounted low to aid more into that effort. Seats are comfortable enough for short and long journeys for rider and pillion. Mirrors are mounted well. We think footpegs could be a little bit bigger to accommodate larger feet of riders.
The Ride
The 300cc engine is a smooth, refined, low on NVH engine that continues to be efficient, sounds great and loves to be revved. The engine here makes 40 BHP of power and 25.7 nm of torque. The torque could have been more but it has been concentrated even more in the mid-range than before, which means, over the Ninja 300. This is due to a larger rear sprocket and a bit of change in cam timing to make it more appealing.
The revs always stay around 7000 RPM mark where the motor picks up the pace when you whack open the throttle hard. So the need to work all the way till 7000 RPM isn't that hard and you will realize that rather easily. This helps it stay in the torque band despite a high revving engine is on offer.
All of this means you have power almost on tap always to go over bad roads, dirt riding and a bit of off-roading aren't that bad. Sure, a punchier engine is missed but for most amateur off-roaders in the country, this is, in fact, a great start. The tyres do support of the off-road game to a certain extent and spoke wheels are already here to make things better. The windshield is bothersome to some heights of riders, but should fine for riders who are short. In our test, we got 29.1 km/l which including highway, city and off-road riding.
Dynamics despite all of this are of a stable motorcycle with exceptionally good ride quality. The motorcycle isn't the quickest to turn or agile, thanks to the long wheelbase and high rake 19-inch front wheel, but that makes the aforementioned aspects shine out loud.
Brakes bite could be better, but brakes have progressive power to slow down the motorcycle easily. It is also backed with ABS, so there is no locking. Sadly, you cannot switch of the rear ABS to have some fun, which would have been highly appreciated. Front suspension could do with more travel and better as it did feel wooden. Rear suspension is on the stiffer side but neither sides of suspension felt harsh.
2018 Kawasaki Versys 300 India Review, Verdict
The Versys X-300, it is a great all-rounder, if we wanted to sum it up in two words. The motorcycle does it all. It can take bad roads, it can give you an idea of off-roading if you are new to this world and not be intimidating. Sure a punchier engine, especially more torque from this same engine would have been helpful, but there is a purpose here, something that Kawasaki is trying to say. Buying that thought process from Kawasaki is expensive and that is the only problem.
At 5.5 lakhs on-road in most cities, it is a full Rs. 1.5 lakh overpriced or maybe more because the incoming KTM Adventure 390 could be cheaper than the GS310 which retails at Rs. 4.5 lakhs on-road in major cities. For now, have money? Buy it, it is the only bike in its class which is available as a package and internals which is proven to be most desired by Indian motorcyclists, the Ninja 300 platform that is.
Versys 300 India Review
Design

Performance

Dynamics

Feature

Safety

Comfort

Practicality

Value