New Isuzu Price Warranty and Dealership Plans is to make sure they offer and reach as many customers as possible
Isuzu Motors India rolled out 'D-Serve' – a '3 years Free Periodic Maintenance' scheme for its D-MAX Regular Cab model in India. Available at no additional cost, the 'D-Serve' scheme will be an unbeatable value proposition offered to the customers who purchase the vehicle during the period of September – October 2018.
The 'D-Serve' scheme comes with the following benefits –
Free Periodic Maintenance for 3 years / 100,000 kms (whichever is earlier) – includes PMS parts, lubricants, related labour costs and certain wear & tear items. This excludes accidental damage related repairs. (Terms & Conditions apply) *The scheme is valid till 31st October 2018. Applicable Terms & Conditions can be checked at the dealerships of ISUZU across the country.
Isuzu Motors India has also appointed a new dealership – 'Sasya Automotives' with the inauguration of its new 3S (Sales, Service and Spares) outlet in Anantapur, Andhra Pradesh. The facility becomes the 6th authorised outlet of ISUZU in the state, with others in Nellore, Rajahmundry, Tirupati, Vijayawada and Vishakhapatnam. Sasya Automotives will address the needs of customers in the region and offer seamless sales and service support for ISUZU vehicles. Customers purchasing ISUZU vehicles from this outlet are eligible for availing Motor Vehicle Tax exemption, applicable for ISUZU vehicles purchased in the state of Andhra Pradesh.
Isuzu Motors India launched the range of ISUZU D-MAX Pick-ups and ISUZU mu-X, a 7-seater, full-size SUV in the presence of the management officials from ISUZU, Sasya Automotives and early-bird customers to mark the start of sale from the new outlet.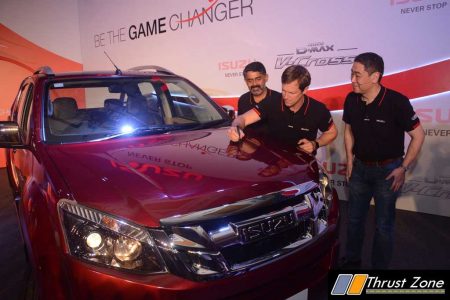 Isuzu Motors India recently announced its association with Jonty Rhodes, an internationally known cricketing legend, to promote the lifestyle and adventure Pick-up – ISUZU D-MAX V-Cross in India. The company manufacturers the range of D-MAX and mu-X vehicles at its plant located in SriCity, Andhra Pradesh, operational since April 2016.
Sasya Group has significant experience managing automobile businesses in the region for over 25 years. With a diverse business portfolio including retail and hospitality, the group has a strong reputation for trust and customer-centric approach in the region.
The new 3S (Sales, Service & Spares) facility of ISUZU in Anantapur, spread over a total area of 5,400 sq.ft, has been designed and built according to ISUZU Dealership Standards and located so as to provide convenient access to customers. The dealership employees have been trained under the supervision of ISUZU personnel and will provide quality customer experience.