Enchanting –
Intimidating and captivating design and presence
Supremely comfortable with continously adjustable suspension
Powerful V8 diesel and petrol engine on offer
The only 7-seater luxurious reliable SUV
Unsatisfying –
Priced higher
Infotainement system needs upgrade
Big Brawny SUV's were a thing of the past. Manufacturer today have changed the way the things are. Platforms have changed, chassis structure has changed and the crossover/SUV formula has taken over the market really well. They are efficient, intimidating and do their intended job really well. However, Toyota and Lexus still think they can keep the old brawny-ness and still it can work in the real world despite strict norms. The Lexus LX SUV is one of those SUV. We drove this one of a kind SUV and spent some quality time with it. Were we impressed? Is it worth it? Read on.
Design
The intimidating size in every dimension is the highlight of the design. It is long, wide and tall by substantial margins. The SUV clearly stands out, dwarfs even SUV in its segment by a couple of notches too. However, the sharp head and tail-lamps with LED inserts give it the modern touch. The grille and wheels, again, are so big that they grab attention differently apart from the size of the SUV which also grabs eye balls by the bucket loads.
Interior
Interior is the place where it is high on quality and features and is extremely spacious as the dimensions on the outside translate enormous sense of space on the inside. The leather all around. the wood inserts, the all-black finish, the large infotainment system controlled via a mouse pad continues. There are several buttons to control the 4×4 system and the infotainment system. We wish it was less cluttery just like how new Lexus design approach is. For that, we need a new version to come very likely. Space in the front and back is enormous as there is a lot of leg, shoulder, knee, headroom on offer.
Spaciousness is far more enlarged by the fact that it has a large sunroof. The SUV is a 7-seater and despite that it lends it a good amount of cargo space in the back as well. Climate control, fully electric ORVM, connectivity options, fridge in the centre console and a fantastic 19 speaker sound system by Mark and Levinson makes the cabin experience a truly special place. The rear seats are adjustable and can be reclined as well.
Electric seats at the front are supremely supportive and are cooled and heated at the same time. Electric steering adjust, TPMS, front and rear parking sensors, reversing camera, wireless charging, rear seat infotainment package, heads-up display, sunroof, keyless entry are features on offer. Safety is taken care of with 10 airbags on offer along with the host of electronics including stability control, ABS with EBD and brake assist.
Engine
The performance also comes from something very big. The V8 diesel motor makes 261 BHP of power and 650 Nm of torque. The motor is refined, revs smoothly and is low on NVH. The engine is torquey enough to pull this massive machine. The 6-speed gearbox shifts smoothly and is relatively quick too. The low and mid-range is excellent while it could have done with more power in the top end. Just around 300 BHP of power and this machine would have been perfect. Nevertheless, this balance helps it deliver just about enough performance for our roads.
It does 0-100 km/hr in 8.6 seconds and has a limited top speed of 210 km/hr. It also delivered 8 km/l in our overall 600 km of testing which included highway and city. There are eco, city and sports mode where you can use them as per requirement and they do their job as intended. The motor for a diesel sounds good at lower RPM with the V8 burble and clatter making for a sinsiter soundtrack under 2000 RPM. Something that can be heard when you start the SUV in the confines of a garage.
Ride and Handling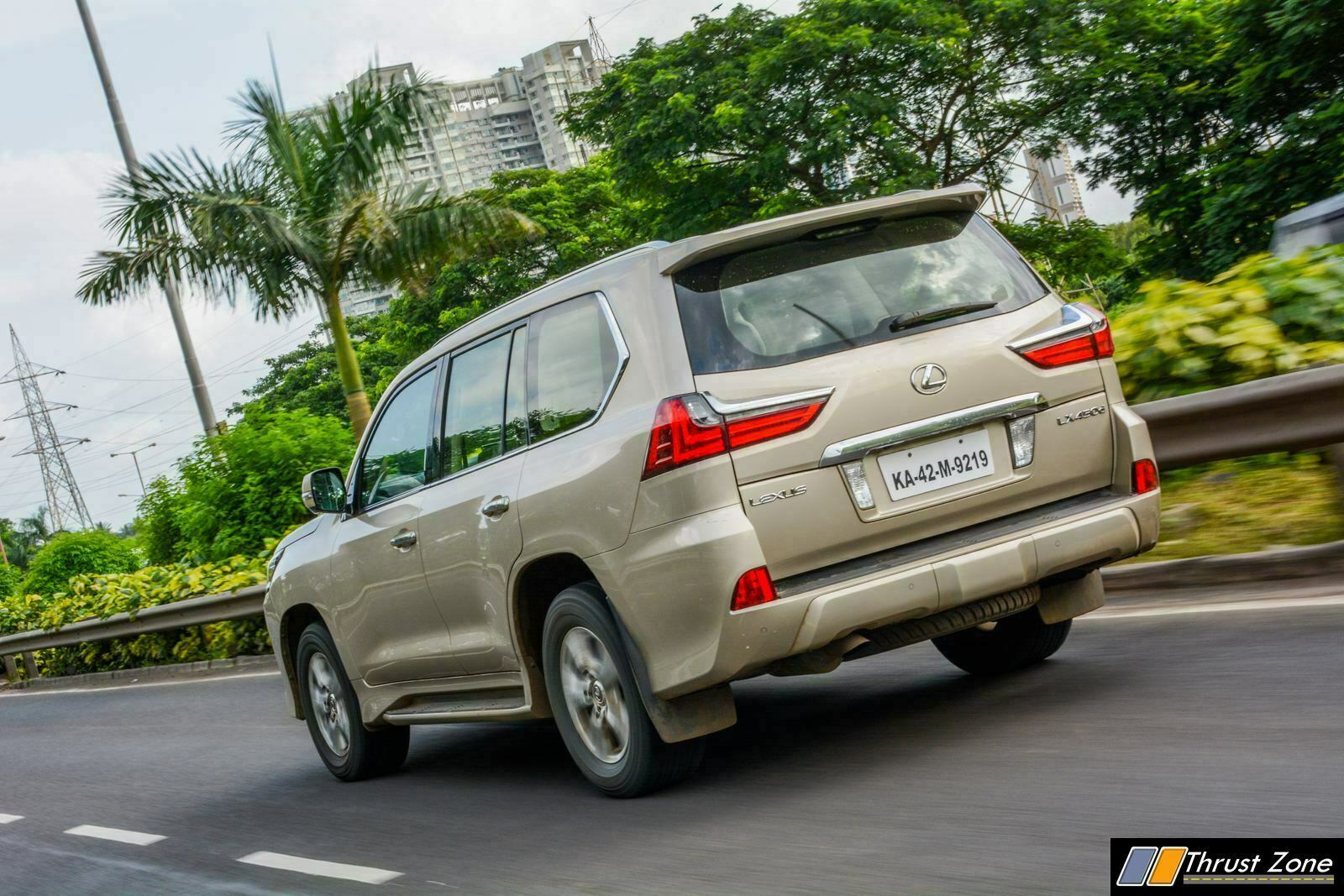 Dynamically, we were surprised that the fact that the body roll is well contained, the tyres were good and so were the grip levels when driven enthusiastically. Steering also has a good amount of feel and feedback. Brakes were powerful enough to bring this big SUV to a complete halt in a progressive way and at the right time. 18-inch wheels held up really well when it comes to riding quality and stability at any given time.
The LX just weighs at 2.84 tons which helps it glide over anything at any given speed, going over broken roads and potholes which can measure in feet, it has no problem smashing them and going ahead while keeping passengers comfortable. The adjustable suspension constantly adjust damping and ride height for the right balance, which is segment first.
2018 Lexus LX Diesel Review, Verdict
The Lexus LX is a unique SUV. It has the comfort, adequate performance, safety and practicality in abundance. The sheer way it dominates the road, keeps everyone comfortable and isolates them in the cabin is remarkably good. Lexus's famed reliability and fuss-free ownership is also a point to be considered as always. However, you do a pay a price. Rs 2.25 crore ex-showroom price is a lot but if you want everything from an SUV today, there is only one option, everything else seems like a compromise.
Lexus LX Diesel India Review
Design

Interior

Space

Features

Practicality

Performance

Dynamics

Value

Safety