2018 Lexus RX450h India Review: We road tested the car for fuel efficiency and assessed all parameters necessary to make a big decision to buy this SUV
Enchanting –
One of a kind aesthetics
Entertaining and Efficient V6 Engine
Proper 5-seater car with focus on comfort
Easy to manage, drive and park
Unsatisfying –
Priced a bit higher
Infotainement needs an upgrade
No AWD/4WD on offer
Lexus and Toyota go hand in hand. So do SUV's and these two brands, worldwide. The manufacturer is known for making some SUV which are really good in their respective segment. We have seen a lot of them in the past and today we tested another one.
This is the Lexus RX450h. The hybrid petrol SUV from the luxury car manufacturer was launched some time back in the country to attract guests, not customers, as Lexus wants to call them. We had a chance with the ES which was a four-cylinder and we were curious about the six-cylinder. We spent some quality time with it over 700 kms of testing which included a road trip and it granted us a lot of opportunities to understand it.
Design
Probably the best use of a ruler was never seen on designing an SUV in a long time. The cuts, creases, honches all over the car make it stand out. The tall and imposing design with a massive fluid front area that is dominated by the spindle grille and vertically stacked fog lamps make it grab some serious attention. The C-pillar design makes it a coupe without the loss in practicality. The rear profile could be more interesting but the large tail lights which are LED and small hatch design makes it interesting and unique nevertheless. The alloy wheels were uninspiring and didn't gel well with the theme. The futuristic headlights, the flat and raised bonnet and wide stance make it a monocoque SUV which has some a copious amount of street presence.
Interior
Thr red and black interior with swade all around the car made it an excellent place to be. The plushness level is 7 out of 10 though as there are some uninspiring sections. The flat dashboard is very old school, the stalks are similar, the digital cluster which changes with every driving mode is unique but could do with change now. Soft touch plastics and soft leather all around made it a luxurious place to be in and spend a lot of time in.
The fantastic 15 speaker Mark and Levinson sound system is the highlight of the cabin when it comes to the feature list. Feature list includes a start-stop button, keyless entry, steering mounted controls, full electric ORVM and IRVM. Wireless charger for mobile, all connectivity options, heated and cooled seats at the front and at the back. Double sunroof, which is entirely electrically operated is on offer.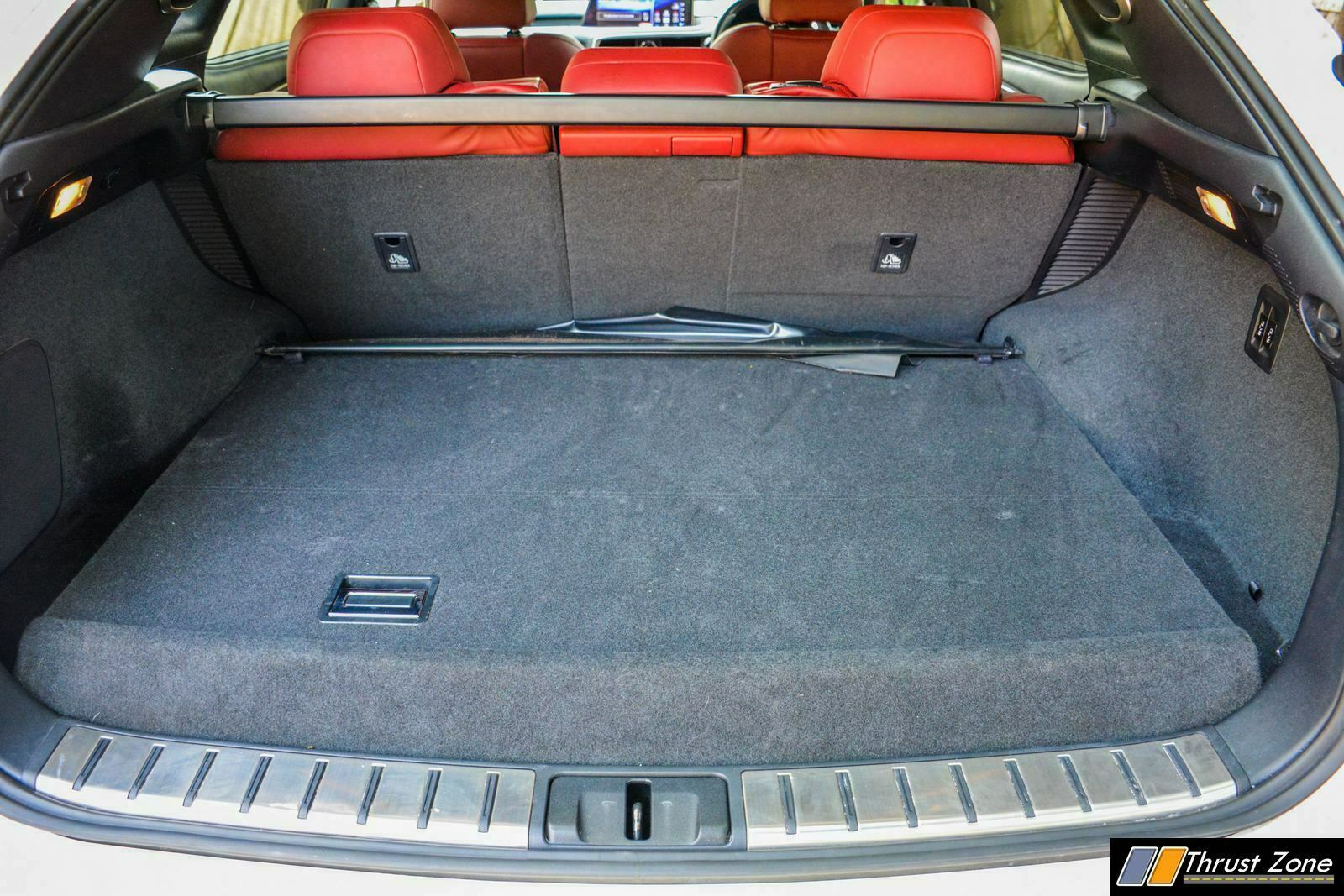 The screen is controlled by a mouse on the center console and there is a dial for driving modes as well. The screen isn't a touch unit and there is no Apple Car Play and Android Auto on offer yet. Dual zone climate control, HUD, automatic wipers and lights, electric seats, large cubby space in the center console, adjustable door pads and other cubby spaces make it a practical cabin. The rear vents are also seen below and it isn't a digital unit.B-Pillar mounted air vents were sorely missed. Sunshade on both rear windows was a great feature to cut the sun on the bright sunny highway of Maharashtra. Safety is taken car with TCS and 10 Airbags and other passive safety electronics.
Space is the highlight of the cabin as there is no hump in the rear seat area which makes it a proper 5 seater. The Leg, knee, shoulder and headroom is abundance and all 3 passengers in the back can sit comfortably over long distance journeys. Boot space is good at 500 litres but it isn't deep because the space saver takes that place.
Engine and Gearbox
When it comes to the engine, things get entertaining. The 3.0 Litre V6 motor makes 308 PS of power and 335 Nm of torque from its engine and the motor has an extremely punchy midrange and a screaming top-end pull. The motor just pulls from 100 km/hr all the way till 200 km/hr without any fuss while covering less amount of road and using all the power and torque really well.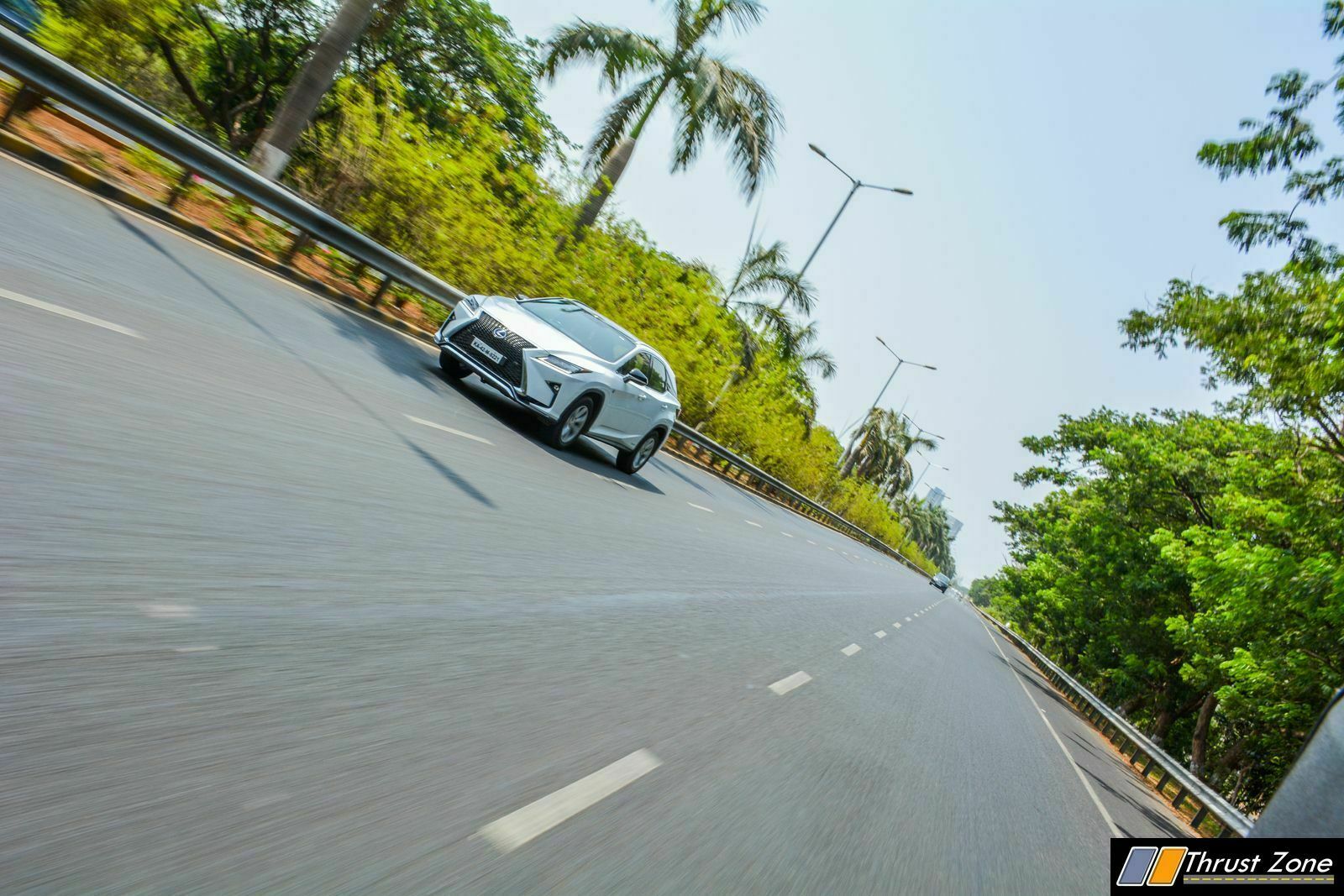 CVT gearbox helps it keep on pulling but the rubber band effect and a lot of noise inside the cabin is a bit of a downer for the family crowd, but it is a pure symphony for the enthusiasts. Accelerate hard off the line and you notice a bit of torque steer from the wheels. Modes make things more aggressive and calm, whichever way you dial them. Apart from all of that, the NVH levels are spectacular when driven sedately. In our testing, we got 8 km/l which included 5 passengers onboard with luggage most of the time. 0-100 km/hr was done in 7.4 seconds.
Ride and Handling
Dynamically, the SUV isn't the agilest or fun to drive as most Lexus's are. The suspension is soft and there is a lot of body roll, but, when in sports mode, things do get it sportier and you can increase the amount of push and gain more confidence to do so. The steering is precise and light but isn't entirely feedback rich. The brakes are good with a lot of power but feel from the pedal could be a bit better. All of this makes the ride quality excellent and the RX450h a comfortable car to be in with a lot of ground clearance to tackle our broken roads. The SUV doesn't come with AWD though and it is an FWD car.
2018 Lexus RX450h India Review, Verdict
Clearly, the Lexus RX450h is a highly practical, efficient and green car you can buy in this segment. However, it isn't entirely value for money at an ex-showroom price of 1.3 crores. The SUV offers a lot of things passively which includes Lexus's peace of mind, excellent after sales and service just like its parent company and a car which can do it all, with luxury, as it makes a bold statement.
Price: Rs 1.23 crores ex-showroom

Lexus RX450h India Review
Design

Interior

Features

Space

Practicality

Safety

Performance

Dynamics

Value