Enchanting –
One of a kind aesthetics and exhaust note
Superlative chassis, brakes, engine
Surprisingly comfortable and technology loaded
An all-rounder with good pricing
Unsatisfying –
Isn't sharp and focused as some rivals
Suzuki is a name synonym with small cars in India, however, they also known worldwide for making the fastest accelerating motorcycle called the Hayabusa. That's not all, they are known for making some iconic engine which are still being trickled down to road bikes which was last seen on the GSX 1000 series of motorcycles. The GSX-S750 is also one of them and it gets derived from the GSX-R750 motor. A lot has been changed to make it more friendlier and meet all the norms.
Meanwhile, the GSX-S750 is a brand new motorcycle for the world and it was showcased almost three years back. Launched earlier this year with a refreshed package in the Indian market it his here to mark its presence in a segment where all its competitors from around the world await it. Has Suzuki done enough to make it stand out and grab sales and attention from other manufacturer? We find out!
Exterior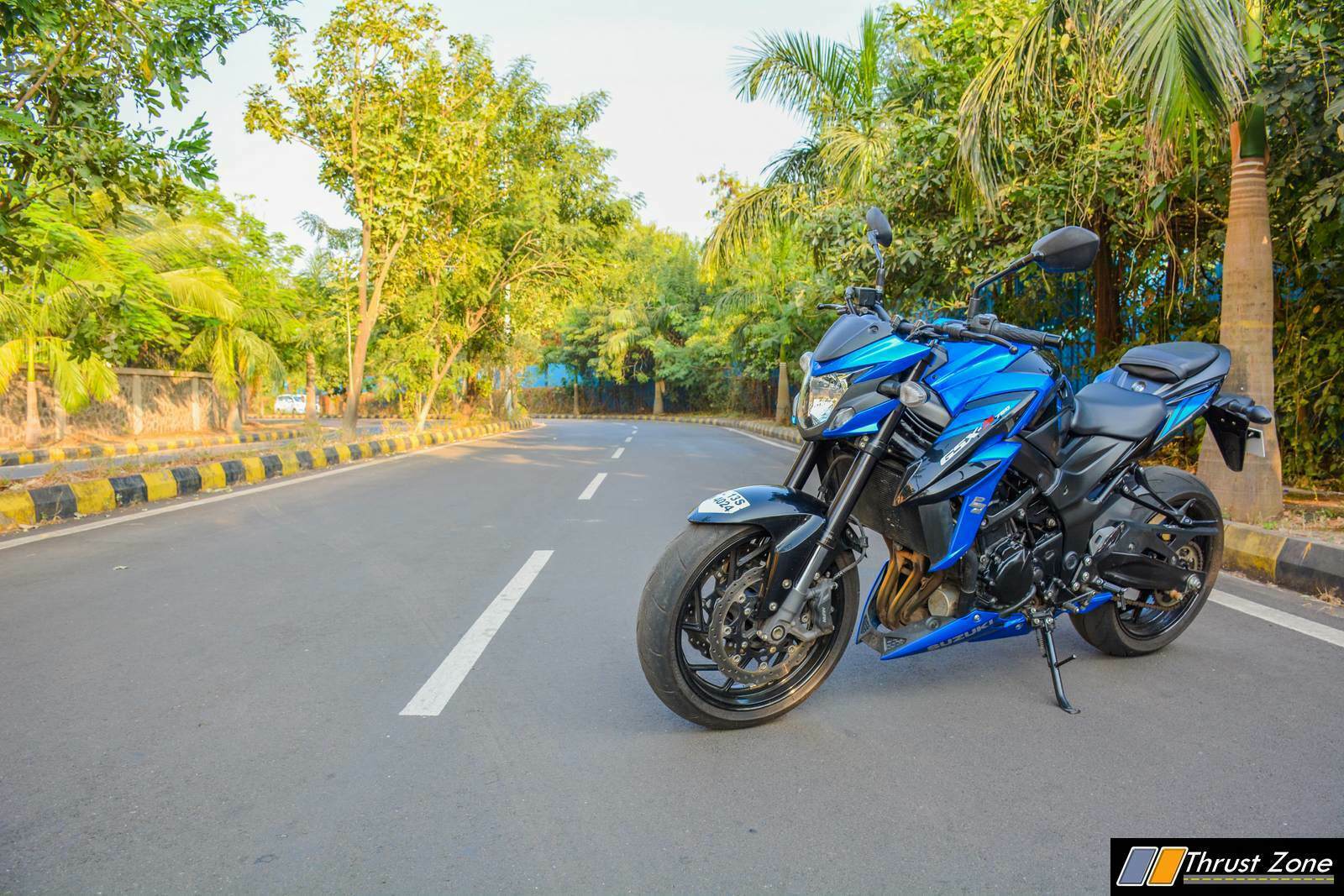 You are looking at a very muscular and sharply designed motorcycle in this class. The two elements, brawny-ness and edges come really well together and make this bike stand out. Even if it doesn't shout much with its subtle paint schemes, it gains a lot of attention and then invokes a smile on people's faces all around. The muscular tank, the rather ordinary yet protruding headlamp and flush LED tail-lamps come together perfectly.
The bikini fairing, the massive engine belly fairing and long travel suspension at the front complete the typical Japanese street-fighter look. The nose-down-tail-up design with a chunky and bazooka inspired exhaust is yet another aspect which grabs attention looks flush. Fit-finish and quality all around makes the motorcycle look a quality product too.
Speedo and Switches
The speedo is very much inspired from the 150cc Gixxer you may think, but its the other way around. All of this also means you are familiar with this meter and you can see a clock, service reminder, traction control, two trip meter, fuel efficiency parameters, temperature gauge and a digital speedo and tachometer at the same time.
The trip meters can be controlled by the up/down mode button. Press the select button and the same buttons adjust traction control. The pass and high beam button is integrated together. The other side has the starter button, hazard light button and engine kill switch.
Ergonomics
Ergonomics always Suzuki bikes is basically the rider sitting inside the bike instead of on it. The legroom is enough for taller rider which is great thing to begin with. I am 6.0 with boots and had more then sufficient space to move around and didn't feel cramped. The handlebars are mounted low and when you sit you grab the handlebars and the riding position becomes of a supersport which is sporty but not tiring. The seats are good for long distance as they are just right in terms of cushioning. The mirrors are mounted well to give a good view of what is behind.
Engine and Gearbox
Powering the GSX-S750 is a engine that makes 114 PS of power and 81 Nm of torque from the inline-four motor which has a 4-2-1 exhaust system. The motor is a 4-valve, liquid-cooled engine and comes mated to an 6-speed gearbox. NVH level are as low as they can get. The vibrations are present, but only redline, that too in first three gears. The motor makes less low-end torque and you will find yourself shifting to first gear in twisties.
However, rideability in the city is great and you can pull from 40 km/hr in sixth gear as well. Redlining and obtaining power from this engine is a drama as the motor howls and the intake and exhaust note is intoxicating and continues to pull strong towards the horizon at the same time. Ride by wire throttle is smooth with dual throttle bodies and which also makes sure the bike has torque almost throughout the rev range.
Low RPM Assist also monitors engine speed, enabling to operate the clutch lever and pull away without opening the throttle. This helps make negotiating traffic jams and busy city streets smoother and easier. The digital ignition system with top of the line spark plug on offer, makes this precise motorcycle with precise fueling easier to live with. The clutch is light and the gearbox is slick and crisp.
The power to weight ratio isn't particularly exciting but the motorcycle is hoot to explore, especially the engine as it does offer very linear power delivery and is quite easy to maintain any cruising speed you like. Three riding modes are on offer and they work well with 1 offering the full sporty behavior to second mode is normal and third is for slippery roads. The gearing is not biased to short or taller ratio, it is perfect because the rev range is tailor made to extract all the power. We got 17 km/l in our testing which included enthusiastic riding in the city, highway and twisty roads.
Ride and Handling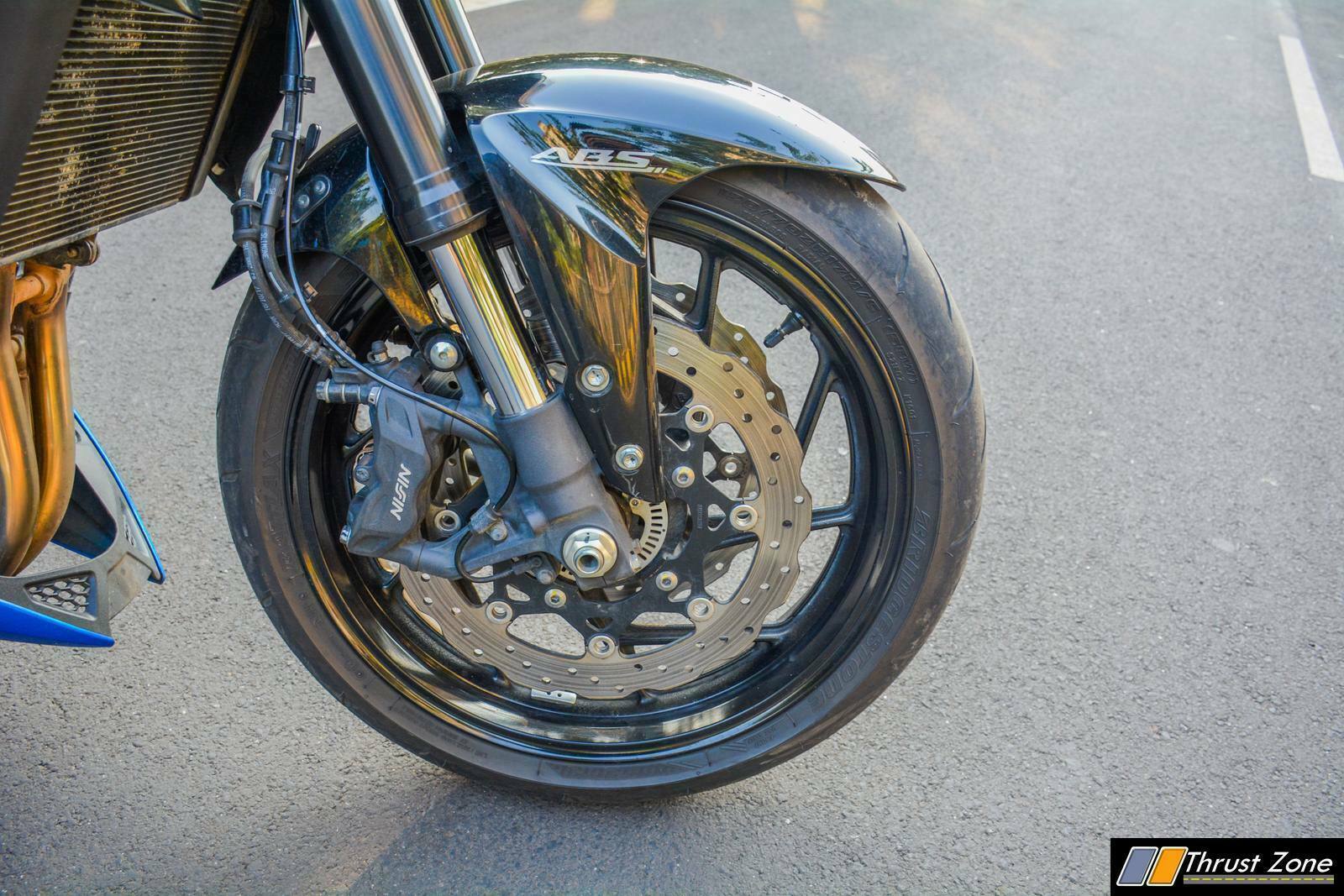 The suspension is adjustable on both ends and the front gets Showa forks and the rear gets link type monoshock mounted to the chassis which is also adjustable. The setup is just right for our roads as it just about compliant and few damping strokes ahead of being harsh. You can feel the stiffness and mid-corner bump almost unsettles you, but get the right setup for your size and you will have no complains.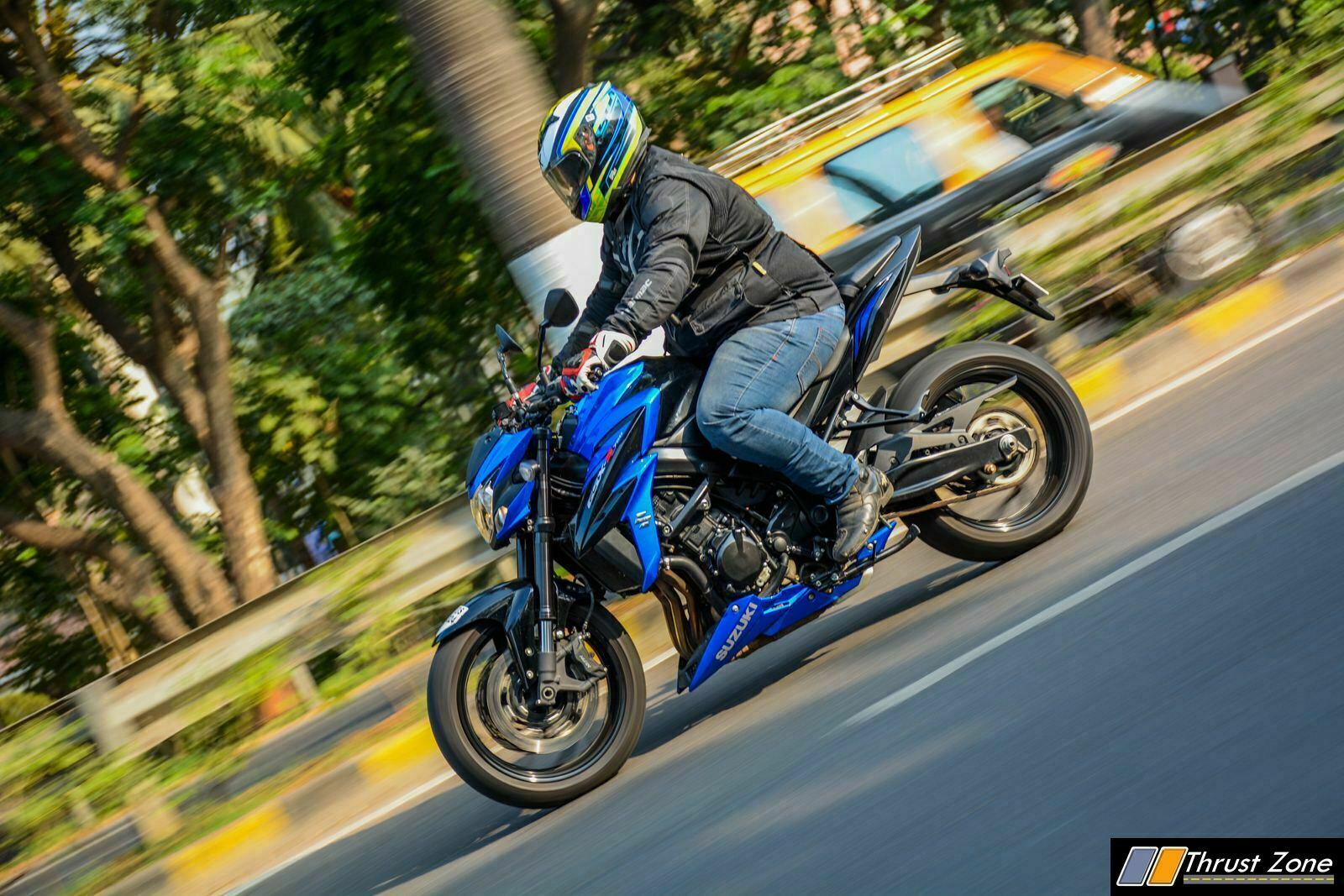 The turn-in is a bit heavy and slow because the wheelbase and rake numbers are high at 1455mm and 25 degree respectively. A degree less and 50 mm vanishes someday and this bike would be great fun to ride. Now, it is a bike which stays poised through the corners and any given speed on the highway making it a fast weekend riding machines which can do touring as well. Tyres from Bridgestone which are Hypersport 180 section tyres hold up well.
The brakes are good, but the initial bite isn't there. Leaning from one side to the other makes you feel the weight, but in a linear way. Riding in the city is hardly any trouble with the 213 kg kerb weight as the front-end is light.
2018 Suzuki GSX-S750 India Review, Verdict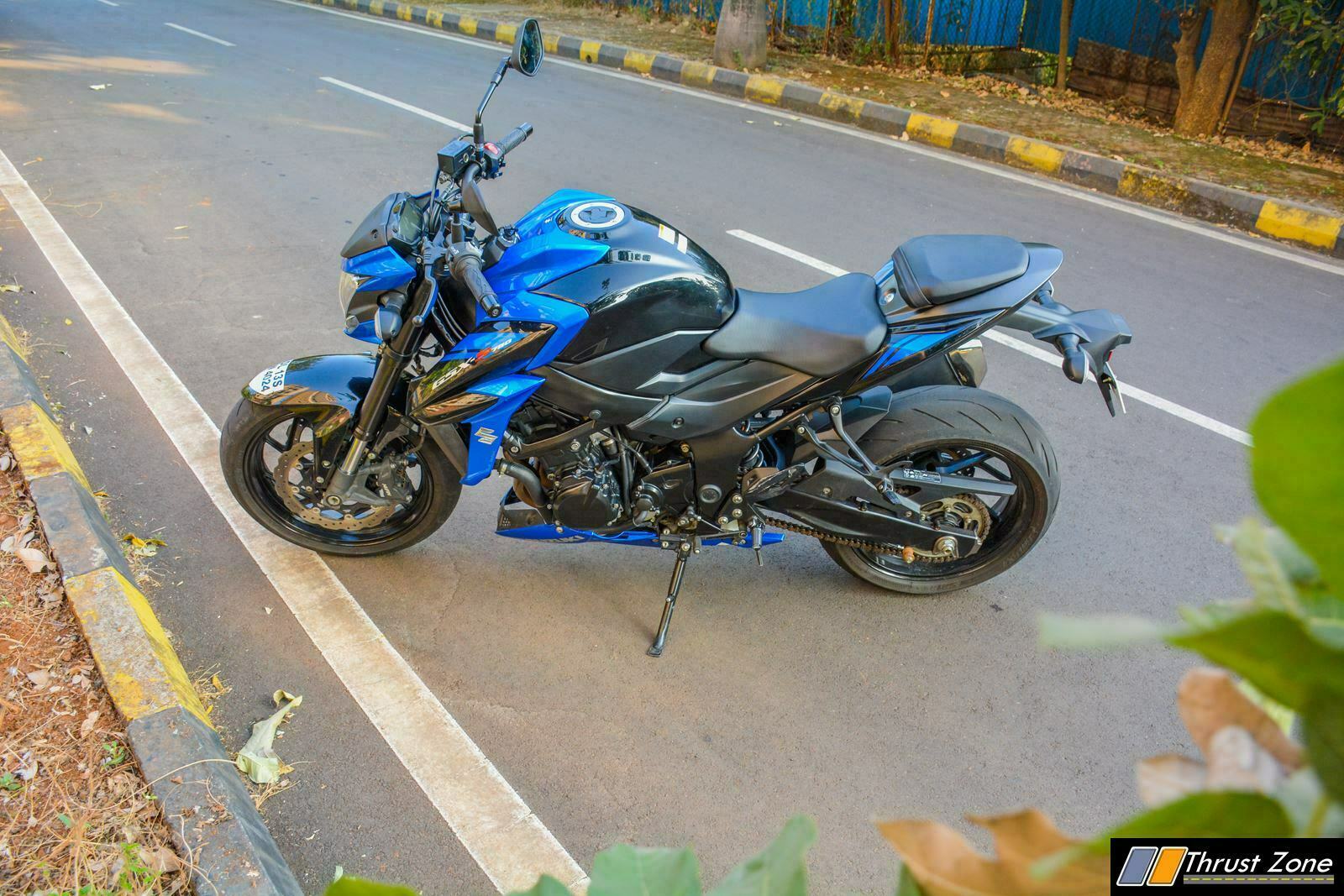 Overall, riding it enthusiastically, has it rewards because its forgiving to ride, but it isn't entirely sharp and focused machine that you are looking at here. However, the pricing at 9,45,00 on-road Mumbai it is a good deal considering Suzuki has dealerships, service has been good for quite some time, resale for these bikes have been well enough and there is reliability on offer from the Japanese inline four.
This could be the bike which isn't intimidating which you were looking for to commute, ride on weekend and tour a bit or just the usual two times a year to Goa for motorcycle fest. The Suzuki GSX-S750 may not be the numbers king, but it does everything else really well!
GSX-S750 India Review
Design

Features

Practicality

Performance

Dynamics

Comfort

Value

Safety