BMW Motorrad is one of the largest premium motorcycle manufacturer in the world. To keep tag alive amidst stiff competition from KTM, Ducati and other manufacturer such as Harley-Davidson and the entire Japanese brigade, it should start with offering lower capacity motorcycle to cater to a large set of audience. They have done it recently with the BMW G310R and BMW G310 GS. Also, they have also done it in the past with a cubic capacity which mattered the most, the 750 and 850cc area. The motorcycle that we are talking about are the F750 GS and F850 GS that we have finally ridden. The manufacturer's bread and butter still remains largely these two motorcycles. They are seen together all the time and everywhere so we decided them to test them together and give you an impression what's the difference and how they are like.
Design
In terms of design both are almost identical to each other. The F750GS is smaller and F850GS is larger in size. The elements such as the headlights with LED DRL in both bikes and LED tail-lamps are same. The fuel tank size is the same and so is the rest of the bike. The upswept exhaust, the bash plates, the luggage carrier and crash guards were also a part of our test bike which are optional extras.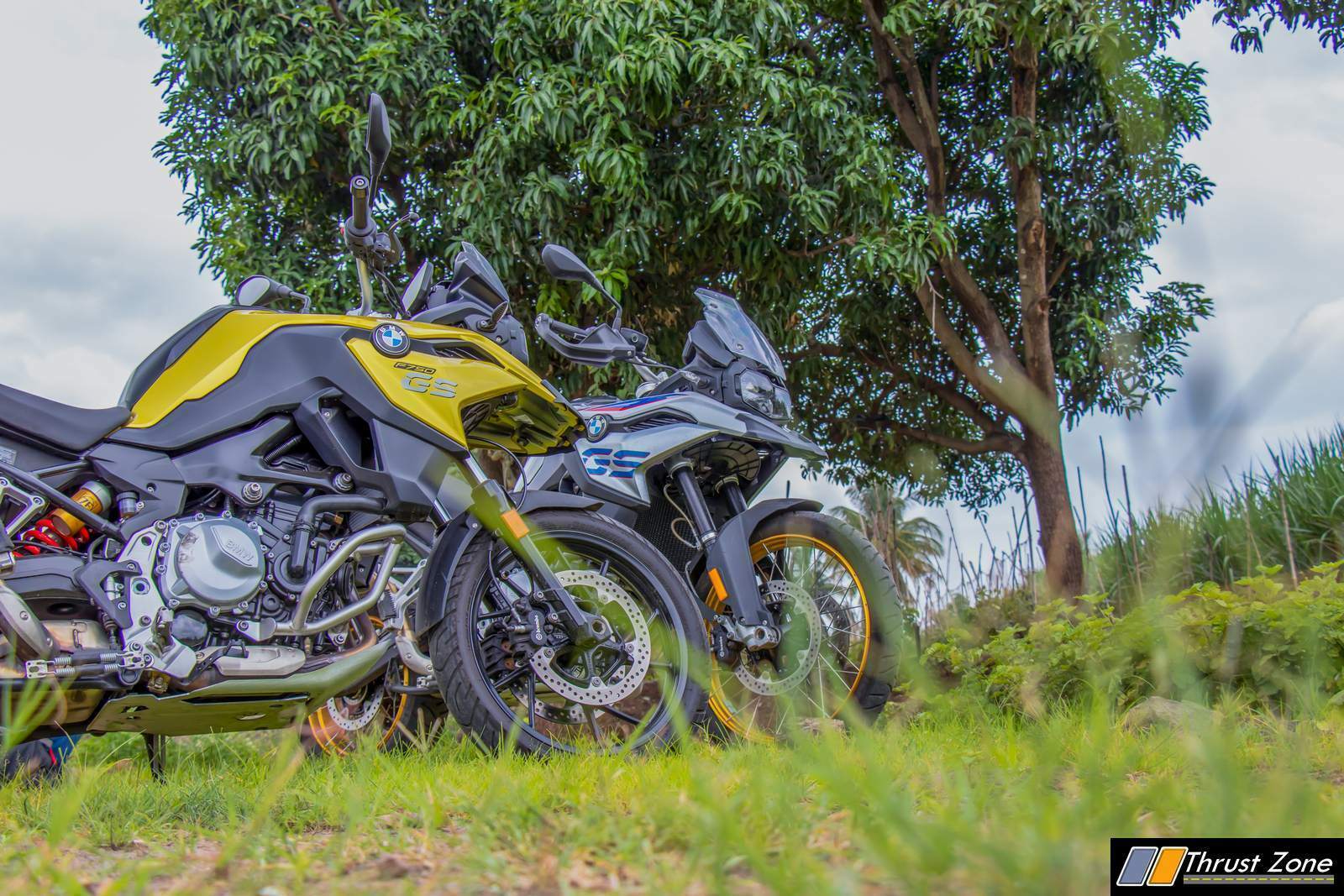 The golden rims on the F850 GS and golden color on the F 750 GS make these bikes turn head because of a kind of quirky layout of design elements and very iconic and different color pallete on offer. The LED turn indicators also are neat touch. Overall, the quality is great, everything feels very tough. In our three days of testing, we felt that this bike is built to last given the serious off-roading, bad roads and highway runs along with city duties that we accomplished.
In terms of ergonomics, the F850 GS offers higher seat height than the F750GS. However, both have extremely accommodating inseam area which makes slightly higher seat height not an issue at all. Seats are really comfortable as well for long and short journeys. There is enough legroom on offer for tall riders and the generous seating and perfectly positioned fuel tank allows to lock knees with the tank.
The console is a big highlight as it looks great and is entirely color unit and looks like its borrowed from a premium car. The BMW dialler is also present on the left handlebar which makes thing easier to deal with while on the move to adjust the various screens, connectivity for bluetooth, trip meters and fuel economy data and whole host of information on offer such as service reminder, clock and lot more such as riding modes can be chosen from pushing the mode button separately. however, you can adjust the setting of each mode through the menu button and using the round dialler.
Feature and safety kit on both bikes includes BMW Motorrad ABS, ASC (Automatic Stability Control), Riding modes Rain / Road, On-board computer Pro, 12 V power socket, adjustable handbrake lever and clutch lever and engine guard.
Optional equipment that was on our test bike included Dynamic ESA (Electronic Suspension Adjustment), DTC (Dynamic Traction Control), Riding modes Pro (Dynamic / Enduro / Enduro Pro), LED headlight incl. LED daytime running light, cruise control, Connectivity incl. 6.5″ full color TFT display, Gear shift assistant Pro, Keyless Ride and RDC (tyre pressure control).
Riding
Riding these two bikes is also a similar affair, but by a small margin. The parallel twin powering both these motorcycles has a V-Twin like firing order which means it has torque and power almost instantly available making overtaking on the highway a breeze. The low-end torque is better than the Triumph Tigers which makes it more fun to ride off the road as well. Pulling slides is more easier. Riding these bikes in city is not much of an issue because the weight distribution is spot on and taking u-turns isn't that cumbersome as bigger heavier bikes.
The F750 GS makes 77 BHP of power and 83 Nm of torque meanwhile the F850 GS makes 90 BHp of power and 86 Nm of torque. The mid range and top-end power is explosive and the exhaust note is quite good too. The firing order gives these twin-cylinder engines from BMW grunt and distinct exhaust note and ample practicality and flexibility. The power modes made things more easier as there was a rain sport and enduro mode to suit conditions.
However, riding in the city just like any other European bike with high torque demands almost constant gear shifts to make sure you are in the power band all the time and ready to overtake. This isn't your typical Japanese twin engine, that is for sure. The refinement levels are low and vibes are only felt at redline. The clutch is quite light and gearbox is tight and precise and not overly butter smooth, which makes it quite an intuitive (rewarding) task. Our bike came with anti-hop clutch and quick shifter for up and down shifts. Power to weight ratio is good, not great but rideability makes up for it on the highway.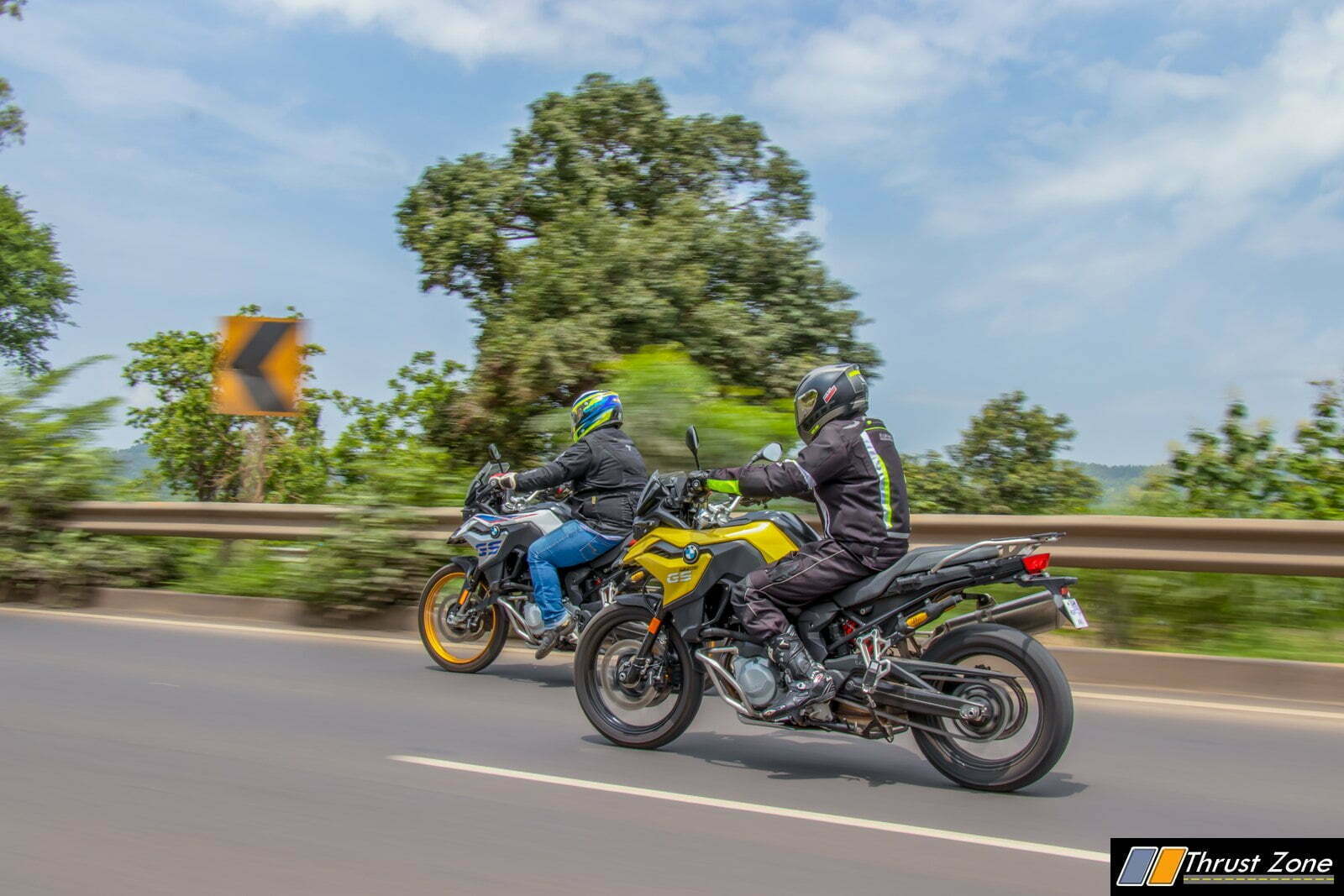 Dynamically, the F750 GS with sharper front end rake and vice versa with F850 GS meant that the F750 was mildly quicker to-turn in over the F850 GS which was more stable on the highway and had more stability to offer when it comes to front-end feedback. However, both bikes with wheelbases over 1500 mm means neither of them are quick enough as street bikes anyways. This aids in stability and sense of confidence over any kind of terrain.
The F750 GS came with alloy wheels (19-inch at front) and telescopic forks which meant that it was good for road and mild trail riding. F850 GS is more hardcore version meant for off-road and was good enough on the road and very potent on our trail riding experience including some big and small jumps over crests despite 21-inch wheel at the front. Both motorcycles with electronic suspension at the rear and there were adjustable which made it great for any kind of terrain as you could choose the same.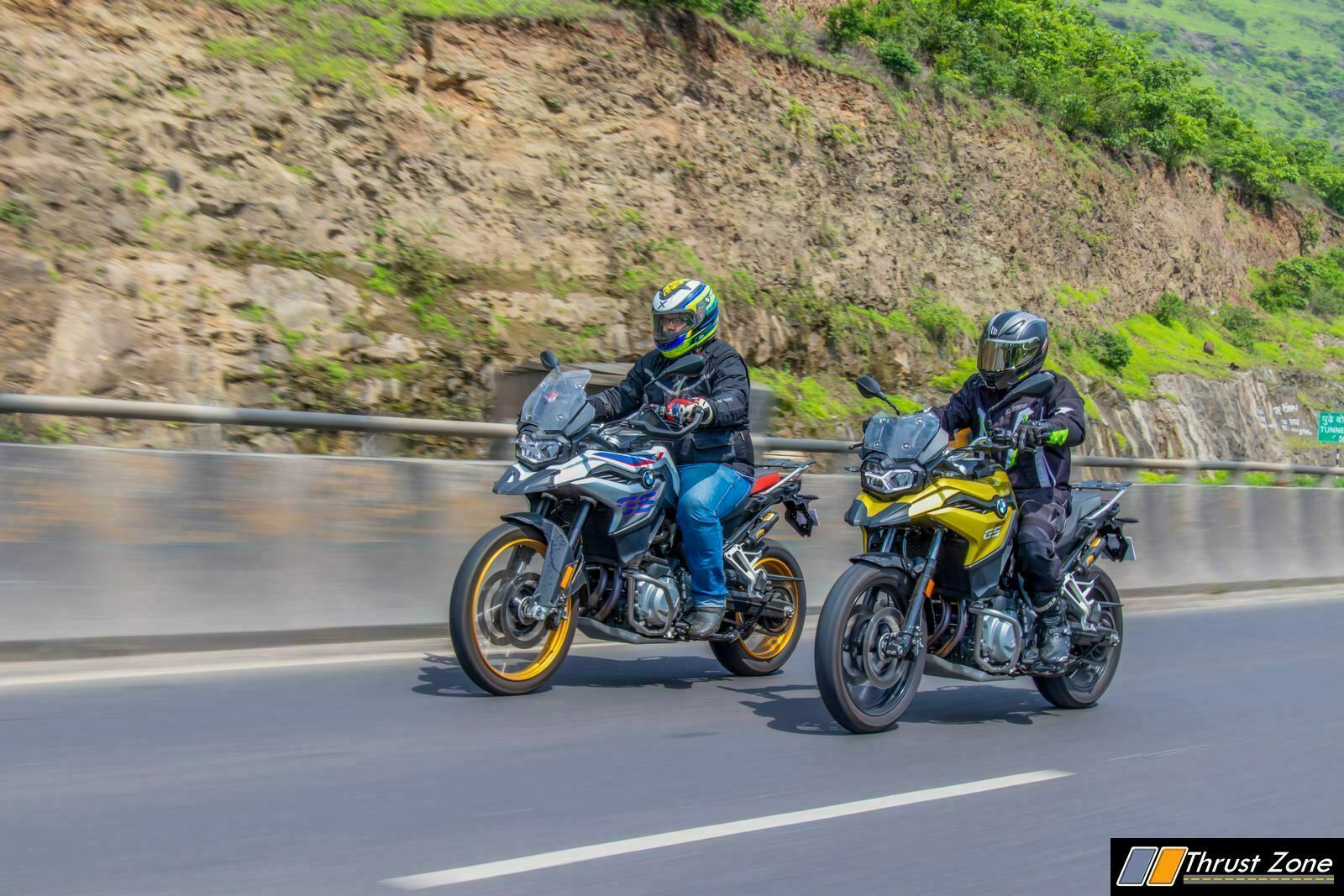 This made the ride quality great over broken roads, sporty enough to eat up the twisty and stable enough for highway duties. Brakes were really good too at the front and rear with superb bite and more enough power when it comes to progression. This is also courtesy of fantastic tyres from Metzeler slapped on tubeless spokes (in the F850 GS case) on these bikes which are good for road, but you need better tyres for off-road.
2019 BMW F750GS and F850GS India Review, Verdict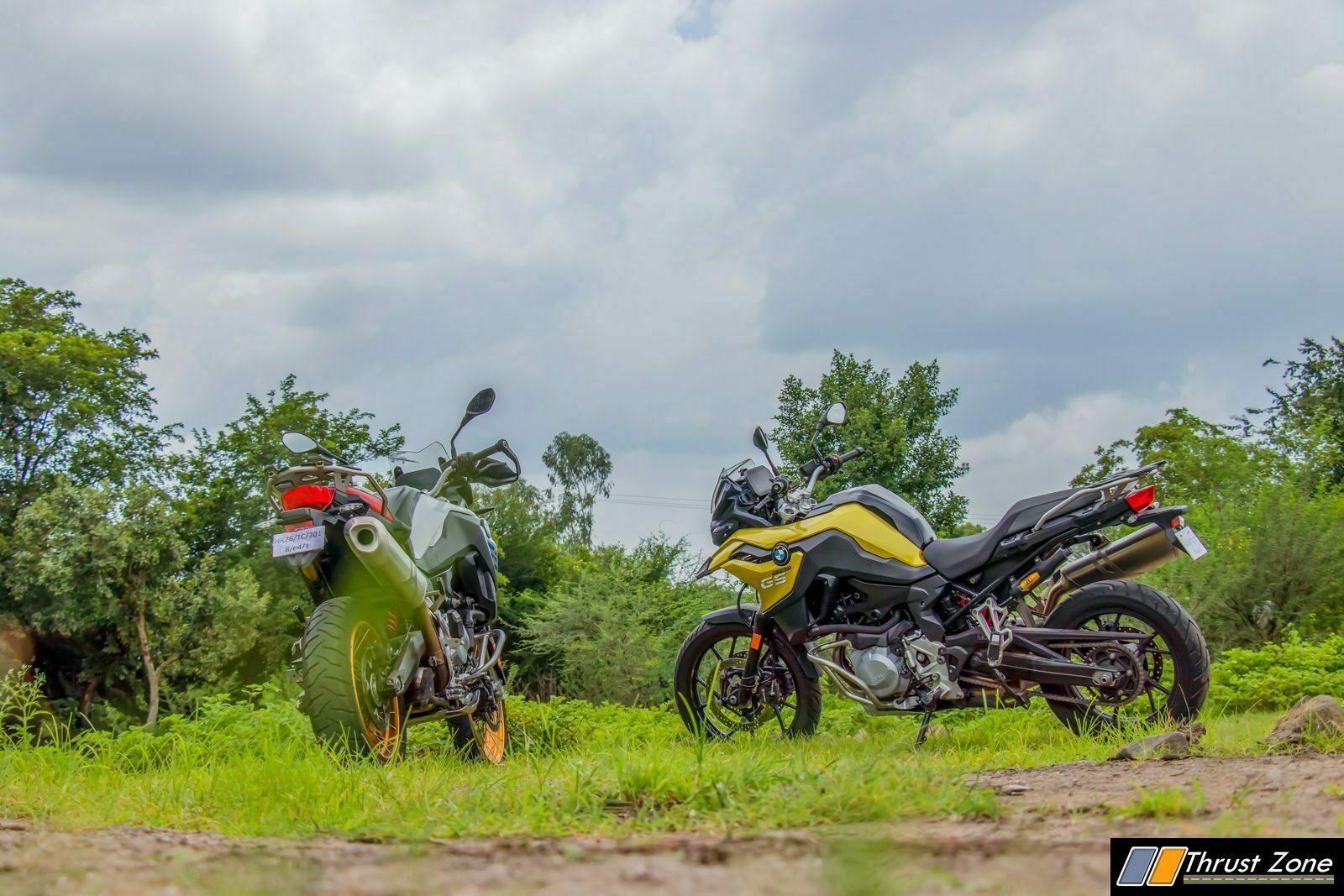 2019 BMW F750GS and F850GS clearly have everything you would ever need in a bike of this size and segment. The manufacturer offers everything right from high-end electronic suspension at the end, tonnes of options, accessories and bits that make the experience so much better than some of its rivals as well. The performance is great, they are great touring/adventure motorcycles but the only frown that rises is that the pricing is quite high for the top-end variants.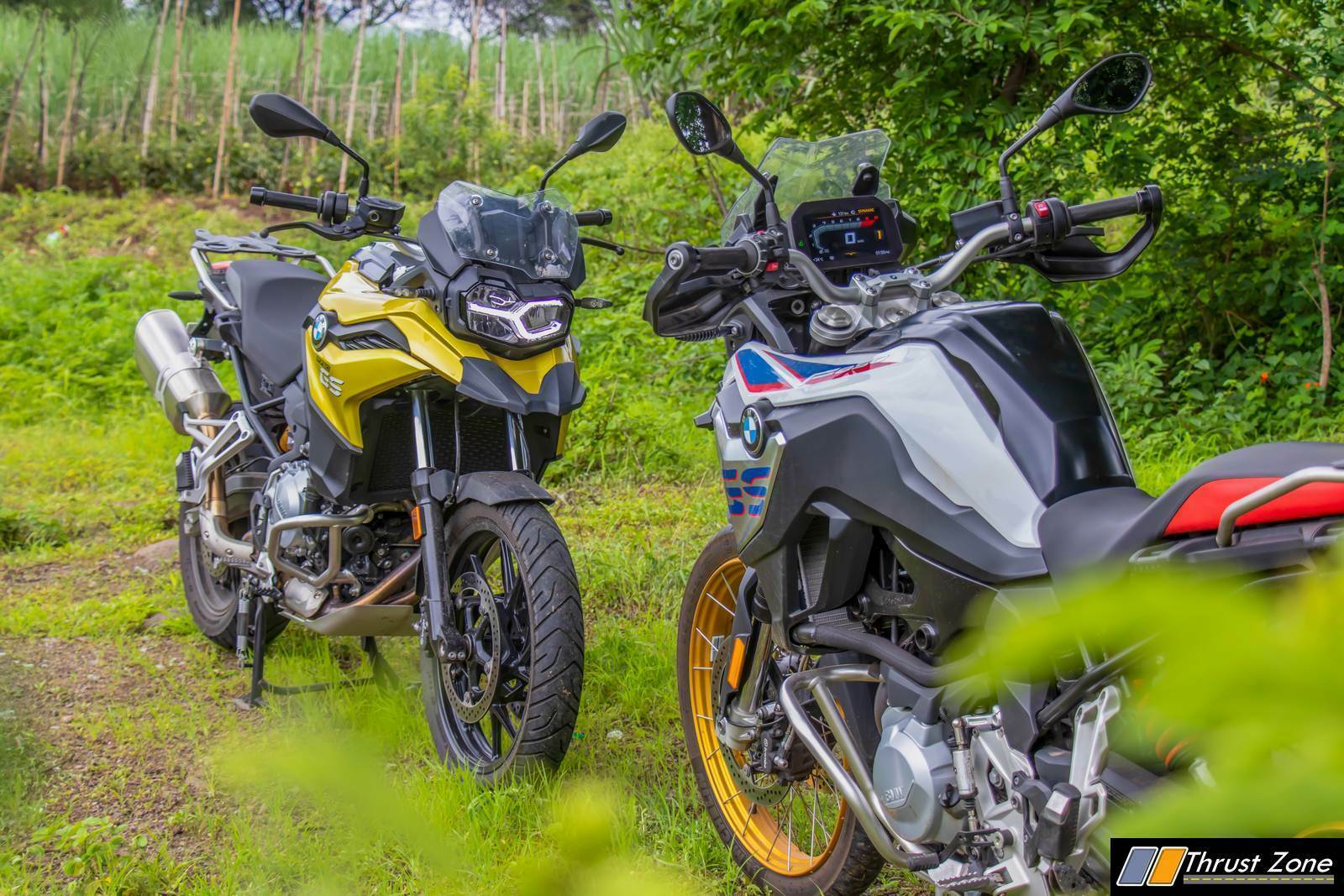 A bit less than they would have been a swell packages. The base variants don't get you the feel good items that these bikes truly should come with. At Rs 13.0 lakhs and Rs. 14.0 lakhs for F750 and F850 GS respectively, they reach next segment when considering rivals. However, if you can go for it anyhow, you will get quality, reliability and an experience that will last really long in the most distinctive manner.
Images: Pratik Hinge
F750GS and F850GS India Review
Design

Ergonomics

Practicality

Features

Safety

Performance

Dynamics

Value

Comfort