All new motorcycles have some criticism, feedback and minor problems that arise from time to time. Bajaj motorcycles have always gone through the same. We have learned certain upgrades Bajaj has done to the motorcycle and certain issues that the owners are facing right now with the all new Bajaj Dominar 400 that was launched this year. Last year it was about vibrations and certain others issues which have resolved over the years with various kits and now the new one is mechanically fit and has taken over those challenges and they are now almost entirely gone.
2019 Dominar 400 Upgrade includes a new gear shift indicator that is now part of the main cluster at the top. The lower cluster had the gear shift indicator but now its shifted after feedback from critics and customers alike. As you can see in the picture, the font also has been changed and you can see the time as well. The rest of the features can be still seen in the cluster below on the tank. This upgrade is small ECU update that is being done at dealerships for no cost and customers are very much enjoying this feature that should have been since day one.
A tip to old customers from Bajaj who want to upgrade their instrument cluster is that it would require and entire wiring harness change which can cost a bomb. It can be done but the entire cost of changing everything lies in the ball park of RS. 15-20k.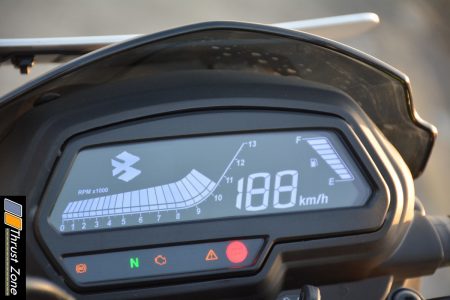 Coming to three minor problems that are being reported that Bajaj is already aware of and fix of the same is being offered to customers who are affected.
A very small batch of customers are facing hard to lock the bike after the handlebar is on either sides. It takes a great effort to lock the motorcycle. The second problem was fogging of the headlamp in one corner of the headlamp which is not entirely normal, but not entirely a defect either.
The third problem comes from the engine guard that is being offered. Couple of motorcycles that dropped at parking speeds saw the engine guard breaking of is bending to a very high degree. This, we think is because the engine guard is not designed to take the load of the Dominar 400 and is being used from the Pulsars, which are much lighter. Bajaj recommends getting engine crash bars along to solve this issue.
As you can see, these are the problems consumers are facing right now with the Dominar 400. Apart from this, the motorcycle continues to be a big upgrade over the previous bike with a big change to suspension and engine received this year with a new DOHC engine over the SOHC engine and USD forks instead of telescopic forks. More power, slightly tweaked head and tail-lamps and mostly improvement in refinement and smoothness has made the new Dominar 400 UG a complete package. Stay tuned for more details to follow.