Ford EcoSport is in the market for quite some time and in fact, it is the oldest compact SUV around. It is still going strong thanks to a host of distinctive features that makes this Ford scores higher than its rivals. We get to spend time, more than usual, with the compact SUV. We realized a few things over time.
Ford Ecosport topmost feature is the solid build quality of the SUV which is a very reassuring. Unlike mass market cars where flimsy doors and their thuds reveal the light grade of manufacturing, the emphatic shut sound of EcoSport's doors is like a breath of fresh air. You feel safe inside and having six airbags in the top-spec variant. Offering six airbags, ABS, EBA, ESC, TCS, and HLA is segment best in terms of safety.
The styling is contemporary and in line with sensibilities of Indian buyers. 17" alloys are designed superbly and tailgate-mounted spare wheel exudes an old-school charm and gives it a tail-gate instead of a hatchback door opening style. What, however, is extremely practical is the new 8.0" touch screen infotainment system. It's very responsive, operates flawlessly, and quickly pairs with Bluetooth devices. Steering mounted controls a lot of functions in the new set of dials that the car got post the facelift. Lack of TPMS is evident among other features such as leather seats and sunroof in the Titanium variants. Thunder and S variant get all of these.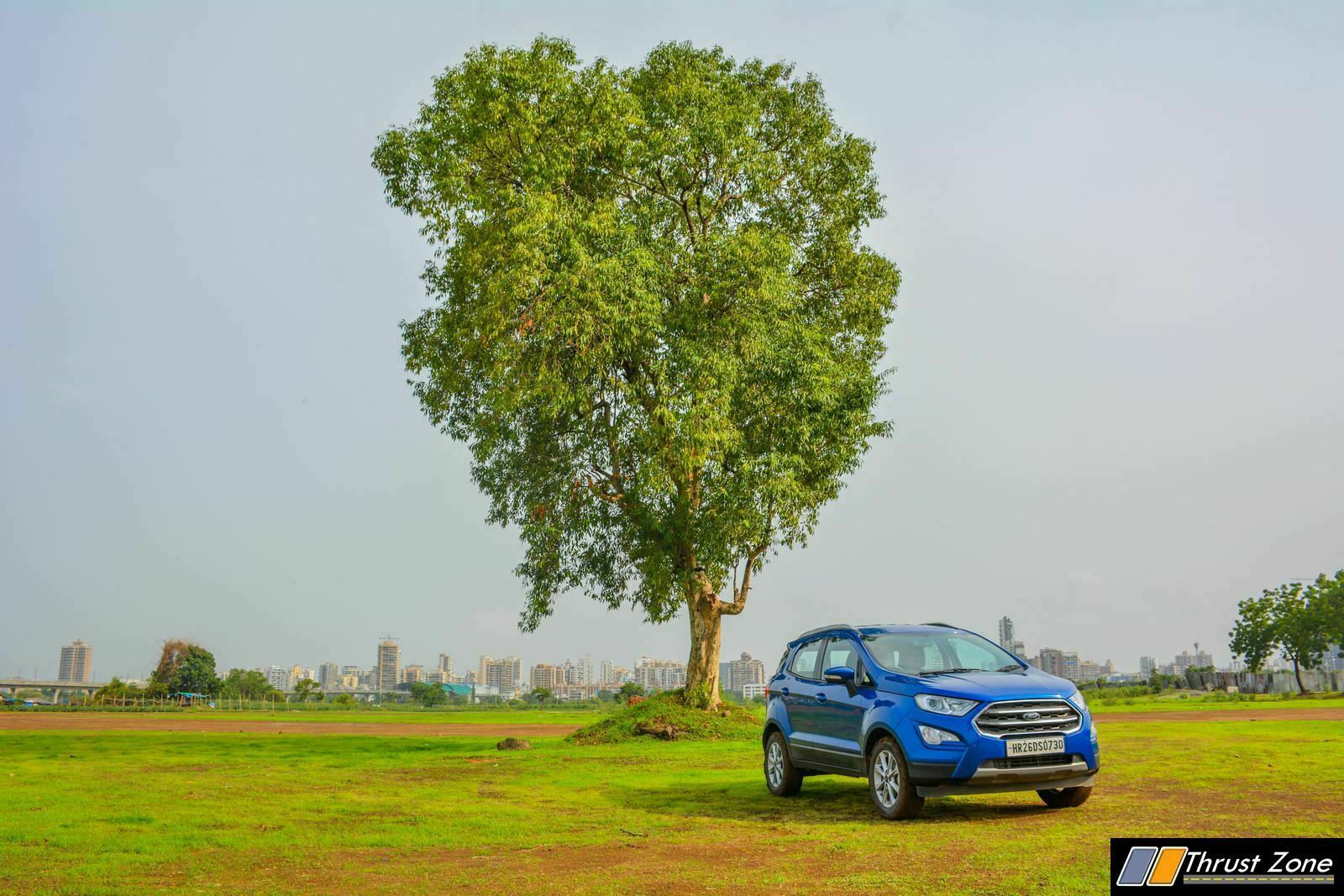 Ford has also replaced the older plain-looking dials with a new multi-information display unit in the latest facelift of the SUV. Talking more about the interior, the thick A-pillar is really a pain and creates a large blind spot which is really troublesome at crossings. The omission of roof-mounted handles also feels inconvenient for elderly passengers to get in and out.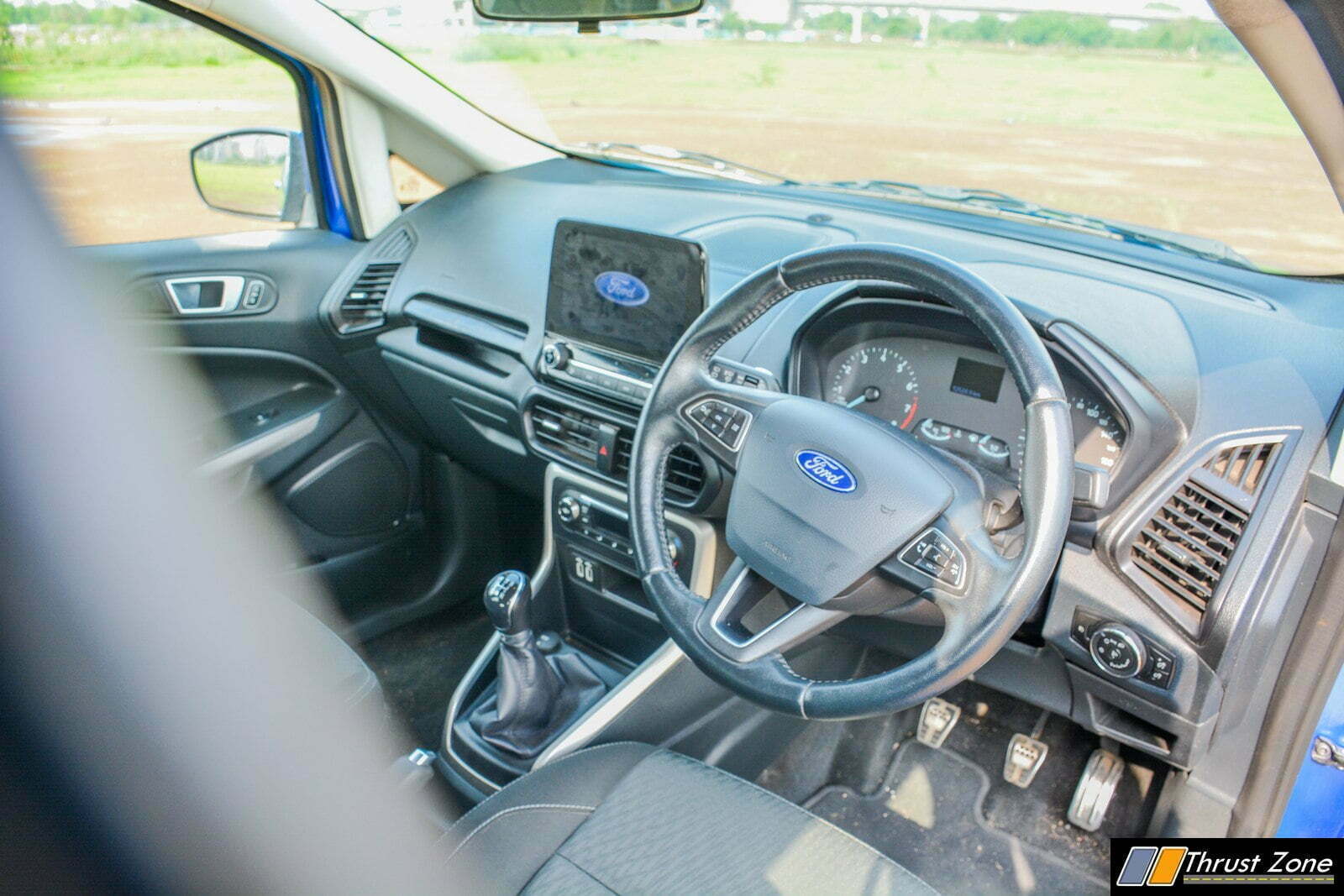 Ecosport is four seater instead of a proper 5-seat like some of its rival due lack of width. A child though can find solace for a longer amount of time, but adults will find it cramped. Boot space and leg room balance is rarity but Ecosport offers just about the right amount for this size given the competition that it has. Rains, completely dark streets and lot more was encountered, but we found headlights and fog lamps excellent in illumination and spread.
EcoSport range is powered by three different engine options: 1.5-liter petrol and diesel Motors, and a 1.0-liter EcoBoost petrol engine. The transmission choice includes a 5-speed manual transmission while Trend Plus and Titanium Plus 1.5-liter petrol also receive a 6-speed torque converter.
We had the 1.5 litre petrol engine with a manual 5-speed gearbox. Wish it was a six speed though. However, this kerb weight king needs shorter 5-speed gearbox because that helps it deliver quicker mid-range as there isn't much torque to pull all that weight. A flip side to that yet again is the fuel economy on highway is lower than expected. 10-11 km/l is at max what we could achieve while in the city 8.5 km/l is what we could see best. While performance is more than adequate, it isn't heart pumping enough. For that, Ecoboost is still the king with more torque and fuel economy on offer. We suggest you get this engine only with the 6-speed auto on offer, something that will get you the missing features as well.
In other aspects, the Ecosport is a delight. NVH levels are fantastic, ride quality is good enough but can be bone jarring at times. Ideal tyre pressure should be maintained always for a better overall balance. Highway stability, composure and sense of security and safety is the highest in this SUV, even today, over most of its rivals, which makes it a great highway car. We will conclude our final thoughts in the final report. Stay tuned as we clock more kilometers.