It's great to see talent being supported in one way or the other in the Indian market, a country where motorsports is reaching farthest and widest and the talent is popping out too.
Luminox, the iconic adventure sports watch brand from Switzerland, announces Ashish Raorane, professional motorcycle rally rider as their India brand ambassador. Luminox, present in over 70 countries, has always focused on supporting the adventure sports community in India. Ashish perfectly emulates the brand's values of toughness, reliability and persistence and in due course of time, has brought them together towards a common goal.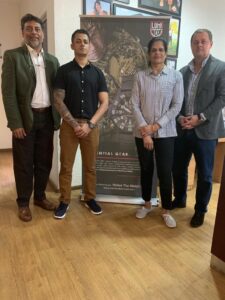 Ashish, has amassed popularity amongst the motorcycling rally community by competing professionally around the world at national and international rallies such as Raid de Himalaya (2015), Desert Storm rallies (2016 and 2017), PanAfrica Morocco (2018) and is currently ranked 14th in world championship of the Baja Rallies. Ashish Raorane is now gearing up for his dream and for the world's toughest off-road Motorsport event, Dakar Rally 2021 and Africa Eco Race 2020.
Luminox is well known for offering cutting-edge luminescence and readability in its line of high-performance sports watches. With this partnership, Luminox aims to support Ashish to fulfill his dream of participating at the 2021 Dakar Rally.
Following his introduction as India Brand Ambassador for Luminox, Ashish Raorane, Motorcycle Rally Racer said, "So I fell in love with Luminox watches and later learned that one of the first things that the brand ever did was to make its watches available for special operations groups including the Navy SEAL's, and I am happy to have them on board towards my goal of the Dakar Rally 2021"
A quick know-how of the brand, Luminox: The original self-powered luminous watch brand, is the watch of choice for U.S. Navy SEALs, The Icelandic Association for Search and Rescue (ICE-SAR), Lockheed Martin's F-117 NighthawkTM stealth and other jet fighter pilots, elite forces worldwide and professional divers. Luminox watches glow up to 25 years in any light condition. Always Visible, tough, powerful and accurate, Swiss-Made Luminox is the ultimate night vision gear for rugged outdoorsmen and other peak performers.