2021 Honda CBR 600RR has come back to life because of the Yamaha R6 revival
Most of us thought that the 600cc supersport class was left for dead. After 2013 there was no action in this segment. Manufacturers like Kawasaki, Triumph and MV Agusta had their 'cheater' slightly higher capacity bikes on offer which was the main cause of the decline in the sale of these race replica models. The 'cheater' bikes had more ccs to offer and hence were better than their 600cc counterparts. More ccs meant more torque and power and better rideability and all of this at a price tag which was on par with the 600's.
However, it was in 2017 that Yamaha launched their new YZF R6. Yamaha didn't make any changes in the engine department and hence the 599cc inline-4 cylinder motor remained. Quite interestingly this bike recaptured the market. This meant that there was hope. And that's exactly what the guys at Honda must have thought. The news was out that Honda is readying a 2021 version of their 600cc superbike – the CBR 600RR. 2021 Honda CBR 600RR is now ready for a Japan-only launch.
=Key features of the 2021 Honda CBR 600RR=
●Power unit with high-power yet controllable output characteristics
In order to ensure high performance in production bike racing, the engine speed at which maximum power output is attained was increased to 14,000 rpm, by changing materials used for key components such as camshafts, valve springs and the crankshaft. Along with this increase in engine speed, both intake and exhaust efficiency were increased through various measures: the diameter of the throttle bore was enlarged and the inlet port reshaped for intake system; the size and thickness of different parts of the exhaust pipes were optimized for the exhaust system, and changes were made to valve timing. These changes resulted in the achievement of a maximum power output of 89 kW.
The efficiency in the cooling combustion chamber and area around the exhaust valve seat was increased through the reshaping of the water jacket for the cylinder head.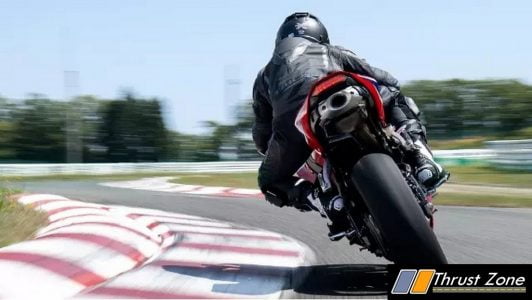 ●Adoption of electronic control technologies that support fun riding
The all-new CBR600RR is equipped with an IMU (Inertial Measurement Unit)-based vehicle attitude estimation system. By combining vehicle attitude data with the ABS*2 and Honda Selectable Torque Control (HSTC)*3, the all-new CBR600RR provides the "pleasure of manoeuvring" in accordance with riding conditions.
*2 ABS is designed only to provide support for a rider's braking operations. Therefore, as with motorcycles without ABS, sufficient reduction in vehicle speed is required before turning, and riding control should not be careless or reckless. When ABS is actuated, the system's operation is made known through 'kickback' pulses felt at the brake lever.
*3 Honda Selectable Torque Control (HSTC) is not a system to prevent slips from occurring. It is designed only to provide support for a rider's accelerator operation. Therefore, as with motorcycles not equipped with HSTC, riding control should not be careless or reckless.
The all-new CBR600RR is equipped with a throttle-by-wire (TBW) system where the accelerator position sensor (APS) detects the angle of the rider's throttle grip opening and sends a signal to the ECU. The ECU then sends a drive signal to the TBW motor to control the throttle valve. The all-new CBR600RR also features riding modes that combine different control levels of the Power Selector, HSTC, Wheelie Mitigation Control and Selectable Engine Brake. Riders can select a riding feel in accordance with the riding conditions and their preferences.
●Styling that realizes outstanding aerodynamic performance and functional beauty
The styling for the all-new CBR600RR incorporates aerodynamic technologies which were fed back from racing activities where aerodynamic performance is thoroughly pursued. Such styling contributed to the improvement of wind-resistant performance and the realization of agile handling by optimizing projected front and lateral areas and achieving the lowest drag coefficient in the class. Moreover, downforce generated by winglets whose position, shape and installation angle are optimized contributes to the improvement of vehicle stability while entering corners or turning while accelerating.
●Colour that presents a racing image
The all-new CBR600RR will come in Grand Prix Red, a tri-colour scheme that represents Honda racing technologies.
●Rider-friendly equipment and genuine accessories
The all-new CBR600RR features the following equipment:
Full LED lighting*4, achieving lightweight, compact-sized, and energy-saving lighting
Full-color thin film transistor (TFT) liquid-crystal display for the meter to provide the rider with abundant vehicle information and easy-to-understand status of various electronic control systems
Emergency Stop Signal system, which responds to sudden braking and promptly alerts following vehicles by flashing hazard lamps quickly
Assist & slipper clutch, with an assist function that makes the clutch lever lighter to pull and a slipper function which mitigates rear wheel hop caused by abrupt engine braking while downshifting.
Quick Shifter, which enables quicker upshifting and downshifting, is available and sold separately*5 as a genuine accessory for the all-new CBR600RR.
●2021 Honda CBR 600RR Manufacturer's suggested retail price (Japan):
1,606,000 yen (including 10% consumption tax)
1,460,000 yen (excluding consumption tax)
Dimensions (L x W x H) (mm) 2,030×685×1,140
Wheelbase (mm) 1,375
Ground clearance (mm)★ 125
Seat height (mm)★ 820
Curb weight (kg) 194
Seating (persons) 2
Fuel economy *6(km/L)
Steady state fuel economy*7 (km/h) 23.5 (60) <2 people seated>
WMTC mode ★ (class)*8 17.3 (class 3-2)
Minimum turning circle (m) 3.2
Engine ID/type: PC40E, liquid-cooled 4-stroke DOHC 4-value inline-4
Displacement (cm3) 599
Bore x stroke (mm) 67.0×42.5
Compression ratio ★ 12.2
Maximum power PS/rpm 121/14,000
Maximum torque Nm/rpm 64 /11,500
Fuel supply system Electronic (PGM-DSFI)
Starter ★ Self-starter
Ignition ★ Fully transistorized, battery powered
Lubrication ★ Force-fed and splash
Fuel tank capacity (L) 18
Clutch ★ Wet, multiplate with coil springs
Transmission Constant mesh, 6-speed return
Gear ratio
1st 2.615
2nd 2.000
3rd 1.666
4th 1.444
5th 1.304
6th 1.208
Reduction (Primary★/Secondary) 2.111/2.562
Caster angle (degree)★/Trail (mm)★ 24°06´/100
Tires Front 120/70ZR17M/C (58W)
Tires Rear 180/55ZR17M/C (73W)
Brakes Front Dual hydraulic disc
Brakes Rear Hydraulic disc
Suspensions Front: Telescopic front fork (Inverted Big Piston Front Fork)
Rear Suspensions: Swing arm (Unit Pro-Link)
Frame: Diamond