Enchanting –
One of a kind aesthetics for an SUV
Superlative chassis, brakes, engine
Spacious and practical with AWD
Unsatisfying –
Only one variant on offer
No six cylinders engines on offer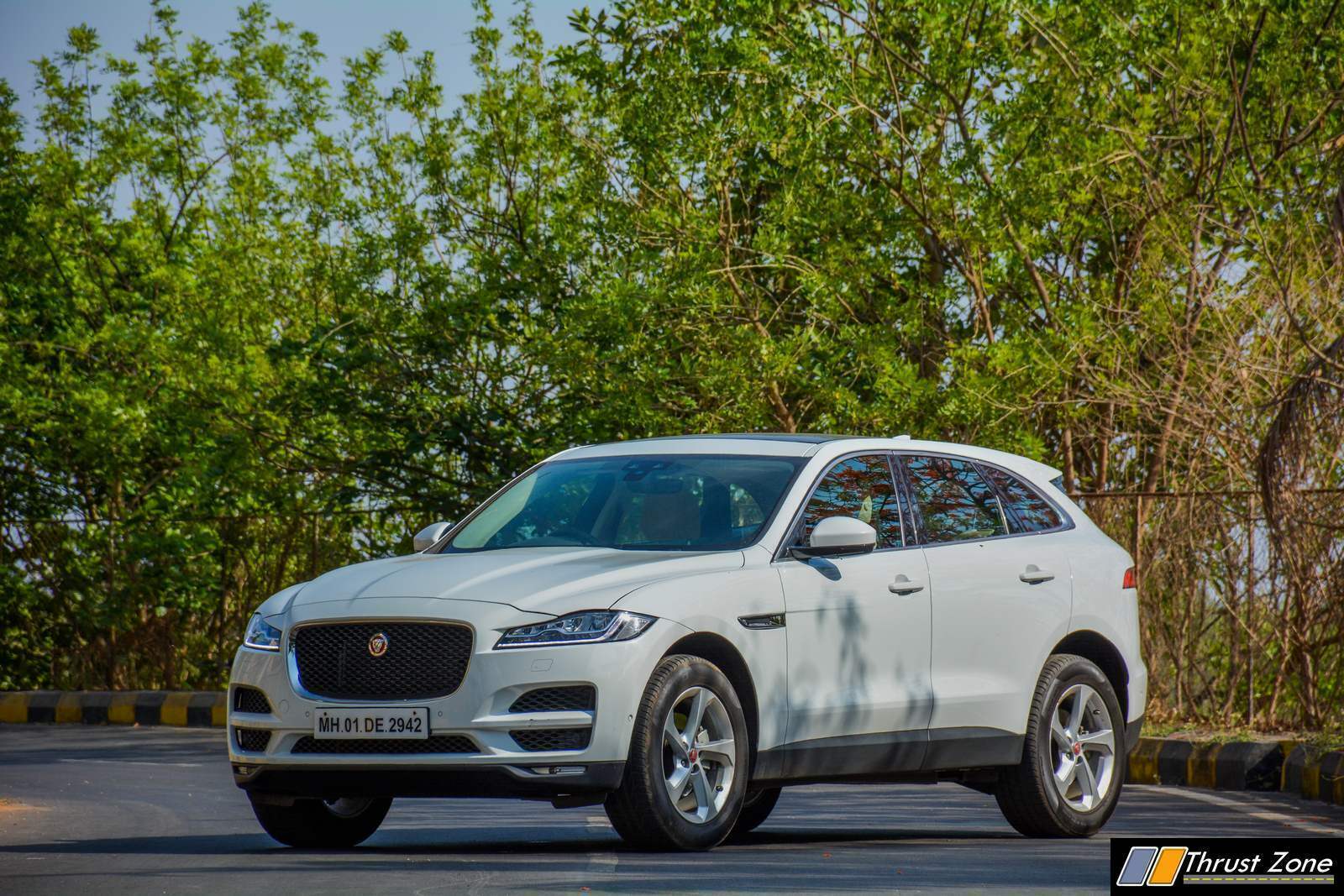 All of us thought that some brands would remain pure and would stick to heritage. However, times changed so dramatically in the last decade when it comes to motoring, everyone had to offer something new while keeping the heritage alive. Jaguar was known for making sports cars and sedans, only! F-Pace was the first SUV from the manufacturer and there is another one today too. However, the best of both worlds was achieved when it came it promised sedan capabilities and SUV practicality and none of the draw backs.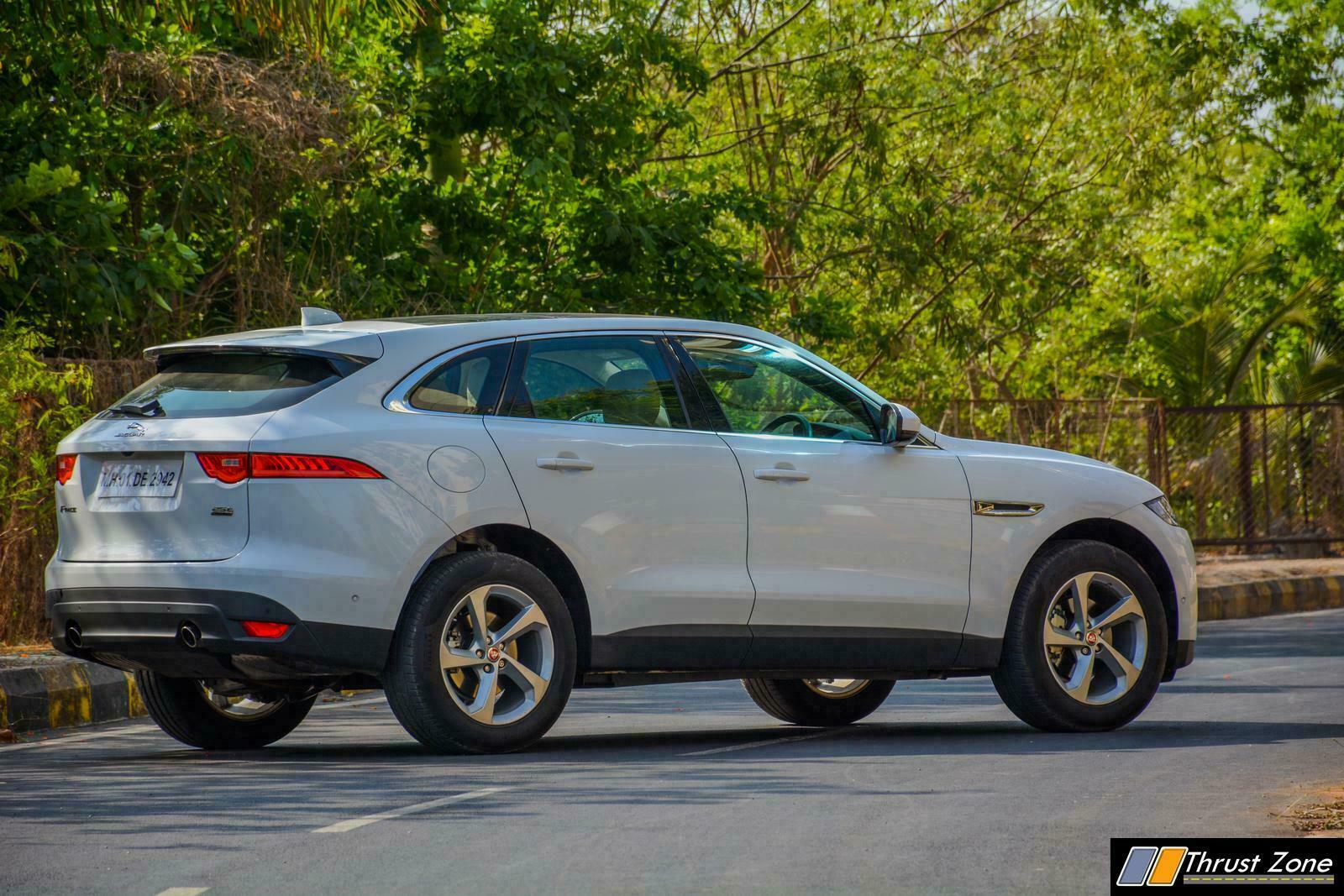 We expirienced the F-Pace earlier when it came to us in the diesel avatar and the first time it was locally made. Today, Jaguar has also followed the changing time and offered petrol as the diesel market is taking a detour towards hybrids, electric and ofcourse this, the good old petrol. The Ingenium engines were ready to be deployed in the Jaguar F-Pace and so they have. We spent some time with it to know what is it like to live with a luxurious, petrol, SUV!? All the non-practical words right? Let's find out!
F-Pace has always been handsome musuclar design with broad shoulders and big hips along with a coupe like roofline which stands out. The front is captivating with supremely sleek headlights and the traditional J-Blade headlamp design. Large grille and split bumpers with honey comb design looks sophisticated. The hatchback rear and large and long LED tail-lamps shouts presence. The wheels continue to look a tad boring with our test that had a vanilla design.
Interior continues to be good in terms of quality as there is room for improvement. The only change with the 2019 version is the addition of LCD screen replacing the dials like Land Rover models to make it look modern in today's time. The layout and console looks very distinct but now it is showing its age. The large screen in between, A/C control below it and rotary dial for the gear selector and mode buttons before are on offer and everything is placed well and works intuvitely.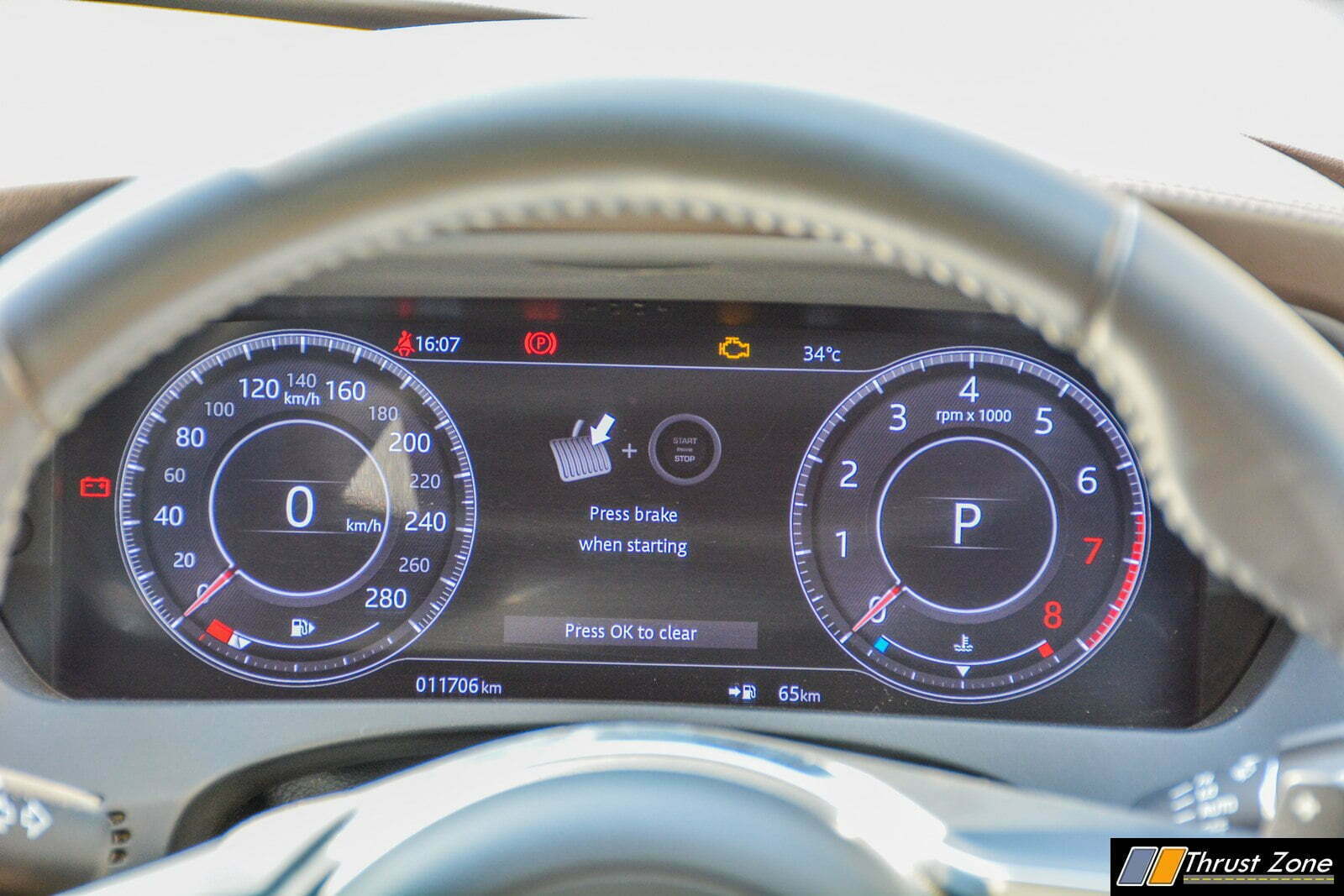 The large screen doesn't offer Android Auto or Apple Car play yet, but there is an optiont to upgrade now at the dealership as software is ready. Ambient lighting all around makes the car lovely and the dials offer all the information you need which is LCD screen. It has Jaguar Sense which anticipates your hand toward the cabin light and turns it out.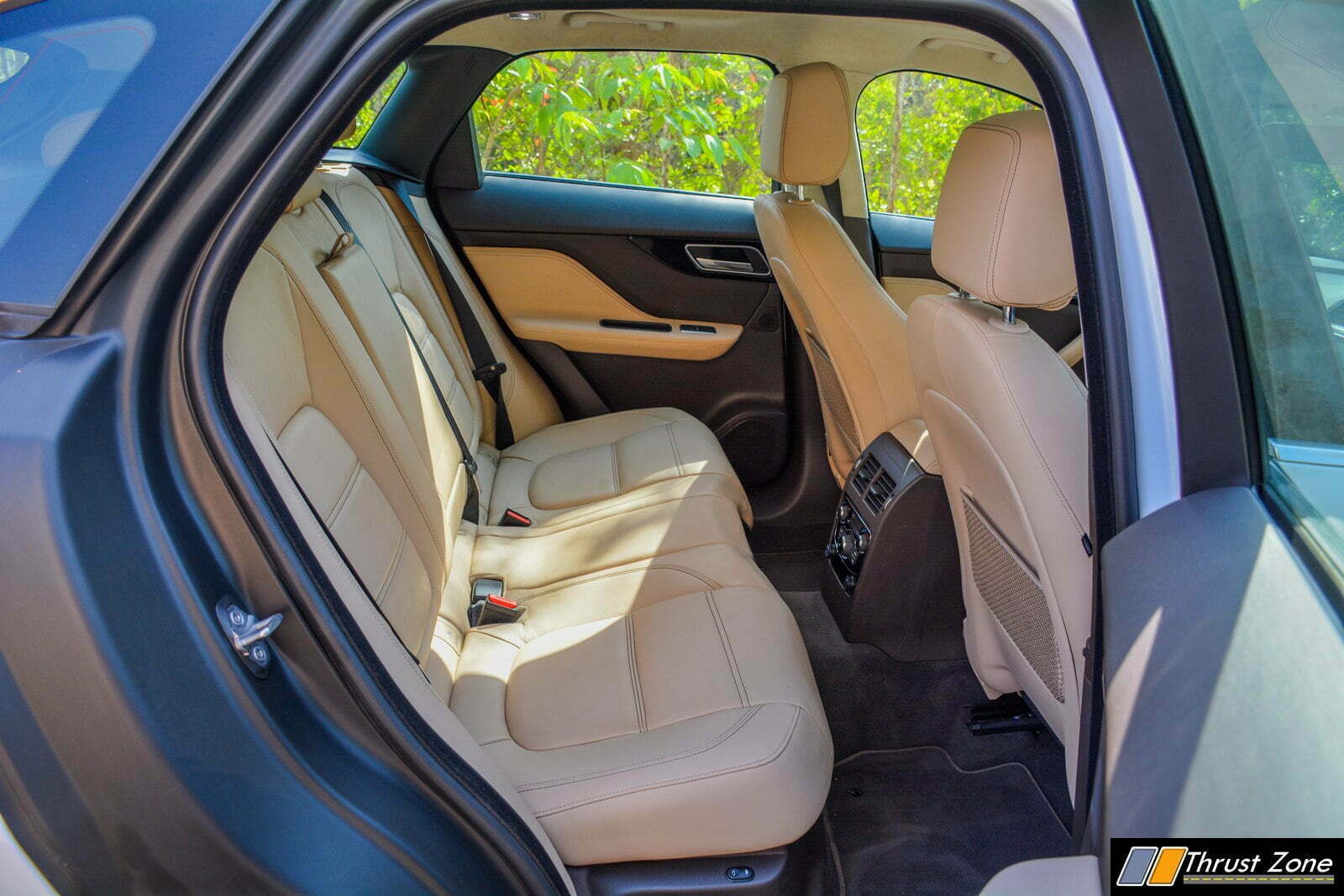 Space in the back is good enough in terms of leg, knee, head and shoulder room. Features such as sunroof, fully electric ORVM, adaptive LED headlamps, electric seat, four zone climate control, cruise control, leather seats, start-stop button, keyless entry, headlamp wash, auto wipers and headlights, 360 degree parking sensors with reversing camera, all connectivity options including Wifi.
Emergency Brake Assist & Hazard Lights under Heavy Braking, Airbags – Driver & Front Passenger, with Seat Occupant Detector for Passenger, Front Side, Full Length Side Window Curtain, Lane Keep Assist, Driver Condition Monitor, Passive Front Head Restraints (Whiplash Protection) and 24×7 Road Side Assistance is offered in terms of safety.
Engine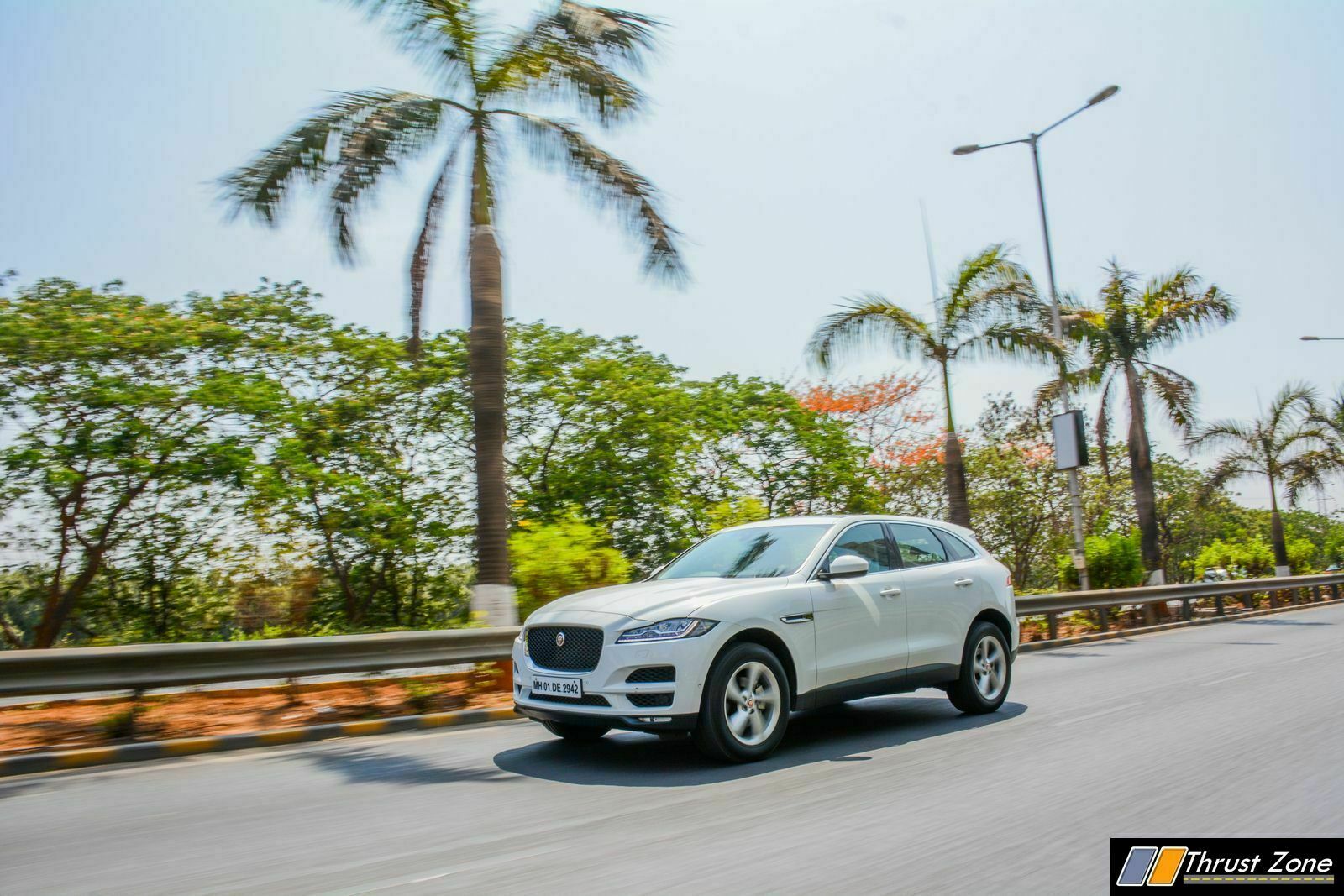 The 2.0 litre four-cylinder engine makes 250 BHP of power and 365 Nm of torque is revs smoothly, but still needs rev a bit more quickly. NVH levels are supremely low making in cabin refinement excellent. 8-Speed gearbox combined is a bit slow at times, but in sport mode it holds the gear for sporty driving. Paddles are on offer as always which are fast enough.
Power is enough throughout the rev range as the driveability in the city, excellent mid-range power on the highway and top-end power is also good but the high kerb weight bogs it down a bit. All rivals in this class a bit lighter, the one's petrol motors on offer. We got 10 km/l in our highway run to Pune and dealing with Mumbai traffic as well. Pretty good numbers if you ask us.
Dynamically, the kerb weight numbers may not suggest things, but the hertiage we discussed earlier comes in. The body-roll is non exisitent, the steering is quick, responsive and feedback rich. It's light and precise for city duties at the same time. Brakes are good with excellent pedal bite and progression of power. Ride quality is mildly harsh, but compliant enough for our roads. The agility and stability at the same time from this big SUV is astonishing indeed. AWD assured it had the grip required on hand.
2019 Jaguar F-Pace Petrol India Review, Verdict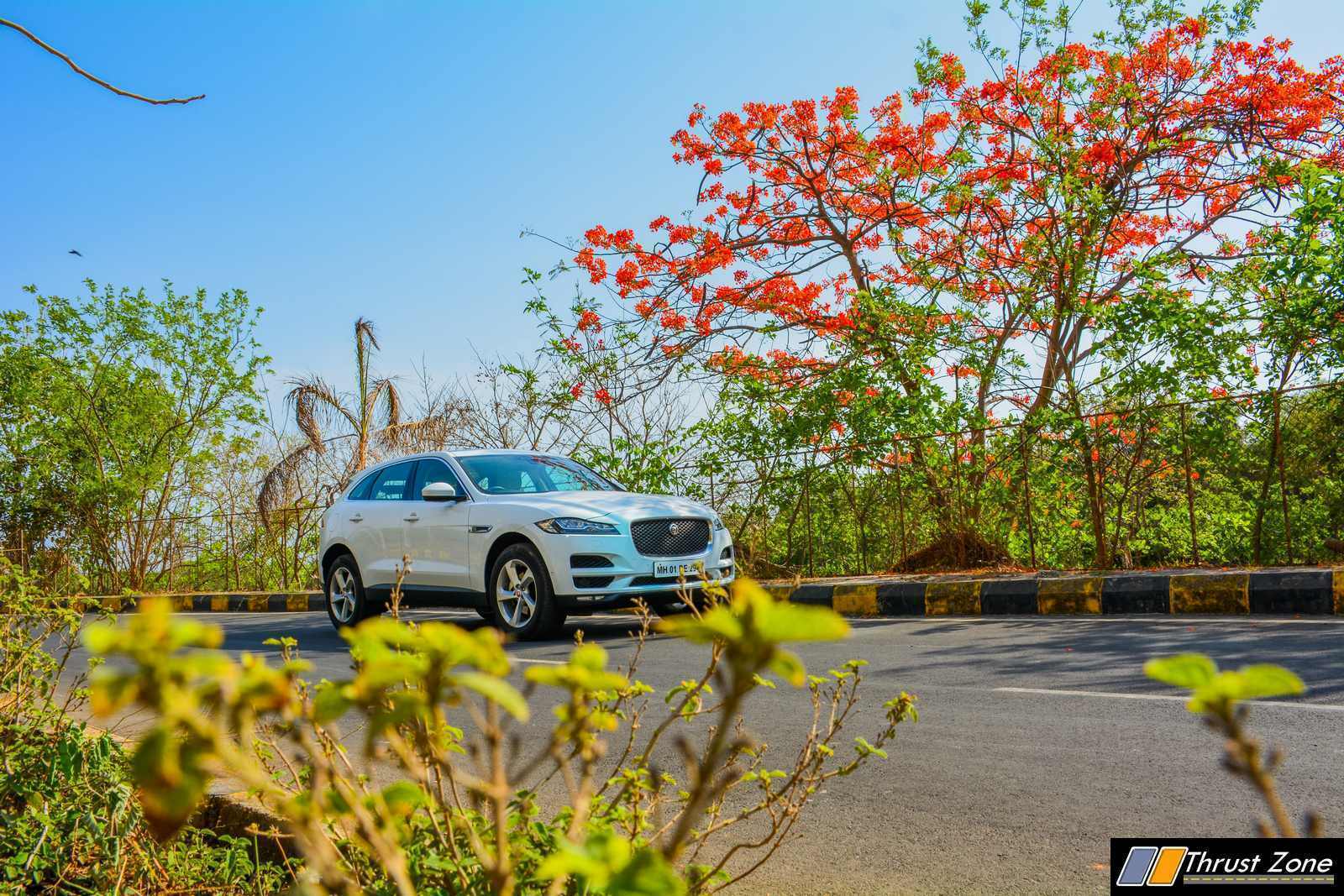 F-Pace has had a great inning in India. It is a story success for Jaguar in the country and around the world. A good looking SUV which drives great and is distinct enough is the ingredients for a luxury SUV. In India, it has had the same successs. However, Jaguar has narrowed down engine and variant options and it seems its done on public demand and also to avoid canibilization with the brother, Land Rover.
Since its done in the right way, there is little to complain. More powerful engines will be surely missed with this kind of chassis. Nevertheless, the pricing is now icing on cake and with the package now on offer, it becomes something from last few choices to the top 3 SUV's you can buy in the luxury mid-size SUV segment.
Price: Prestige Variant: Rs. 64.22 Lakhs ex-showroom
F-Pace Petrol India Review
Design

Interior

Space

Features

Practicality

Safety

Performance

Dynamics

Value