FCA launched today the New Generation Jeep Wrangler in India. The iconic 5-door 4×4 from Jeep was unveiled by Indian cricketing legend, Kapil Dev, who was Guest of Honour at the vehicle's launch. The SUV is priced at Rs. 63.94 lakhs.
While every generation of the Wrangler has significantly evolved to meet customer expectations in safety, comfort and technology, Jeep designers have ensured each generation retains its signature Jeep styling elements such as:
• The iconic seven slot front grille
• Trapezoidal wheel arches
• Round headlamps
• Square tail lamps
• Body-on-frame construction
• Right-angled body geometry
• Full-frame removable doors and roof
• Fold down windshield
• High ground clearance
• Jeep 4×4 hardware
The all-new Jeep Wrangler is longer than its predecessor by a massive 130 mm, wider by 17 mm, taller by 9 mm and has 61 mm of extra wheel base, resulting in a confident four-wheel stance. The exterior of the new generation model is more sculpted but retains the retro Jeep styling elements like the external door hinges, body-coloured trapezoidal wheel arches, round headlamps, square tail lamps, angular body and new bumpers with integrated fog lamps. The iconic seven slot grille now has a nuanced frontal bend to make it look sharper and the hood has air intakes. To allow owners to enjoy open-air-freedom, the all-new Wrangler comes with a fold-down windshield and removable hard roof and doors that can be as easily dismantled and refitted as on the previous generation Wrangler.
Solid axles connect with the Wrangler's 18-inch alloy wheels which have painted Granite Crystal spokes. Overall, the exterior styling is chiselled and sharper. Headlamps come with signature LED reflector headlamps, LED fog lamps and LED daytime running lights (DRLs) and stand out LED tail lamps.
India's discerning customers, who mostly use their vehicles driving in or between cities, prefer luxurious interiors with functions at their fingertips. A Wrangler, which is fundamentally a 4×4 SUV, is equipped with all the equipment that urban customers need in order to meet their expectations of everyday life. The interior of the all-new Wrangler features black leather seats.
Dashboard, door panels, grab handles and other elements are padded with premium soft touch materials, detailed with accent stitching. The UConnect Infotainment System features a large 8.4-inch touchscreen, which has a drag-and-drop menu, including Apple Car Play, Android Auto and a built-in, pinch-to-zoom navigation feature. Phone, media, climate and navigation can be controlled by voice at the press of a button on the leather-wrapped steering wheel. Standard features like engine stop / start and cruise control can also be controlled from the steering wheel.
Bezels, handles and knobs in the interior space are tastefully finished with 'Grillz' brushed paint. The 7-inch driver information display in the centre of the instrument cluster shows scrollable data that can be accessed from the steering wheel. The all-new Wrangler also comes with weather-proof push button start, dual zone air conditioning and remote key access and go features. Sound is delivered by an Alpine music system with nine speakers enhanced by an overhead sound bar, all-weather subwoofer and 552 watt amplifier.
A significant change in the New Generation Wrangler for India is that it will be available with a 4-cylinder, inline, turbocharged 2.0-litre 268 HP 400 Nm petrol engine instead of 3.4-litre V-6 Pentastar, which was offered in its predecessor. This 2.0-litre turbocharged petrol powertrain is tuned to perform like a V-6, deliver like a diesel engine and at the same time, ensure much better fuel efficiency than a larger capacity engine.
It is tuned to deliver a meaty take off and enable a smooth cruise on highways as well. The improved fuel efficiency is aided by the engine stop / start function, electric power assist, extended fuel shut-off along with a smart transmission shift management system. This 2.0-litre turbo petrol engine is matched to a smooth and quick-efficiency 8-speed automatic transmission, replacing the modest 5-speed automatic that was offered in the previous generation Wrangler.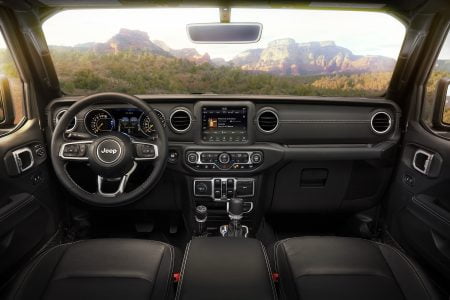 Every Wrangler produced is fitted with a Trail Rated badge. To win this badge it has to pass gruelling tests across the toughest terrain. The all-new Wrangler has earned its Trail Rated badge and has the ability to withstand the harshest conditions making the off-roading experience incredible. The all-new Jeep Wrangler is equipped with the Jeep SelecTrac 4WD system that can be engaged full time in 4H. The vehicle can be switched from 2WD to 4WD by using the 4×4 gear selector stick. The Jeep SelecTrac 4×4 system analyses the grip that every wheelencountersand sends extra torque to those wheels that need more traction.
The driver can choose between 50% equal distribution of torque to front and the rear wheels by shifting to '4H Part Time' mode or to on-demand torque distribution when shifted to '4H Auto' mode, which gauges the lack of traction and then allocates torque distribution to that wheel(s). The Wrangler is of course known for its impressive crawl ratio of 2.72:1 when engaged in 4L (low) mode.
The capability quotient has been further enhanced in the all-new Wrangler with a steeper approach angle of 41.8 degrees, break over angle of 21 degrees and departure angle of 36.1 degrees. The New Generation Wrangler rides higher from the ground than its predecessor by 29 mm, at 215 mm compared to the JK's 186 mm. The new body structure of high strength steel and aluminium rests on a front and rear five link suspension system with heavy duty gas shock absorbers. Like all Wranglers, the new generation model's underbody is protected by high-gauge steel skid plates to safeguard critical componentry that would be otherwise be prone to damage when driving over extremely challenging terrain.
Safety and Practicality
The all-new Wrangler has more than 70 safety and security features. A few important standard ones are as follows:
• Parksense® rear parking sensor with back up camera
• Electronic Stability Control – coordinates Electronic Roll Mitigation, Anti-lock Braking System and Brake Assist, all-speed traction control and available Trailer Control sending them into action when needed
• Advanced multi-stage airbags and supplementary front seat mounted side airbags
• High strength steel body paired with light-weight aluminium
Any Wrangler, in addition to its sophistication,has to be practical. The new generation model has plenty of cargo management space that will delight customers.
• Trail Rail Cargo Management System – this versatile cargo-carrying capability includes aluminium rails on the tailgate and cargo floor along with cargo anchors that lock into place
• In-floor storage bin is located on the cargo floor behind the second row of seats hides a storage area whose lid secures when the swing gate is closed — perfect for storing larger items, like computers and tools
• Two-tiered centre console, with place to store phones, computers, tablets, vehicle key and sunglasses plus a top tray for smaller gear