Enchanting –
Best looking SUV in its class
Superlative chassis, brakes, engines
Feature loaded to the brim
Kia worldwide reputation for reliability and quality
Unsatisfying –
Pricing unknown, period
Slightly low on width and boot space
The last time i heard the name Kia was in an popular American movie saying that "you cannot beat their 7-year warranty". The manufacturer is known for different approach towards everything while keeping things discreet, practical and affordable at the same time. I think there isn't a manufacturer like this in the world market which delivers best of all world to a larger extent. Hyundai is the parent company for Kia and also Genesis. The latter is also set to make a debut in the Indian market sooner or later. For now, Kia is coming to the Indian market and is set to offer affordable vehicles in the Indian market.
The inning begins with the Seltos. A mid-size SUV which falls in the 'Creta segment' which is dominant by the Creta as the name suggests. The Selto is the next generation Creta underneath and has come first instead of the Creta, which is just a year away from launch too. We were privileged enough to test drive the car in Goa in four variants. petrol turbo with manual and DCT along with the 1.5 diesel automatic and manual. How are they? Get hooked!
Styling
The design, for the uninitiated, is Kia's strong point always. The emphasis is very high and it shows. The Seltos is a stunning looking car. You thought the Creta was good, the Seltos is funkier with proper muscular panels all around and the signature tiger nose grille at the front. The design has so much emphasis that they are two variants on offer. Tech line and GT line. GT line is the higher version and get distinct elements over the usual elements seen in the Tech line. Red stripes on the outside as well as on the inside.
The headlamps are LED and sleek and the lower light is the turn indicator light given entirely different space. There is a light bar below the bonnet giving a broader stance in the night than it is. The side profile is perfect with the C-pillar kink, perfect glass to metal ratio for the doors. Rear is again a bigger highlight, usually not a strong point for SUV's. but here it looks great with chunky and chiseled LED tail-lamps and sculpted bumper and tail-gate. The good looking alloy wheels and cladding around means it looks quite attractive. Overall, the SUV does look very handsome to begin with, we cannot imagine how it will go ahead in the future, if its so good now.
Interior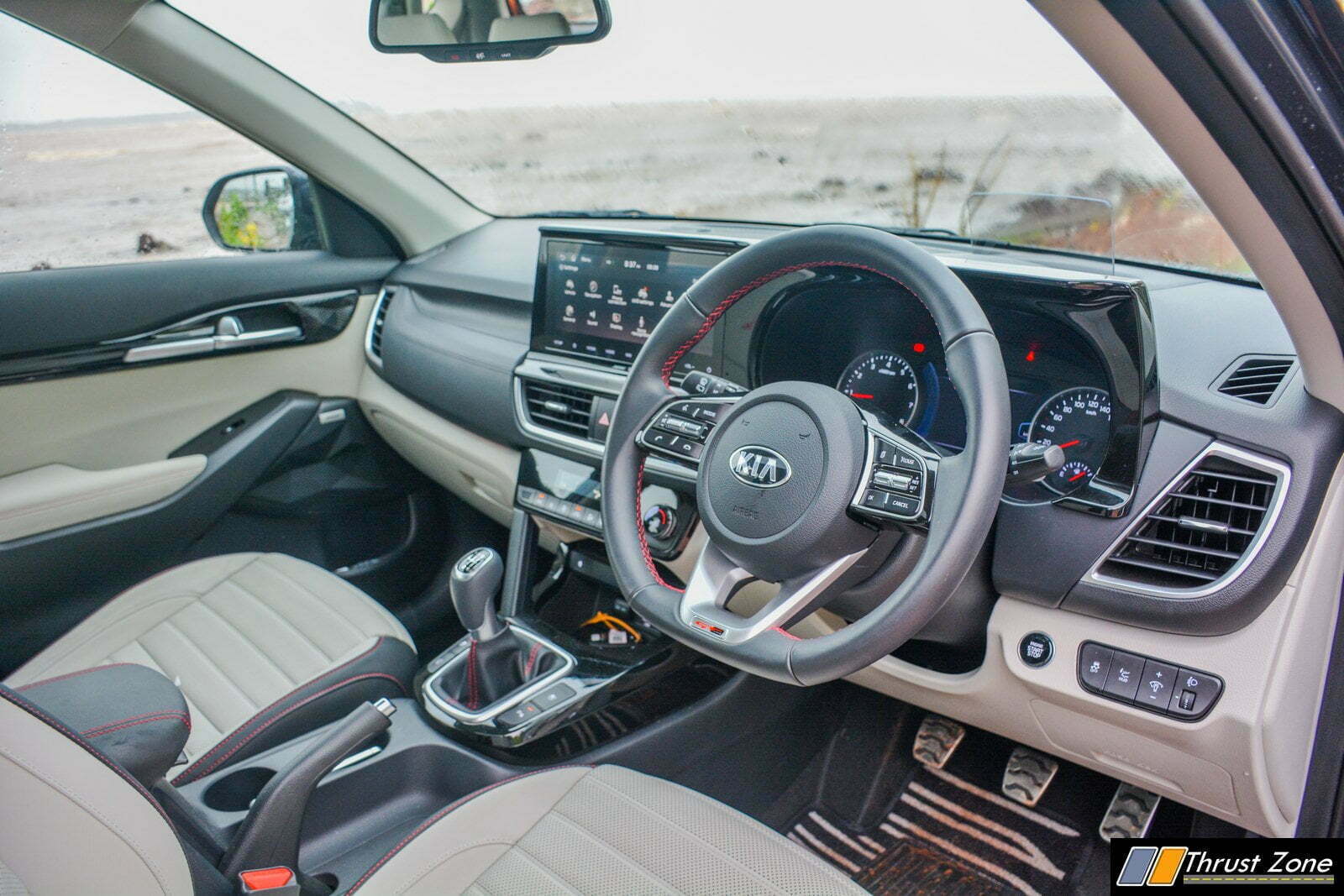 Interior is clearly a bigger highlight just like any Hyundai group car. The quality is excellent. the cluster binnacle mounted and glued together with the instrument cluster looks good and makes the cabin far more premium. The plastics are good, there is a bit of leather on the dashboard as well. The plastics are not good enough used for window controls but everywhere else they are spot on. The width signified outside does not translate inside as the cabin can be termed as slightly narrow. Space however is good enough with more than adequate leg, head, shoulder and knee room. Boot space at 433 litres is good enough, but could have been bigger like its rivals as well.
The biggest highlight is in divided into two parts. Quality and features. Features list is expansive by such a big margin, that some manufacturer can just dream about putting them in one car together. 10.25 HD touchscreen navigation, ambient mood lighting, leatherette seats (Sports seats in GT Line), 2-step reclining rear seats, 60:40 split with adjustable rear center headrest (1st in segment), ventilated front seats, driver power seat, sporty D-Cut steering wheel, sunroof, sun shade curtains and high-line tyre pressure monitor.
A brilliant 400-watt 8 speaker Bose premium sound system with dynamic speed compensation and sound mood lights (1st in segment and India) that offer 8 mono and 6 multi-colour themes. The 10.25 HD touchscreen also gets Apple CarPlay and Android Auto as standard with embedded navigation and split screen function allowing the driver to see even more information at one glance. The instrument cluster gets an advance 7.0 colour display panel which is best in segment and above it sits a 8.0 inch HUD display.
UVO (Your Voice) Connect system with 37 features which will come with 3 years of free subscription. The UVO advanced connect feature covers 5 categories – Navigation, Safety & Security, Vehicle Management, Remote Control and Convenience. UVO connect gets Artificial Intelligence voice recognition service to provide Safer and smarter connected car experience. The world's first Smart Pure Air purifier can be controlled both via the infotainment screen and the UVO app offers stop engine, AC and Air Purifier remotely through the app. There is a 360 degree camera, front and rear parking sensors. Safety includes six airbags, vehicle stability management, electronic stability control, ABS with EBD and Brake assist along with ISOFIX mounts for child seats.
Driving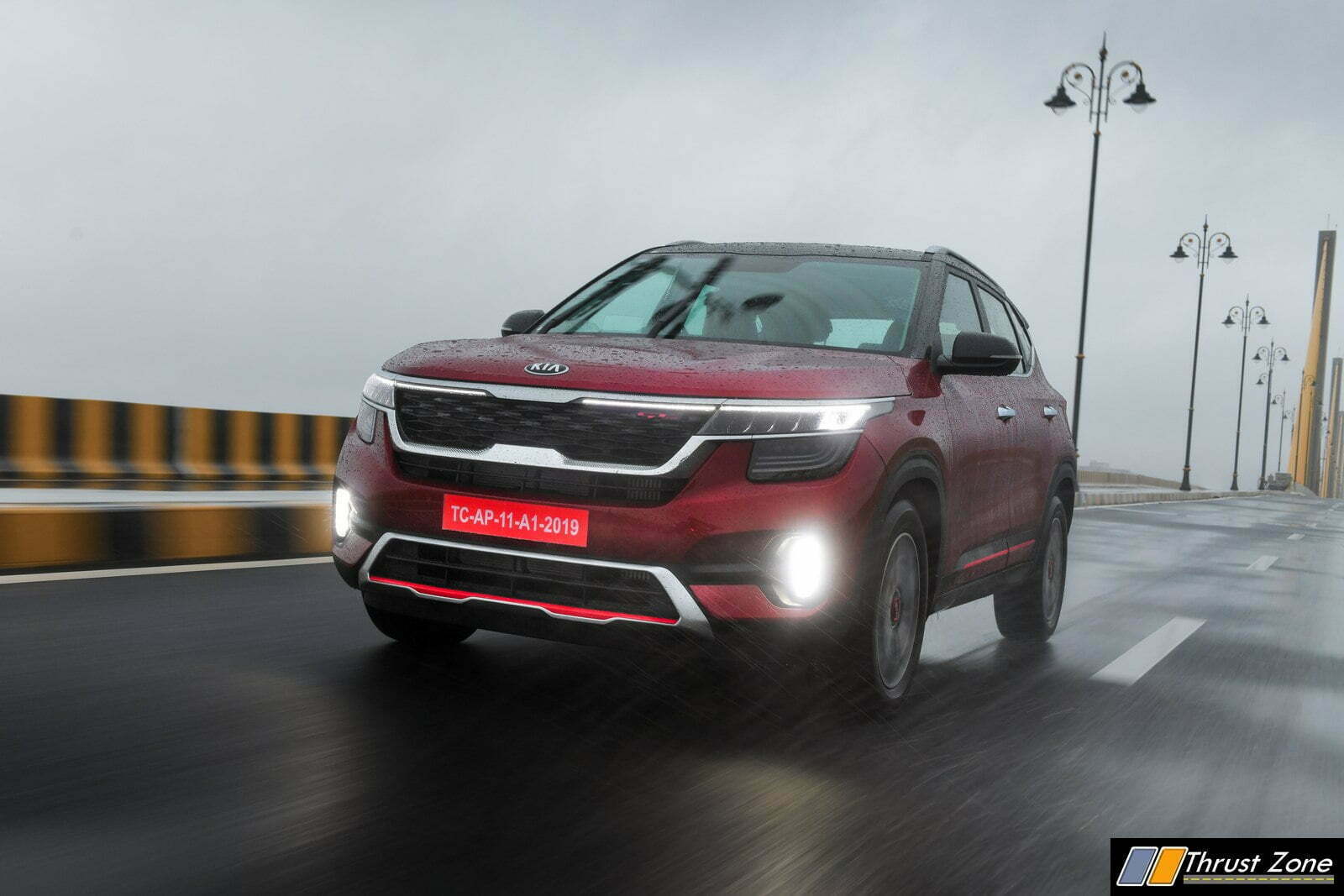 1.4 Petrol Turbo DCT and Manual:
The 1.4 petrol is the real highlight of the Setlos this time around instead of the usual diesels that is associated with SUV's. The 140 PS and 242 Nm producing motor is just 8 Nm away from the diesel motor and makes 25 PS more than the diesel. This makes for much more performance oriented engine over the diesel which make 115 PS and 250 Nm of torque. The petrol is smooth and very low on NVH. The motor is free and fast revving till redline and makes great low and mid-range punch.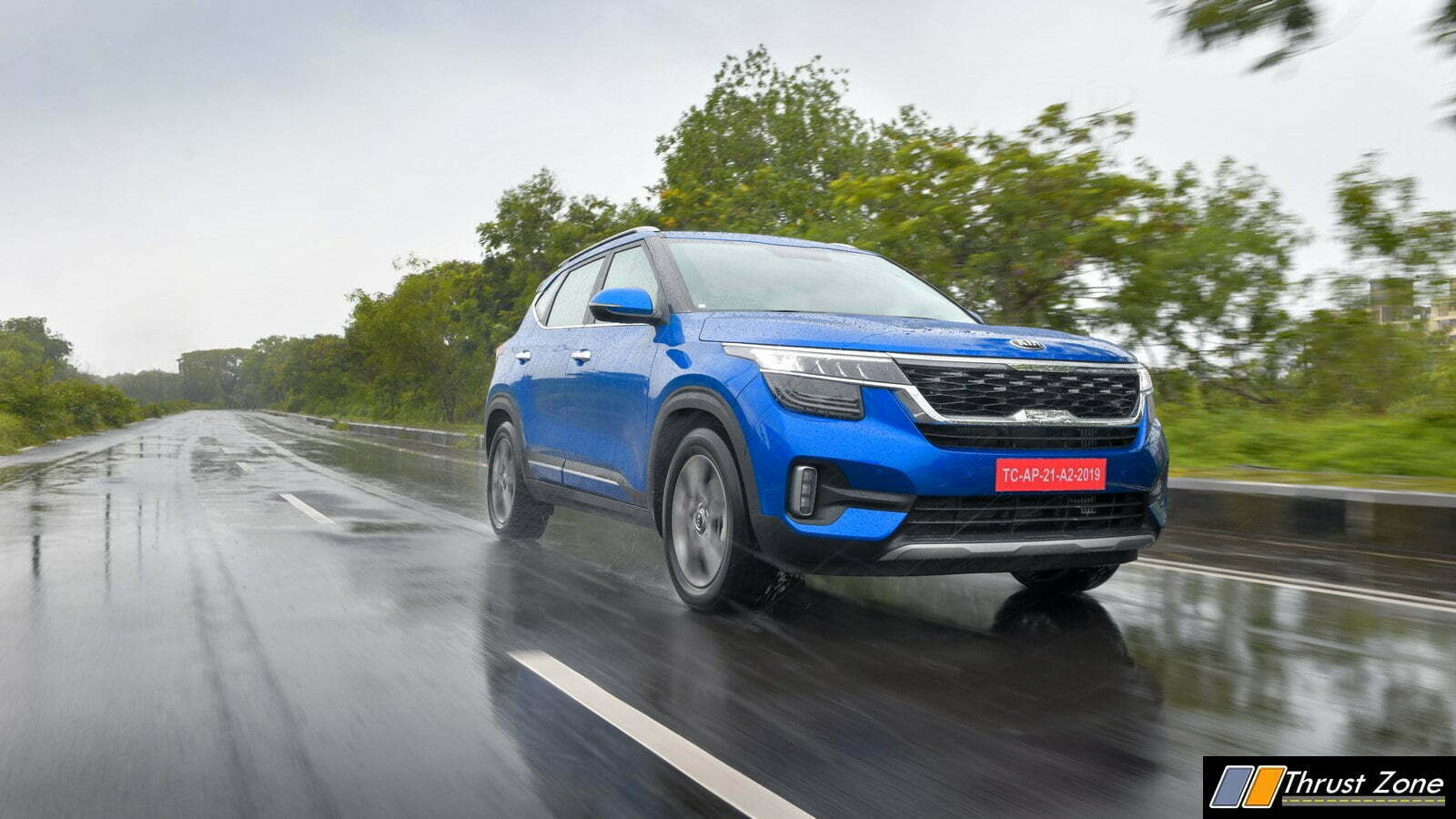 This makes it great for driveability in the city and overtaking on the highway. Top-end performance couldn't be judged by us on narrow streets of Goa, but we did see at one point of time 120 km/hr easily. The gearboxes, such as the manual to begin with its smooth, light and easy to operate, but the clutch is a bit springy. The 7 Speed DCT isn't the super quick of the lot, but it is butter smooth and upshifts are quick enough. Downshifts aren't quick enough by other superior DCT gearboxes in the Indian market. The gearing is tall which makes for a real life good fuel economy numbers. The drive modes heighten the responses in modes such as sport. Eco and Normal modes lower the responses and make it perfect for daily use.
1.5 Diesel Auto and Manual:
The motor as we told you earlier makes 115 PS and 250 Nm of torque from a 1.5 litre BS6 compliant motor. The engine is smooth and free revving, and revs quickly as well while producing good low-end torque and excellent mid-range power. Top-end is good, but the weight of the car seems to bog it down. The Creta has 126 PS and it felt near perfect, this will give an initial impression of being slightly underpowered, but nothing that puts the buying decision of the charts.
Fuel economy is good and the manual gearbox and clutch are light and easy to use. Automatic gearbox is a torque convertor which is smooth and decently fast enough. This option is already a luxury in this segment and it isn't bad, so it instantly becomes the choice which is also something you won't regret. NVH levels felt a bit high but its a new engine so we should give the benefit of doubt.
Ride and Handling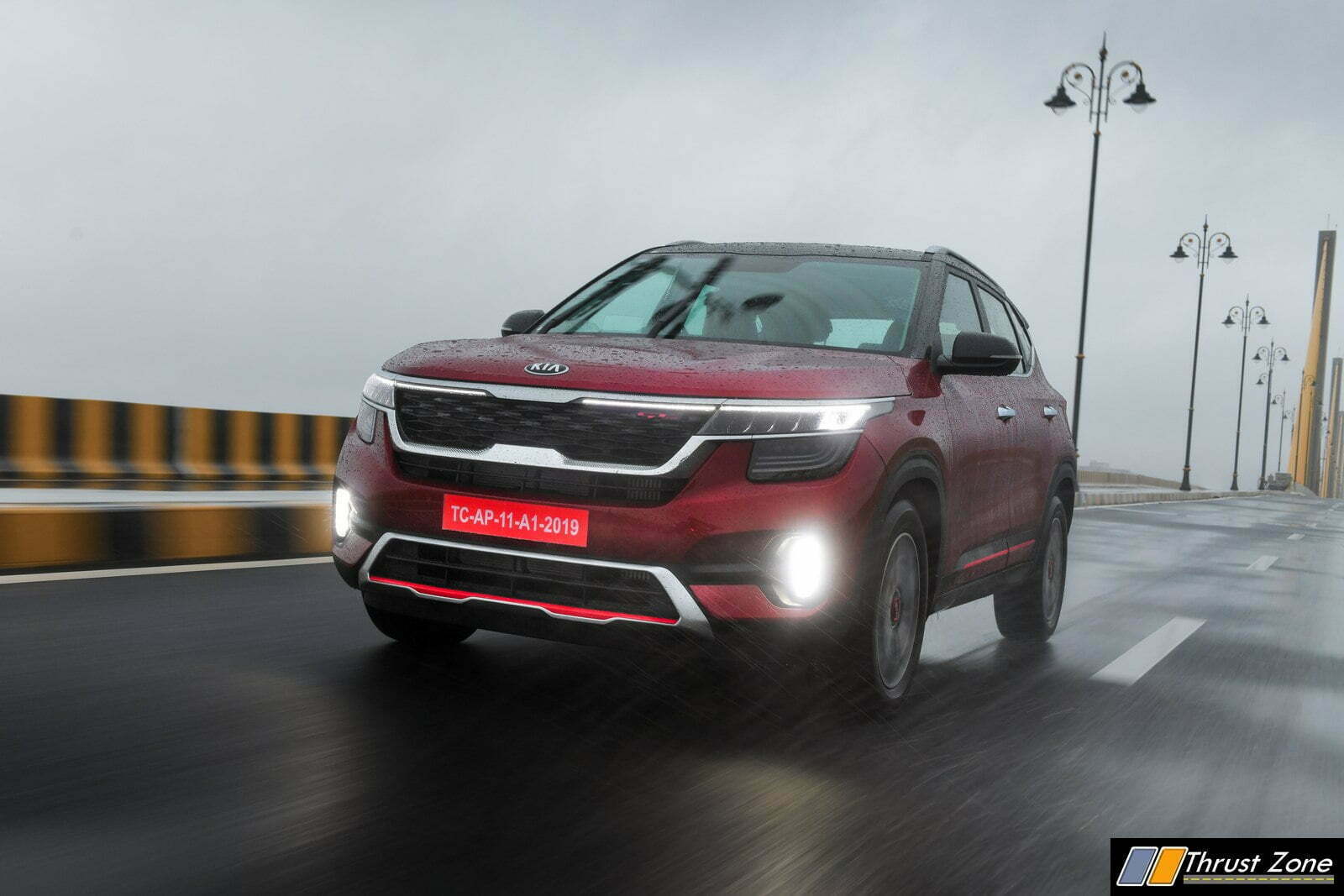 Dynamically, we were in for a surprise. The near perfect suspension setup for being stiff while being compliant for our roads means it is the comfortable car for every day use and excellent for highway journeys as well. Body roll is negligible and it feels decently fun to drive, not entirely sporty like some of its rival. The steering was precise and there was feedback to a certain extent as well. The steering also weighed up at higher speeds. Grip was confidence inspiring in the rain soaked roads of Goa and braking was good with good pedal bite and progression of power was excellent thanks to four wheel disc brakes.
Kia Seltos Review, Verdict
As you must have understood by know, the Kia Seltos offers almost everything you would ever need. There is a bit of a miss when it comes to offering variants with certain features with the combination of engine and gearbox, but you are getting a fully loaded top-end variant with an automatic gearbox with your choice of fuel, which makes pretty good for most premium car buyers.
Rest of the consumers will surely find something fits them too as there 16 variants to choose from. Feature list, safety kit and variety of engine options are unheard in this segment. All of this coming together is a dream come true for consumers, considering the brand recall is working for the company for now and it has the quality and hopefully, the upcoming pricing which should make it, easily, the new benchmark in its class. Over to you Kia, We wait for your power to surprise us
Seltos Petrol Diesel Review
Design

Interior

Space

Features

Safety

Performance

Dynamics

Value