Let's face it. The KTM Duke 790 is the most awaited motorcycle of all times. Launched in 2017 internationally, it has been on KTM's card to bring it to the Indian market. Confirmation came in mid 2018 and since then we have waited for this motorcycle to hit our shores to being launched and now it's finally here. We have the comprehensive road test for you. The most important test of the lot. The mid-size motorcycle segment in the performance space could not get never this exciting. Competition is intense and in various forms and sizes. Will the Duke 790 stand out loud? Is it worth the hype? Let the read begin!
First up is the design and quality which has been spoken about a lot. Yes, it does look rather simple and a bit old school to our eyes. If this motorcycle was a personality, it would be a nonchalant, attractive looking person, but not the most pretty. Headlight is inspired from the Duke 390. The tail-lamp is uninspiring. The fuel tank is large and tall. The side extensions look they were made in a hurry. Fit-finish though is top class and everything fits right.
The bare basic underbelly showcases everything and it's like wearing short shorts and you are not even running a marathon on Marine Drive, Mumbai. Redemption comes from muscular chassis, suspension, wheels and tyres. Wheel design is also bare basic. Upswept exhaust looks from the 90's. The orange and silver scheme does grab the attention of enthusiast on the road rather quickly but that is it. A blank and black color swingarm looks incomplete in front of the Duke 390 when compared.` It can sneak into a billionaires cocktail party but no one would bother to know who you are.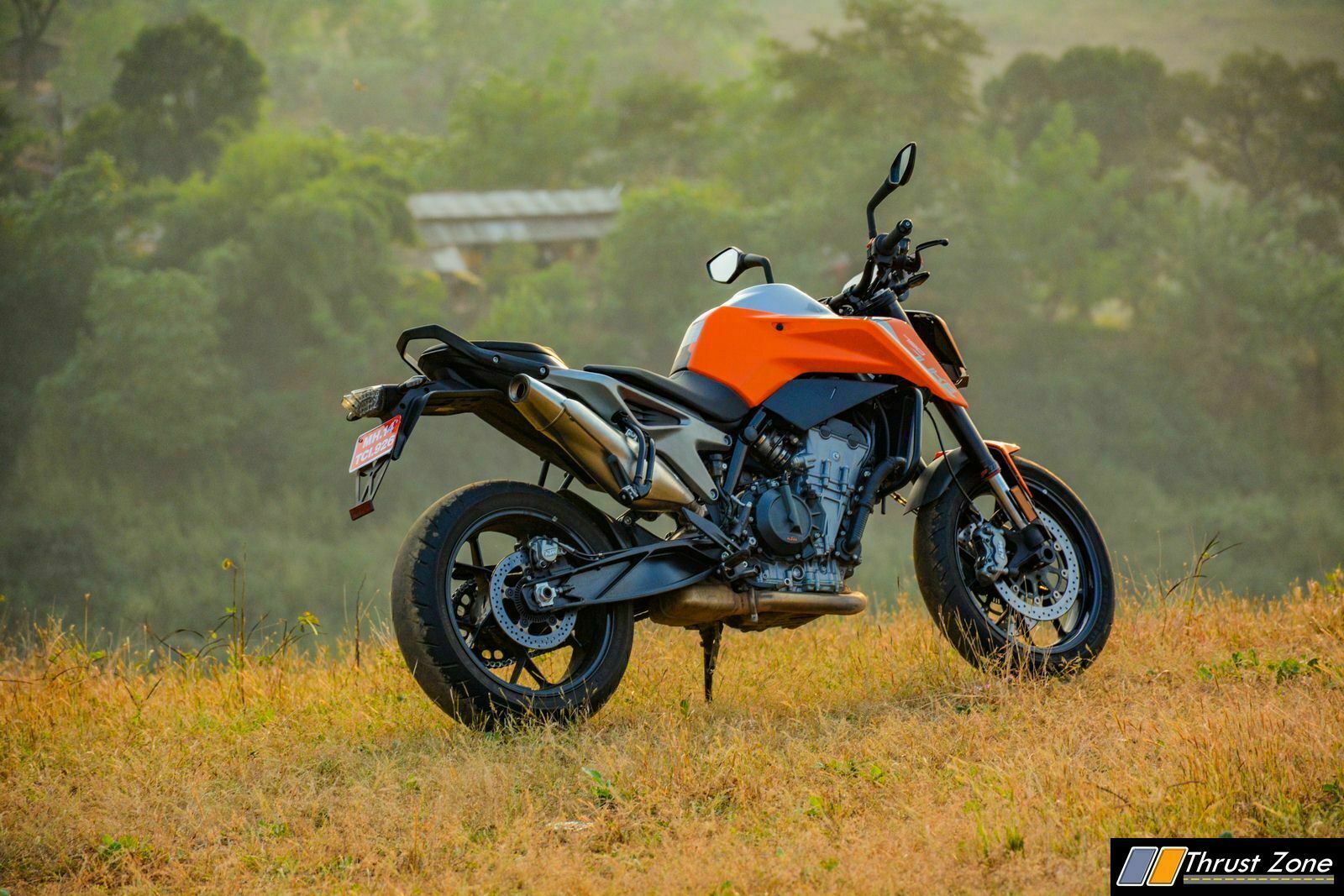 Function over form? Yes. Headlight throw is good, seat height and inseam is well calculated, pillion seat and grab rail is friendly to use. However, the seat is very waffle thin and hard in cushioning. Yes, it fits you later rather well, but the foam over a five year period just vanishes and the only option is to change it entirely. As a current 2014 Duke 390 owner, i concur to that, easily.
Premium quotient lacks as the switch gear is basic and not back-lited for the first time in a Indian KTM motorcycle and so are the plastics, which are average. Redemption comes from extremely high quality adjustable brake levers at the top and superbike inspired brake fluid holder. The instrument cluster does look good on paper and first sight but the fonts and layout is much more downgraded version of the current Duke 390. Colors and fonts are a bit more old-school.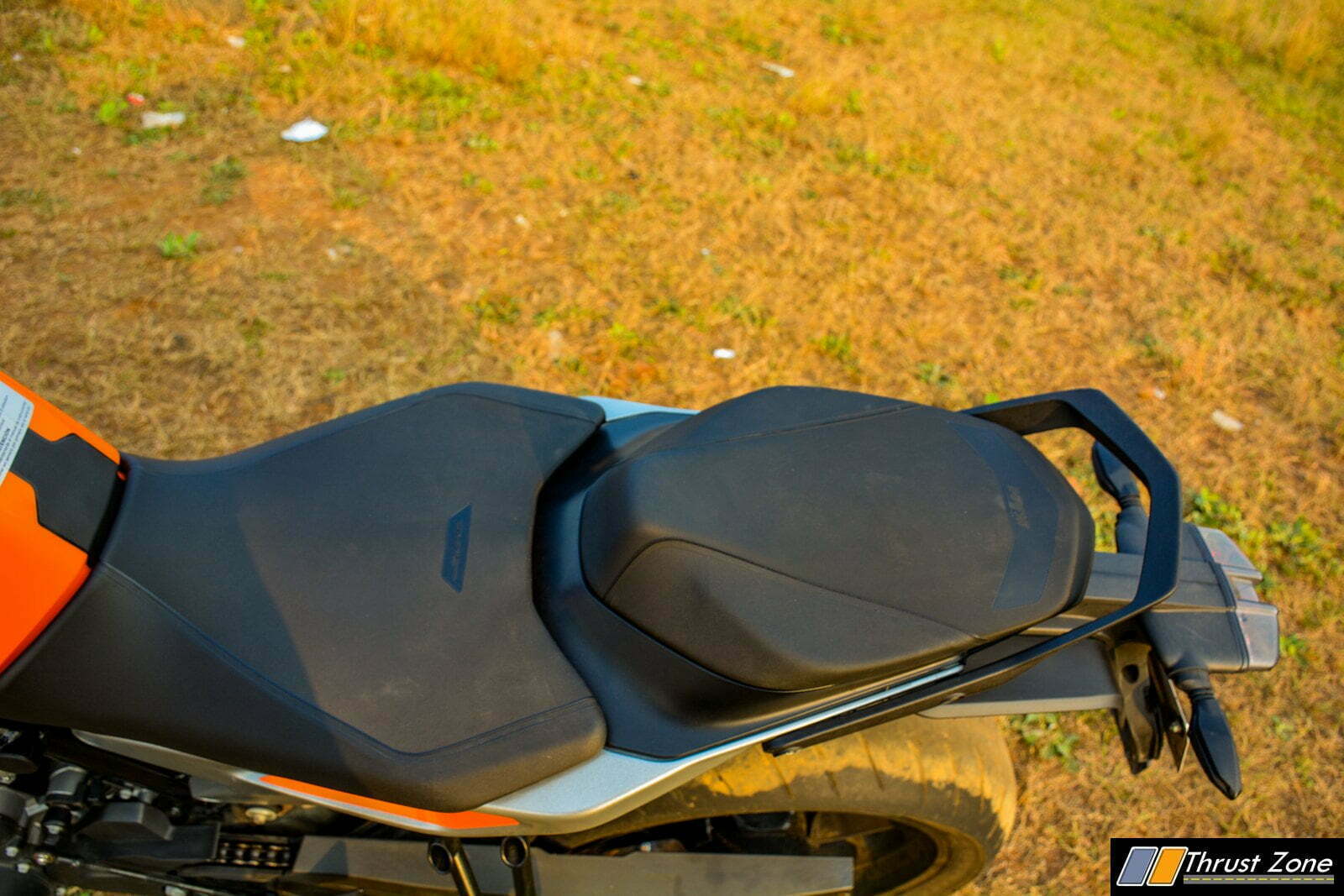 While it's easy to use on the move and buttons are laid out well to control them, it feels not so premium. Trip meters, ambient temperature in numerical, engine temperature as a bar and all digital tacho and speedo meter. Mirrors are mounted a smudge lower because everyone sits a bit higher and using similar cycle parts has had its effect on attention to detail.
The redemptions places are quite less with the Duke 790 and one those place is the performance part. The Duke 790 makes 105 PS of power and 87 Nm of torque from a parallel-twin motor. Around the same revs and geared similarly with a kerb weight which is just 15 kgs over the Duke 390 for example, screams top-drawer performance. The power to weight ratio comes from age old superbikes. This thing flies of the shelf faster than a cat pushes a coffee mug over the edge.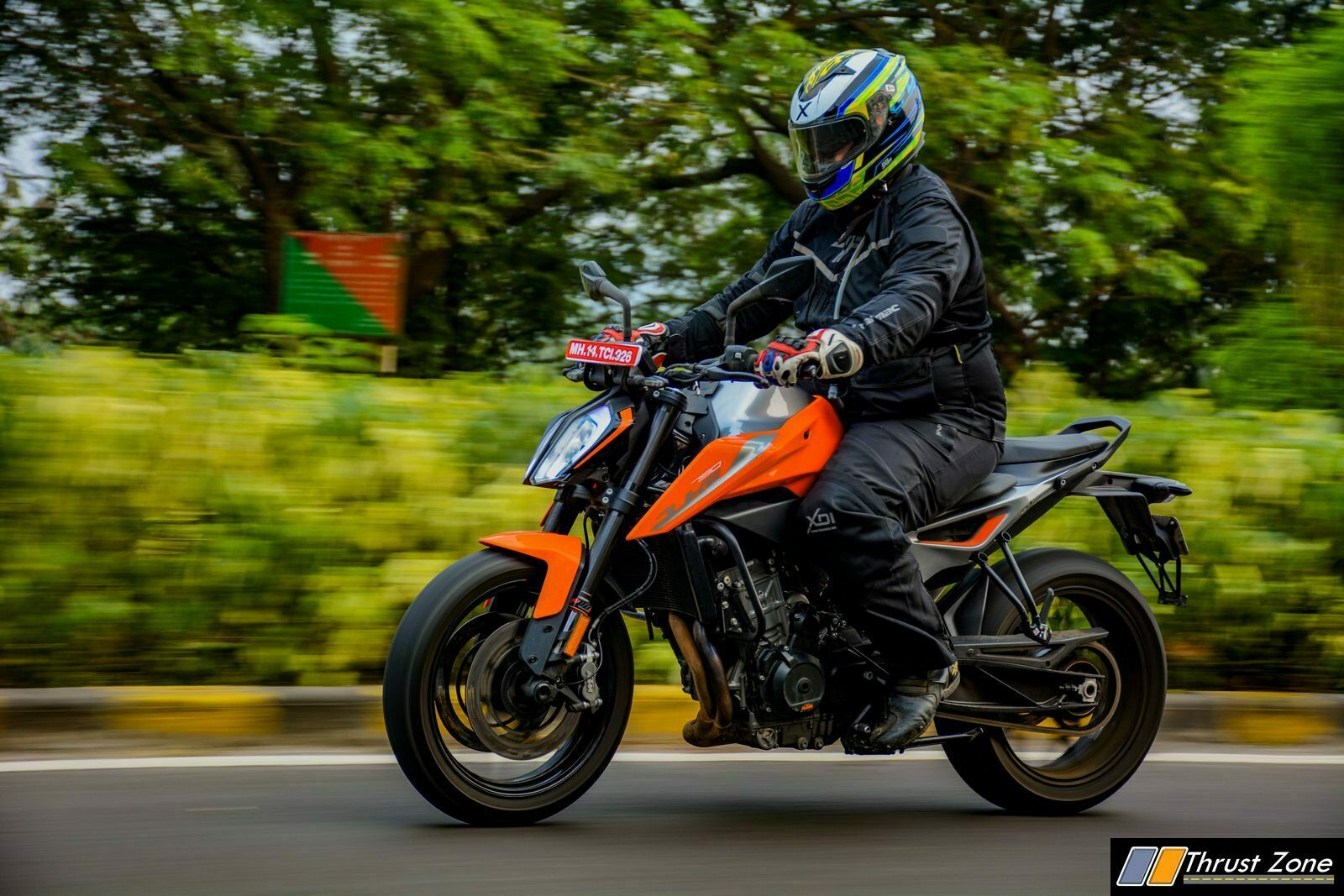 Torque starts coming at you around just 3000 RPM, even below that it is quite smooth which makes trundling in our city area very easy. The tall gearing and torque rush after 6000 RPM means this bike pushes the most heaviest riders back in the seat despite how hard you hold the tank. That is the mid-range for you, it just dissolves you like glucon-D in water. Mind numbing performance and a speedometer which is trying very hard to keep up with the speeds going up and down.
All you will see is 60 km/hr, 90 km/hr and 140 km/hr and then 190 km/hr if you keep the throttle opened on a wide and empty stretch of road. Heating in peak traffic was witnessed the alarm bells to ring on the speedometer and it did warn us of it. The old solution is to escape traffic quickly and hit an open stretch of road.
What is baffling it does speed with so much smoothness and throttle response is quick and linear that you barely realize that the engine is doing this job, not somebody pushing you around abstract and magically. All the riding modes can be so managed, even in city, including the Sport mode, how docile the engine is. The engine and superb, slick and amazing gearbox does it job really well.
Auto blipper brings new level of laid back nature to the motorcycling world. Quick shifter works well at redline and the slipper clutch keeps you out of the mess while downshifting. Clutch is light and gearbox is crisp with its shifts. Performance is clearly at its peak and there is drama too, but a bit less than we expected.
Ride and Handling
Dynamically, the word scalpel has been used more than doctors use in the operation theater. I have had two, i know. The word agility has been used even more, but i don't know where that word used in the real world. Those words do make sense with the Duke 790. The nimble-ness in the city it can offer is as good as its rival. Maneuver it a bit more, like a smaller capacity motorcycle and you will find your forearms toned and in pain.
The wheelbase does feel a bit long for our city roads to take gaps. However, the rake is still low enough to make it crispy to turn into corners. Suspension at the front isn't adjustable and rear is just available for pre-load. Stock setting was just about compliant for our roads and lended it good balance for our roads.
However, in the corners and on the highway, the stability is excellent. The chassis is a tubular frame and not a trellis frame and now, we know why. Trellis frame would have made it more urgent and hairy. Tubular gives it maturity and stability that this motorcycle had to have because of its manic performance. This is what we think after riding all KTM's that the company has sold in the Indian market.
Brakes are good in terms of power and performance but initial bite could have been better. Maxxis tyres did a great job of lending us cornering grip. Straight line was good enough but we wouldn't know because some had to smoke it because they were done with it and according to them, no one else in line was worthy enough.
2019 KTM Duke 790 India Review, Verdict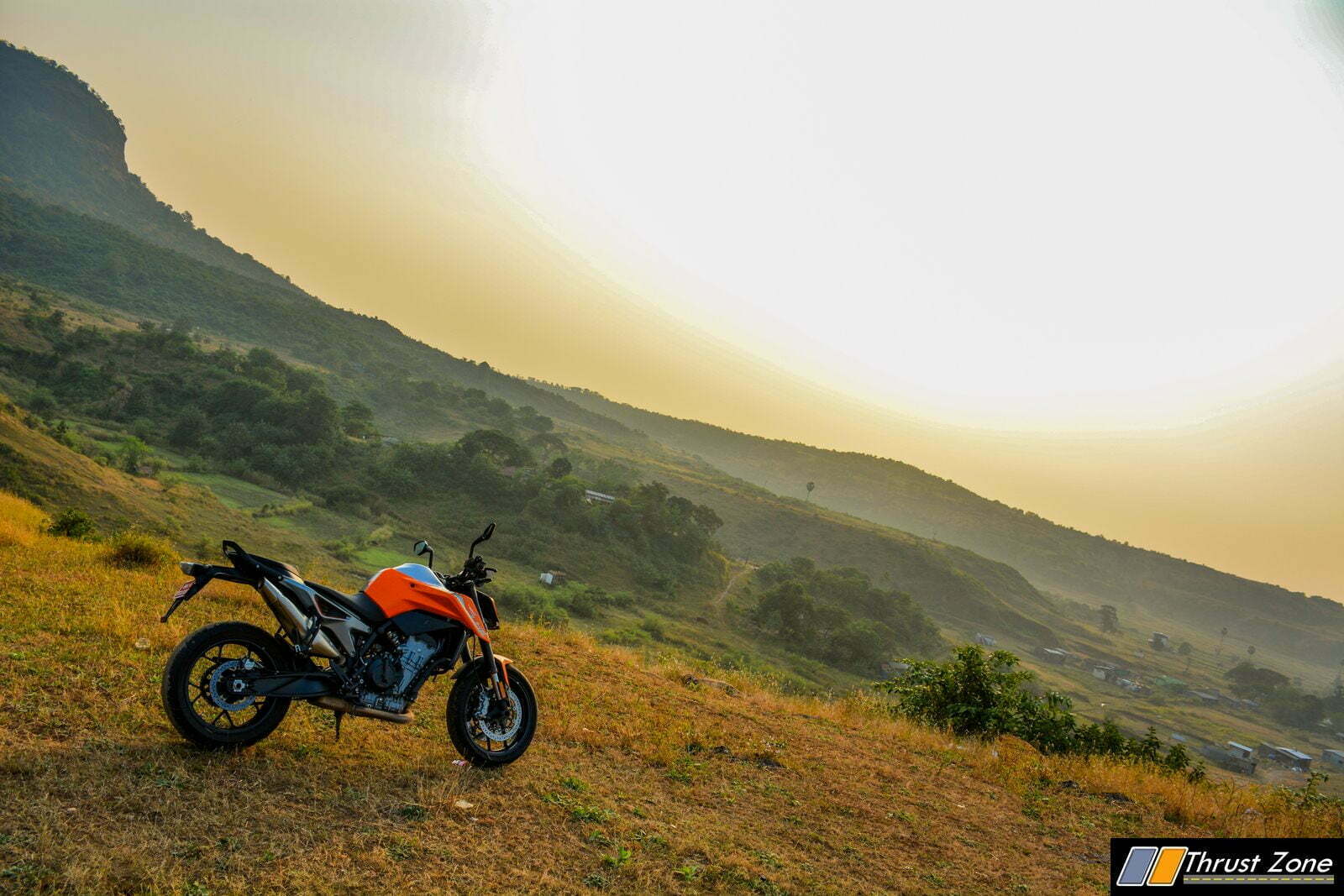 The KTM Duke 790 as you must have understood by now doesn't look and feel premium. Pricing of just around Rs. 10 lakhs on-road Mumbai makes it an expensive proposition is what most think. We agree, we couldn't give this much money to something which feels a tad bit standard. However, what is special is the riding pleasure.
The decade old superbike level of performance with a smooth and linear engine as a package in a naked street upright riding position equipped motorcycle now does make it sound special, doesn't it? That is what the KTM Duke 790 is all about. Riding it anywhere and in any situation and still coming out grinning from ear to ear, be it the milk and bread run or the ride of the lifetime that you have been planning all these years.