Well executed design, despite utilitarian focus
Superlative chassis brakes and engine
Comfortable and Efficient Sport tourer
Electronics make it safe and easy to ride
Adjustable seat height steals the show
Unsatisfying –
Priced slightly higher
No Slipper clutch
If you wanted to credit, simply, a company for bringing out the adventure motorcyclist out of every enthusiast in the country, it has to be Triumph. Priced just right and launched in 2013, the pricing was just right to put a deposit and try the bikes which were known to do it all. Sport touring, off-roading and all sorts of adventures you planned off the road and on the road. It offered a lot to customers with new experiences and practicality that one looked for and read all this time, before they came into the Indian market.
The last Tiger was successful and the new one is already here for 2018. The company says they have made 200 changes all over the bike to make it more appealing. What are those changes? Well they are everywhere. We explain in all the sections found below. Does it roar enough then? Let's find out!
Styling
The design is an evolutionary change. The tank extensions have grown in size, the headlamps also have been revised a bit to be slightly bigger. The tail-lamp illumination has been changed a bit as well. The fuel tank also feels more compact and rest of the bike looks very utilitarian with the nuts, bolts and chassis bits popping out as there is no plastic panels to cover it. The 6-spoke alloy wheels are slim and so are the tyre profile so they look not so substantial in real.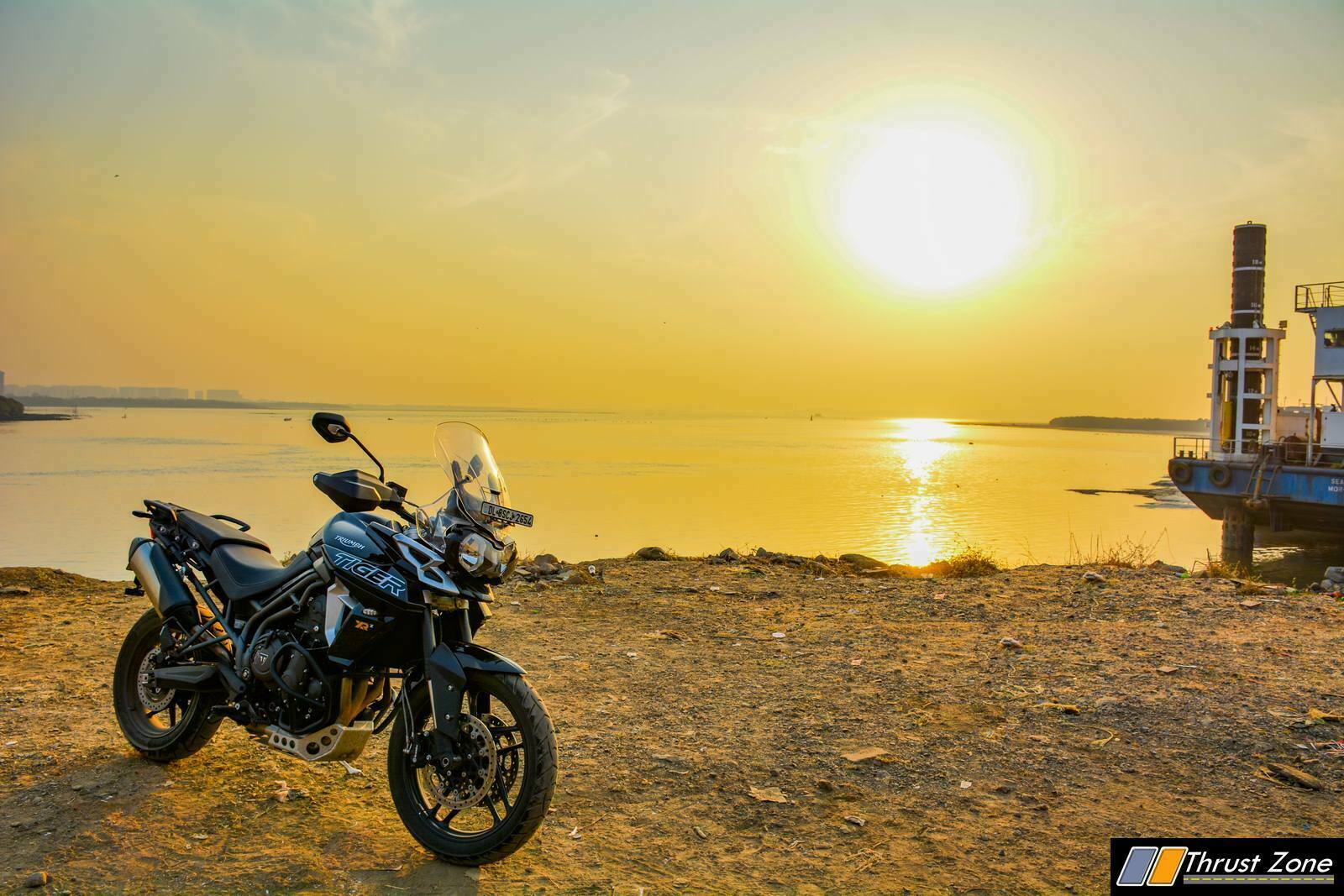 Ergonomics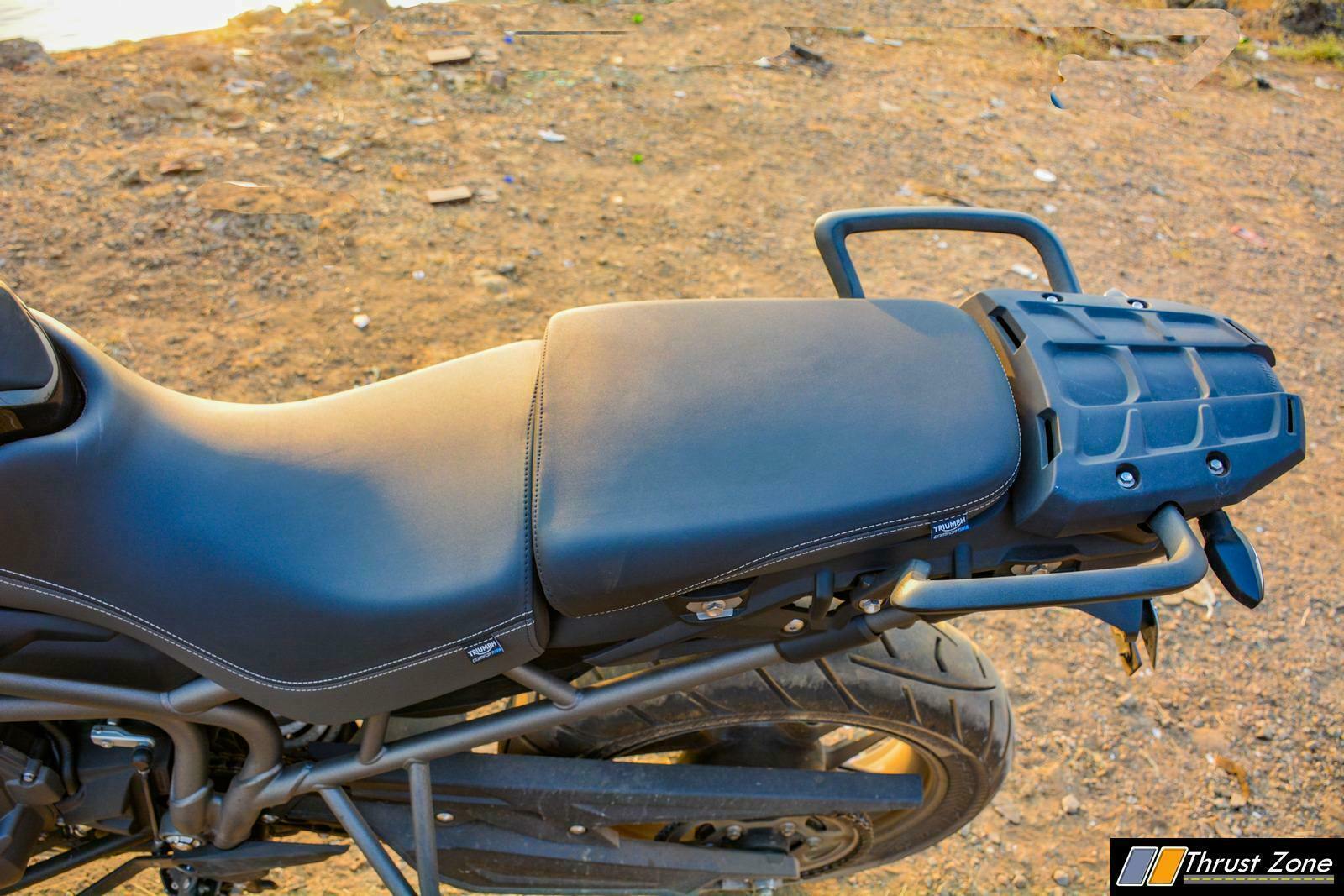 Ergonomics are just right if sitting or standing. The bars fall to hands perfectly, you can lock your knees with the tank and foot pegs have enough space and legroom to get more control of the motorcycle. Seats are supremely generous and supportive for all types of riders and riding demands. Mirrors are well mounted, but they aren't devoid of vibrations entirely. Upright riding position, a substantial amount of adjustment in the screen makes for a comfortable long distance motorcycle and a true kilometer eater. The adjustable levers are great for comfort but the hand guards limit the adjustability of them. The handguards are tough plastic and because they don't feel exactly high quality and are devoid of any color alos.
Speedo and Switches
When it comes to new offerings, the switchgear is all new, you get heated grips, cruise control, mode button and home button to make things simpler along with the usual buttons to toggle functions and necessities. The highlight is the instrument cluster which is borrowed from the Street Triple RS. TFT multi­functional screen with three styles and comes with digital speedometer, trip computer, digital tachometer, gear position indicator, fuel gauge, service indicator, ambient temperature, clock and five rider modes such as the Road/Off­road/Off-Road Pro/Sport and Track mode. Headlight illumination is spectacular in the light and even when it comes to spread on the road.
Engine
While the engine is great in terms of NVH levels and it sounds great and is quite loud for a bike that is ready to meet all emission norms, the motorcycle is known for having an engine which is road focused and not off-road ready. The torque has been concentrated at the top and mid-range which doesn't entirely thrill the rider in off-road conditions except for pulling high speed slides with the rear ABS off. This time, Triumph is tried to counter that with a shorter first and second gear which makes it a bit more intresting when it comes to delivering more power and torque in the lower end of the rev range and reach the limit quickly. We got 15.87 km/l in our testing.
Still, this formula isn't universal in the off-roading world, but this does end up helping new riders focus more and hence a great tool for new riders getting in the off-road adventure world. We did trail riding multiple times and we think the suspension does bottom out to a certain extent because its soft and does send thuds back to the rider. Sure, the XCx version with a larger 21-inch wheel will make that abstract, for now, the XrX is a great on-road with good off-road capability.
Ride and Handling
Dynamically, the wheelbase is long but the very sharp rake of 23. degrees means you can chuck the bike in traffic with ease and the long wheelbase provides stability at all speeds doing anything. Be it off the road or on smooth roads or bad roads. The brakes are far more better than the older bike and makes stopping easier and safer. The suspension is set well for our roads with subtle compliance and enough stiffness to have fun in the twisty as we had because the motorcycle loves to lean too.
Sure, exit the corner harder the front does come up and the rear does slid out because the tyre size is 150×70 section with 95 PS and 79 Nm of torque. Clutch is slightly heavy and there is no slipper clutch which makes dense traffic situations a bit hard on the fingers. Gearbox though, is smooth and slick.
2019 Triumph Tiger 800 XrX India Review, Verdict
All said and done, all the pros and cons makes this particular Tiger 800 XrX a great bike for our conditions. Good ride quality, decent handling and touring capabilities in spades. A 19 litre tank gives 300 KM of range which is quite good indeed. The easy going nature and sorted out chassis, thanks to the 200 changes makes this bike quite lucrative in this segment.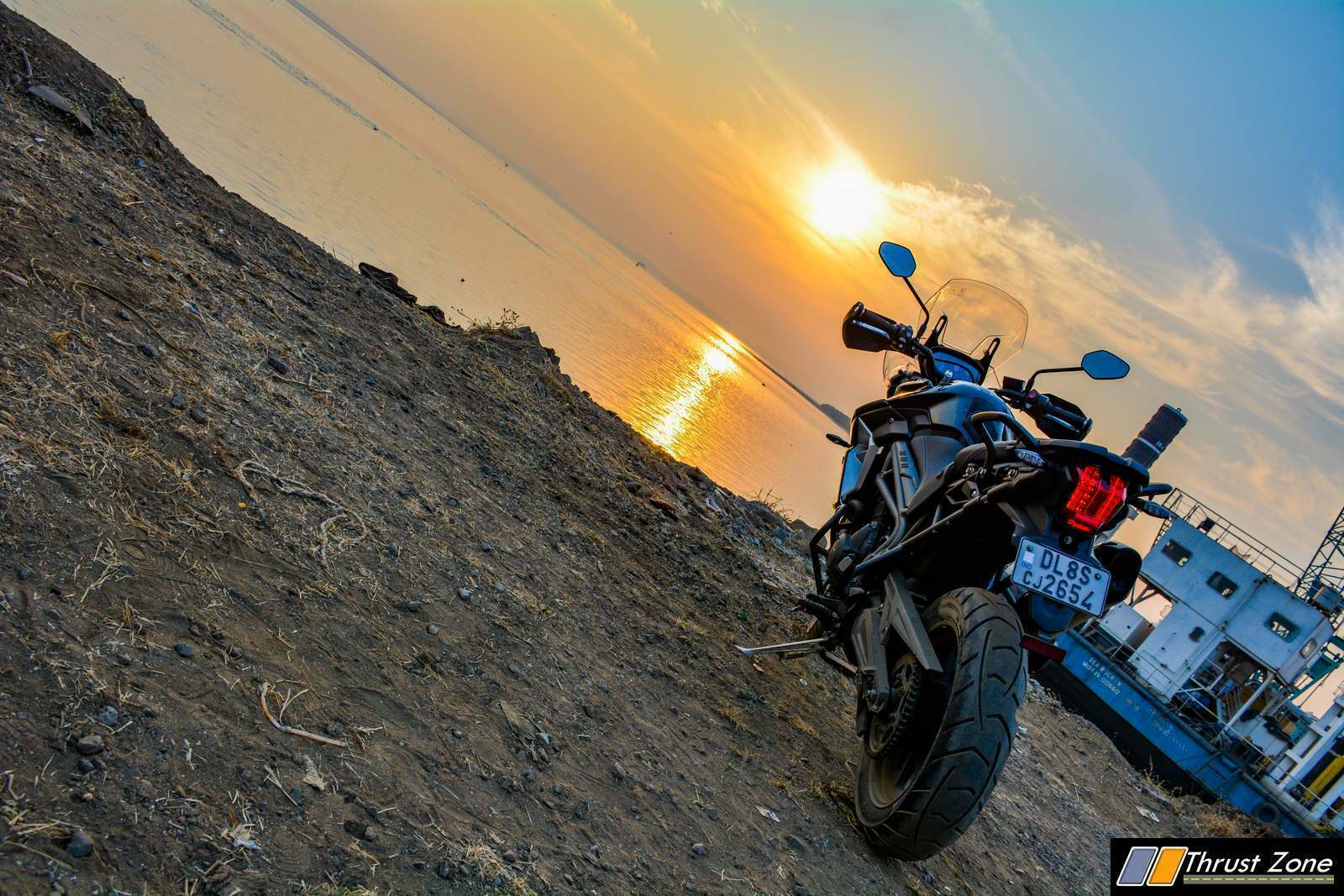 Also, having sampled the Ducati Multistrada 1260 recently (950 is redundant for now), we have our doubts if we could decide what we wanted as a sport touring machine. Triumph though has an excellent brand image, an affordable price looming over its head, makes it the popular choice of the lot.
Tiger 800 XrX India Review
Design

Comfort

Practicality

Safety

Performance

Dynamics

Features

Value